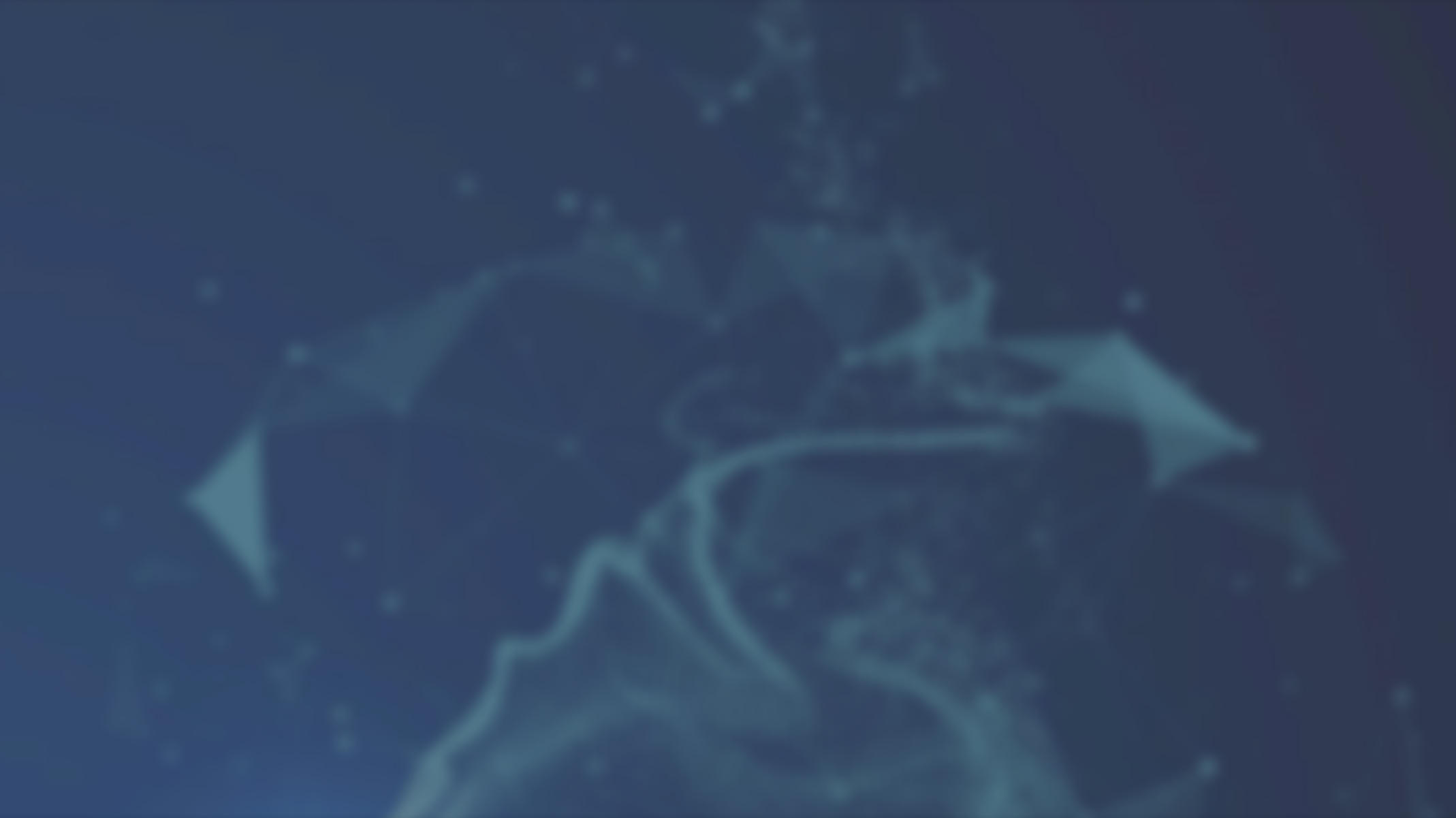 Private SHO

Public SHO

DeFi

DEX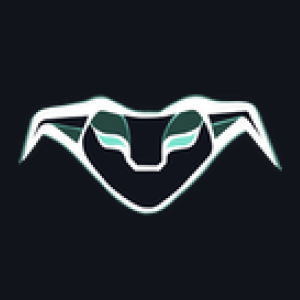 AdaSwap
AdaSwap is the first market mover in the Cardano space aiming to spark the native DeFi ecosystem. It will host a gamified DEX and exclusive NFT marketplace.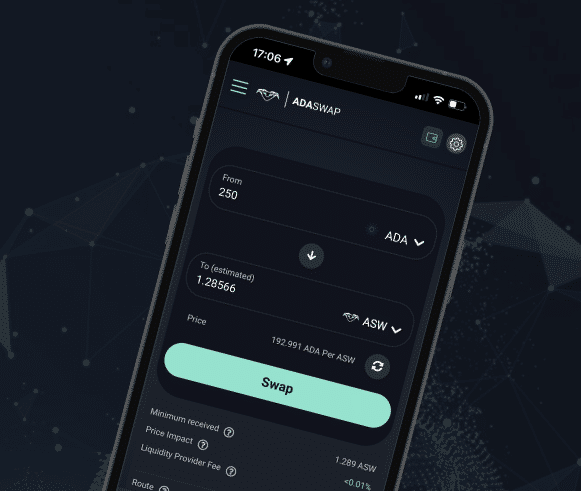 Lead VC
Shima Capital

Market Maker
NordicVelo
Controlled Cap
NA
DAO Approved Metrics
NA
What is AdaSwap (ASW)?
AdaSwap strives to be the pillar supporting the growth of the Cardano ecosystem (ADA token), by providing the best swap protocol and NFT marketplace alongside the tools to help users build the Cardano DeFi space. AdaSwap and AdaNFT will use acquisition tools unseen by the Cardano (ADA) chain to create a new generation of stakeholders. The cross-chain ASW token and partnerships with various market leaders like COTI, Shima Capital and GBV, among others, will help AdaSwap bring volume from other blockchains.
How does AdaSwap (ASW) work?
AdaSwap is a start to a trustless decentralized exchange (DEX) coupled with an ultra-fast gas-less automated market maker (AMM). As this new ecosystem opens, the users and businesses that chooses to operate on the Cardano blockchain will have a great and pressing need for The following financial services:
Token Swap

Staking Pools

Yield Farming
AdaNFT NFT marketplaces suffer from a lack of originality and creativity causing a flood in the market of copies and uninspired work. AdaSwap knows NFTs are more than just art, NFTs are capable of tokenizing and capturing the ownership and other rights of a digital asset that can be freely exchanged on open markets. The above provides several advantages, such as strong data assurance, ownership protection, counterfeit immunity, and evidence-based uniqueness, which are extremely powerful in removing many of the risk friction costs that would normally accompany digital asset ownership, paving the way for access to markets and opening up previously locked and illiquid capital. In addition, what is being seen now in the NFT space is certainly just the beginning, AdaSwap will drive NFT exchange to the next frontier.
The first product will be an exclusive and curated NFT marketplace, AdaSwap holders will be awarded tiers through a tier system allowing voting rights, this will allow users to vote on innovative initiatives and what NFT launches they will want to see next.
What makes AdaSwap (ASW) unique?
In the whole world, the current market competitor is SundaeSwap. Its website is suffering from the concurrency issue of the blockchain not allowing them to process more than 150 transactions per block. This has driven a lot of traffic away from the project due to the heavy delays. AdaSwap's offering is different - the ADA Cardano-based DEX will be gamified and closely linked to the NFT marketplace to attract users. The NFT marketplace will not suffer from the concurrency issue allowing for quick transactions and the DEX will be launched on an L2 solution that will not suffer from the concurrency issues. The DEX will be the pillar of the DeFi ecosystem for the Cardano Network.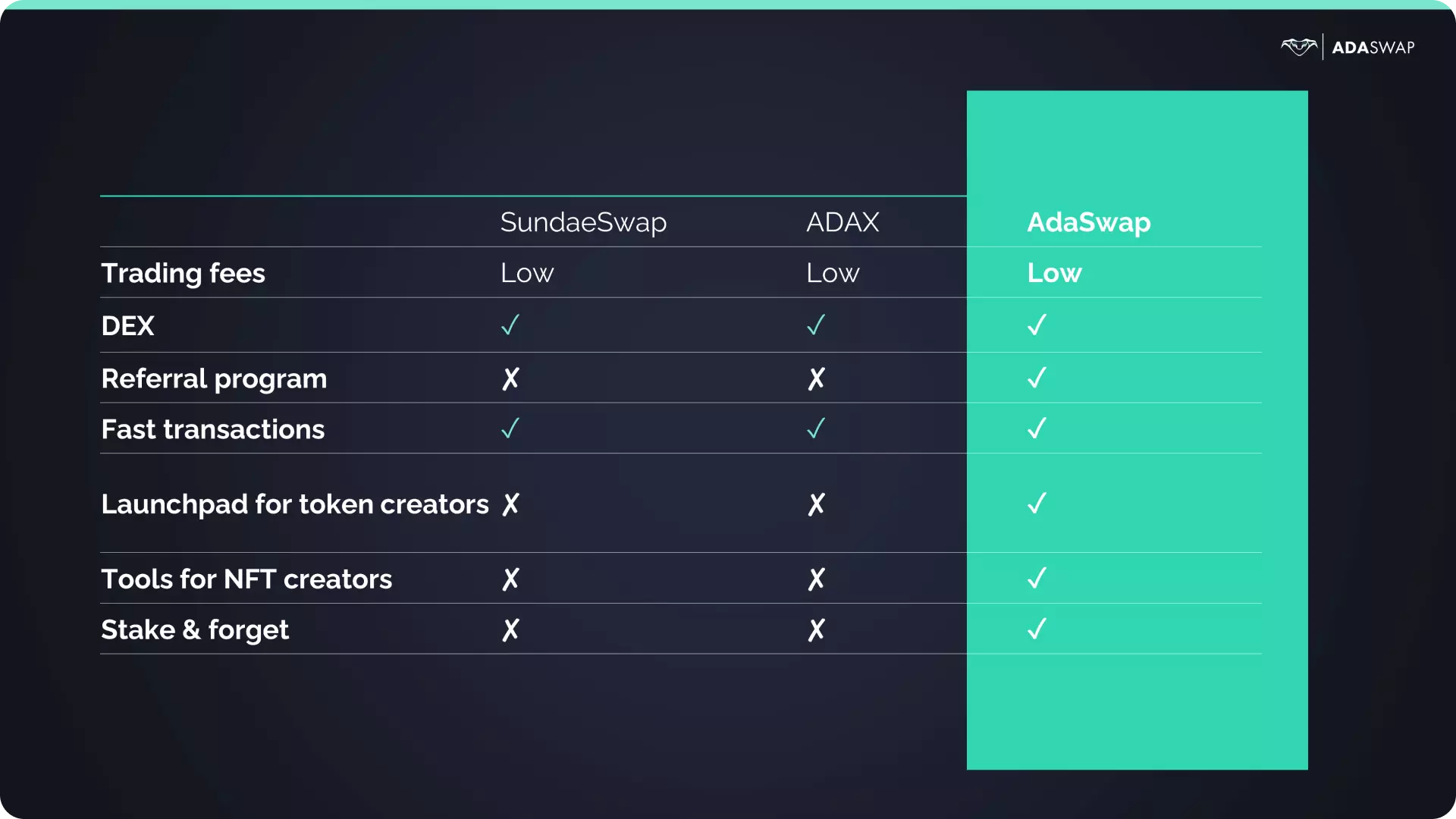 What is AdaSwap (ASW) product roadmap?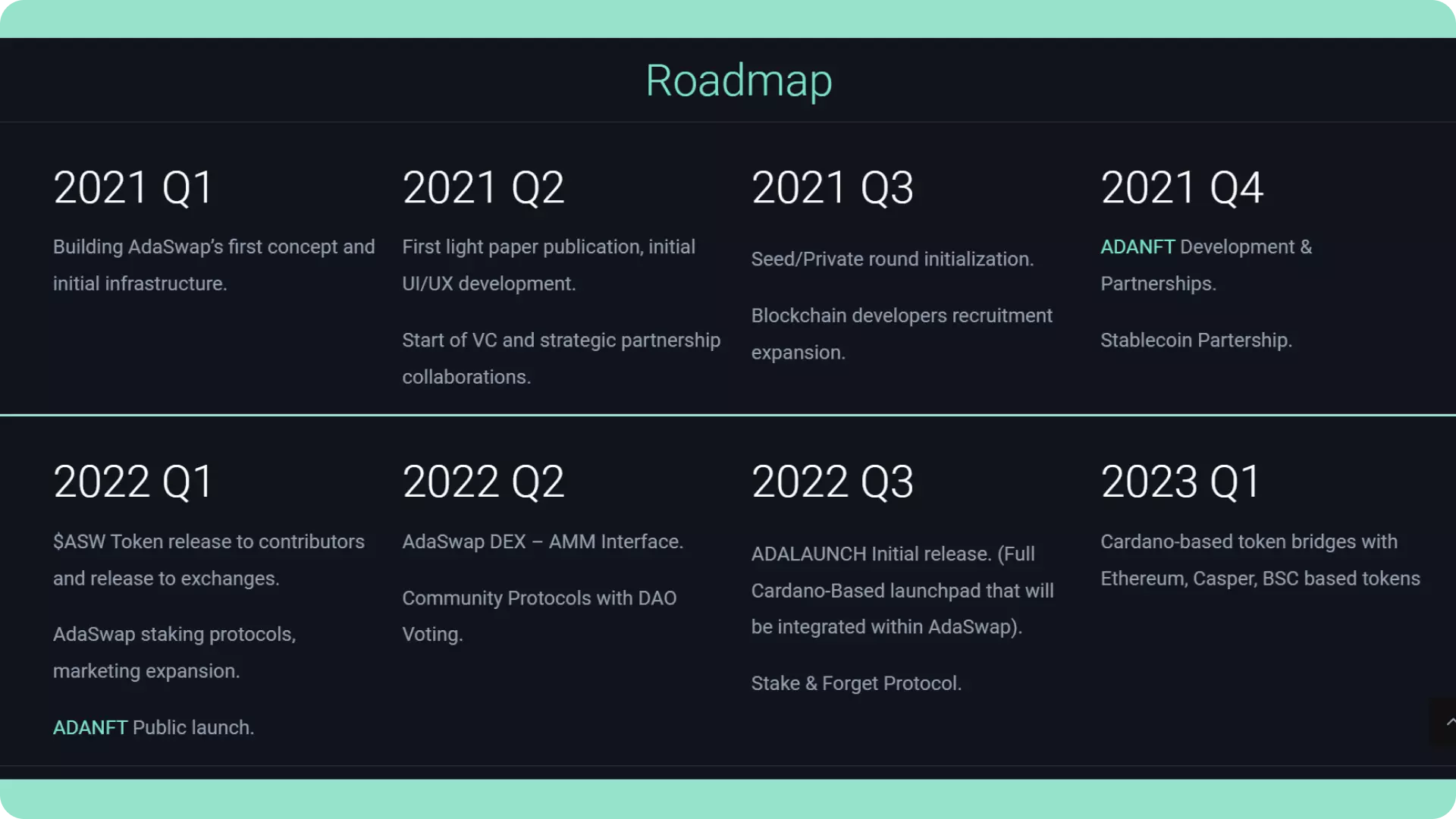 AdaSwap (ASW) revenue streams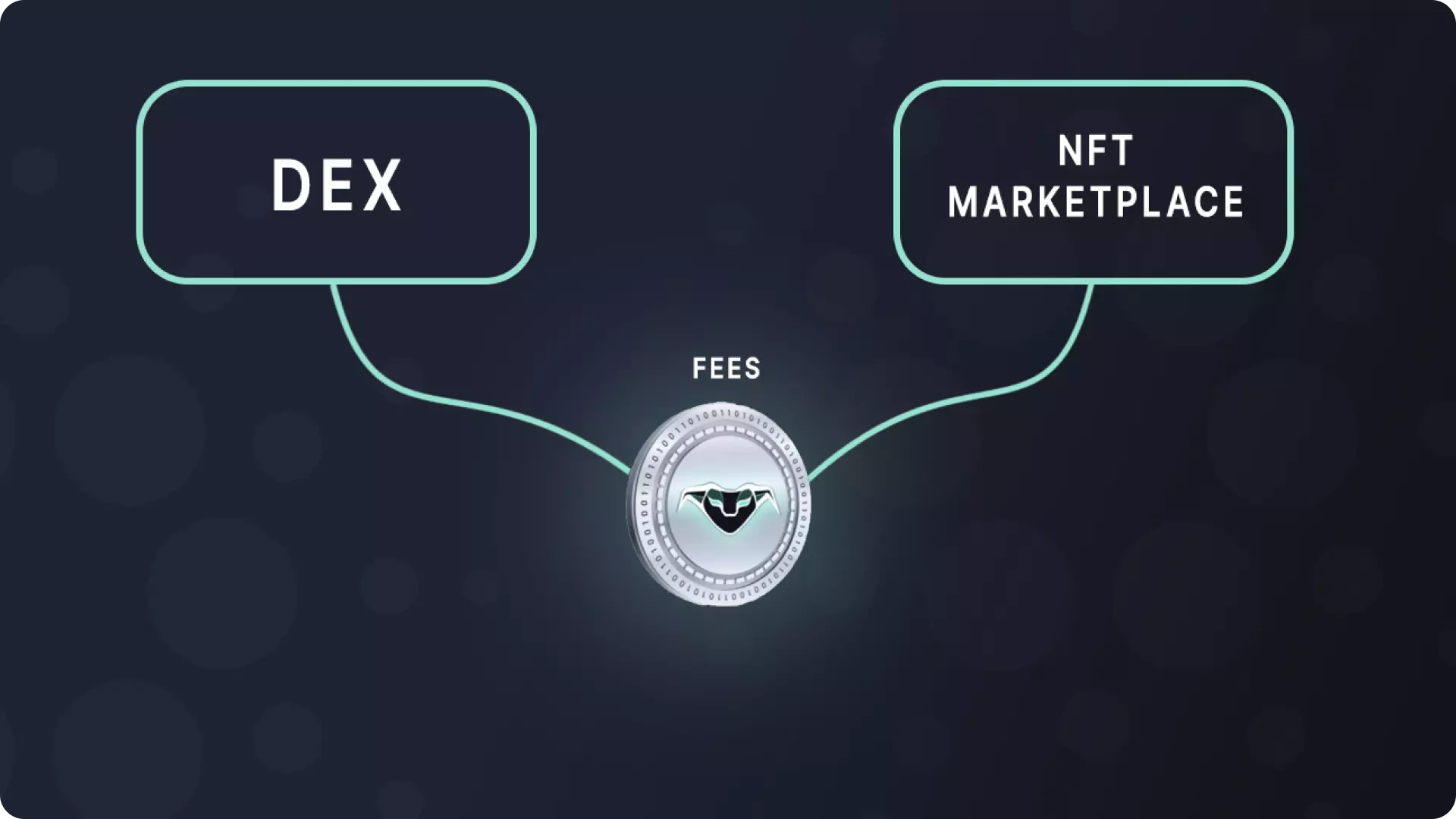 What technologies does AdaSwap (ASW) use?
The team has been innovative in its ways of solving the concurrency issue and non-functions plutos backend plaguing the Cardano network. The DEX is currently being developed and deployed using a layer 2 scaling solution.
The NFT marketplace is set to use a Multi-signature wallet solution that has passed legal opinions in both Switzerland and Israel assuring its security and legality allowing for us to hold users' NFTs and provide optimal transaction times.
What is AdaSwap (ASW) marketing strategy?
The current market mentality of native Cardano projects is to exploit current Cardano supporters instead of creating new ones. This model presents a major problem, by placing too much focus on TVL incentives aiming to create a lock of capital for participants, fellow projects are halting active participation and trade volume.
As the No1 NFT marketplace on Cardano, they will allow users to purchase exclusive NFTs that will be endorsed by celebrity figures and brands. Their exclusive drops will help draw attraction to both the platform and the Cardano space.
The AdaSwap (ASW) token sale (IDO) is set to happen on DAO Maker, the #1 investment launchpad. You have a chance to invest into ASW tokens during the Public IDO or during the Private Sale Round for DAO token holders.
The current market competitors develop utilizing Cardano ADA believers and fail to look towards other blockchains for attracting swap volume. AdaSwap (ASW) will start as a decentalized cross-chain token to not only build a higher level of trade volume but then bring these cross-chain buyers over to Cardano with great utilities and incentives.
AdaSwap will also have great protocols to drive participation such as the Free Financial Model, where no transaction fees are charged on ASW based swaps or the so-called stake-and-forget protocol that will create an automated airdrop system through staking pools to help users diversify their portfolio.