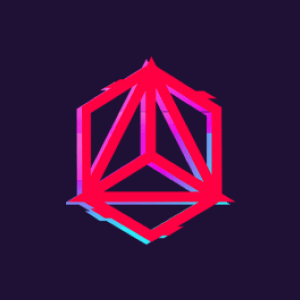 AnRKey X™
AnRKey X™ is bringing a brand new industry called m$ports (money sports), combining the best of DeFi and eSports gaming for users to compete, purchase and stake unique NFTs and win valuable rewards.
Purchase, Play, Stake NFTs and Compete in the Future of Defi Based Gaming - m$ports™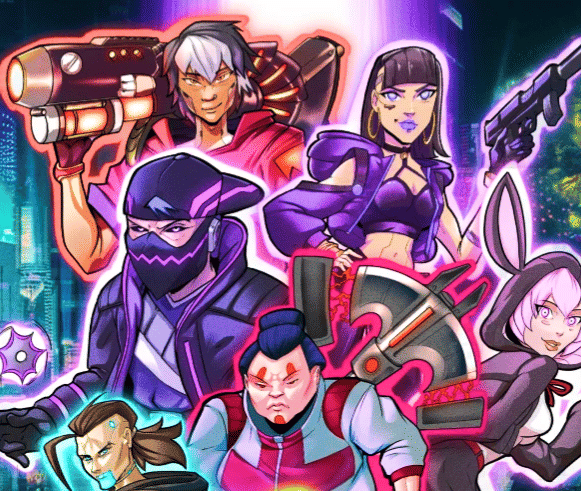 Ticker
ANRX
Market cap.
$150,604
Fully Diluted Valuation
$351,802
Trading Volume 24 Hrs
$3,696
Circulating Supply
85,618,332
Hard Cap
$1,397,500
What is AnrKey X (ANRX)?
AnRKey X™ is a gDEX (Decentralized Finance Gaming Platform Exchange) protocol platform built on the Ethereum ecosystem to merge the best of DeFi Yield Farming, eSports, and Web 3.0 NTFs. The groundbreaking concept of m$sports (money sports) was coined by its founders, well-recognized personalities in the Blockchain and DeFi space.
gDEX provides an advanced but intuitively simple platform, letting gamers use it without any hassle seen on other platforms. Games are both highly competitive & highly rewarding, while still being fair and transparent. Every week the game starts over to cut off whales from manipulating the game. Everyone has the possibility to obtain rare NFTs through random airdrops to nine winning teams members. Also, all the teams, winners and losers get $ANRX from yield farming, according with their APY.
AnRKeY X's token has 12 different utilities within the platform, the primary one is to be an arcade coin, to be spent on the gaming system. The more you purchase, play, stake, sell, and compete, the more $ANRX you earn.
The first game on the AnRKeY X™ gDEX is Battle Wave 2323™, to be released this quarter Q4 2020, new m$ports games are launched quarterly. Moreover, stakers will also have the power to add new pools and games to the ecosystem through voting proposals with a quorum of at least 20%.
What is AnrKey X (ANRX) marketing strategy?
AnRKey X™ is entering a market niche with huge upside potential. eSport reached $1.1 billion in 2019 with an expected Compounded Aggregated Growth (CAGR) of 24.4% over the next 7 years. Audience reached 589 Million this year and a +20.1% CAGR is forecasted for 2015-2020 period. Moreover in-game purchases climbed to $87 billion in 2018.
AnRKey X™ targets DeFi traders and crypto enthusiastic gamers, for its first upcoming game, Battle Wave 2323™.
Primary platform users will be males between 25 and 45 years old, cyberpunk and retrowave nostalgics, these will have emotional attachment to the brand.
The company is focused on building up brand awareness through viral content strategies, campaigns, target advertising and PR. On top of that, strong partnerships with influencers, top blockchain projects and media outlets are fostering its growth and recognition in the crypto space. Famous DeFi influencers are backing the project and its vision, and companies like Plasma Pay are already partners.
Recurrent NFT drops of main characters belonging to episodic storytelling games, continually release, will forge AnRKeY X™ universe lore, creating continuous interest in the brand. New stories and NFTs released frequently and new games coming out quarterly.
What makes AnrKey X (ANRX) unique?
Current DeFi liquidity mining model is not sustainable in the long run, because it lacks a business model. AnRKey X™ will solve this issue enhancing the technology and implementing a sustainable plus profitable business model.
Nowadays, most NFTs do not have any derived base value and are illiquid, limiting scalability and mass adoption. AnRKey X™ new approach and system will bring mass-consume adoption and recognition to the DeFi space. bridging the gap between liquidity mining, farming and lending tools, engaging team-based eSports gaming. Leveraging the unrealized power and value of NFTs.
Users will be protected from fraud, Rug Pulls and whale behaviors which frequently lead to the failure of many DeFi projects.
Key competitive benefits of gDEX protocol include:
Enhanced NFT Model - Solved Scalability & Mass Adoption Problems
A True Derived NFT Base Value Community Driven Protocol
Community Driven Protocol
Socially Competitive Like eSports Gaming
Rare Collectables
Inherent Economic Supply and Demand Value System
Simplified Intuitive and Easy to Use Platform
High Ecosystem Coin Utility Functionalities - 12 Total
Fair and Balanced P2P Economic Ecosystem - Whale Protection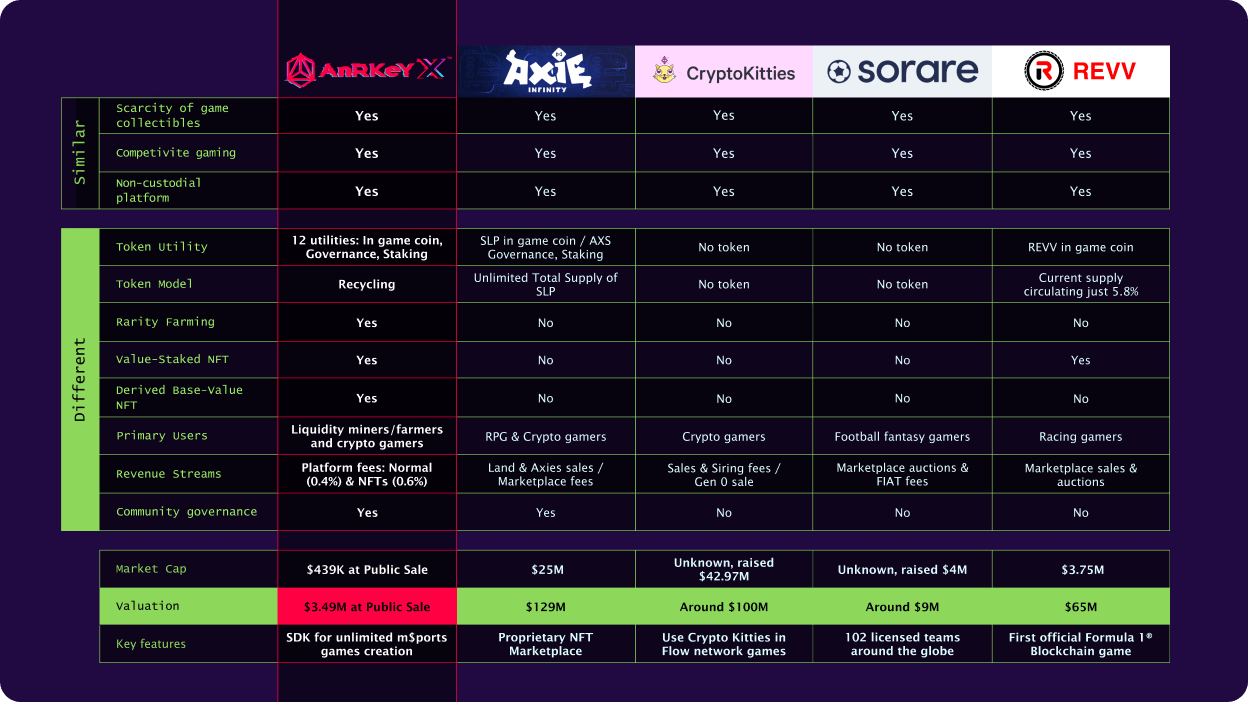 What is AnrKey X (ANRX) roadmap?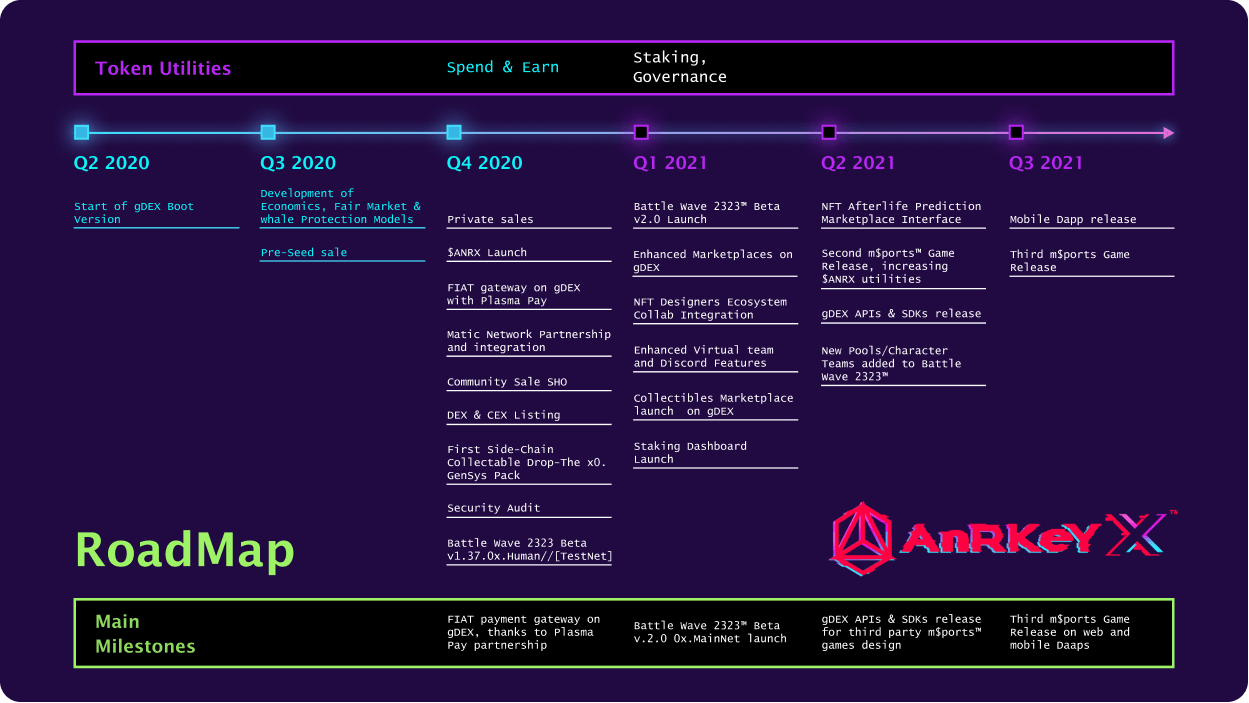 AnrKey X (ANRX) revenue streams
AnRKeY X™ revenue model is based on platform exchange fees. Every transaction on gDEX is charged 0.4%, but NFTs transactions add up 0.2%, netting 0.6% per NFTs purchased or sold. Community members staking $ANRX tokens will earn 25% of total revenues.
Usage of Arcade coin
$ANRX is used for playing interactive games and fueling the whole gDEX platform.
Marketplace Selling and Buying packs and NFTs
Packs (upgrades) boosting users' returns will be sold on the marketplace and rewards won on weekly games too.
NFTs are going to be designed by notable artists, increasing the lore and value of collectibles in the NFT marketplace.
How does AnrKey X (ANRX) work?
Battle Wave 2323™
Each quarter, a new interactive game is released. Battle Wave 2323™ is the first of a long series in AnRKeY X™ gaming universe. Battle Wave 2323™ game dynamics are based on nine different battle teams Yield Farming pools, competing to obtain the highest APY to win weekly battles. Nine team members of the winning team will get airdropped the SCARCE AND ULTRA POWERFUL Yield Boosted NFT.
Its unique gaming engine provides easy monetization for the different m$ports games in a APY reward driven NFT environment.
Every two weeks Side-Chain Collectibles Line are dropped coinciding with weekly winning results.
All products are built on the web Daap gDEX protocol. Mobile Daap is scheduled to be launched in Q1 2021, letting users play games everywhere.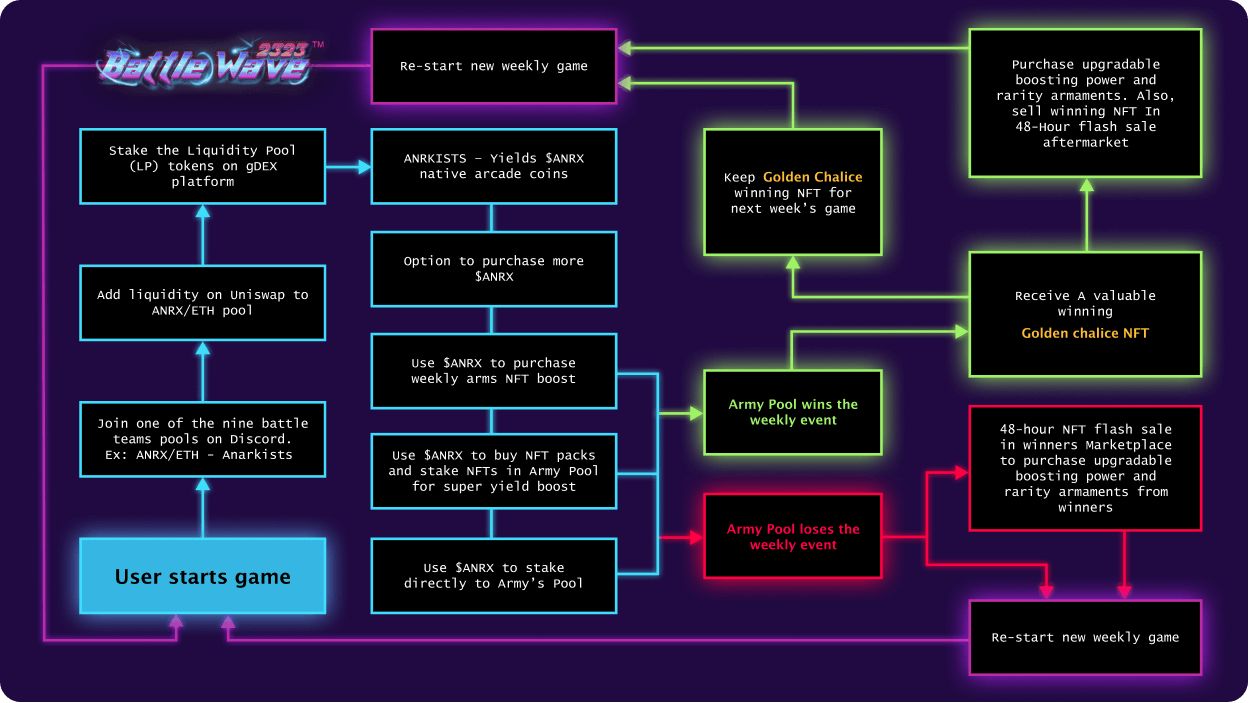 What technologies AnrKey X (ANRX) created and used?
All products are built on web dAap gDEX (Decentralized Finance Gaming Platform Exchange) protocol which is core tech stack foundation. gDEX protocol utilizes the ethereum protocol and smart contracts for the backend and Unity for front end game interface and marketplaces.
Ethereum Smart Contracts
AnRKeY X™ gDEX protocol utilizes Ethereum Layer 2 protocol and smart contracts for the Back-end. Front-end games interface and marketplaces are built on Unity.
Software development Kit - SDK
In the pipeline for Q2 2021 is scheduled the launch of gDEX APIs and SDKs for community developers to create their own m$ports™ games.
Web3 Integration
AnRKeY X™ is a non-custodial gaming protocol. Gamers will be able to participate in m$ports, connecting their wallets via 3.0 web Dapps such Metamask.
Unity
Game industry standard technology used for front end game interface and marketplaces on gDEX.
What are AnrKey X (ANRX) tokenomics?