INCUBATION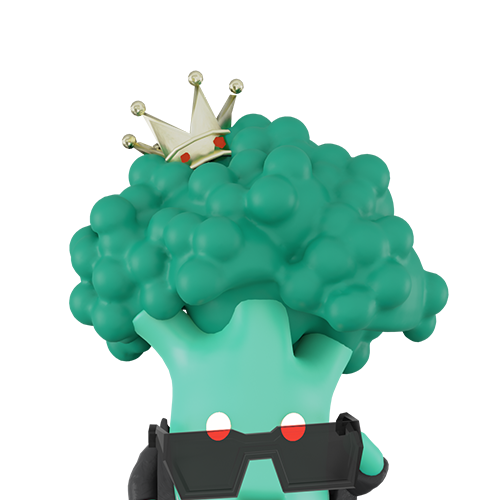 Brokoli
Brokoli built an impact-to-earn NFT metaverse where climate impact makes you money. Your DeFi transactions on Brokoli plant NFT Trees: a tradable asset that earns passive income.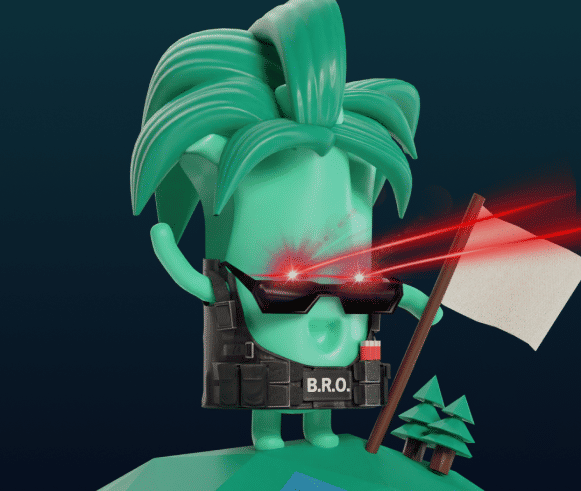 Lead VC
DAO Maker

Market Maker
DAO Maker
Controlled Cap
NA
DAO Approved Metrics
Approved
What is Brokoli (BRKL)?
Brokoli is an impact-to-earn NFT tree metaverse. Here, every DeFi function is climate positive at no extra cost for the user. Users can make, own, and trade the positive impact they make by using Brokoli's green DeFi products.
Brokoli's core platform: a green aggregator for token swaps, lending and yield farming. It makes every DeFi transaction climate positive at no extra cost for the user.
API: Any GameFi and DeFi platform can implement the Brokoli API to make their transactions climate positive, generating more revenue, brand awareness and users for Brokoli.
NFT Digital Forests: Users can receive seeds by using Brokoli's green products or by completing quests. These seeds are turned into NFT trees after the DAO vote. Digital NFT forests will be tradable as Brokoli Impact Credits with other users that want to move up the leaderboard of impact, and with corporates that want CSR (corporate social responsibility) - it's a decentralized alternative to carbon credits.
Governing the protocol is the decentralized autonomous organization (DAO) model that controls 100% of the climate offset funding, with the BRKL token at its core. This mechanism distributes the funds collected between Tree Planting, Renewable Energy and Electronic Waste Collection projects around the globe, with token holders having 100% control of the fund allocations.
What makes Brokoli (BRKL) unique?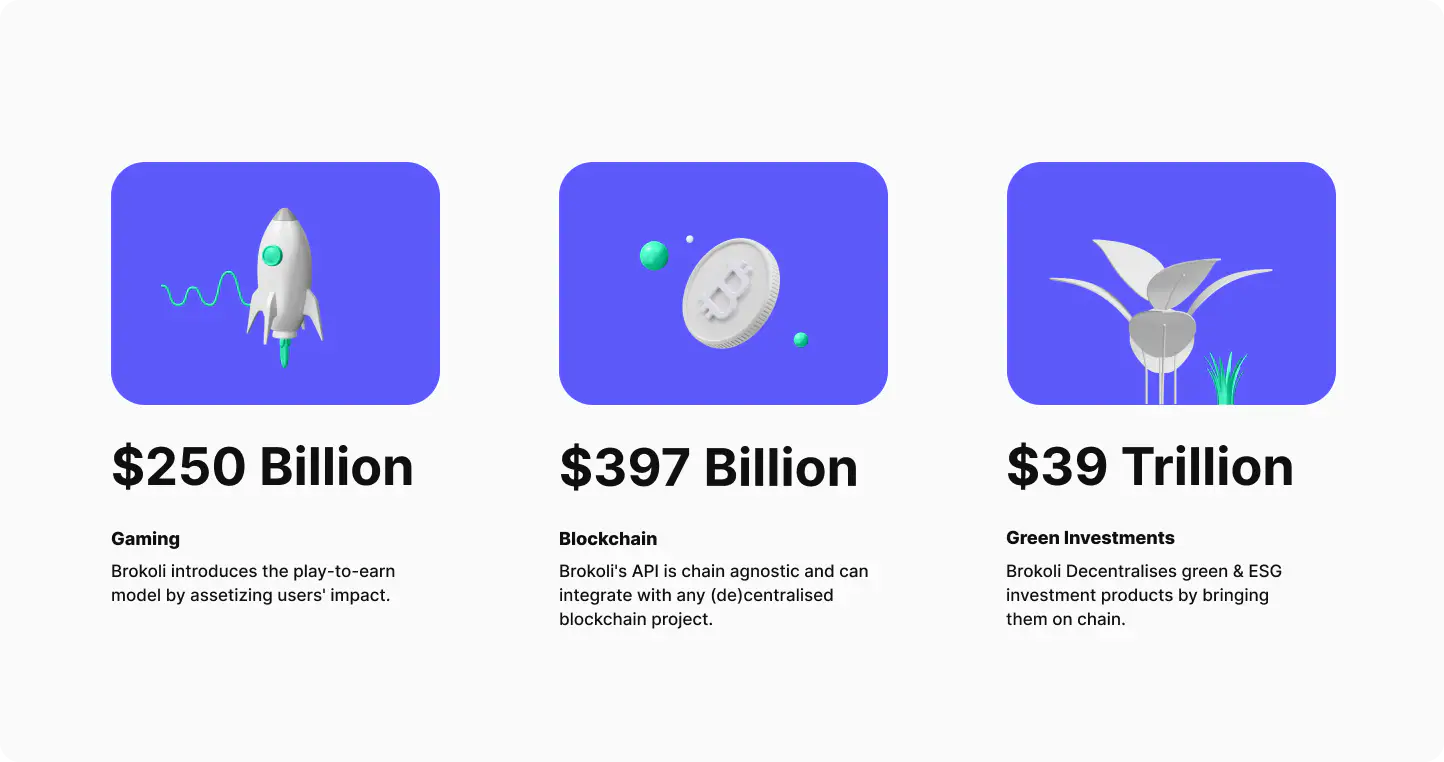 DeFi and the blockchain community in general is experiencing scrutiny from the media and the wider public about the sustainability concerns to be addressed before any wider adoption can be achieved.
In addition, there is a rise in sustainability-conscious platforms that are looking to find ways to offset their footprint. Simultaneously there is a lack of transparency and accountability associated with DeFi and digital assets, which makes many platforms less trustworthy. 87% of Gen Zers are concerned about the environment, including 90% of Gen Zers who think companies must lead the way in the planet's sustainability journey.
Similarly, more than 70% of millennials care about global warming and other climate issues. 42% of millennials are planning to enter the crypto ecosystem, which means that the space will be forced to find long-term sustainability solutions like Brokoli.
Climate offsetting solutions already exist, and have displayed great demand. For example, Chooose, a digital API solution that gives airline companies the ability to offer carbon offsets for their passengers at checkout and boasts clients like Wizzair, Lonely Planet, Norwegian Airlines, SkyScanner, Santander.
#Teamtrees demonstrates that people are keen on sharing their impact, with Elon Musk, Mark Benioff and Plants vs Zombies competing dollar-to-dollar for the crown of someone who's planted the most trees.
While there is great demand for green solutions in crypto, green products alone may not achieve adoption. That's why Brokoli's users will not only make an impact, but also will sell their impact to others in the form of NFT trees. For the first time ever, your positive impact is a tangible asset and not just something that makes you feel good.
Brokoli will enter the market as the first play-to-earn NFT metaverse where impact is money. Therefore, there is no direct competition and Brokoli has the first-mover's advantage.
What is Brokoli (BRKL) roadmap?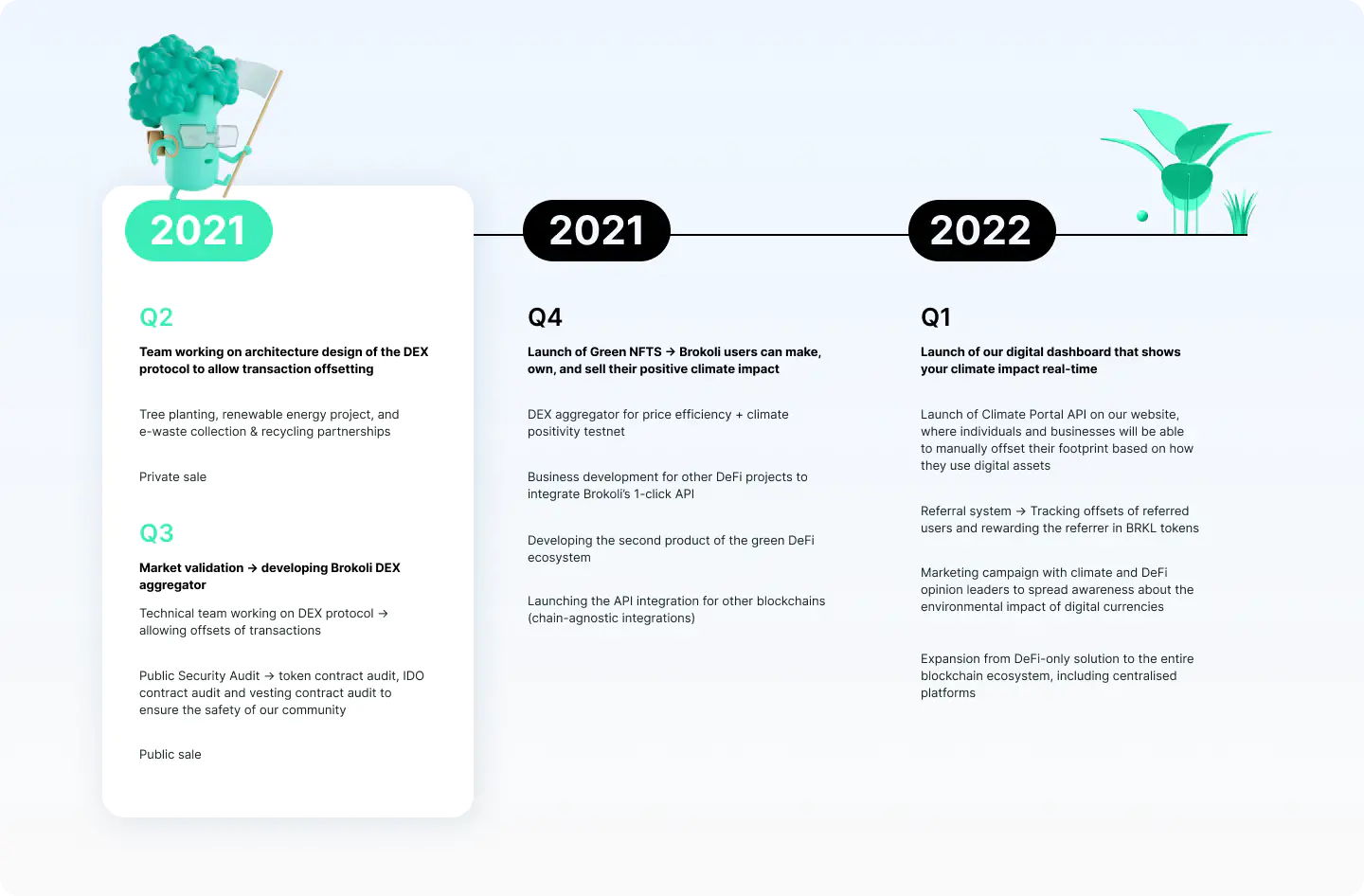 Brokoli (BRKL) revenue streams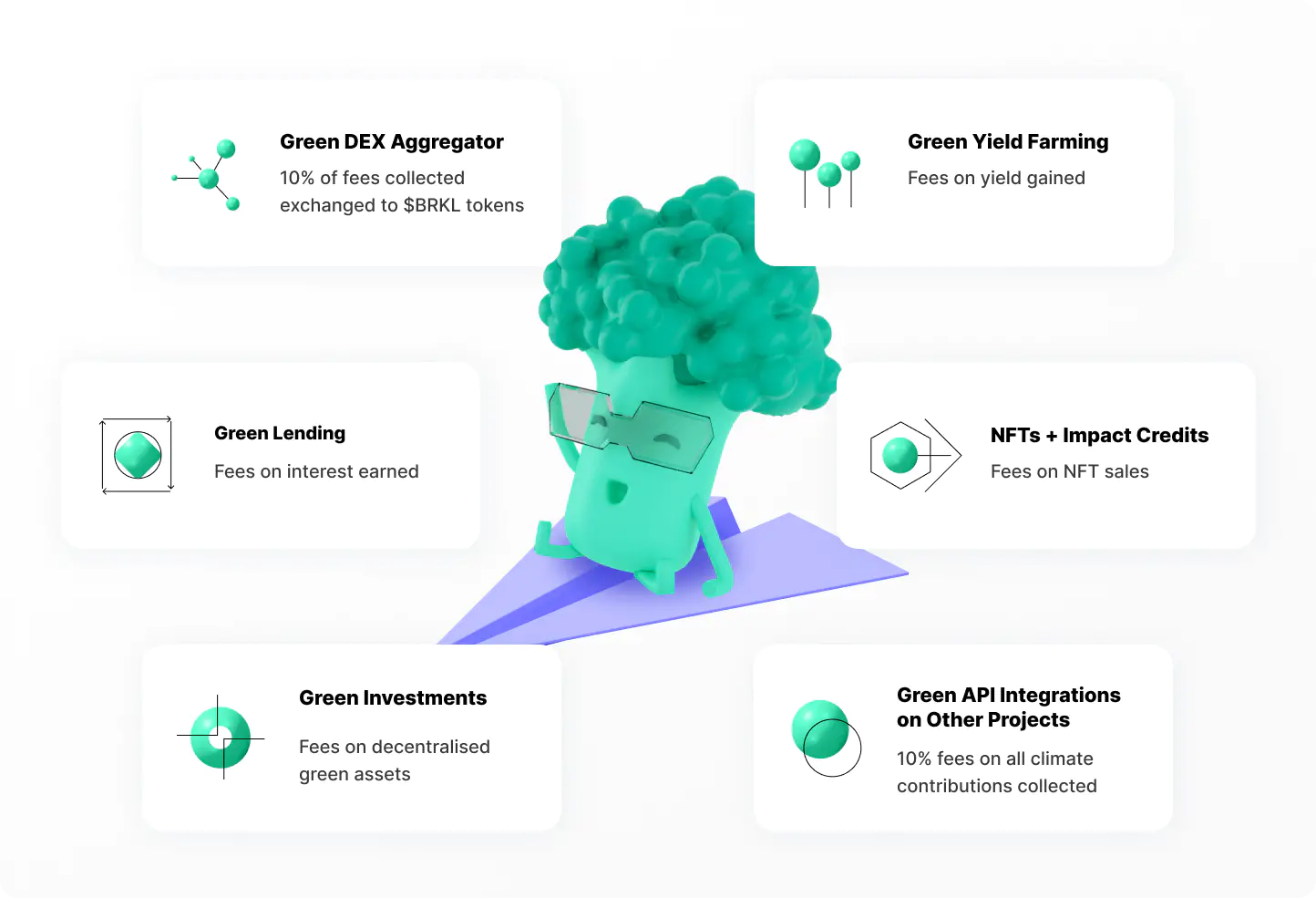 How does Brokoli (BRKL) work?
Digital Forest: Play-to-Earn NFTs for Planting Trees
We will introduce elements of Play-to-Earn by issuing digital trees (comprising forests) as fractionalized NFTs, enabling users to own their impact. Digital Forests will function as a tradable asset, whereby users will be able to buy and sell their impact peer-to-peer or to a third party (companies, NGOs, influencers).
Read how it works.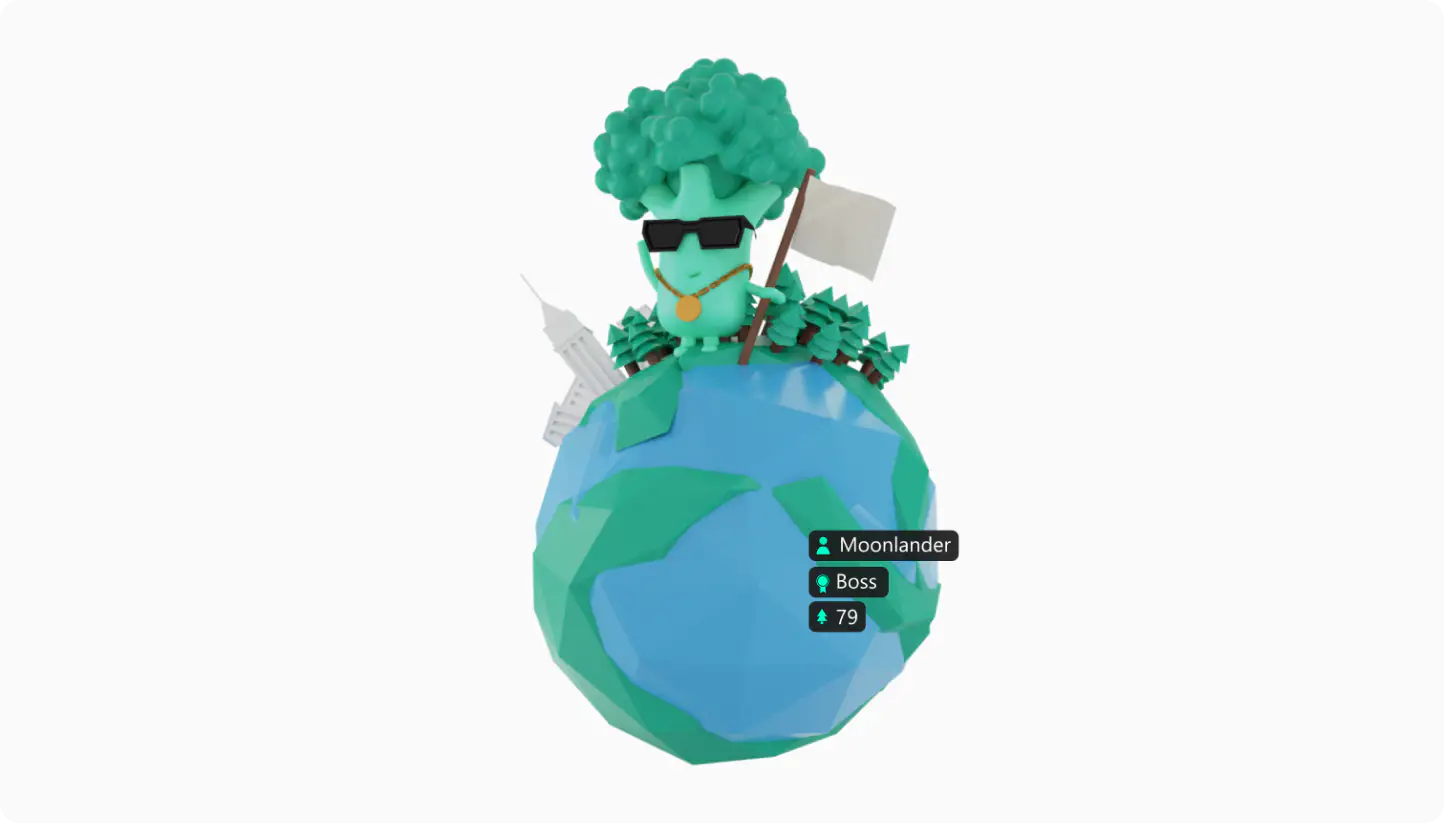 The First Climate-Positive DEX Aggregator
Brokoli's DEX Aggregator enables carbon offsets to be part of every token swap without damaging user experience. The DEX Aggregator builds upon the more capital efficient model of trading enabled by Uniswap v3. Users select slippage fees, and any excess slippage is used for climate positive action: renewable energy projects, planting trees, waste collection and recycling.
See Demo here: https://brokoli.network/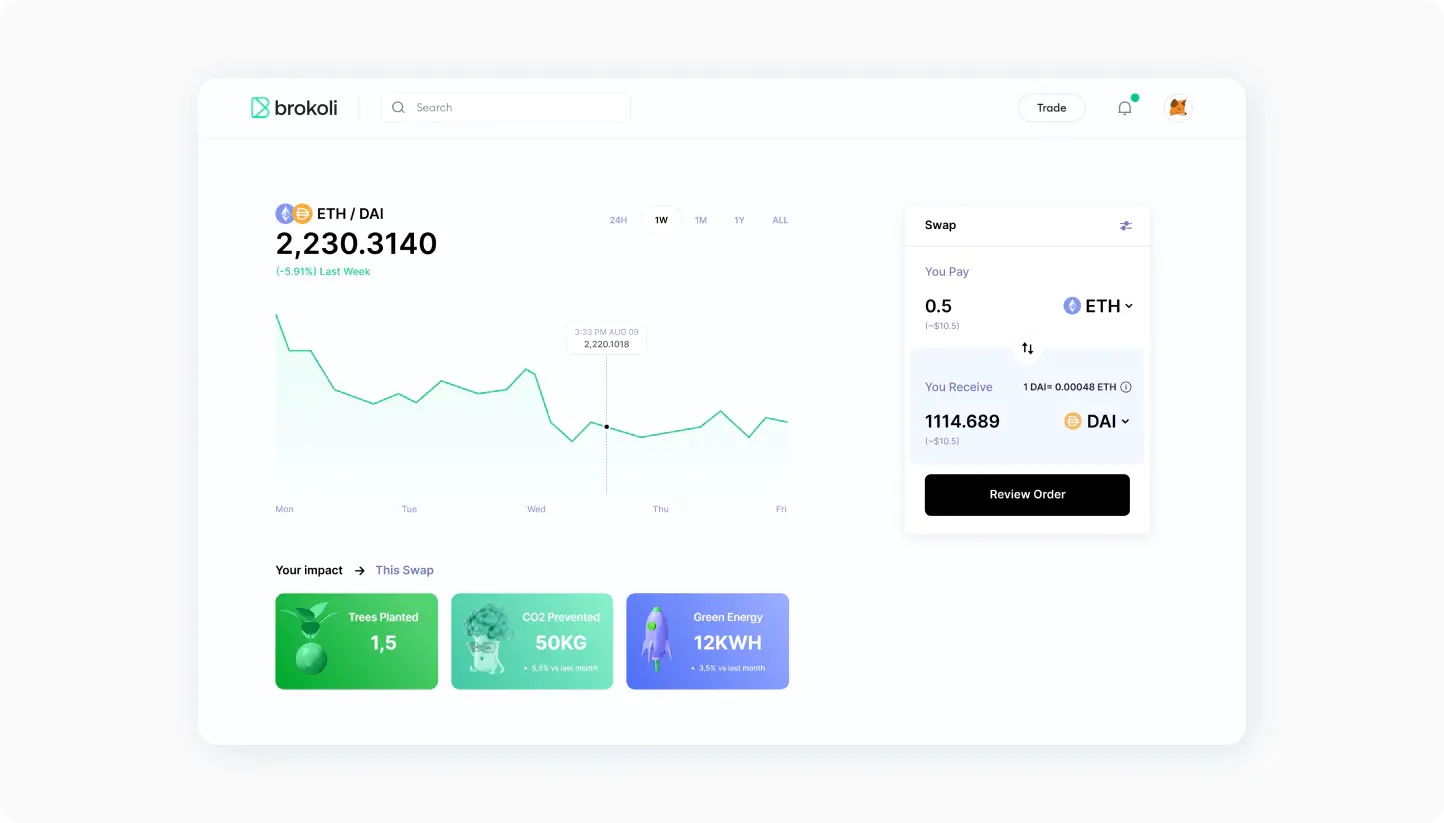 API Integration
With our seamless integration, crypto platforms will get our all-in-one climate toolkit - software equipped to offer their customers climate offset options at check-out, in-app, or anywhere they meet their customers. With 1-click, a user on any digital asset marketplace, exchange, or a wallet will be able to make their transfer climate positive.
Read how it works.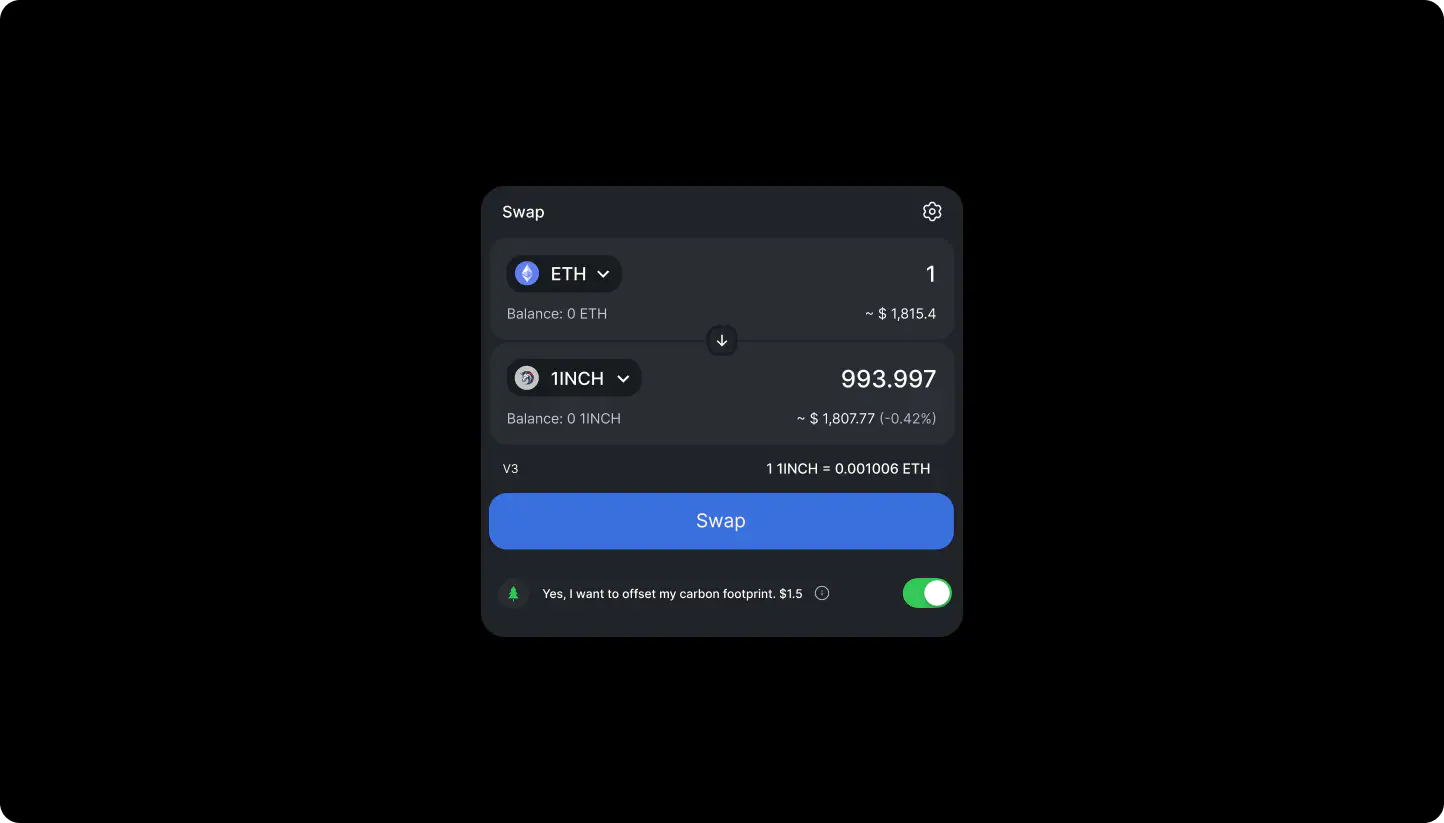 Transparent climate dashboard that monitors Brokoli's impact
Users see real-time impact in trees planted, carbon emissions reduced, and fund allocations. They see the total amount of funds distributed to climate change offsets, have the ability to track revenue sources from Brokoli's ecosystem and trace where the funds were distributed. Upon login, users see their individual impact and can claim their green NFT reward to share their impact.
Decentralized offsetting platform
There are three causes that will receive the funds from every Climate Fee payment:
Trees planted for carbon footprint offsetting
Renewable energy project investments in developing countries
Financing e-waste collection and recycling programmes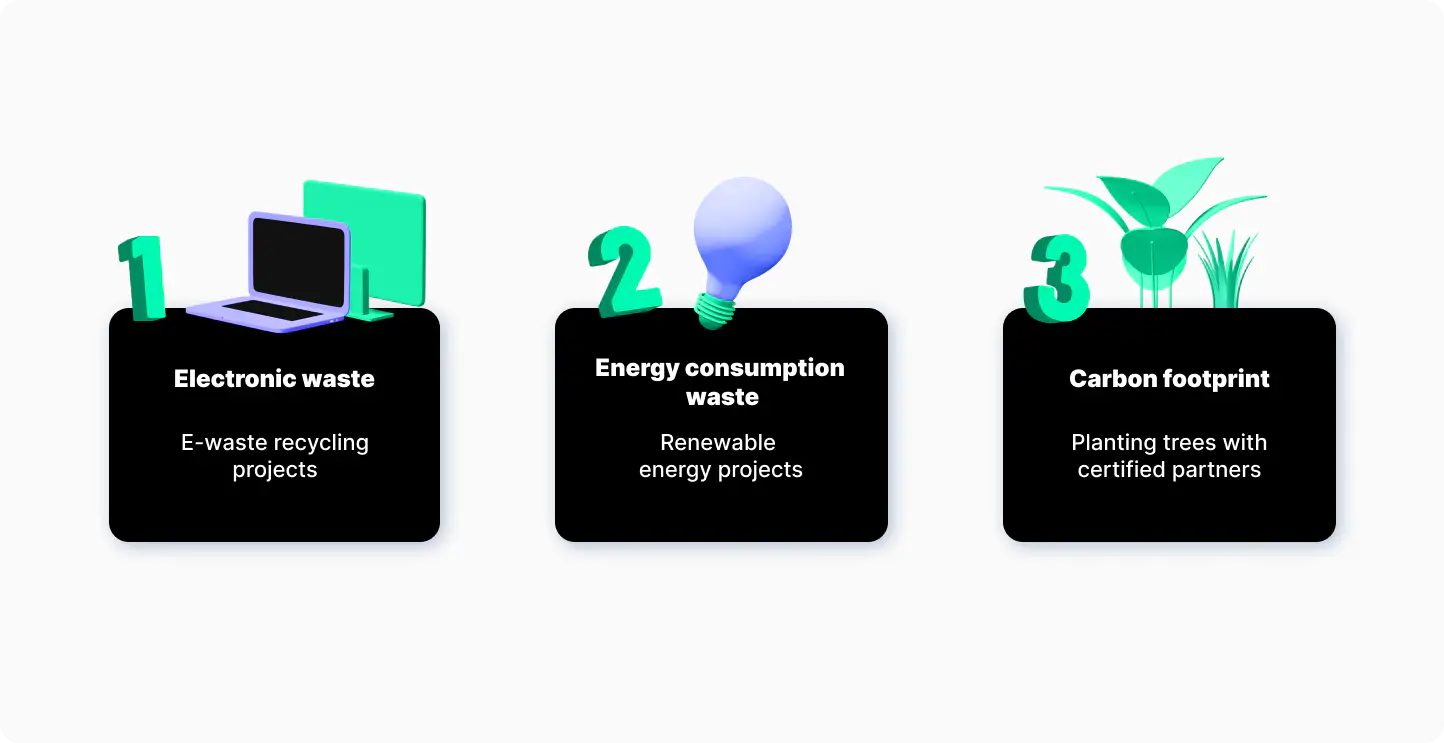 What technologies Brokoli (BRKL) created and used?
The project is being built using Smart Contracts (Solidity) and deployed on Ethereum Network. Later it will be expanded to other EVM-compatible networks such as Binance Smart Chain and Polygon.
Fees and contracts will be audited and secured using Hardware Wallets and/or multisig wallets.
Decentralized and proovable solutions will be used to ensure randomness when generating NFTs and asset price when calculating impact. Tokens and NFTs are all either ERC20 or ERC-721 compliant. In the future ERC-1155 standard can be used to better serve the use cases.
What is Brokoli (BRKL) marketing strategy?
Stage 1. Partnerships
Brokoli partners with DeFi and GameFi projects that integrate Brokoli's green API and bring brand awareness, users and revenue.
Stage 2. NFT Collection
Brokoli's NFTs capitalize on the popularity of digital art but adds a twist to it: every NFT is a symbol for individual positive impact. It's a decentralised alternative of carbon credits.
Stage 3. Cashbacks + Play-to-Earn
Brokoli's tokenomics compensate active community members in these three areas:
- project ambassadors
- DAO governance participants
- products users
Users can also make money by selling their impact.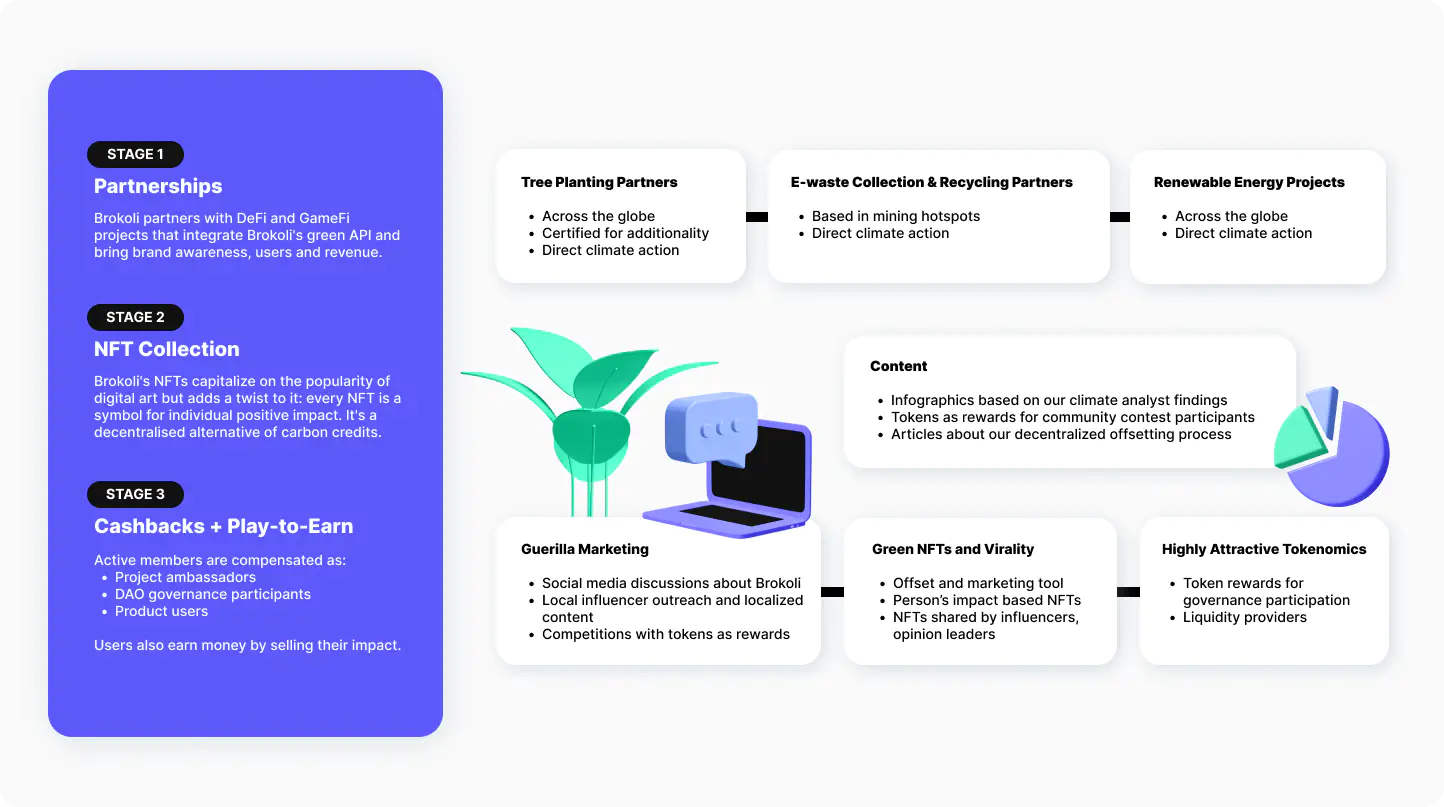 What are Brokoli (BRKL) tokenomics?
Token utility:
Token holders vote on climate offset project funding
Fees distributed to random users of the platform (partially used to buy a Tesla and give to a random user)
Fees distributed as token holder rewards
Fees used for token burn
Fees distributed to LPs (later to development fund)