Private SHO

Financial Services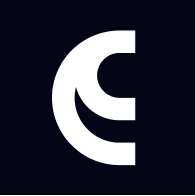 Coinspaid
CoinsPaid is a leading crypto payment ecosystem, which processes 5% of all on-chain BTC transactions. It is a successful and profitable business that launched a CPD token and DeFi tools to provide additional value for its customers. Moreover, CoinsPaid is "Payment provider of the Year" (AIBC version).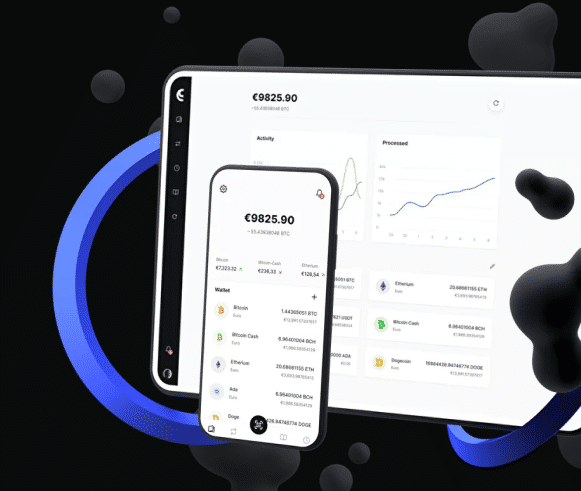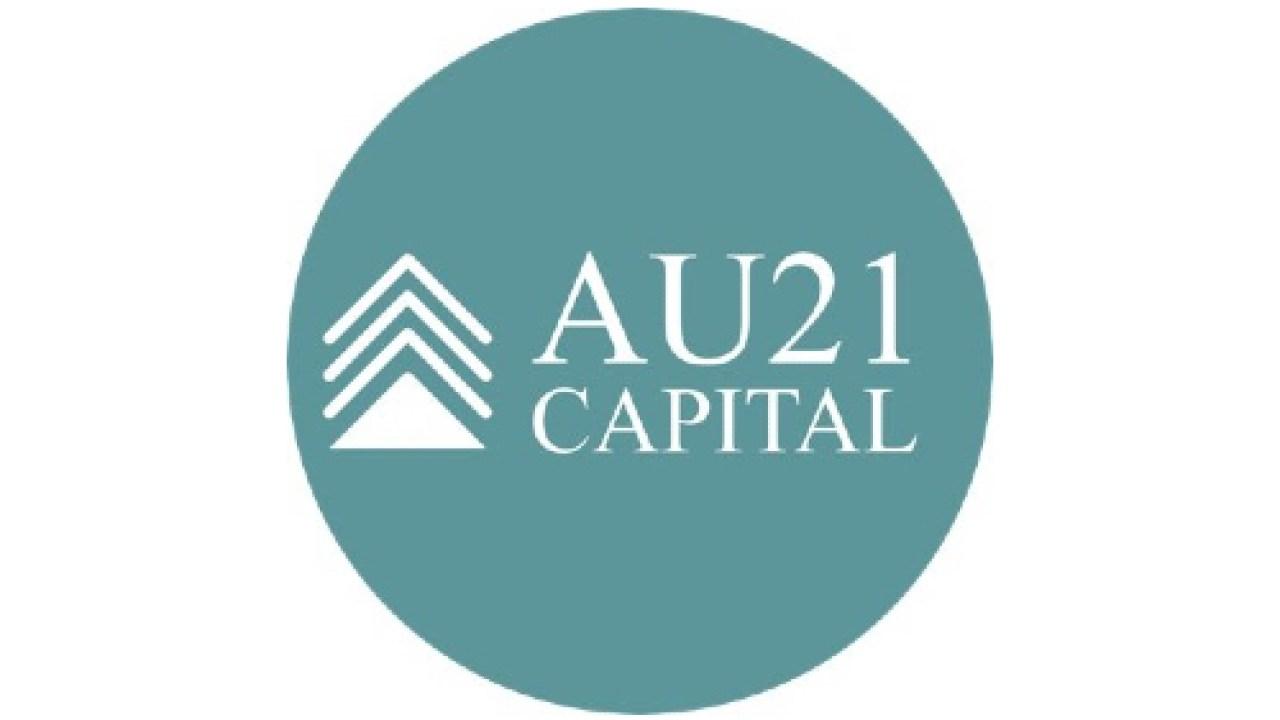 Lead VC
AU21
Market Maker
NA
Controlled Cap
NA
DAO Approved Metrics
NA
What is Coinspaid (CPD)?
CoinsPaid is a financial ecosystem with more than 700 merchants. The company processed €1.25 billion worth of crypto in 2020 and €1.8 billion in 2021 so far.
The CoinsPaid ecosystem includes financial crypto products like a payment gateway that processes 5% of all on-chain BTC transactions with more than 700,000 BTC transactions in a month, enterprise and personal wallets with a built-in crypto exchange, an OTC desk, and a SaaS payment gateway.
Their next goal is to bridge the gap between business and DeFi services and expand their presence in the B2C market. Now they are working on the launch of the CPD token and DeFi tools, which will be integrated into each service and product of the CoinsPaid ecosystem.
What is Coinspaid (CPD) marketing strategy?
First and foremost CoinsPaid is a B2B company that works with merchants and companies that utilize cryptocurrency payments. Such clients already number more than 700 and they will certainly become one of the first users of the CPD. Furthermore, CoinsPaid adds different discounts on all operations in the ecosystem to motivate using the token more often. They also work on the collaboration strategy with their merchants to use CPD as their main payment tool.
Their B2B clients also have 5+ mln end users, which can be involved in using new DeFi tools within the ecosystem. CoinsPaid's tokenomics also involves extra bonuses and discounts for the B2C audience, even a loyalty program for affiliates.
CoinsPaid plans on full adoption of B2C direction by using their soon-to-be-implemented DeFi resources. So one of the reasons for the IDO launch is about gaining traction within the DeFi community. Their future tools will allow their current partners to implement effective decentralized solutions and the new customers to enter CoinsPaid.
What makes Coinspaid (CPD) unique?
CoinsPaid's main advantage against competitors is the versatility of its business model. While others are usually focusing on one product that is already successful and growing steadily, CoinsPaid is constantly looking for new solutions that will attract additional customers. Currently, the company is looking to enter a B2C segment by releasing DeFi solutions for both current B2B clients and future retail users and investors.
CoinsPaid's main competitor for 1st place as a payment gateway is CoinPayments that are mainly focusing on one product — cryptocurrency payment servicing. CoinsPaid is more interested in expanding the current ecosystem which already includes multiple B2B solutions. They grew over 5 times and processed over a billion euros worth of crypto payments only in 2020.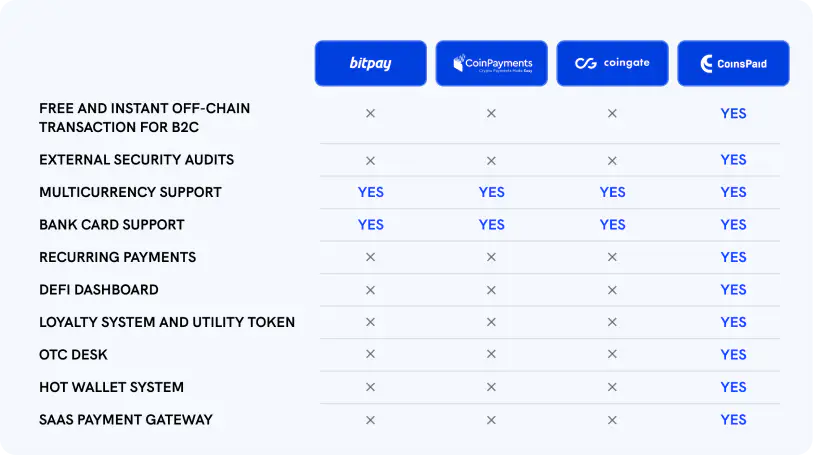 What is Coinspaid (CPD) roadmap?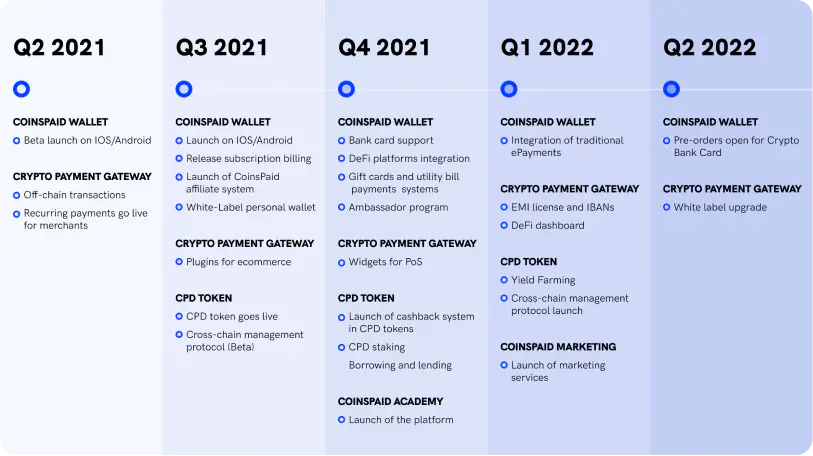 Coinspaid (CPD) revenue streams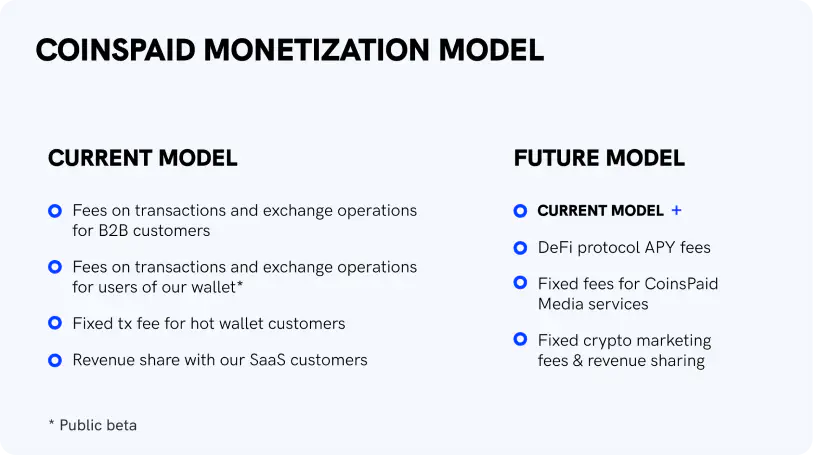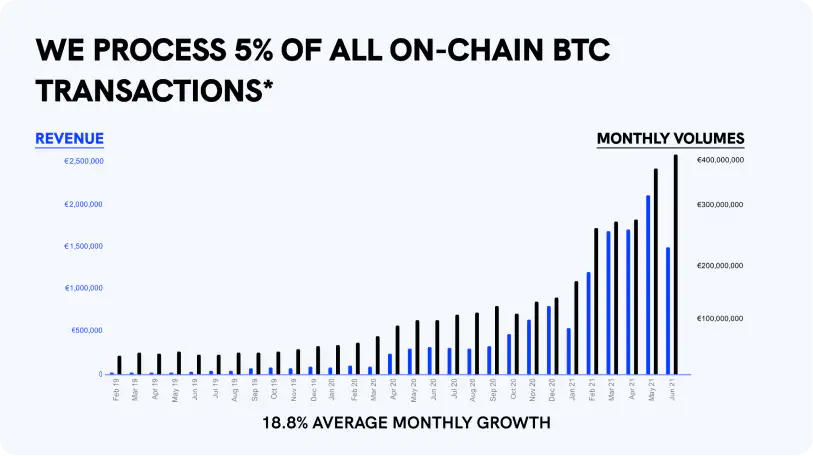 How does Coinspaid (CPD) work?
CoinsPaid Token (CPD) is the utility token of the CoinsPaid ecosystem. The CPD token will link on-chain and off-chain products, ensuring a smooth transfer of value across the ecosystem.
CPD will be integrated into each service and product of the CoinsPaid ecosystem as a payment, rewarding, or discount means.
Until the end of the year, CoinsPaid will develop additional functionality and add more use cases to the CPD token, including staking, loyalty rewards for affiliates, and bridge protocol for swaps and asset control via multiple chains.
To guide users through new services and DeFi solutions, CoinsPaid Academy will be launched. It aims to drive crypto adoption in the masses and educate users about disrupting services driven by DeFi.
In addition, CoinsPaid will release its own DeFi dashboard in Q1 2022. The dashboard will integrate popular decentralized solutions and tools.
The most valuable product of the company at this point is the payment gateway. It accepts more than 50 crypto and fiat currencies from end-users around the world. CoinsPaid payment gateway allows businesses to achieve full global coverage and will help to save up to 90% on the fees against traditional payment systems. In Q3 and Q4 of 2021, it will receive additional plugins for eCommerce, widgets for PoS, and add off-chain transactions with 0 mining fees for users of the personal wallet.
One of the first CoinsPaid B2C solutions is the personal multi-currency crypto wallet that includes a built-in crypto exchange with more than 20 fiat currency pairs and bank card support that's coming soon.
What are Coinspaid (CPD) tokenomics?
The CPD token is a means of value transfer like BTC, ETH, or USDT, but instantly and at a lower cost. With the token being the fuel for new DeFi services on CoinsPaid, its functionality won't be limited by payments only. CoinsPaid plans to enable such utility functions as:
Paying commissions in CPD. CoinsPaid users will be able to get up to 50% discount on all operations in the ecosystem both for B2B and B2C solutions – 30% discount on operations for CPD staking and an additional 20% discount for paying fees in CPD tokens.
Staking. CoinsPaid users will be able to stake CPD. The reward will depend on the amount staked, category of user (business or individual), as well as locking period.
Loyalty rewards in CPD. The incentives for B2B product resellers will earn up to 20% of lifetime commissions from resold merchants. B2C CoinsPaid wallet affiliates will get up to 50% of revenue share.
Liquidity pools. CoinsPaid holders will be able to provide liquidity in CPD and earn additional APY.
Service payments. CPD token will be the main means of payment for the PR in CoinsPaid Academy and Marketing services from the CoinsPaid team.