Private SHO

Blockchain Service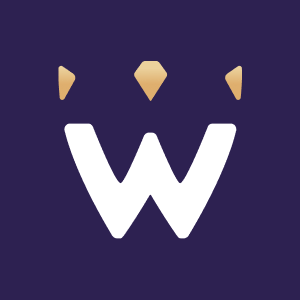 Crowny
Crowny connects and rewards users for engaging with their favourite brands, ensuring brands reach the right target audience, while protecting users' privacy.
Users receive relevant content and offers based on their preferences, allowing them to earn $CRWNY and loyalty points.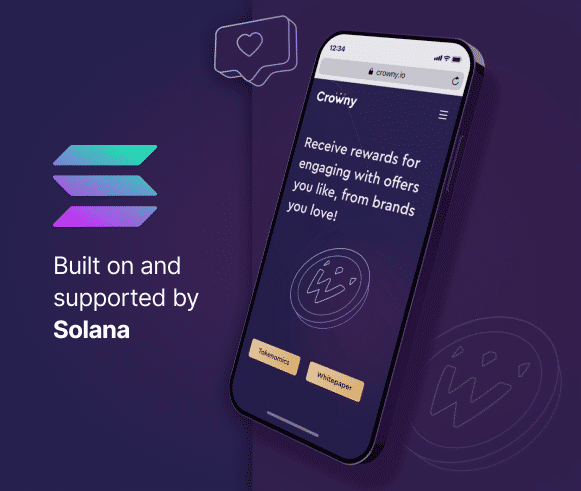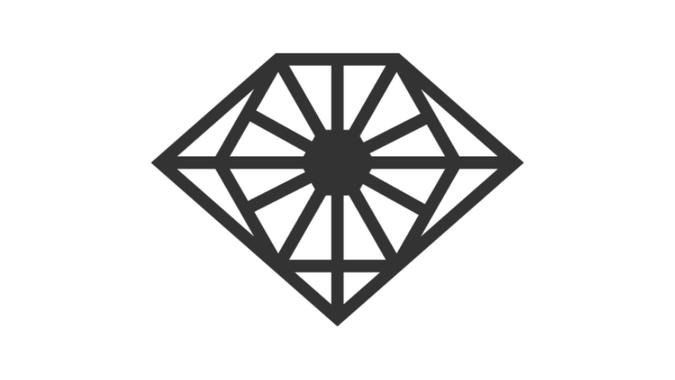 Lead VC
Rarestone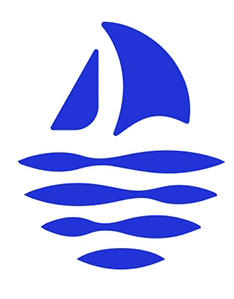 Market Maker
Acheron
Controlled Cap
NA
DAO Approved Metrics
Approved
What is Crowny (CRWNY)?
Crowny has created a new platform to help solve some of the current dilemmas within the world of advertising. Crowny is a platform that will allow brands to create effective campaigns and reach their target audiences with ease and simplicity. These users are enticed to listen to their message by being rewarded through the app. Users will be able to connect to their favourite brands through the Crowny Mobile App , without the risk of privacy breaches.
What Crowny offers:
A smartphone app which enables users to specify their areas of interest and allows them to follow their favourite brands. This gives them control over the type of content and deals they wish to see, and when they want to see it.
A secure and private experience via the anonymization of user data.
The possibility to reach out to consumers in several ways, including push notifications, geofencing and QR codes. The supplied content also includes interactions and gamification elements. Consumers will be more engaged than ever, which in turn will improve the consumer-brand relationship.
Users will always be rewarded. Not only through the offers they receive, but also for consuming content; paid with $CRWNY tokens and brand loyalty points
The biggest challenges of the advertising world includes reduced exposure, increasing costs, and elusive audiences. They are solving these challenges with their platform.
Crowny also offers a free loyalty system to small business owners. The most interesting part of this loyalty system is the $CRWNY token. These rewards play a key role in the Crowny platform. Tokens can eventually be converted to (fiat) currencies, used to purchase products, or set aside as can be held in a wallet.
What is Crowny (CRWNY) marketing strategy?
The Crowny platform can be used by any company to reach out to their (potential) customers. User numbers are important, but advertisers are looking for their customers. For Crowny it is important to have focus.
As a Go-To-Market strategy, They are starting with the crypto-world. Companies operating in this field have only limited ways to reach out to their users. Crowny will make a difference by connecting crypto-minded users with the Crowny App. The App plays a role in the whitelisting process for the IDO and will continue to provide the crypto community with relevant information, matching the preferences of the users. On the other side, companies will utilize its platform to connect and engage with users that exactly match their target groups.
When first entering the app, all users will have to input several preferences, allowing Crowny to have some basic data about the users, even the ones from outside of the crypto world. As the user base and data grows, they believe this data will become relevant to non-crypto companies. Most importantly, the Crowny platform will always respect users preferences and personal privacy and never share it with other parties.
As a feature of their core product, the Crowny App, companies can reach out to customers and reward them for interacting with their brand. This allows companies to easily always find, connect, and engage with their target audience. The Crowny free loyalty system allows every company to start a loyalty program for free. This free loyalty system comes with a very nice to have up-sell: companies using the free loyalty system can reach out to the clients that have accepted their loyalty points, which is a powerful way to keep in touch with existing customers. The free loyalty system allows us to also easily grow in the non-crypto world.
What makes Crowny (CRWNY) unique?
When a lot of people hear about the rewarding capabilities of Crowny, they think of Brave, but there are many differences. Crowny provides a free loyalty system, allowing interaction between brands and consumers.. The possibility for users to engage both on and offline is far more superior by using Crowny.
Another important element is that they are building on Solana and have several reasons to do so. They are doing so because of it's incredibly cheap and fast transactions. These features will allow us to instantly reward via fast transaction speeds, allowing for an even better customer experience.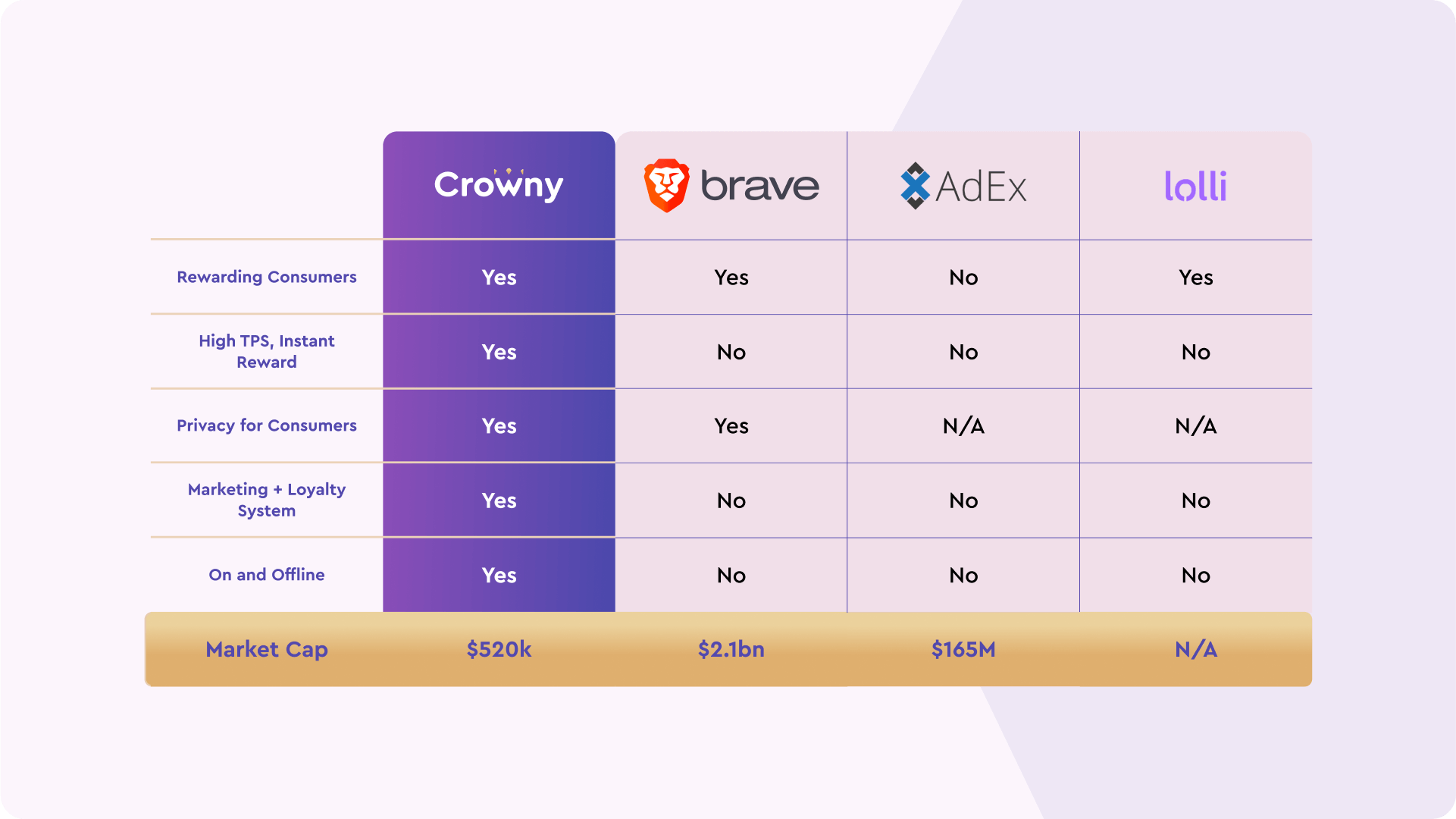 What is Crowny (CRWNY) roadmap?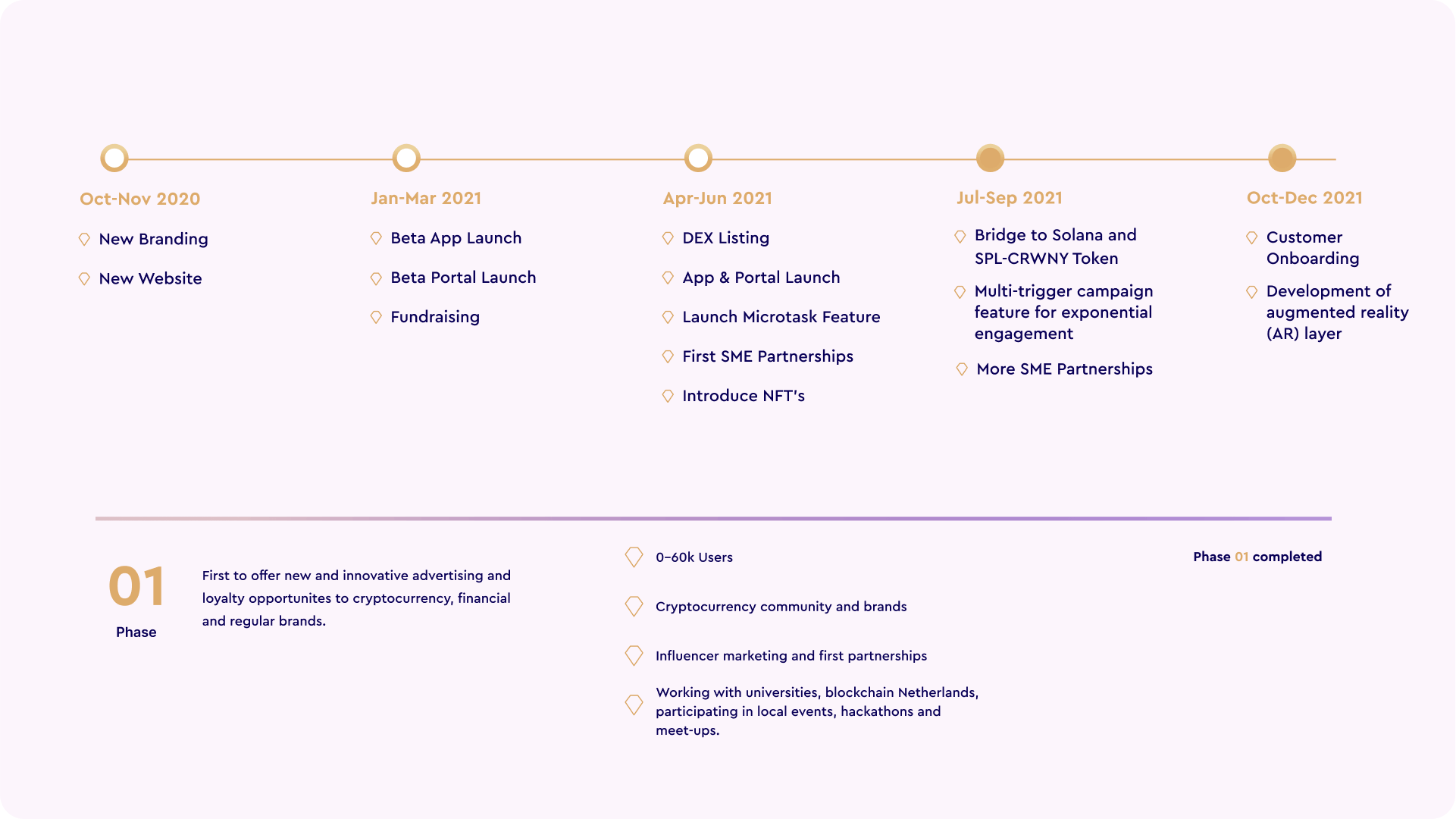 Crowny (CRWNY) revenue streams
Crowny's business model consists of 3 streams: A small base price per trigger/campaign an advertiser creates, a fee each time a user interacts with the content, and a 10% fee when it distributes content to a third party network.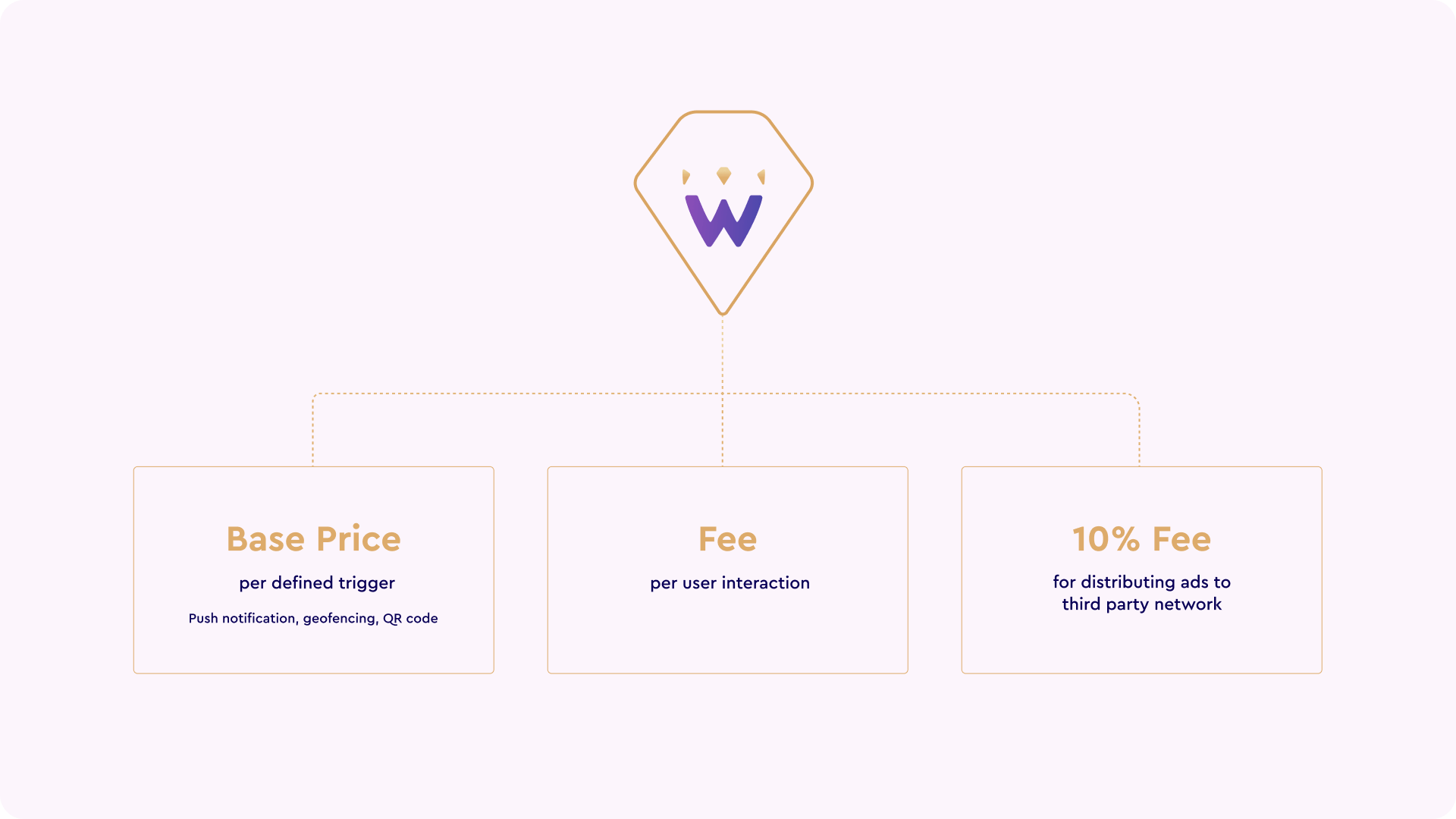 What is product dive of Crowny (CRWNY)?
To use Crowny, both companies and users will have to make an account on the platform. After completing the registration process, they are ready to make use of the Crowny platform.
Loyalty System
The loyalty system Crowny offers to registered companies serves as a stepping stone for the advertising portal, but is nonetheless valuable for both companies and consumers. It provides companies a very easy way to incorporate a loyalty system into their business, completely free of charge.
Advertising Portal
Companies can log in into the 'Advertising Portal' to create an advertising campaign. Here, they will find all the features needed to create and launch a successful campaign. These features include (but are not limited to) real-time campaign overviews, data analysis tools, and preset campaigns based on the type of company/business. Just like the loyalty system, the 'Portal' is wrapped in an interface meant to be easy for even the least tech-savvy person.
Mobile application
The mobile application is a user-facing tool to interact with the Crowny platform. It keeps track of all the loyalty points earned for every user and groups them into a single simple interface. It also serves as a wallet for the $CRWNY tokens which are gained by interacting with brands. Crowny has implemented features to give the users total control over what messages they will receive and the frequency those messages are sent with.
What technologies Crowny (CRWNY) created and used?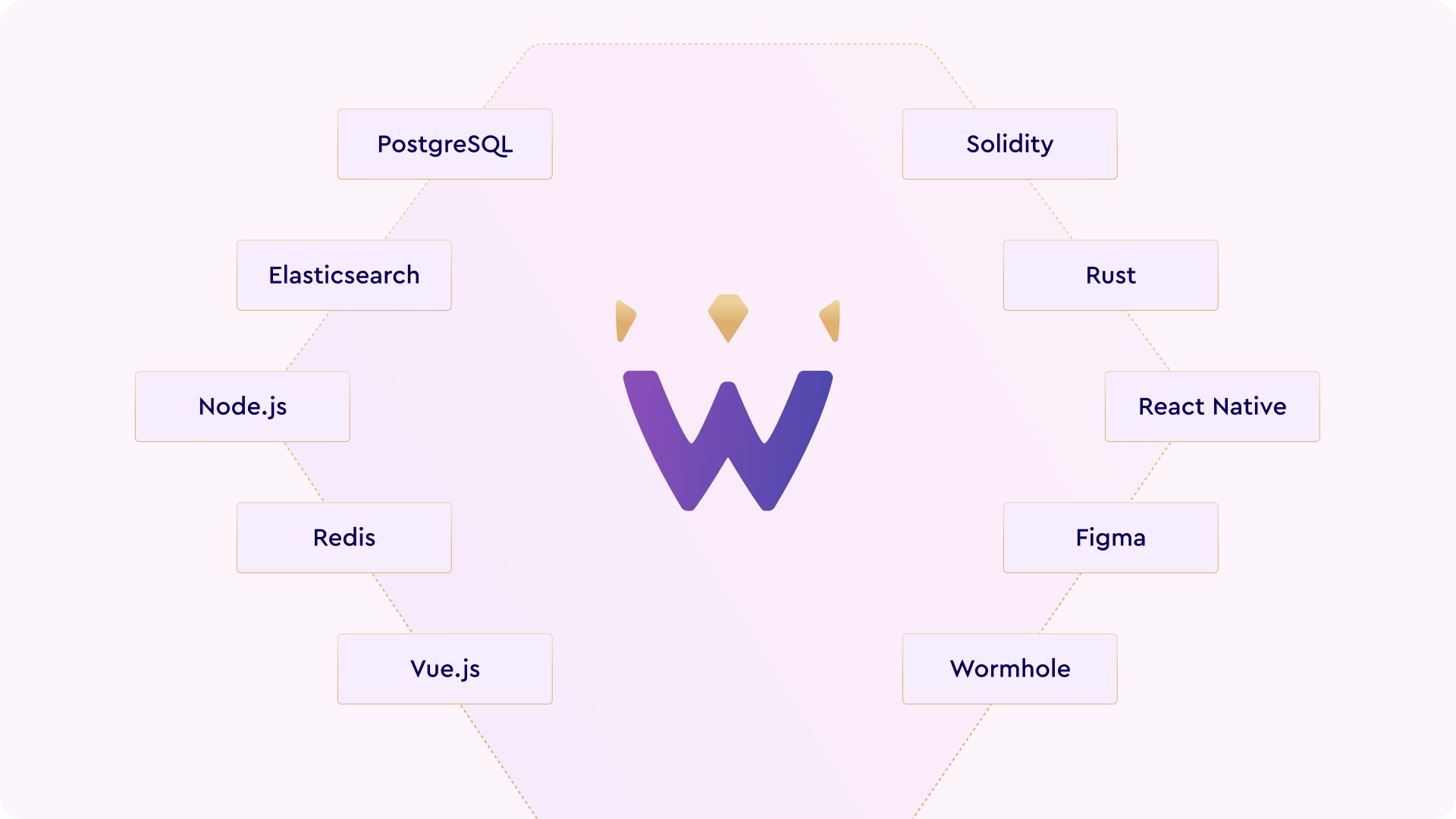 What are Crowny (CRWNY) tokenomics?
Token utility
The $CRWNY token will first launch on the Ethereum blockchain as an ERC-20 token. They will be using the Wormhole bridge to Solana to support the functionalities on its platform. Crowny has developed the following token structure to serve both the platform users and the crypto community.