Private SHO

Trading and Investment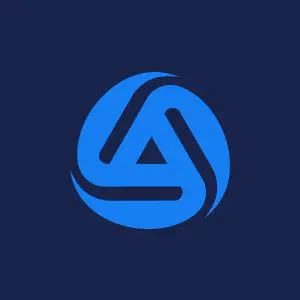 delta.theta
A suite of products to facilitate the protection and money-making opportunities for farmers on the Binance Smart Chain and Ethereum.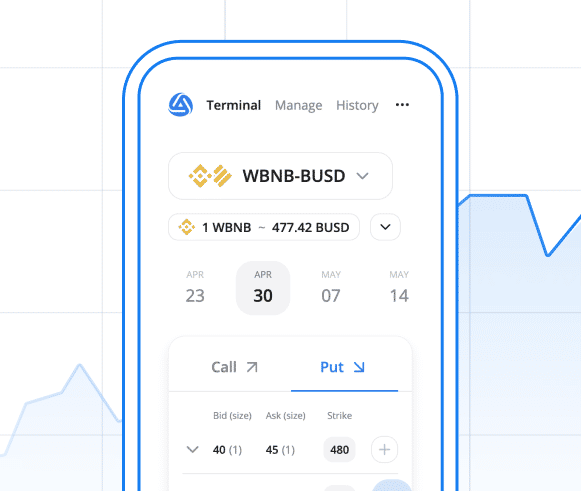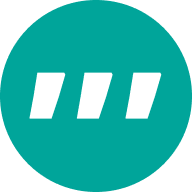 Lead VC
Three Commas

Market Maker
NordicVelo
Controlled Cap
NA
DAO Approved Metrics
NA
What is Delta Theta (DLTA)?
Delta Theta is a peer-to-peer asset options trading platform. Currently, the solution is implemented on Binance Smart Chain and Ethereum.
Delta Theta provides a logical structure that includes four types of contracts:
- Buying an opportunity to buy (Buy CALL option)
- Buying an opportunity to sell (Buy PUT option)
- Selling of obligation to buy upon request for execution (Sell CALL option)
- Selling of opportunity to sell on-demand (Sell PUT option)
The Delta Theta platform itself is not a party to the transaction, but only provides a set of comprehensive software solutions for organizing trades and obtaining equilibrium reference asset values.
What is Delta Theta (DLTA) marketing strategy?
Choosing among a variety of possible areas of profit at the moment of entering the market, Delta Theta is primarily focused on the segment of "farmers" on Binance Smart Chain (hereinafter BSC) and then on traders. BSC was chosen because it is the most popular blockchain for cryptocurrency trading and getting profit from alternative ways of capital management, typical only for the crypto market. Existing competitive solutions on the market either do not use this blockchain or are centralized.
Delta Theta has developed a simple, clear and functional product for "farmers". By using Delta Theta LITE, any farmer can qualitatively increase his APY in 3 clicks by choosing a simple ready-made risk management scheme.
Delta Theta product addresses two major pain points of "farmers":
1. First, through Delta Theta, farmers buy protection during the farming period. The farmer invests in stablecoins and "strong" coins (ETH), and the output is a coin that is subject to a significant drop. Thus, the farmer needs to get protection from the dump of the token that is being farmed.
2. Efficient capital management. Today's farmers in search of APY growth use quite a wide range of products, from simple farming to flash-loans solutions. Options allow them to participate with less capital leverage. They started out with a simple one - by allowing farmers to sell options. You sell an option - and you make money. They give the farmer an opportunity to make money on his desire to use his own capital more efficiently. Example: Let's say, a farmer wants to sell a coin at a higher price and comes to delta.theta. He can use the Sell High option and place a limit order through delta.theta LITE app. And that's where the magic begins:
a. First, his order can go into LIP (disabling feature) - this means that his order is deposited on the Venus protocol and the farmer is paid the appropriate APY
b. Secondly, if the buyer bought the farmer's option, he paid him a premium. But the option may not be executed. So, the farmer has already earned in 2 places just on his desire to be efficient.
An additional target audience is active traders who need the following unique functionality:
1. Tools - the platform provides a flexible response to demand. Adding a new fully tradable asset will take less than a few hours.
2. Liquidity - They have a commission system, oriented on the liquidity provider in the order book, the incentive system for liquidity delivery through Liquidity Incentivize Programme, as well as our own pool of market makers.
3. Analytics - They do analytics, where they express our personal opinion. Of course, it is not a recommendation to buy or sell of this or that asset, but they are sure that it can be very useful for traders.
To address the specific needs of traders, we have a PRO version of our delta.theta terminal.
What makes Delta Theta (DLTA) unique?
Today, the cryptocurrency market exceeds $2 trillion in capitalization. The market is well developed in terms of spot trading and margin services and centralized trading. It is characterized by high volatility and competition in the provision of classic, basic exchange services. At the same time, it is also worth noting that the process of new product introduction in the crypto-financial market is much faster than in traditional markets. Due to this speed, in a few years, the cryptocurrency market has passed the way that the classic market passed in centuries.
However, the cryptocurrency market lacks a large-scale and professional implementation of such a tool as an option. In traditional finance, options serve as a reference tool for calculating the profitability of an investment strategy and are often used as a market version of risk protection.
Nowadays, options are already badly needed by "farmers" - users of a new specific sphere of capital turnover, in which participants place their assets in an independent "smart" contract within the framework of trust and security in a liquidity fund.
delta.theta is just such a platform, which provides an advanced infrastructure and ready-made solutions to control and minimize risks for any participants of the crypto market. Moreover, with the help of delta.theta products and tools, it will be possible to not only use options for classic purposes, but also innovative tools to extend and maximize the toolkit of making profit from capital management.
What is Delta Theta (DLTA) roadmap?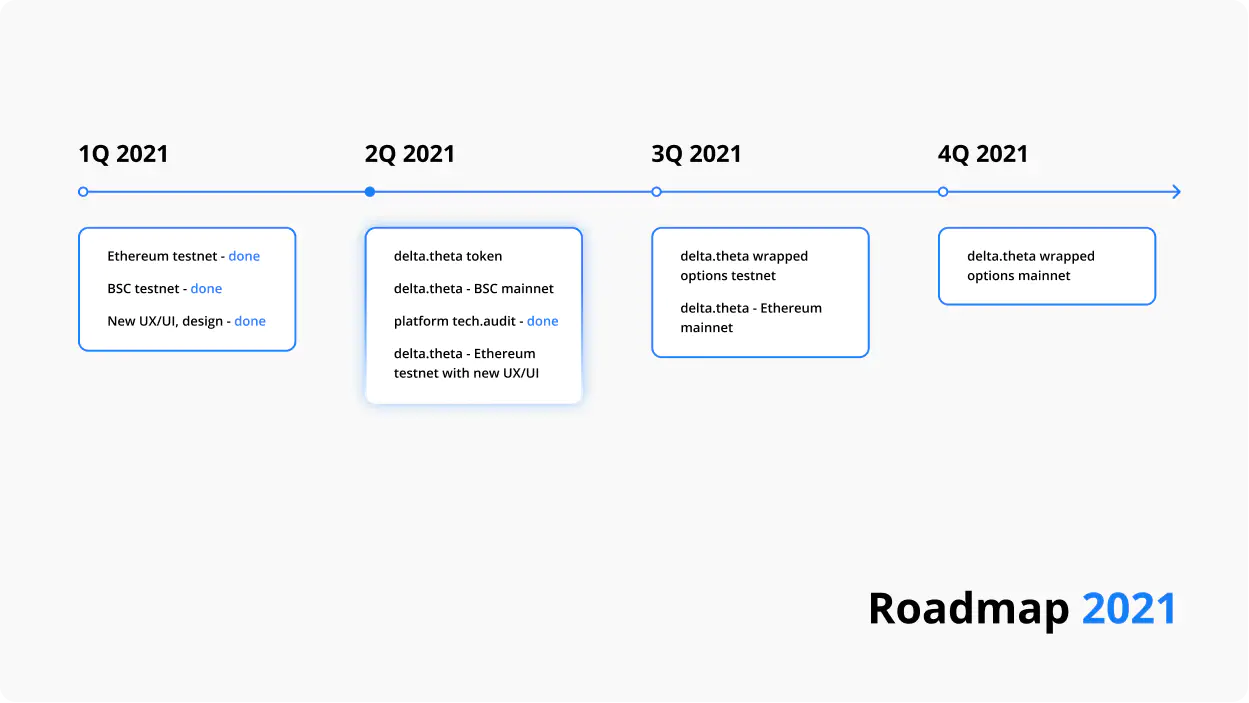 How does Delta Theta (DLTA) work?
Delta.theta isn't a beneficiary of the executed platform transactions, but only provides a set of comprehensive software solutions to organize trading and obtain equilibrium reference asset values.
The platform architecture, as part of the implementation on the Binance Smart Chain blockchain and Ethereum, supports the following functionality:
Unlimited expirations
The pairing of any coins for the corresponding blockchain
American-style options (execute at any time prior to the expiration date)
Limit and market orders. Limit order - user chooses the parameters (price, term). Market order - the user buys/sells what is available in the trading terminal.
2-level system of commissions. Maker fee - if the user adds liquidity to the order book (puts an order not at the current market), a reduced commission is applied to it. Taker fee - if the user removes liquidity from the order book (takes out the current orders), the standard commission is applied to him.
Sellers of options pledge 100% of the collateral, thus the failure of the contract is not possible.
Option sellers can participate in the Liquidity Incentivize Program. Their placed orders can be forwarded to protocols like Venus, where option sellers can earn extra money.
Delta Theta (DLTA) revenue streams
Delta Theta has two main revenue streams:
DEX fees (Maker/Taker fees).
Revenue from token usage. Delta.theta token can be used to pay for analytical services of delta.theta. The company publishes the following materials on a weekly basis:
weekly review
Market ideas
Token overviews
Delta.Theta estimated revenue plan.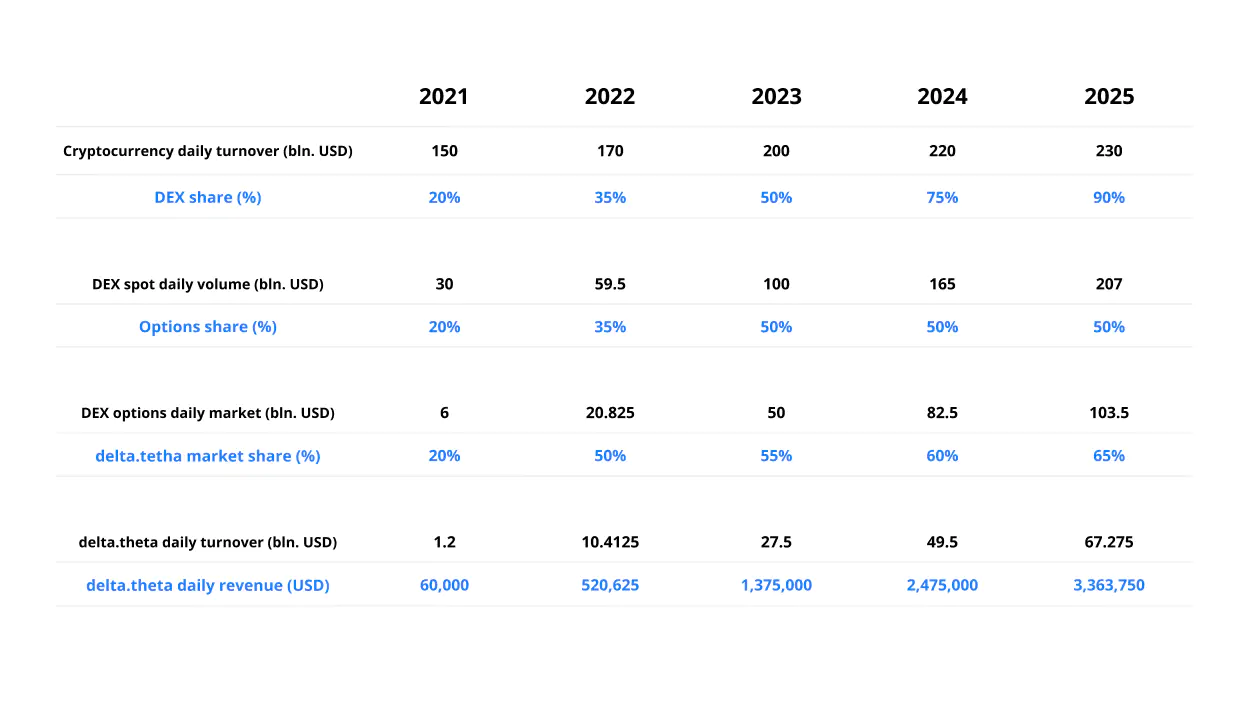 What technologies Delta Theta DLTA) created and used?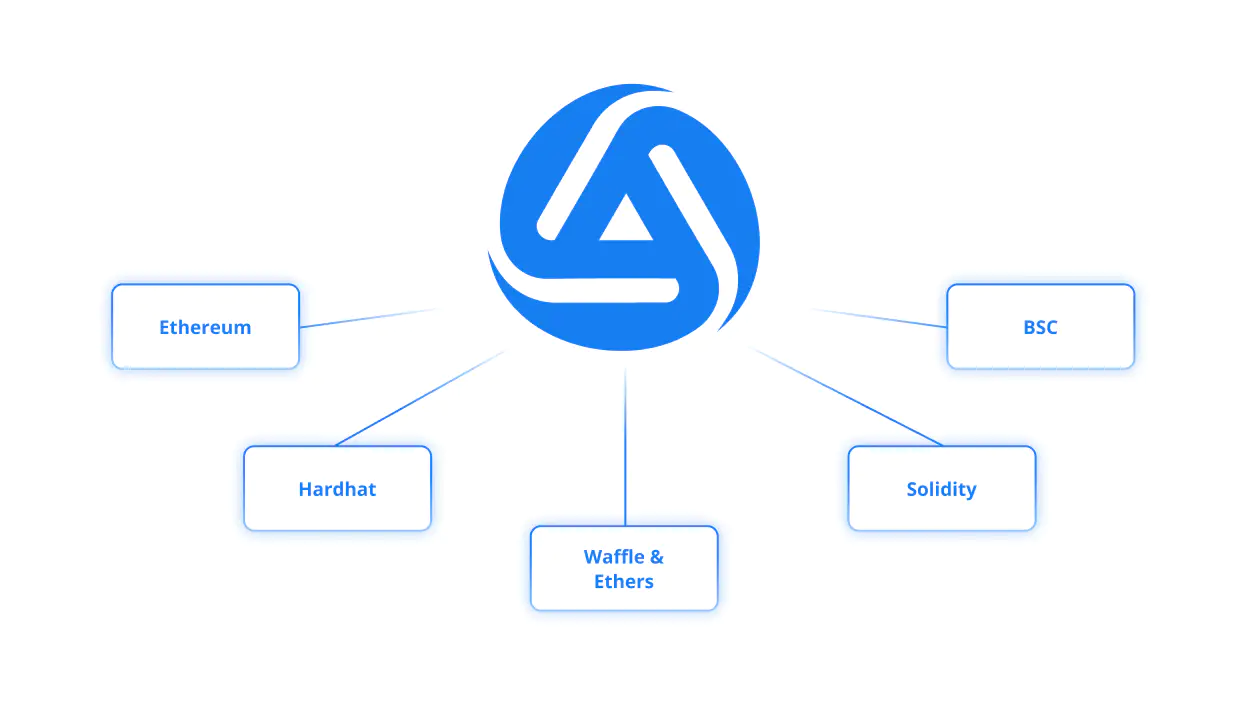 What are Delta Theta (DLTA) tokenomics?
The delta.theta token has a utility function. First of all, any platform user with a token receives a discount based on the volume of tokens available (discounts are applied to the appropriate order type):
5 000 tokens 10%
25 000 tokens 20%
100 000 tokens 50%
Secondly, delta.theta token can be used to pay for analytical services of delta.theta. The company publishes the following materials on a weekly basis:
weekly review
market ideas
Token overviews Market ideas and token overviews will be available only for users utilizing delta.theta tokens from July 15, 2021.
Third is paying for the access to trading pairs/strikes. From August 15, from the launch of the updated platform with included wrapped assets, users will have 2 options to interact with the platform: basic - access to 2 pairs and 3 strikes (OI top 3) professional - no restrictions, available only to users utilizing delta.theta token.