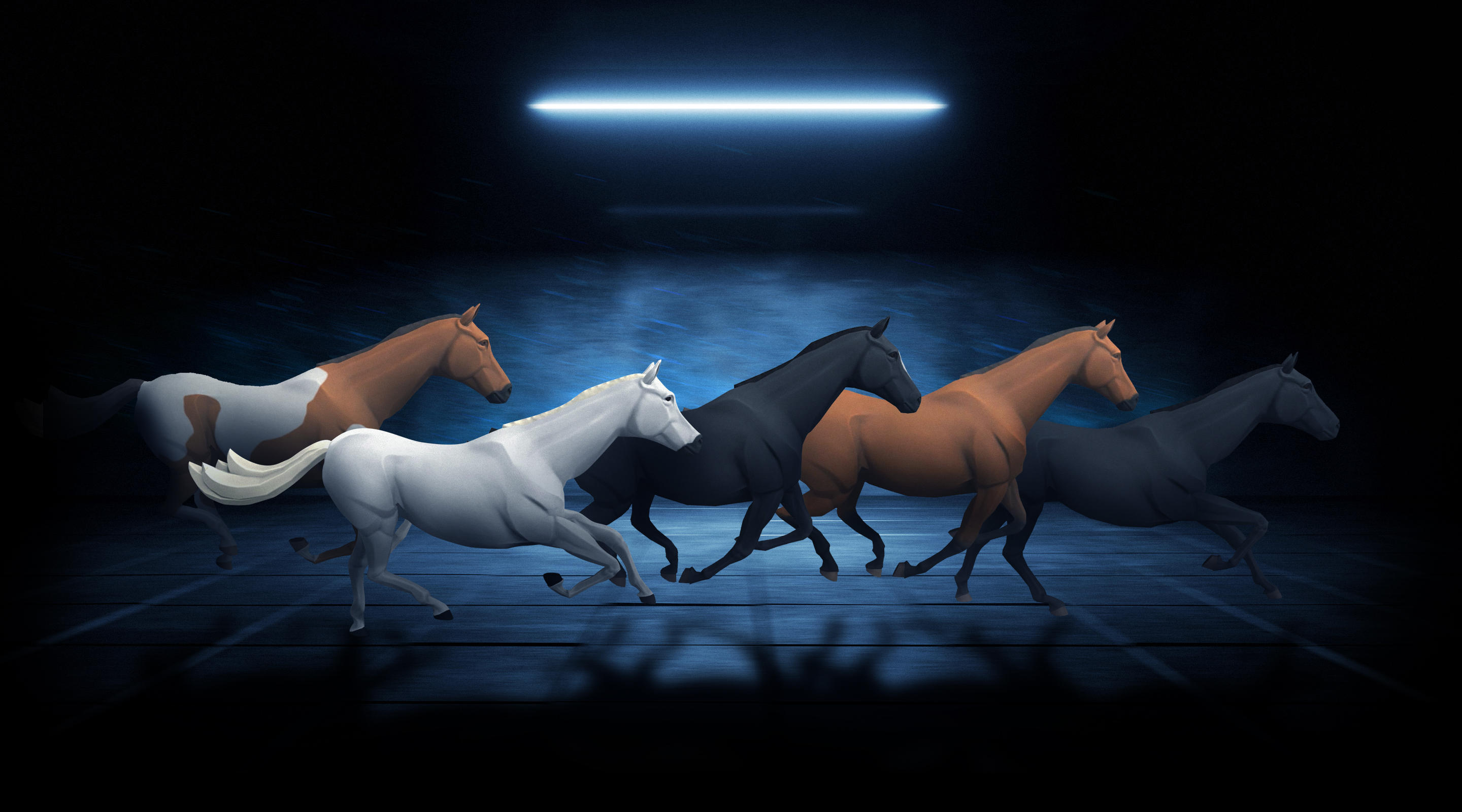 INCUBATION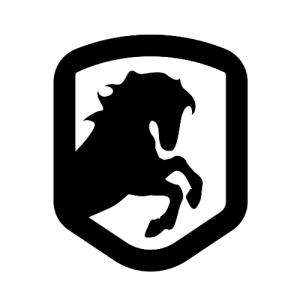 DeRace
DeRace is a virtual NFT horse racing universe built on blockchain and powered by DERC.
DeRace is a platform that simulates real-life horse racing and gives players the ultimate horse racing experience by allowing users to: own and trade NFT horses, breed NFT horses, participate in horse races, own a hippodrome and host horse races, and earn on winning horses in real-time races.

Lead VC
DAO Maker

Market Maker
NordicVelo
Controlled Cap
Approved
DAO Approved Metrics
Approved
What is DeRace (DERC)?
DeRace is a play-to-earn NFT horse racing metaverse where you can participate in horse races, breed NFT horses with unique characteristics, host races in your own NFT hippodrome and earn profit while doing it.
DeRace is electrifying the current NFT market by allowing players to fully interact with their DNA-enriched NFT horses and have full control of their own hippodromes.
Blockchain technology allows transparent horse racing outcomes which makes stakes on the DeRace platform reliable and safe.
DeRace platform economy will run on $DERC token, which will power all transactions (entry fees, prizes, NFT sales, player earnings, etc) made on the platform including referral bonuses and reward programs.
What makes DeRace (DERC) unique?
DeRace is a combination of 3 booming multi-billion-dollar markets: Gaming and horse racing all together valued at more than $700 billion.
The digitalization of the billion-dollar horse racing market is practically non-existent and it's full of corruption, fraud and lacks transparency. DeRace brings the latest technologies to the market, such as blockchain and NFT's and offers decentralized solutions to ensure transparency.
The gaming industry lacks ownership and uniqueness, and all assets in a video game can be used only in-game. In DeRace, all game assets are NFTs and can be used, or sold outside the game.
Betting industry profits from player losses, rather than creating a sustainable and healthy environment. Online betting games also have dull and predictable gameplay while lacking in safety, and privacy. DeRace is focused on growing and earning with the player base, introduces GA and RNG technology, brings exciting gameplay, and ensures safety and privacy by utilising the blockchain.
There is also a huge unfulfilled demand for games with betting features; DeRace combines video gaming and betting, focusing on both markets equally and simultaneously.
What is DeRace (DERC) roadmap?
We are aiming to introduce our game-changing platform by the end of this year and fully arm it with all the exciting features next year.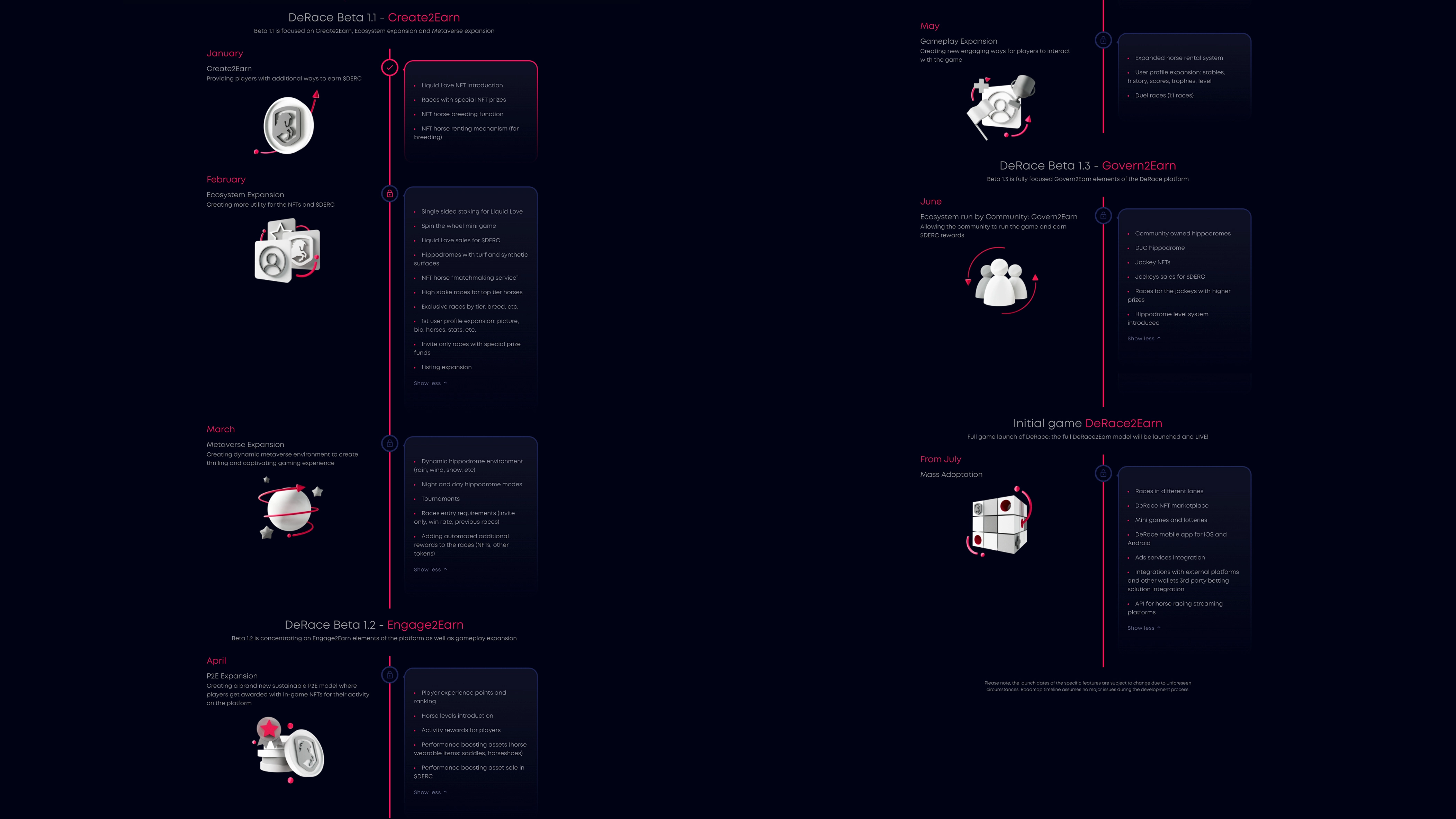 DeRace (DERC) revenue streams
Unlike many NFT and even crypto projects, DeRace is being built to start generating revenue from the get-go. The revenue models are as diverse as they are sustainable. These include NFT asset drops, Horse breeding fees, Hippodrome sales, NFT Horse drops, and the main projected revenue stream of 5% fees collected from Hippodromes profits.
What is product dive of DeRace (DERC)?
DeRace is a platform that simulates real-life horse racing and gives players the ultimate horse racing experience. It contains not only the race itself but also other parts of the industry:
Horse owners can own, breed, and trade horses as well as compete in races.
Hippodromes host races, compete against each other, and attract participants and bettors.
The bettors place bets on preferred horses.
NFT horses
Like real-life racehorses, DeRace NFT horses have different traits that define their rarity, performance, cool-down time, and ultimately, value. NFT horse is a valuable asset that allows you to participate in races and earn payouts.

DeRace NFT horses perform differently on various racetracks: some horses are faster on dirt, some on turf and some on synthetic surfaces.
Performance also depends on racetrack length: some horses are excellent in short distances while some are outstanding in long ones.
Players have to race your NFT horse in different hippodromes to find out what type of races your horse prefers.

Horse breeding
In DeRace two NFT horses create a third NFT horse. The player can select male and female horses and add Love Potion NFT to initiate the breeding potion. The horse of the next generation is crested. (For example Gen 0 NFT horses generate Gen 1 offspring).
Both NFT horse tokens are sent to GA (Genetic Algorithm) via Ethereum smart contract. GA generates a third NFT horse combining genes from parent horses, with +- 5% deviation (RNG factor is applied).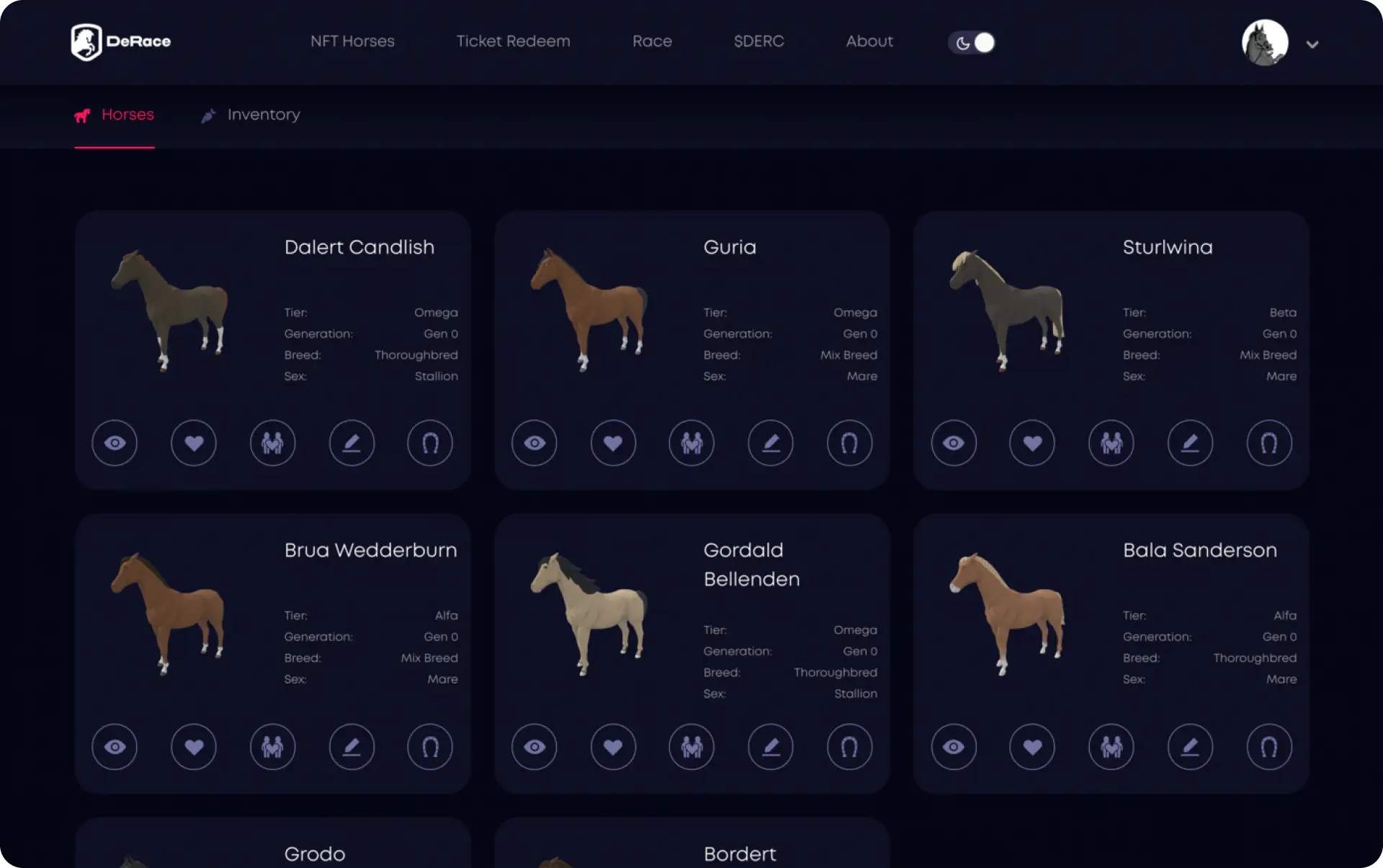 Rent-a-horse
Horse renting system that allows players to rent their NFT horse for breeding and racing and earn rewards.
NFT Horse races
Up to 12 horses participate in each race. Every horse participates in the race for a set fee. The winner of the race collects a % of the participants' fees and also any other additional prizes, which are then automatically transferred to the winner's account.

Race entry mechanics
All planned races will be displayed on the upcoming races board. Players can access the board and filter the races by date, entrance criteria, entry fee, player quantity, hosting hippodrome, and winning pool, to select the most suitable ones to join.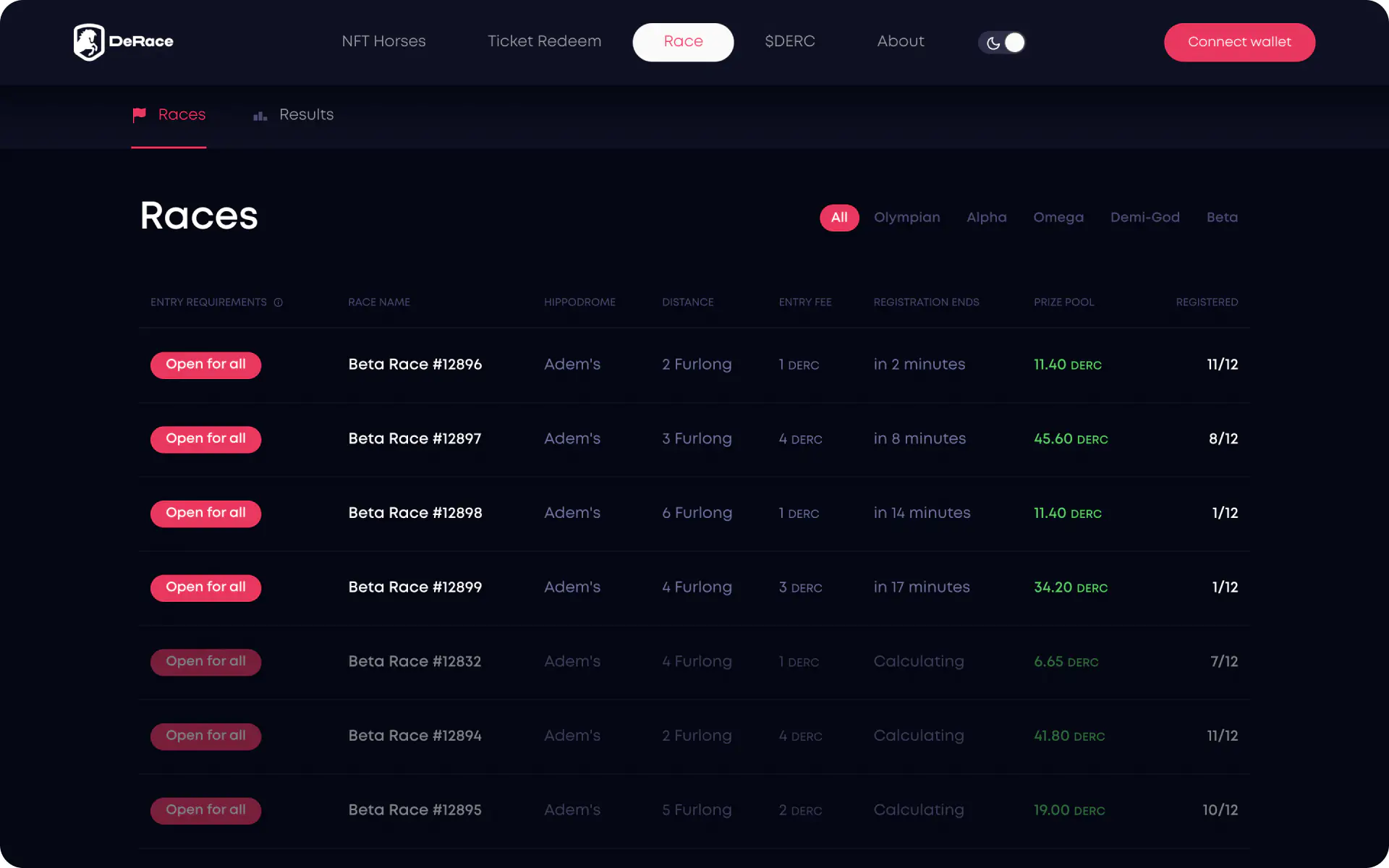 NFT Hippodromes
All horse races take place in hippodromes. Hippodromes in the DeRace metaverse are community owned. The hippodrome owner determines both participation fees and other criteria before each race.
As in the real world, the hippodromes in the DeRace metaverse vary in track length and surface. Some racetracks are shorter, and some — longer distance. The tracks in the hippodromes also have different surfaces: it varies among dirt, turf or synthetic.

Performance boosting assets
Performance boosting asset NFT can be purchased and be used to increase the performance of the racing horse as well as be given out as prizes to the winners.
Tournaments
Once in a while, special tournaments are hosted in the dedicated hippodromes offering exclusive prizes. By participating in these racing events players will be able to acquire amazing prizes from sponsors like DeRace, Binance and many others and prove themselves as the ultimate DeRace metaverse champion.
What technologies DeRace (DERC) created and used?
Genetic Algorithm
GA (genetic algorithm) is similar to how biological genetics work in reality, where genes — your DNA — store information about the rest of your body. For example eye, skin and hair color, hair structure, body type, and height. In a GA, numbers represent various characteristics.
NFT + Polygon Smart Contract
Combining NFT with Polygon smart contract allows breeding horses (in a GA, it is called a crossover). It creates another unique token out of the other two, keeping some of the information (features) previous tokens had written in the smart contract.
RNG Algorithm
The DeRace Controlled RNG algorithm is used for breeding and racing:
In horse breeding, GA generates the third NFT horse combining genes from parent horses, with +- 5% deviation (RNG factor is applied). That means that even if both parents had the property of speed 20 - their child's speed can be in norms from 19 to 21.
In racing, the RNG algorithm will choose a winner out of all participating horses of the race. Horses with higher speed have a higher chance of winning. But since it's an RNG-based game even the slowest horse has a small chance to win.
For Racing and breeding RNG "Provable" - blockchain-based RNG will be used.
In-game NFT marketplace
On in-game NFT marketplace where NFT horses and other NFT assets can be traded among players.
Player Earnings
One of the priorities in DeRace's operation is to enable players to diversify their income sources by easily and instantly earning DeRace coins in different ways. Players can earn DERC in the following activities:
Breeding
Trading NFT horses
Participating in races
Hosting races in hippodromes
Selling analysis and predictions
Referral programs
Reward programs
Bug reporting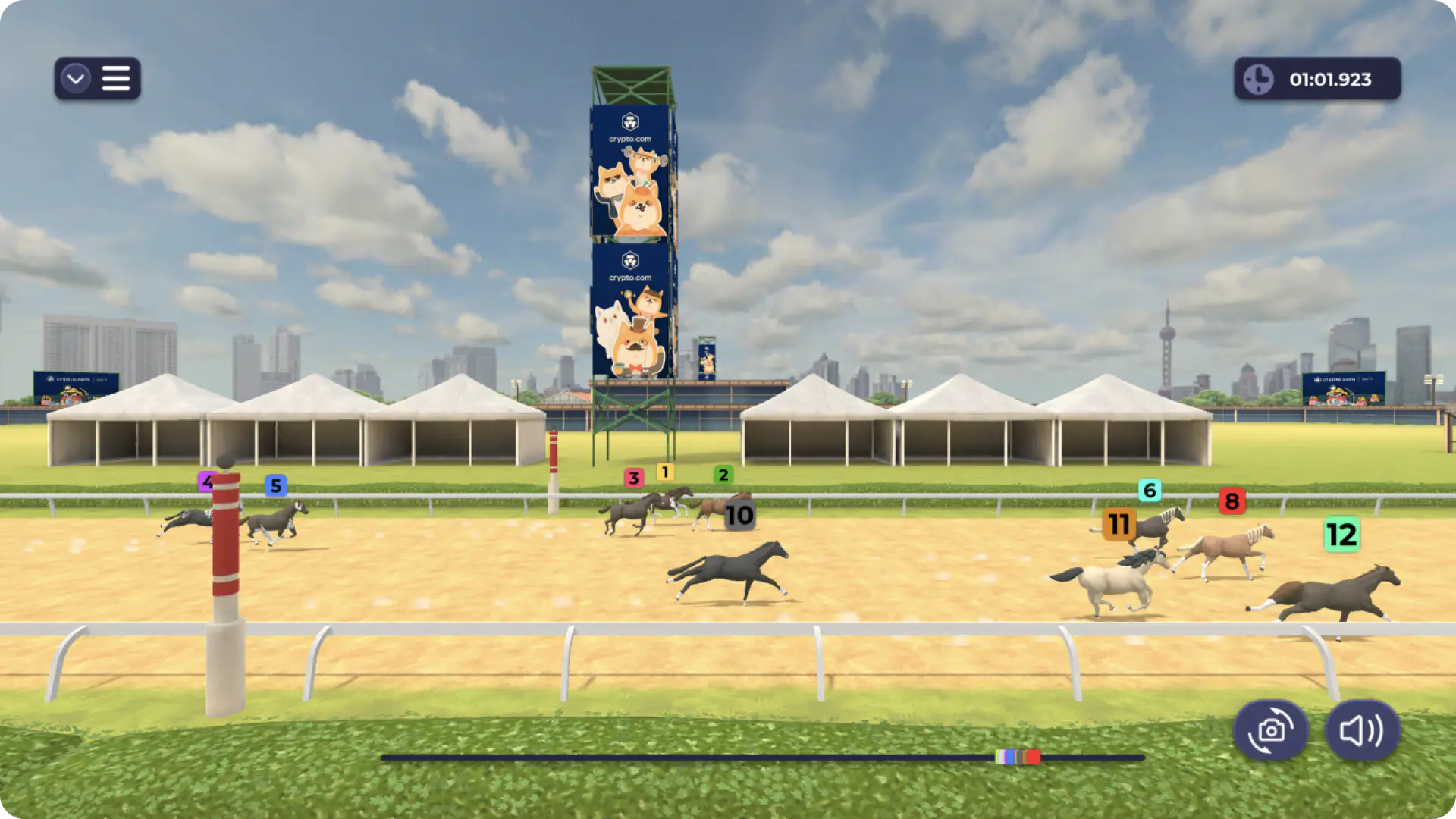 What is DeRace (DERC) marketing strategy?
DeRace team is into real horsing experience : forming partnerships with jockey clubs, hippodromes and associations. They have already onboarded two and are actively working on onboarding more.
DeRace is also but securing partnerships with existing and upcoming NFT marketplaces such as Mintable.
In negotiation with a few experienced PR and marketing agencies, who will handle advertising, social content creation & community management.
Will introduce affiliate programs and reward systems.
The team forms a partnership with streamers (mostly twitch).
DeRace have a dedicated allocation pool of $500k for KOLs from private round and they are currently carefully screening and selecting them.
What are DeRace (DERC) tokenomics?
$DERC
DeRace's native coin (DERC) is an ERC20 based cryptographic token that complies with the Ethereum system and can be traded on the Ethereum blockchain. DeRace platform economy will run exclusively on DeRace Coin.
$DERC is also briget to BSC and MATIC.
$DERC is listed on Crypto.com, Gate.io, PancakeSwap, UniSwap, Quickswap
DERC Utility
The first and foremost function of $DERC is to fuel the whole platform. Even though DeRace crowdfunding activities allow transactions in both $DERC and other traditional means of payment, $DERC will ultimately serve as the base currency for transactions within the DeRace universe.
All activities on the platform, including races, breeding, renting, winnings, and asset trades are executed exclusively in $DERC. Also, all player earnings are paid out only in $DERC. This guarantees constant token volume and circulating supply.
DeRace Referral and Reward Systems use exclusively $DERC. Wallet users, influencers, social media accounts, blogs, or news outlets will all receive their referral rewards in $DERC.
Token holder benefits
$DERC holders take part in the decision-making governance process with regards to the development of the DeRace platform. Token holders also get premium early access to the platform, exclusive access to the NFT drops at a special price, and will be the first ones invited to try new features.