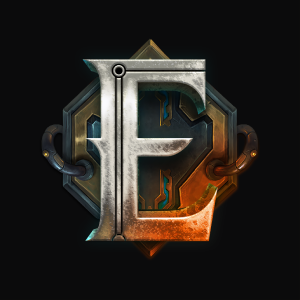 Engines of Fury
Engines of Fury is a battle arena game built on Unity with rich 3D visuals and numerous addictive single & multiplayer gameplay modes. It has a 1-token deflationary in-game economy where FURY is at the centre of the game with lots of utility & ever increasing demand.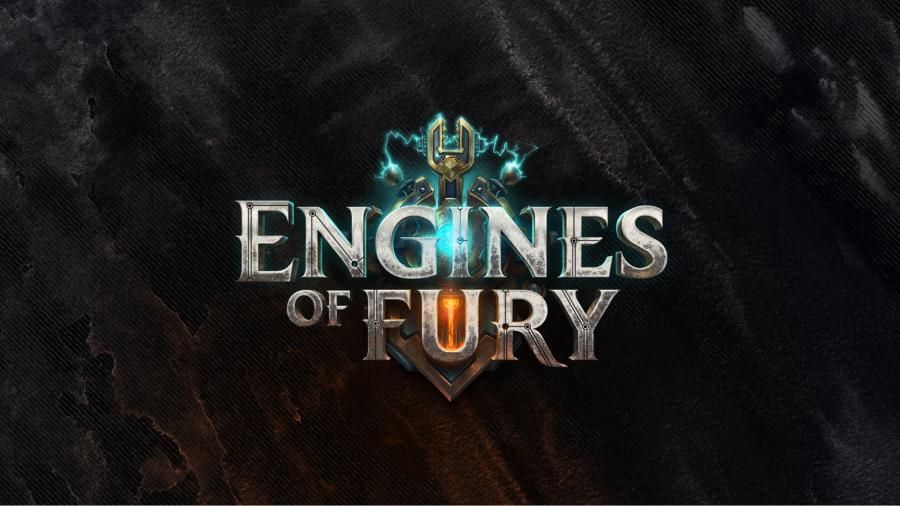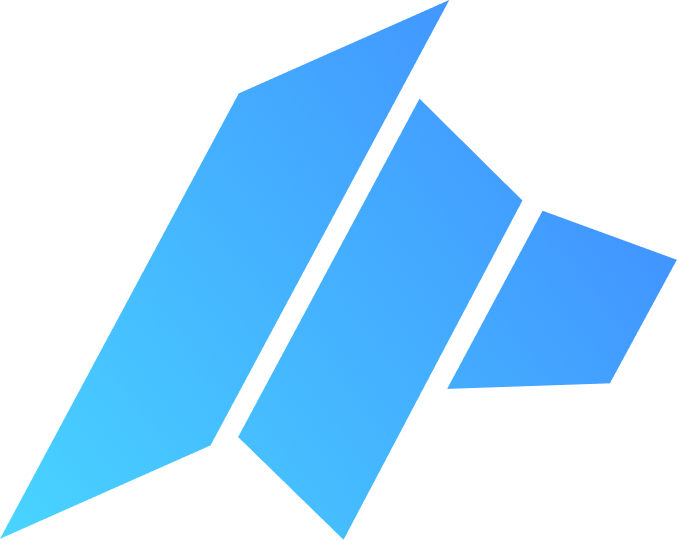 Ticker:

FURY

Blockchain Network:

Ethereum & Binance Smart Chain

Token Supply:

120,000,000

Project Valuation:

$30,000,000
WHAT IS ENGINES OF FURY (FURY)?
A team of 30+ professionals with a successful track record in gaming, blockchain, IT, marketing, business development, and love for games came together to build a new-generation crypto game.
Engines of Fury will be on par with AAA games in its engaging & addictive gameplay loops, rich visuals, immersive world, and bring what blockchain games can offer - true ownership of assets and earnings to players who play the game.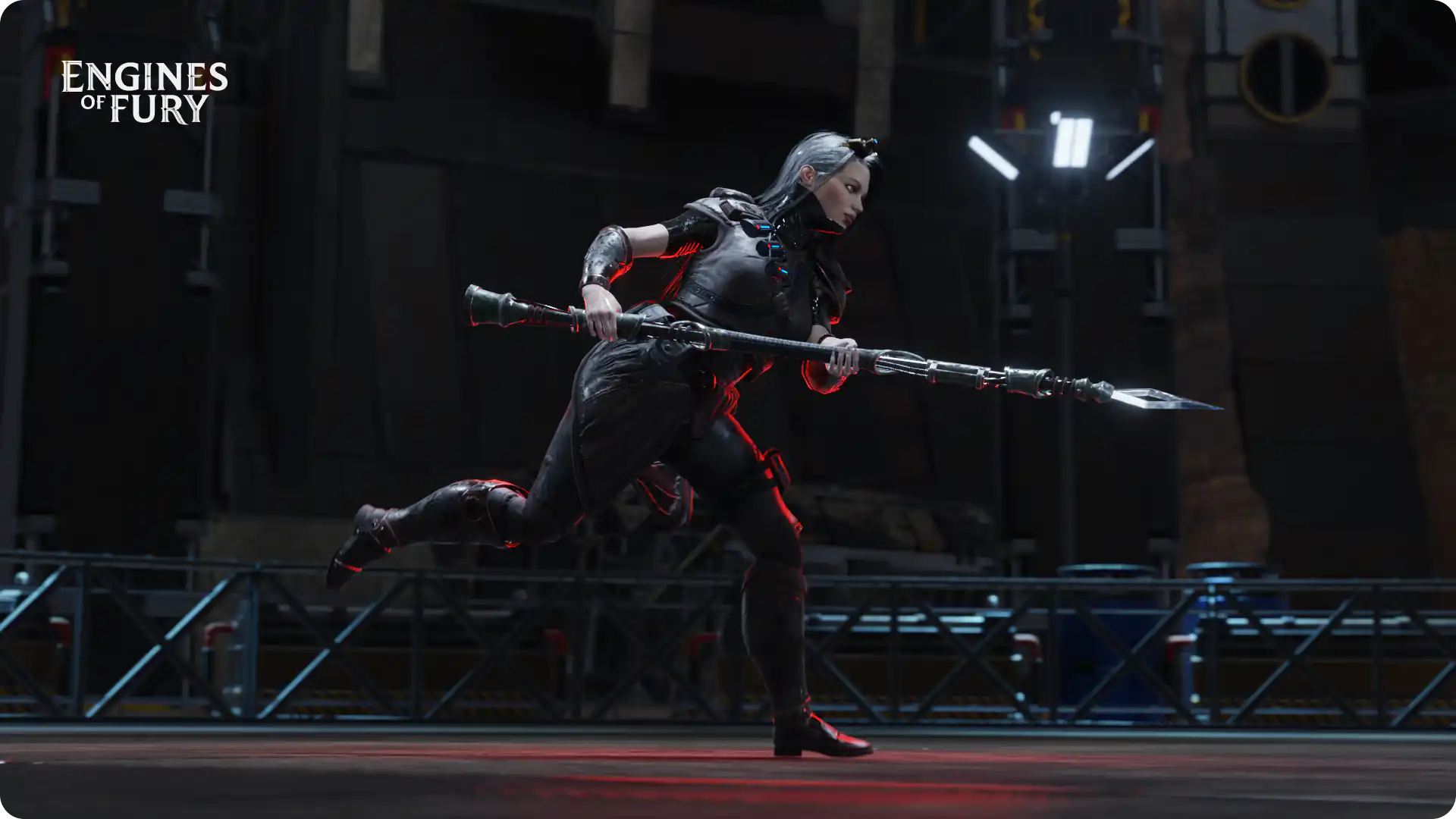 Gameplay
Engines of Fury's mission is to tackle the key problems in many current crypto games - being economically unsustainable, repetitive, unimpressive art-wise, and overall poor gaming experience.
Mainstream gamers behavior and expectations from crypto games will remain the same - the core game has to be visually stunning, immersive, addictive and provide an endless "dopamine-kicking" gaming experience. Opportunity to earn & own assets is not going to be enough for GameFi to achieve mass adoption that everyone talks about.
Engines of Fury is going to change that by releasing an AAA-like game and offering in web3 what web2 failed at.
Single player modes (PVE) are the Play & Earn aspect of the game. It will allow players to learn how to play the game and challenge the mighty bosses that will reward players skill & time put in playing.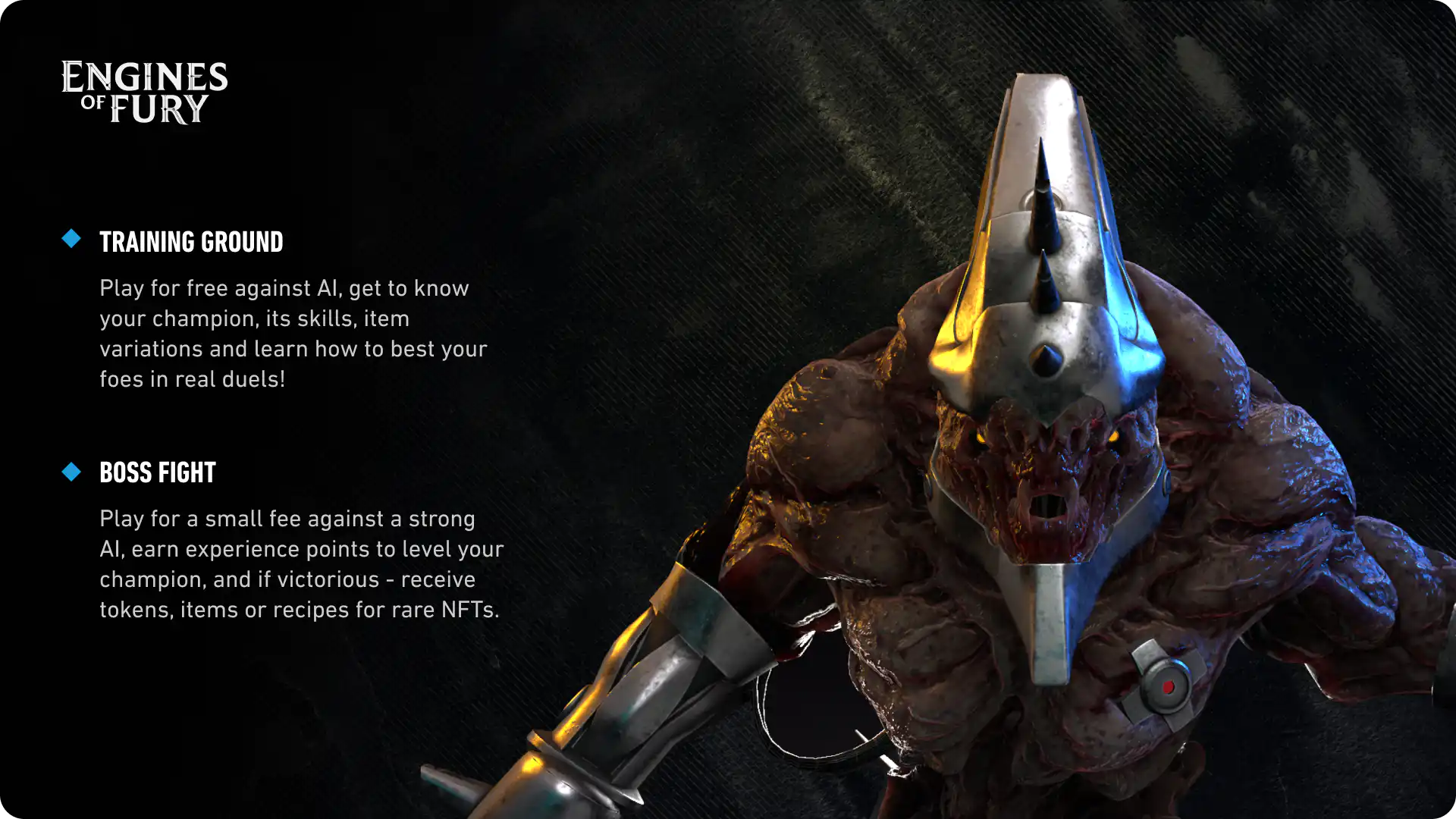 Multiplayer modes (PVP) will allow players to battle against each other in thrilling esports-like battles. These modes will bring a truly innovative aspect to crypto-gaming - staked battles where the winner takes all! That will give the game its uniqueness and massively addictive gameplay loop.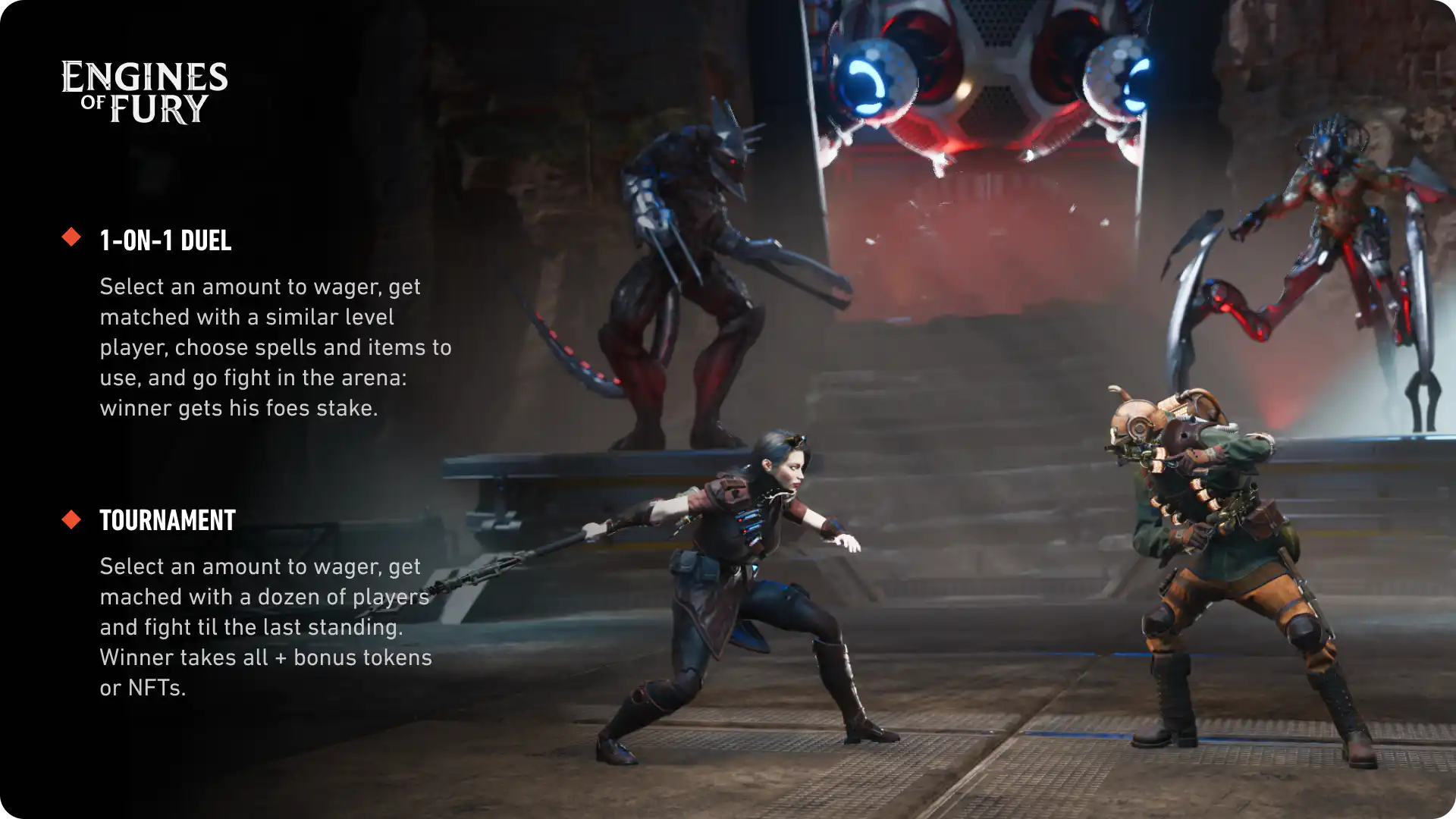 Character NFTs
To play Engines of Fury players need to buy at least 1 Character NFT. Upon buying a new character, player can choose 1 out of 3 available character classes (Brawler; Gunslinger; Alchemist). Each class have it's own unique visual & game-play aspects and stats that increase as the players spend time playing and leveling up their characters.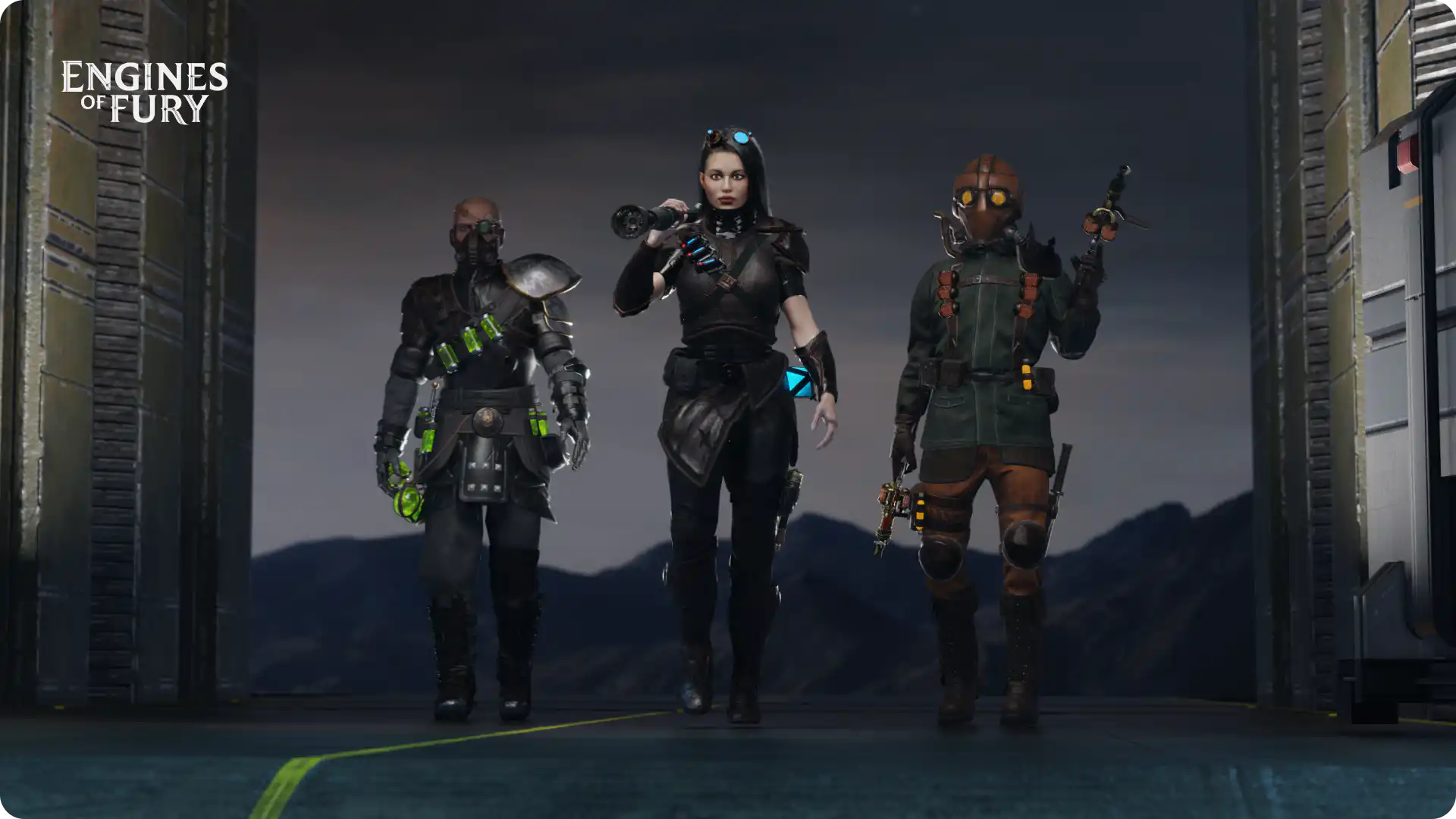 Item NFTs
Engines of Fury characters have 7 equipment slots for various offensive and defensive items. Each slot can be filled with an NFT, which increases a player character's stats by the bonus amount that the item provides.
Player can earn NFT's in several ways:
Participating in the IGO & community events (receiving air-drops)
Purchasing from the EoF marketplace.
Buying/trading with other players in EoF marketplace.
Buying/trading with others in other NFT marketplaces.
Minting in the Forge using NFT Blueprints.
Participating and completing special game events (live-ops).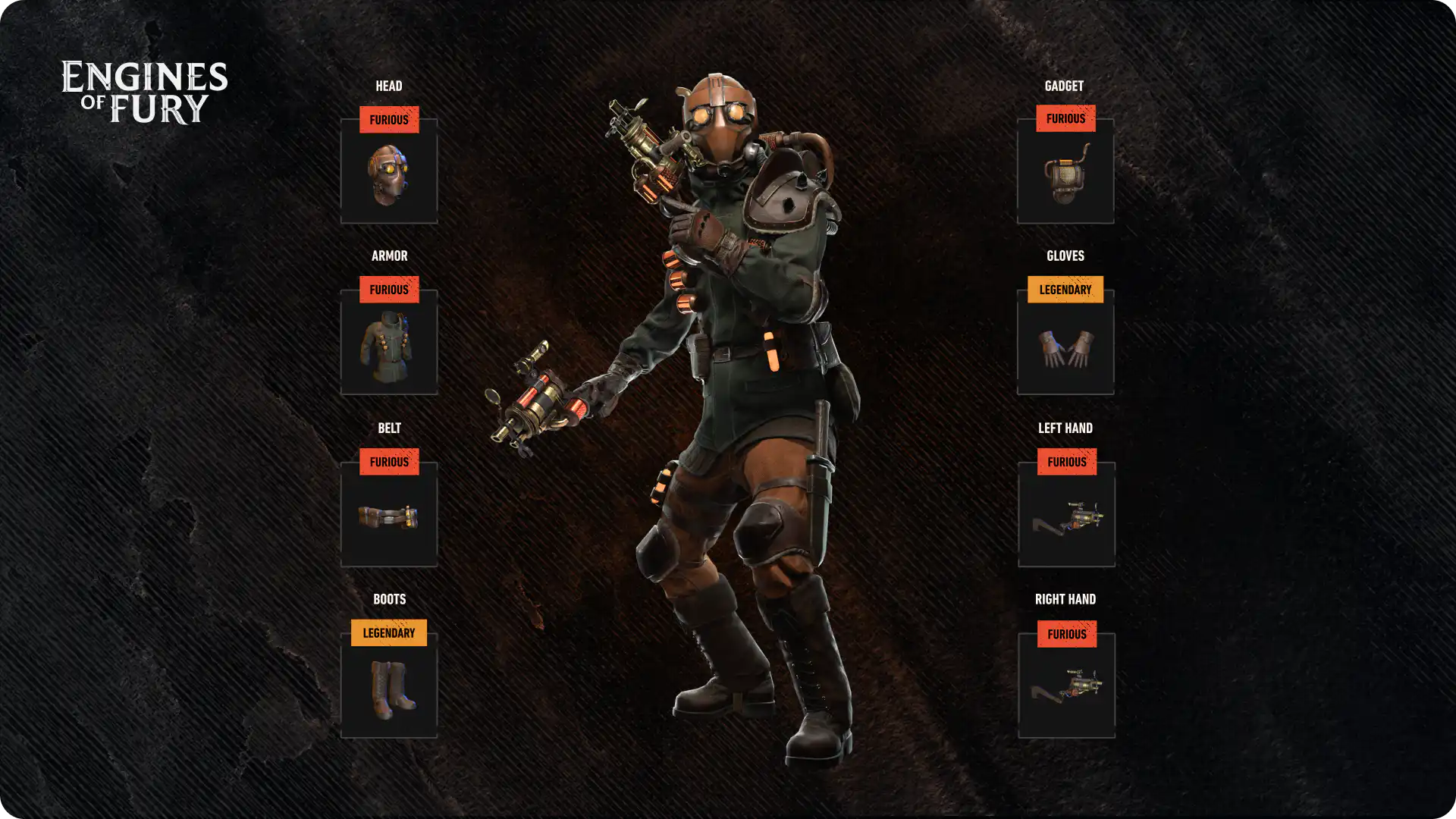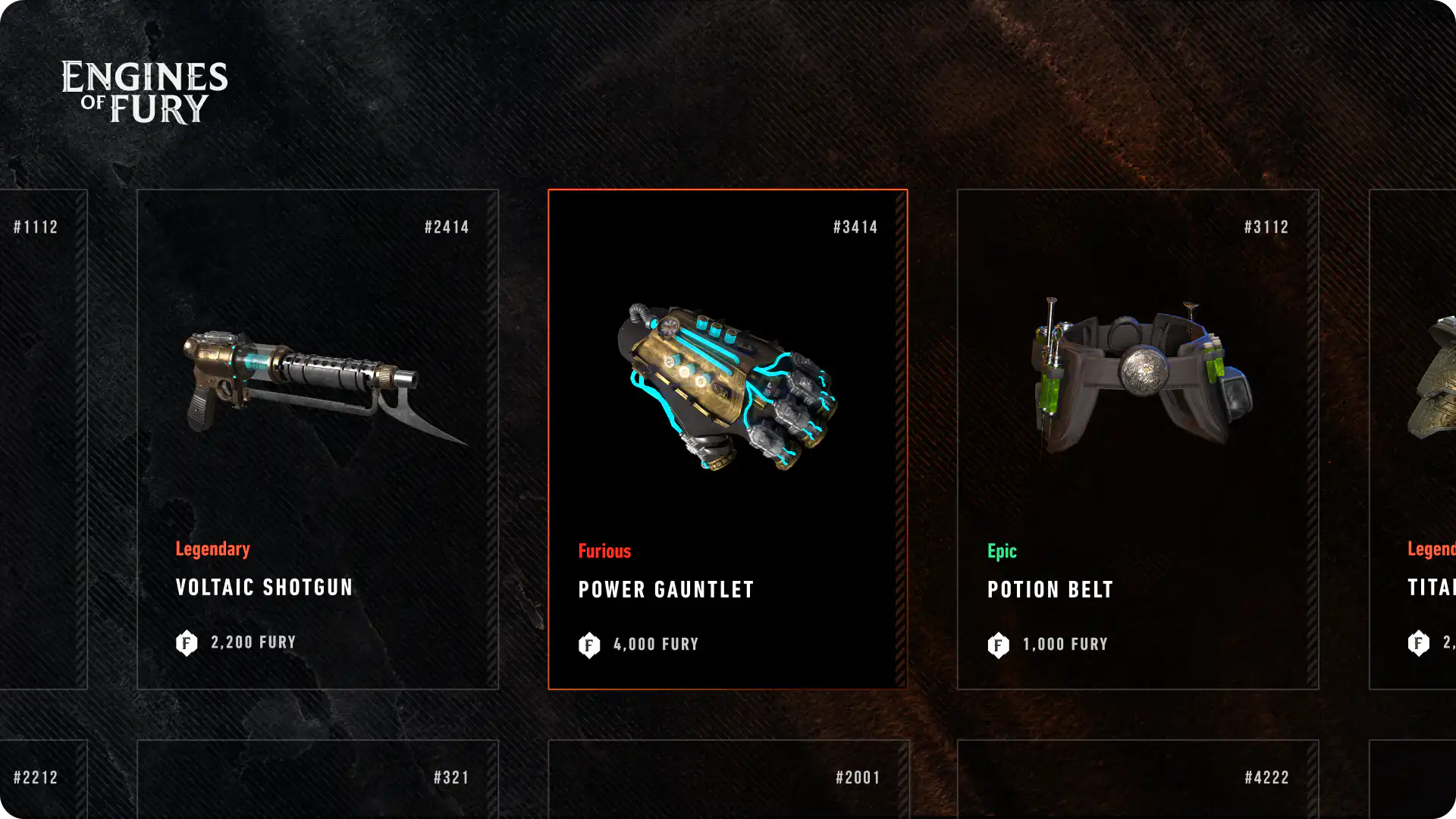 Engines of Fury Gameplay loop
Engines of Fury is built using sophisticated and engaging in-game mechanics & addictive gameplay loops that minimize grinding and provide esports-like thrills. Players can choose their favorite game modes that are tailored to meet everyone's taste & build their unique path within the core gameplay loop.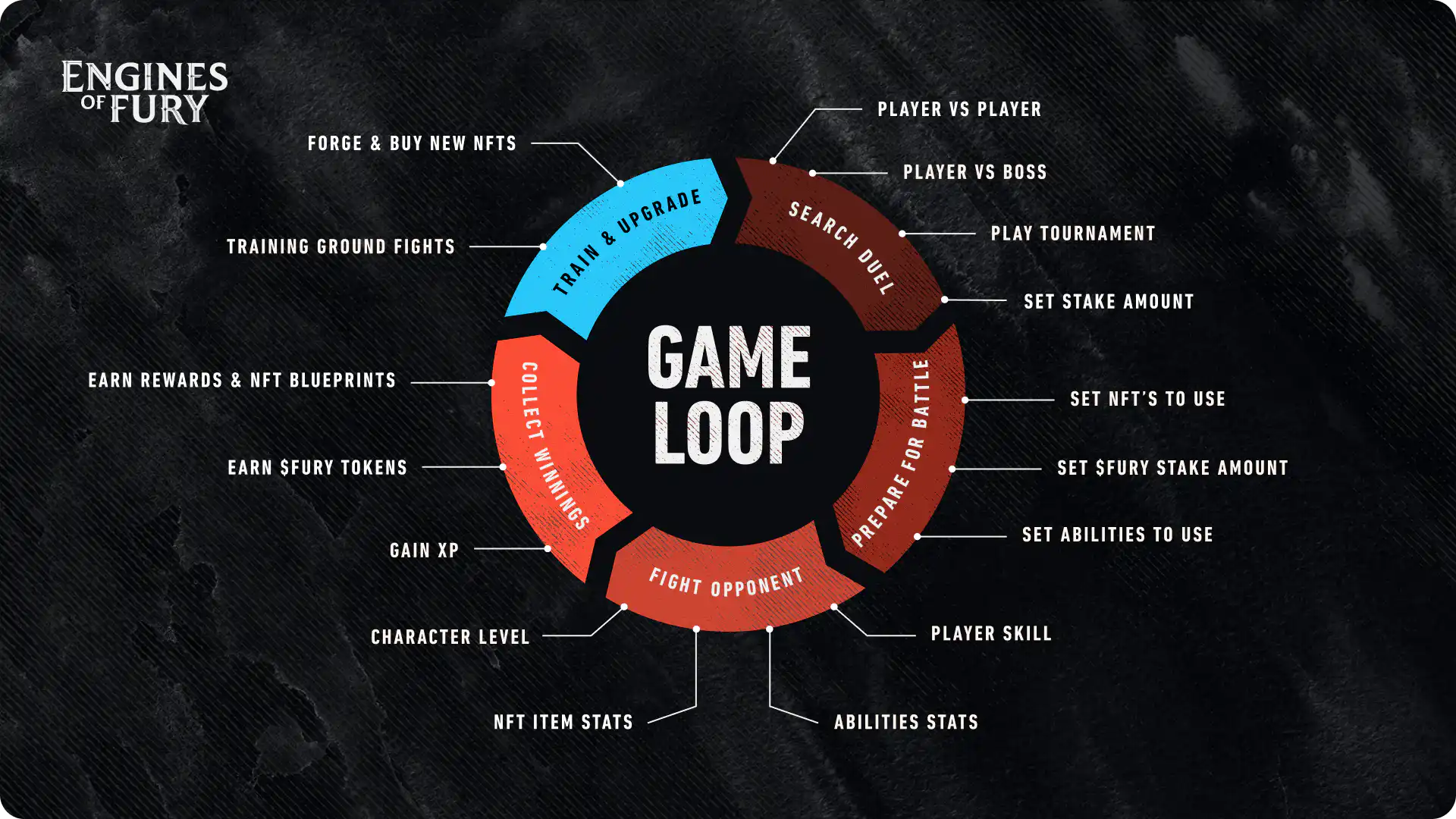 WHAT MAKES ENGINES OF FURY (FURY) UNIQUE?
Engines of Fury combines the best aspects of both crypto & traditional gaming worlds, making it a one of a kind project on the blockchain. With a relatively low token market cap, EoF guarantees the most engaging game modes, stunning visuals, captivating storylines, and multiple earning opportunities.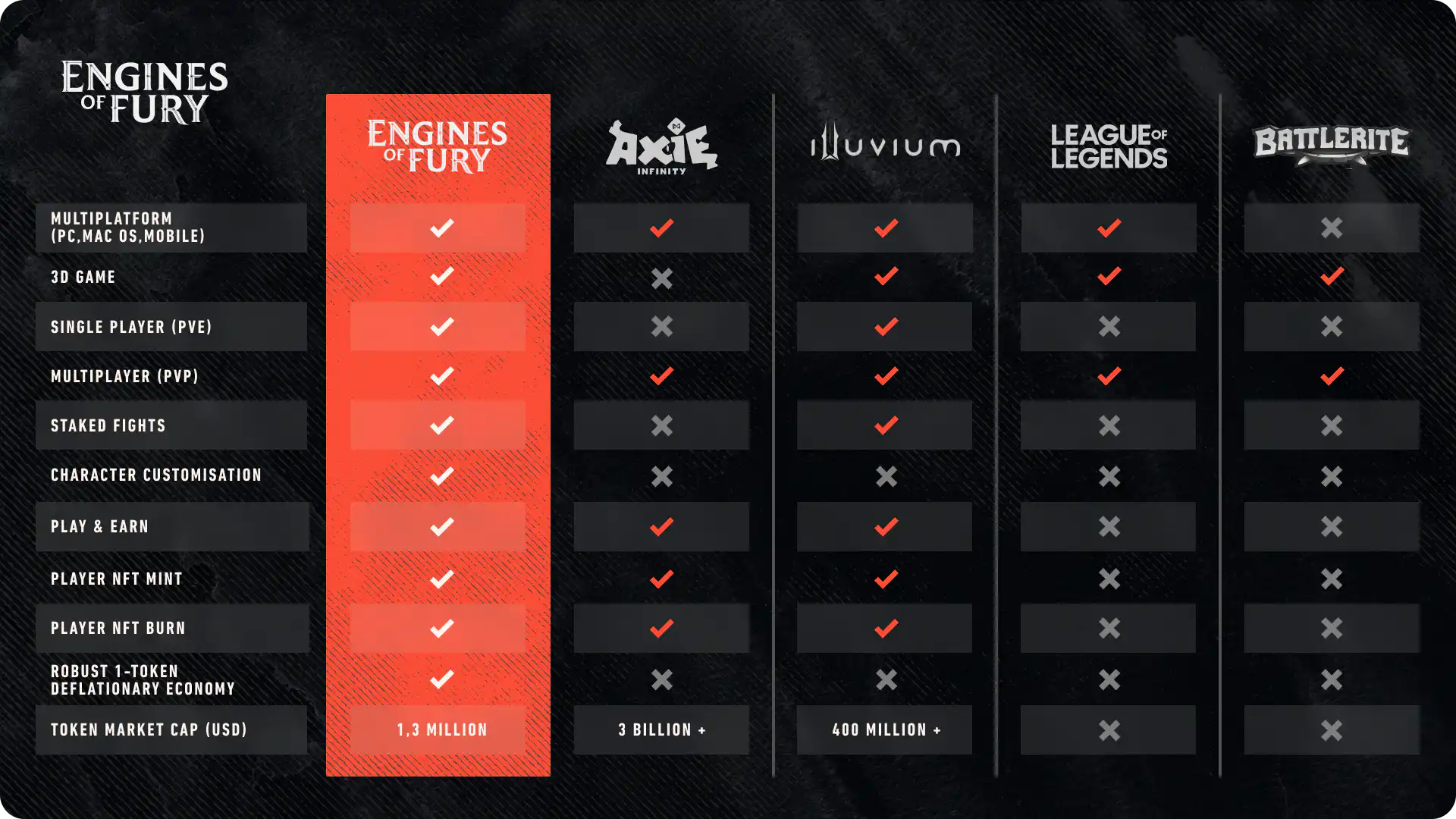 ENGINES OF FURY (FURY) ROADMAP
Engines of Fury has a well-defined project scope and detailed roadmap, which highlights all the upcoming releases, launches, sales, and in-game developments. The public launch of PVE fights, as well as the beta launch of PVP duels, are planned within 2022, guaranteeing players & investors instant utility of $FURY tokens.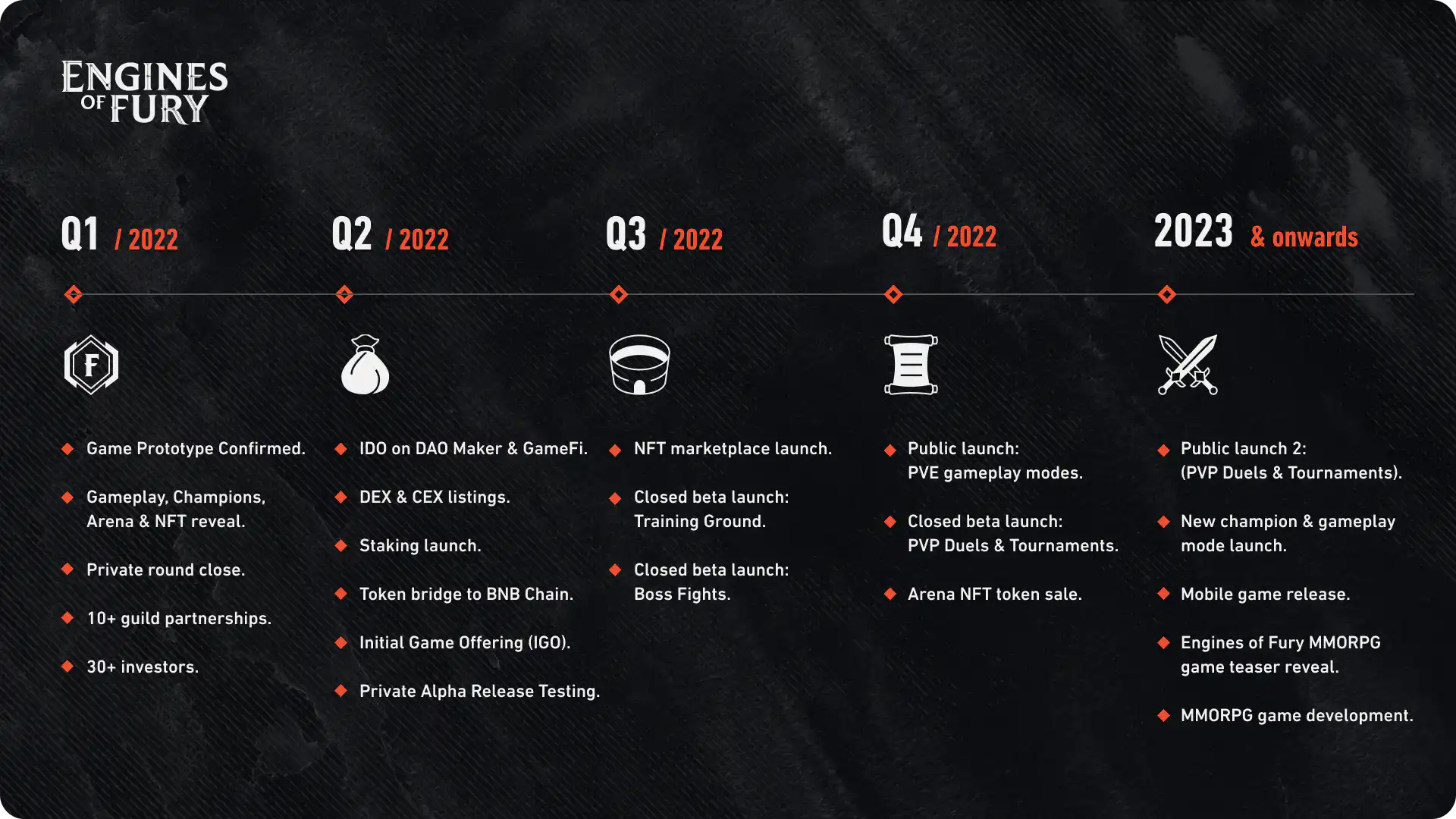 ENGINES OF FURY (FURY) REVENUE STREAMS
Engines of Fury has built a sustainable in-game ecosystem that creates constant revenue streams from multiple channels. All revenue collected will be used to maintain the game, support the play&earn ecosystem & continuously increase demand of the token by burning & creating a deflationary environment.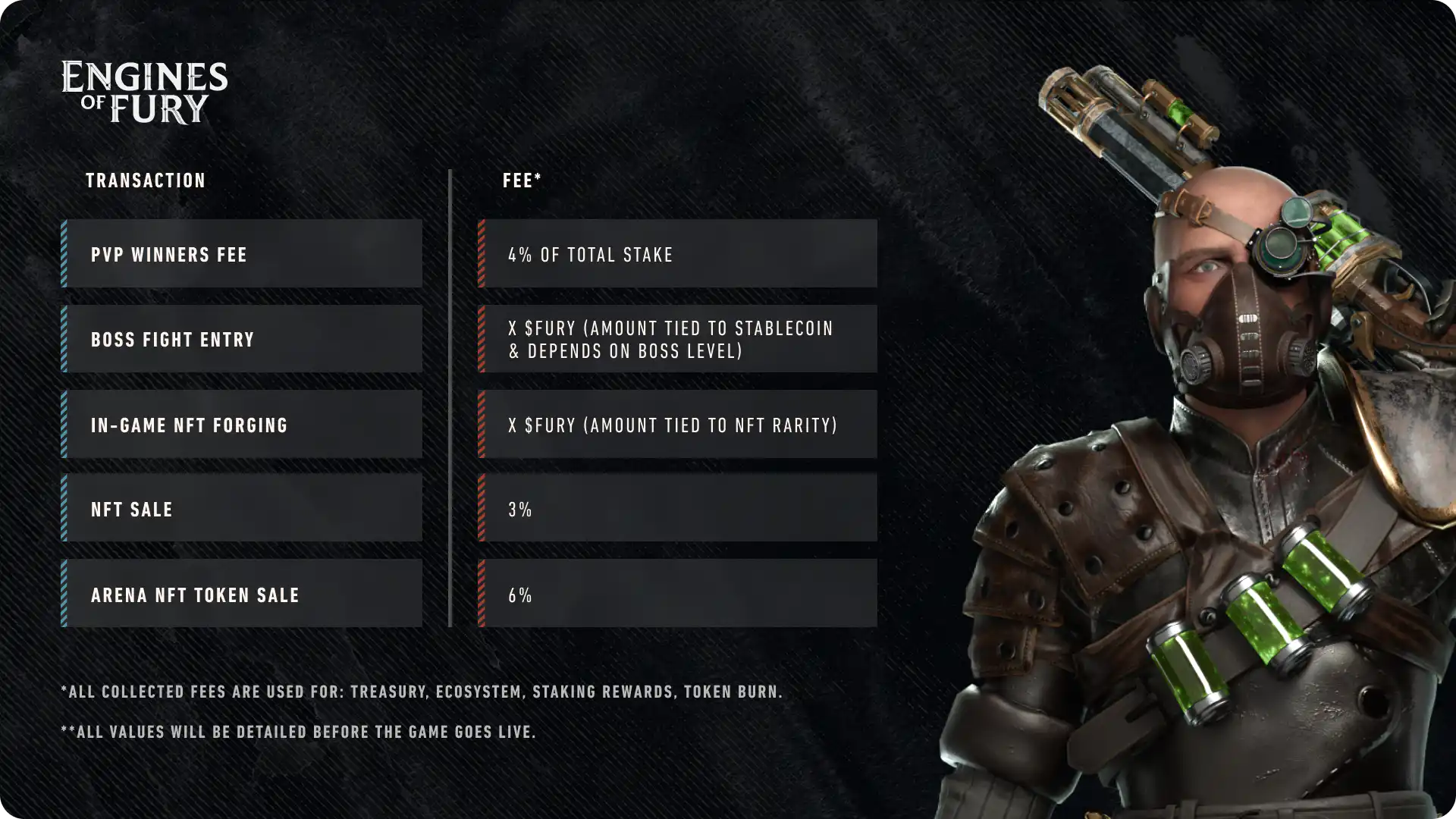 Engines of Fury has foreseen a robust monetization model including:
NFT Character sales

NFT Item sales

Fees for player NFT forging (minting) & sales

PVP match winners fee

PVE Boss fight match entry fee

Arena NFT token re-sales
WHAT TECHNOLOGIES DOES ENGINES OF FURY (FURY) USE?
Engines of Fury relies on the most prominent game development technologies that maintain traditional gaming standards & create an unforgettable journey for players. Furthermore, EoF's infrastructure is built using the most trusted blockchain technologies, guaranteeing extra safety, functionality, and user-friendly solutions.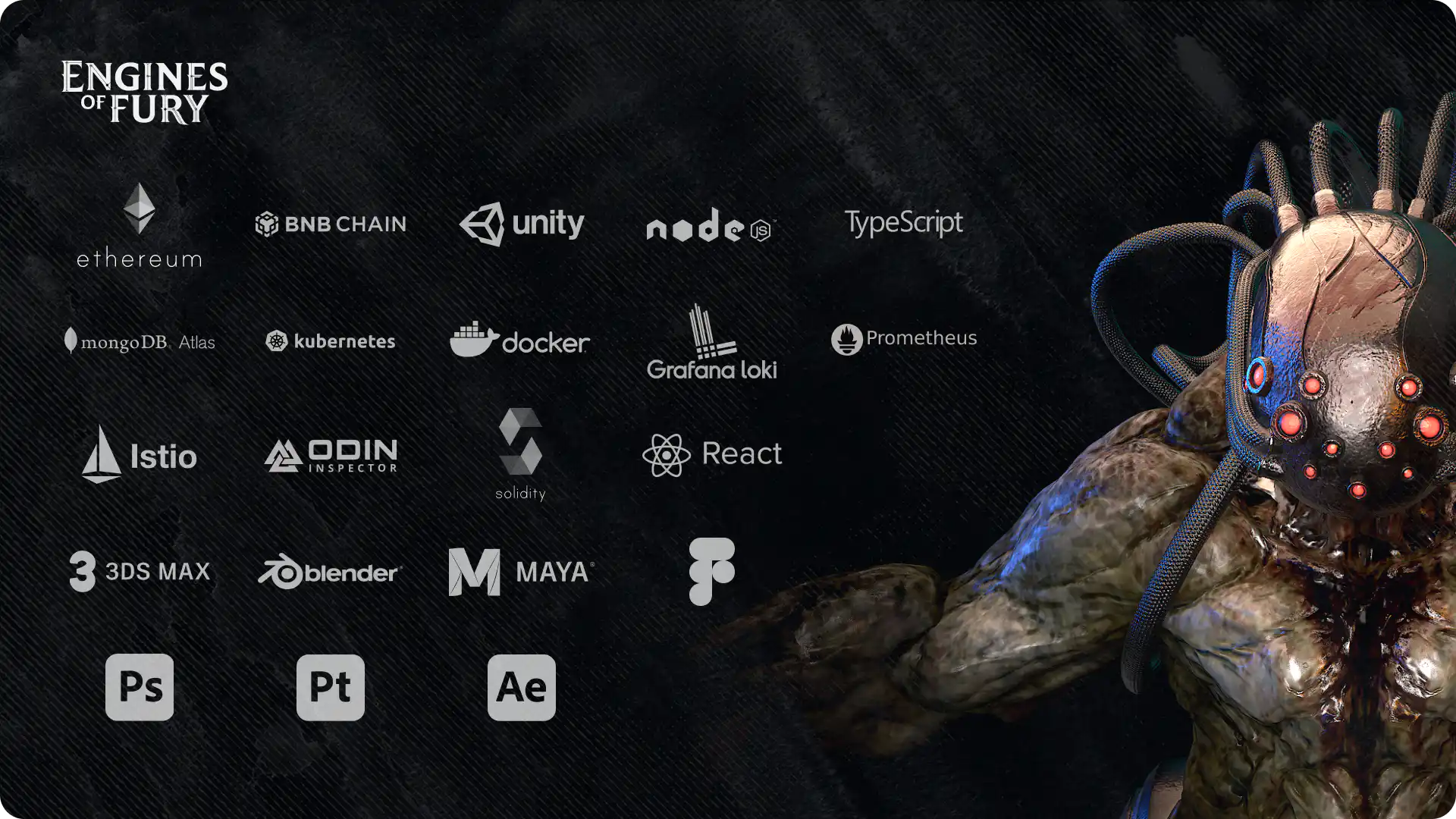 ENGINES OF FURY (FURY) MARKETING STRATEGY
Engines of Fury has a robust marketing plan with detailed marketing funnels for both - investors as well as gamers for each stage that the project will be in:
Pre-IDO;
Post-IDO;
INO;
Pre-game launch;
Post-game launch.
Each stage requires different strategies and will combine aspects of:
Progress communication through own & partner social media channels
Community building in Spanish, Korean, Vietnamese, Chinese, Portuguese, Turkish markets
Ambassadors programmes, AMAs, treasure hunts, competitions, other community events
KOLs (onboarded several tier 1 KOLs and hundreds of smaller/niche KOLs)
Announcements of new investors, guilds, partners, CEX/DEX listings.
Mainstream Influencers (with focus on both - cryptonatives as well as mainstream gamers)
Crypto gaming guilds (AMAs, early access, guild fights, streaming)
Mainstream gaming guilds (early access, guild fights, streaming)
Partnerships with other top crypto & mainstream games (actionable partnerships with real value add for both games' communities)
Partnerships with well known brands, game studios.
In-game events (themed tournaments, star fights, holiday celebrations)
…and other exciting & unique strategies to be seen.


ENGINES OF FURY (FURY) TOKEN ECONOMY
The Engines of Fury single-token deflationary system makes $FURY truly unique in crypto-gaming with its robust in-game economy and ever-growing demand for the token. Numerous in-game use cases, token burns from fees creating a deflationary environment, and well-designed revenue streams will make the $FURY token very attractive to investors.
$FURY is used for:
Purchasing character NFTs.

Purchasing armour/weapon NFTs from other players

Participating in Duels and Tournaments: Players have to stake tokens before each PVP fight, the winner takes 96% of the total stake, while 4% is taken as the winner's fee.

Entering PVE Fights against bosses to win rewards.

Forging (minting) item NFTs

Purchasing Arenas NFT tokens.

Receiving in-game rewards.

Staking incentives - APY

Staking incentives - whitelist for INO & exclusive NFT collections

Staking incentives - early access to the game

Staking incentives - in-game perks (lower gameplay fees, special visual add-ons)
All tokens collected by Engines of Fury from player in-game fees will be used to create an ever-growing demand for the token in several ways:
Token burn.

Staking rewards.

Ecosystem.

Building treasury.