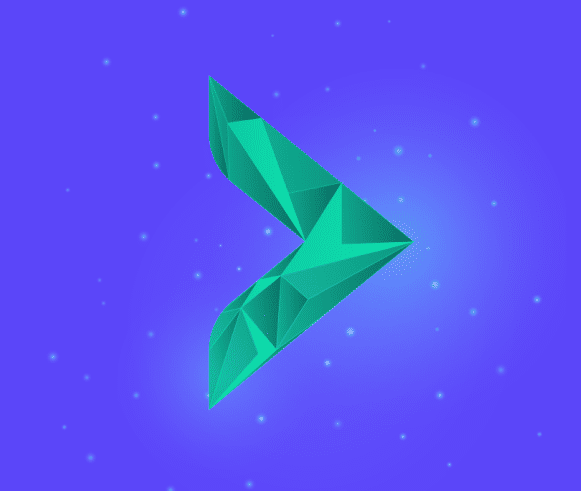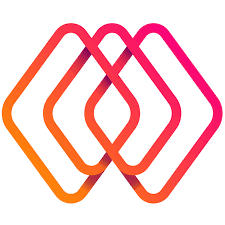 Lead VC
MahaDAO
Market Maker
NA
Controlled Cap
NA
DAO Approved Metrics
NA
What is Forward Protocol (FORWARD)?
Forward Protocol is creating WordPress for Web 3.0. Their main product is a suite of blockchain toolkits designed in such a way that it doesn't require code or technical knowledge that will enable anyone to build and deploy blockchain applications.
By using a similar model to that of WordPress, Forward will help increase blockchain technology adoption and its capabilities. These toolkits are blockchain agnostic, industry agnostic, bull & bear agnostic, adoption focused and can be deployed for free. Their goal is to create a protocol that is simply designed, easy to use, with no code or technical knowledge needed, allowing users to deploy their own app - in any EVM chain - with no programming skills. Forward Protocol tackles the barrier of entry to the blockchain/Crypto/Web 3.0 space. They provide institutions with a time-and-cost-effective solution and path towards blockchain integration. At the same time, they empower the community, by providing an open-source, decentralized infrastructure platform that allows anyone, anywhere to build and deploy fully functionable blockchain applications. Moreover, Forward has several strategic partners that add enormous value to their innovative product.
The platform and infrastructure of Forward Protocol aims to make everyone's lives in Web 3.0 easier in building and deploying blockchains applications. This has the potential to empower and equip individuals and organizations around the world, creating yet another possibility of applying ideas, and generating wealth and financial freedom. The potential effect on local communities and citizens that stems from equipping individuals - with a no code interface - with the ability to develop and deploy blockchain applications cannot be underestimated.
Being industry and blockchain agnostic, Forward Protocol serves as infrastructure for anyone, anywhere to build and deploy blockchain applications. This means that, in the future, there could be many apps in several industry verticals that started in Forward Protocol / Forward Factory.
$FORWARD wants to connect blockchain with a Value-Driven Economy, fast-tracking mass adoption of Blockchain Technology. In 2022 Forward Protocol taps into several markets to make this a reality: DeFi, NFTs, Social Tokens, Gaming, e-Learning/EdTech, E-Commerce, Artificial Intelligence, Machine Learning. This showcases a bit of their potential as Forwards has such a wide target audience.
Forward Protocol is the modular & developer-friendly architecture.
What features does Forward Protocol (FORWARD) have?
Forward Protocol is building a platform that allows users to develop and deploy their own app - on any EVM chain - with no programming skills. These blockchain toolkits are blockchain agnostic, industry agnostic, bull & bear agnostic, adoption focused and can be deployed for free. They will empower anyone, anywhere to develop and deploy blockchain applications for Web 3.0.
Forward's blockchain toolkits are:
Easy to use
Open-source
Drag and drop
Complete control
Set your own fees
No code interface
Simple and scalable
No technical knowledge required
Forward Protocol employs an easy-to-use WordPress-like model to facilitate a no-code environment that users can interact with even without technical knowledge. This will allow anyone, anywhere to develop and deploy blockchain applications without any code or technical knowledge. The protocol's modular designed that way so it allows any organization to choose the module suited to their platform and modify it to be functional to their use case.
Forward Protocol sets the stage for a value-driven economy, while the deploying organizations set the parameters. Forward Protocol will be fully decentralized, maintaining independence from any third-party influence, which means it will be the first decentralised infrastructure platform for Web 3.0.
The product already has a lot of value by itself but, considering all the strategic partnerships they have closed, this makes Forward Protocol rather unique in Web.3.0 space.
What makes Forward Protocol (FORWARD) unique?
Forward recognizes that adoption of blockchain into companies' architecture has the potential to dramatically re-shape the capital markets industry, with a significant impact on the way businesses model themselves, manage risks, save cost and capital. However, there is a high barrier to entry into this sector, as capital expenditure, time and development/knowledge remain large constraints.
Forward Protocol solves the challenges highlighted above by:
Lowering the barrier to entry across verticals through a B2B approach that connects ideas, companies, and markets with open source, fully customizable, no-code blockchain smart contract tools within Forward Factory to make blockchain adoption seamless.
Forward Factory makes blockchain adoption an unambiguous and straightforward process for organizations.
Competition
According to Forward's most recent research, the company has no competition within crypto or Web 3.0. sphere, as there are no crypto projects that provide this type of no-code infrastructure.
There exist platforms like Moralis and Starton (BaaS), but they only provide a solution for developers to integrate blockchain with their ecosystem which needs technical knowledge of APIs. They do not address the application side and the smart contract/blockchain side.
Competitive Advantages
Ease of use and deployment: adoption can only happen, if a non-technical entrepreneur can use a drag and drop interface like WordPress to run their application in a few minutes, with a few clicks.
Deployment partners: Forward has many partners, that provide a user-base in the millions. English Forward has served 310+ million users, Wim Hof has 2 million followers, etc.
Networking / Business development: the business development side and connections in the real world are extensive, which is a major advantage to generating ecosystem growth.
What is Forward Protocol (FORWARD) roadmap?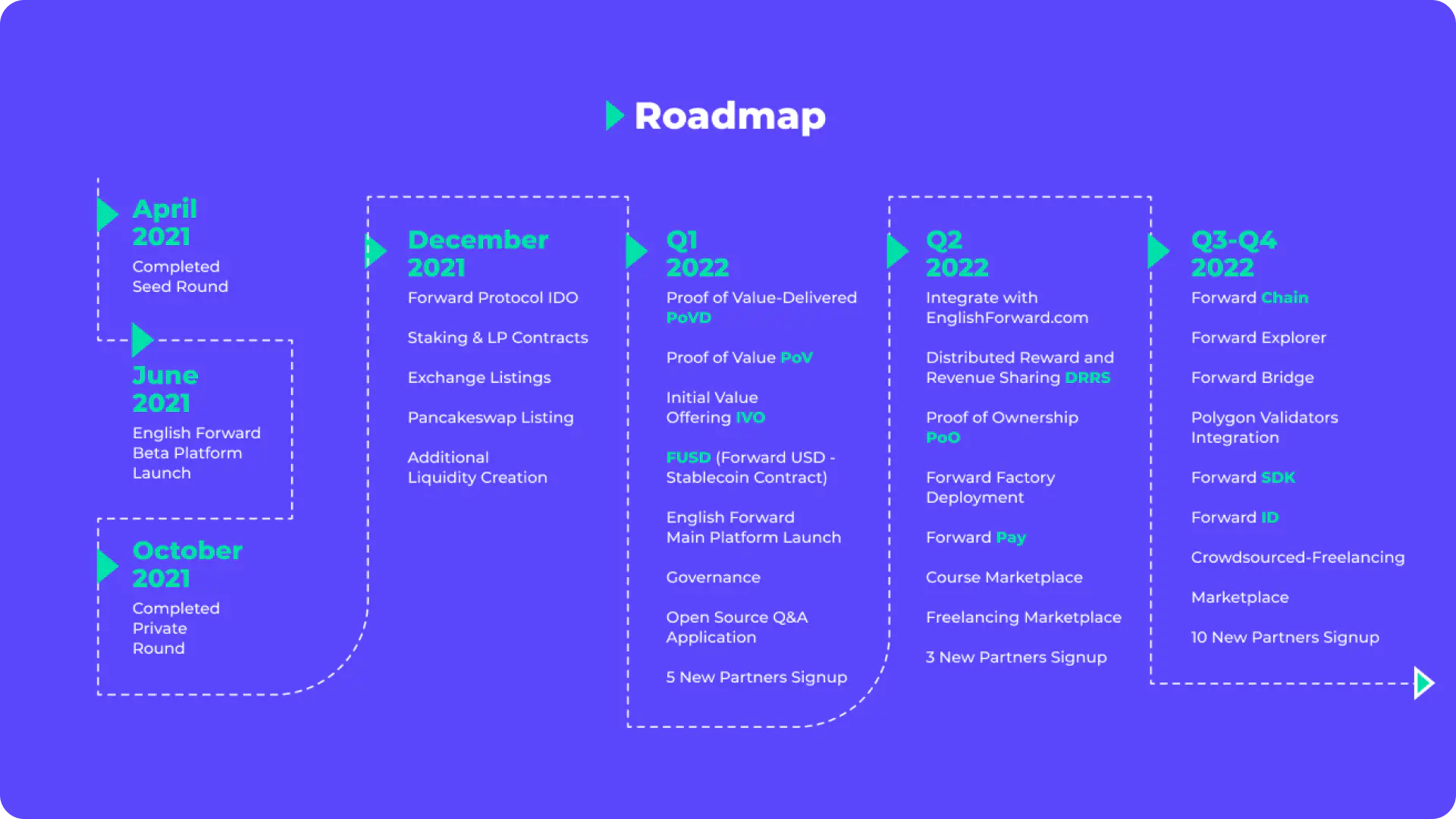 Forward Protocol (FORWARD) revenue streams
There are two primary revenue streams for Forward Protocol:
There will be a percentage of fees charged on all smart contracts deployed from Forward Factory. For example, if someone uses an escrow service with the Proof of Value-Delivered model, Forward Protocol will charge a small fee for every transaction they complete (decided by the DAO).
Every transaction on the Forward Chain attracts a transaction fee which will be covered with $FORWARD (once Forward Chain is live on the mainnet)
The $FORWARD token is used as the reward token in the system to encourage and incentivize continued engagement with the protocol. Every platform using Forward Protocol will be giving $FORWARD as rewards which they have to buy from the market to reward their users. All smart contracts will first attempt to deduct fees from the integrating platform's pre-purchased token pool, otherwise they will acquire tokens from the open market as necessary to fulfil the transaction.
What technologies Forward Protocol (FORWARD) created and used?
As part of their blockchain toolkits, Forward Protocol will kickstart the community-driven infrastructure platform by contributing with five core smart contracts:
Proof of Ownership;
Initial Value Offering;
Proof of Value-delivered;
Proof of Value;
Distributed reward/Revenue sharing
The smart contracts are fully customisable and can be tailored to any organization's needs using the Forward Factory.
Proof of Ownership (PoO)
Forward Protocol supports recognition and protection of the intellectual property of content creators. When a creator uploads their content, they can protect them by minting them as NFTs (non-fungible tokens), which uniquely registers and identifies each separate part of the creation on the blockchain.
NFTs in their current form are speculative assets with the option to buy, sell and hold. The real-world trade and commerce functions in the NFT space will add versatility and wide range to the market. It will add the capabilities to license, rent, and lease NFTs either as an exclusive or semi-exclusive contract.
To increase adoption, bulk minting and gasless minting are essential from a no-code interface.
Initial Value Offering (IVO)
Forward Protocol offers the infrastructure for IVO – Initial Value Offering. This is the kickstarter program on blockchain, creating transparent fundraising opportunities and safety for backers.
The IVO provides a solution for creators who need to invest substantial amounts of time and money into new products, but lack the certainty that they will become popular enough to cover the costs and assure profit for their product. Until the production is complete and released to the market, creators cannot ascertain commercial success. Consequently, many creators are reluctant to take on the financial risk to produce material that could have benefitted themselves or others, which may never be produced.
The IVO system resolves the problems associated with market uncertainty and financial risk by enabling creators to introduce themselves and their product and to sell them before committing to producing them. It also protects prospective buyers' funds in a similar way that the kickstarter platform works.
When an initiative to produce a new product is presented by a creator, interested parties may choose to back this and secure access in advance of production. Each backer transfers the requested amount in $FUSD to an escrow wallet. When the total amount in escrow reaches the target within a specified period, the project is funded and the creator can begin production.
The platform integrating the IVO can define when the funds are released to the creator. It can be released when:
The entire product is created, published and accepted by the majority of the backers, then the complete funds are released.
When each milestone is released and accepted by a pre-defined % or number of backers, then a part of the funds is released.
When the product is fully created and released, with or without backer acceptance or a % of backer's acceptance.
As the product is released, backers can gain access to it. The amount from the escrow wallet will be transferred to the creator. If the project fails to attract the necessary funds from prospective buyers within the defined period, or if the creator fails to deliver the product, the funds will be returned to the backers.
In this way, the IVO insulates against judgement errors from the creators. Sometimes, they may fail to identify insufficient demand for their product or to notice a potentially successful product worth investing in. Simultaneously, it protects the payments made by project backers in the event where the creator fails to deliver the final product or fraud. This drawback is a major challenge in many centralized platforms where creators fail to deliver. If the creator needs the funds to create, the integrating platform can explore DeFi loans backed by assets for the interim working capital as well.
Proof Of Value-Delivered (PoVD) - One-to-one value transfer
Proof of Value-Delivered can be useful to -
Product marketplaces
Freelancing marketplaces
Corporate remuneration and bonus incentive schemes
Corporate training
Hiring Interns
Crowd-Freelancing
Escrow
Proof Of Value-Delivered is a smart contract which deals with the actual transfer of value in exchange for money. It's a smart contract that says, "you do this, and then you get the reward (e.g. money) for completing the task." This smart contract works purely on the condition that a predefined value is delivered with proof of delivery.
Proof of Value (PoV) - Facilitating High-Quality Value Transfer from many-to-many
Proof of Value (PoV) rewards value creators as recognition for their time and effort. This smart contract can be applied in various scenarios:
Someone writes an article
Someone contributes value to the company or a community and receives a reward for it
Someone publishes in the Q&A
An expert displays and propagates acts of leadership
An expert delivers a keynote speech to an audience
A salesperson achieves high-value results and meets targets
Proof of Value aims to show that the contribution will solve the consumer's use case (or problem). It connects value transfer from end-to-end points (revenue with users), allowing the entity to determine the criteria for reward.
Once the PoV criteria are established by the deploying platform, the person delivering the value gets the incentive or monetary reward paid from the advertising on the page, other sources of revenue provided by donors, scholarships, incentive schemes, etc.
Distributed Rewards and Revenue Sharing (DRRS)
This smart contract creates a layer of incentivization across all modules of a platform. It creates a long-term passive revenue stream for all active contributors, beyond the limited scope of individual smart contracts.
The products also include Forward ID, Forward Pay, Forward Chain and Forward SDK. You can read more about it in the whitepaper.
What is Forward Protocol (FORWARD) marketing strategy?
Forward has a clear go-to-market strategy. They have multiple partners ready for deployment from Wim Hof, Singularity, etc. You can see the deployment timelines.
The first deployment includes deploying on English Forward (310+ million users) as part of the first industry vertical where they will focus: Decentralized Education (DeEd) / EdTech.
English Forward's deployment would involve three smart contracts that can be applied in the context of English Forward's Q&A
1. Proof of value-delivered;
2. Proof of value;
3. Distributed reward/Revenue sharing.
They have a strong business development team, and connections through investors (non-crypto) to reach larger organizations which is how their current partnerships are formed.
The goal is having a set of strategic partners that add value to their product. Several strategic partnerships (over 40+) have already been closed with projects that will provide something extra to their blockchain toolkits, making them more and more complete, as they keep on onboarding new partners.
Anyone building blockchains applications using Forward Protocol will have access to native support and access to Polygon Network (Layer 2 solution), ArGo (Decentralized Blockchain Hosting and Storage), Coreto (Reputation system), UniLend (a set of DeFi services such as flash lows and borrowing/lending), MahaDAO (Loans, Incubator, Gas-less Wallet), Skale (Decentralised modular cloud), MetisDAO (Layer 2 solution), Bancor Network (decentralised automated market making), and many more. Additionally, they will provide pathways to deploy on Polygon, Metis, Reef Chain, Hoo Smart Chain and more in the near future. It is completely unprecedented to have a platform that allows users to build and deploy fully functioning blockchain applications - without any code or technical knowledge - that are already natively connected to a whole range of other applications and services, removing the time-money-knowledge barrier from building and deploying blockchain applications, turning it into something as simple as dragging and dropping.
The token IDO for FORWARD is set to happen on the DAO Maker launchpad before listing on exchanges. Add DAO token to your portfolio to have a chance at allocations in the FORWARD token IDO.
What are Forward Protocol (FORWARD) tokenomics?
The money people spend on services as stable coins (in any smart contracts), go back to buy FORWARD tokens to use as rewards, which means the smart contract has to buy the token from the market every time it has to issue a reward.
As an example, if a service is bought for $1000 (paid in stable coin), and a reward of $100 is issued in FORWARD, the reward tokens have to be bought from the market.
So every partner, with every smart contract, will keep buying Forward tokens from the market constantly every hour to get their applications rewarding users and working, creating demand for the tokens in bull and bear markets - as adoption focused real world businesses cannot shut down if crypto markets are in bear period.
People will be incentivized to keep FORWARD in their wallets for longer periods of time with lower fees for holders, prioritization for holders, staking, lp staking and other benefits. This also has a governance aspect. If people want to vote and change things, they need to be holding FORWARD tokens.
FORWARD token is similar to the BNB of Binance. The more tokens a person holds, they get the opportunity to participate in more areas in the ecosystem, and will benefit with lower fees.
During launch, a Burning Event will take place with Kucoin for marketing purposes.