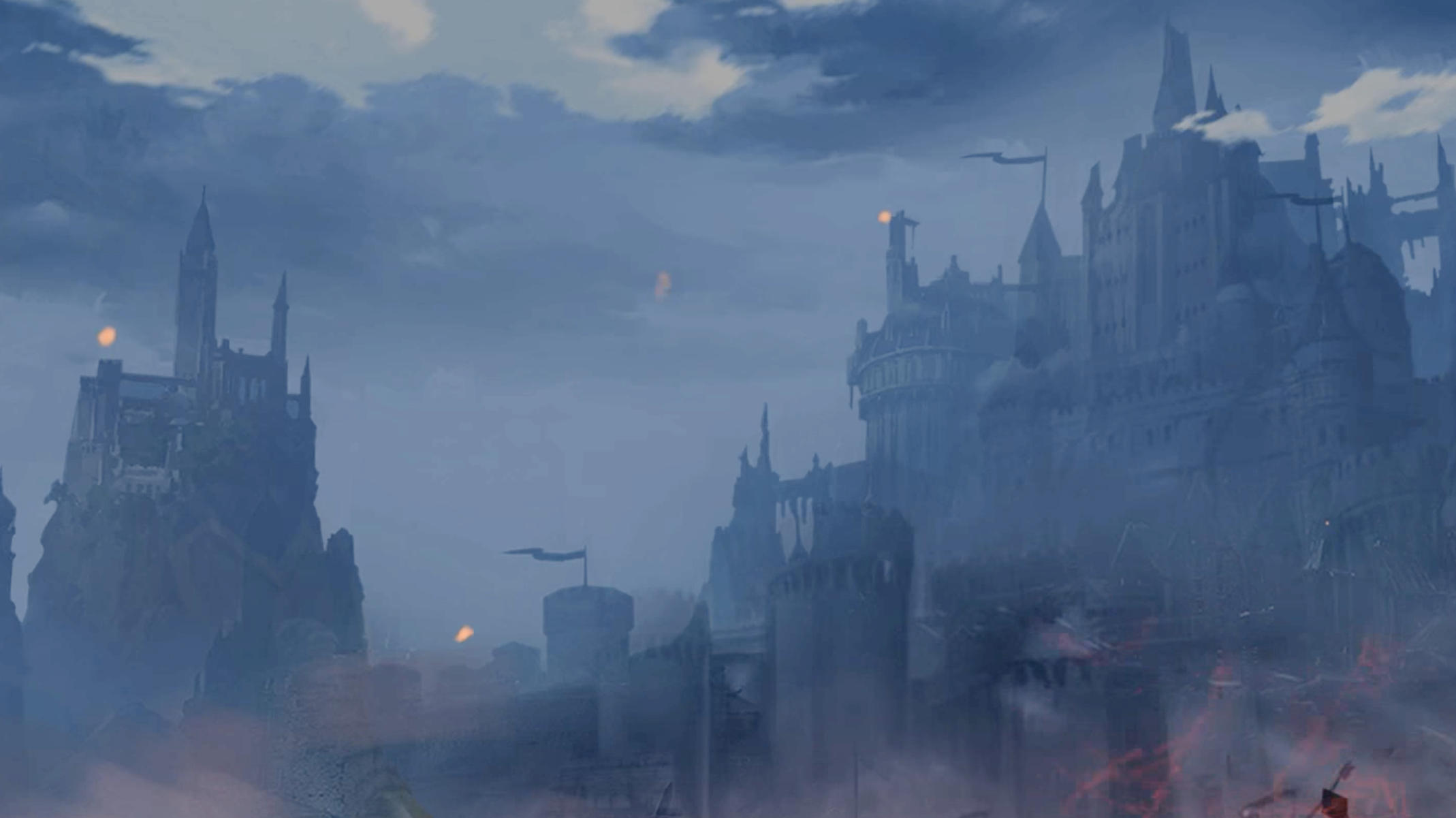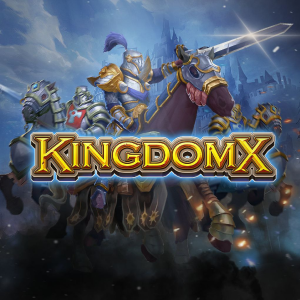 KingdomX
KingdomX is a P2E strategic war meta-battleground. Gamers and stakers are able to build, collect, mint, compete, and earn through the deflationary Kingslanding protocol. Double trifold mechanics (Repu - Hero - KT) or (Mint - burn - reward) are designed to propel the game engine into a long-term moon ride.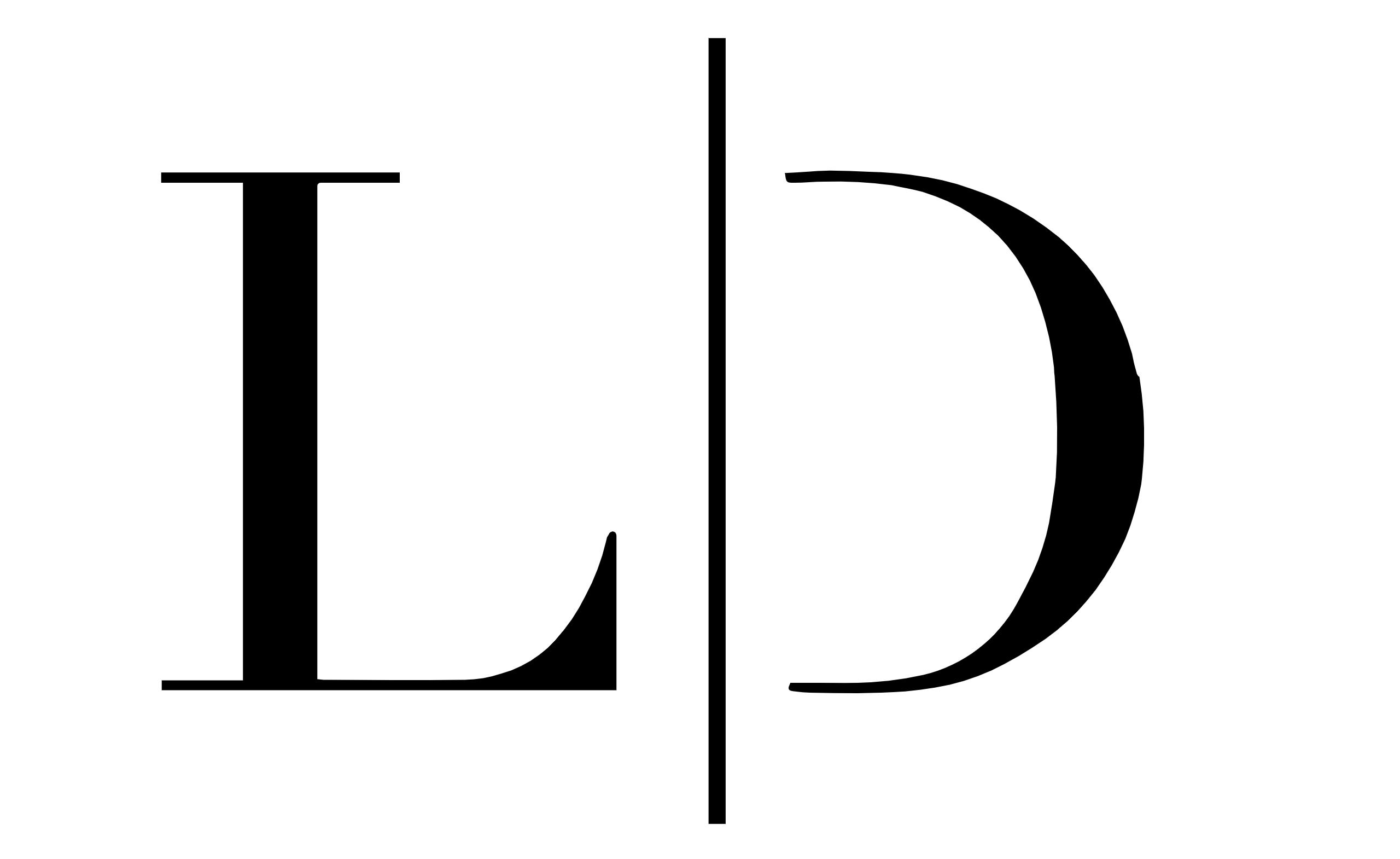 Lead VC
LD Capital

Market Maker
NordicVelo
Controlled Cap
Approved
DAO Approved Metrics
Approved
What is Kingdomx (KT)?
KingdomX is a strategy war game in the blockchain. Players could collect heroes, complete tasks, challenge activities, participate in the war, and establish the personal game kingdom through social networking and territory development. The overall ecology in the game is based on the GameFi Protocol. It enhances the fun of the game, ensures the game assets, and enables all players to benefit from the game and win tokens or rewards.
What is Kingdomx (KT) marketing strategy?
Overview
Due to the outstanding performance of KingdomX, more and more communities chose to support KingdomX. They are Avocado Guild, Unix Gaming, MetaGaming Guild, Good Game Guild, MAO DAO, and SnapFingers Dao.
Regular updates:
KingdomX hold campaigns regularly every one to two weeks, and also post tweets, operate telegram groups every day to do interaction with players
Media exposure:
We already have official accounts on Twitter, Medium, also own official groups on Telegram and Discord. What's more, KingdomX already has cooperation relationships with many international marketing companies, and these companies already published much news related to KingdomX regularly.
KOL support:
KingdomX already collaborates with hundreds of KOLs from all over the world. They all have popular accounts on many kinds of social media platforms, such as Facebook, Youtube, and Twitter.
What makes Kingdomx (KT) unique?
Nowadays, there are a lot of blockchain games on the market, most of them are designed based on NFT, but few games are solving the inflation and devaluation problem of NFT. It will be an issue for NFT holders. KingdomX will not only be a high-quality game on the market, but also provide a fun game mechanism to burn and generate NFTs. Players can get profit through this process, and all the logic is running on blockchain by the KingsLanding Protocol. It is designed to avoid inflation and solve the liquidity issues for NFTs.
What is Kingdomx (KT) roadmap?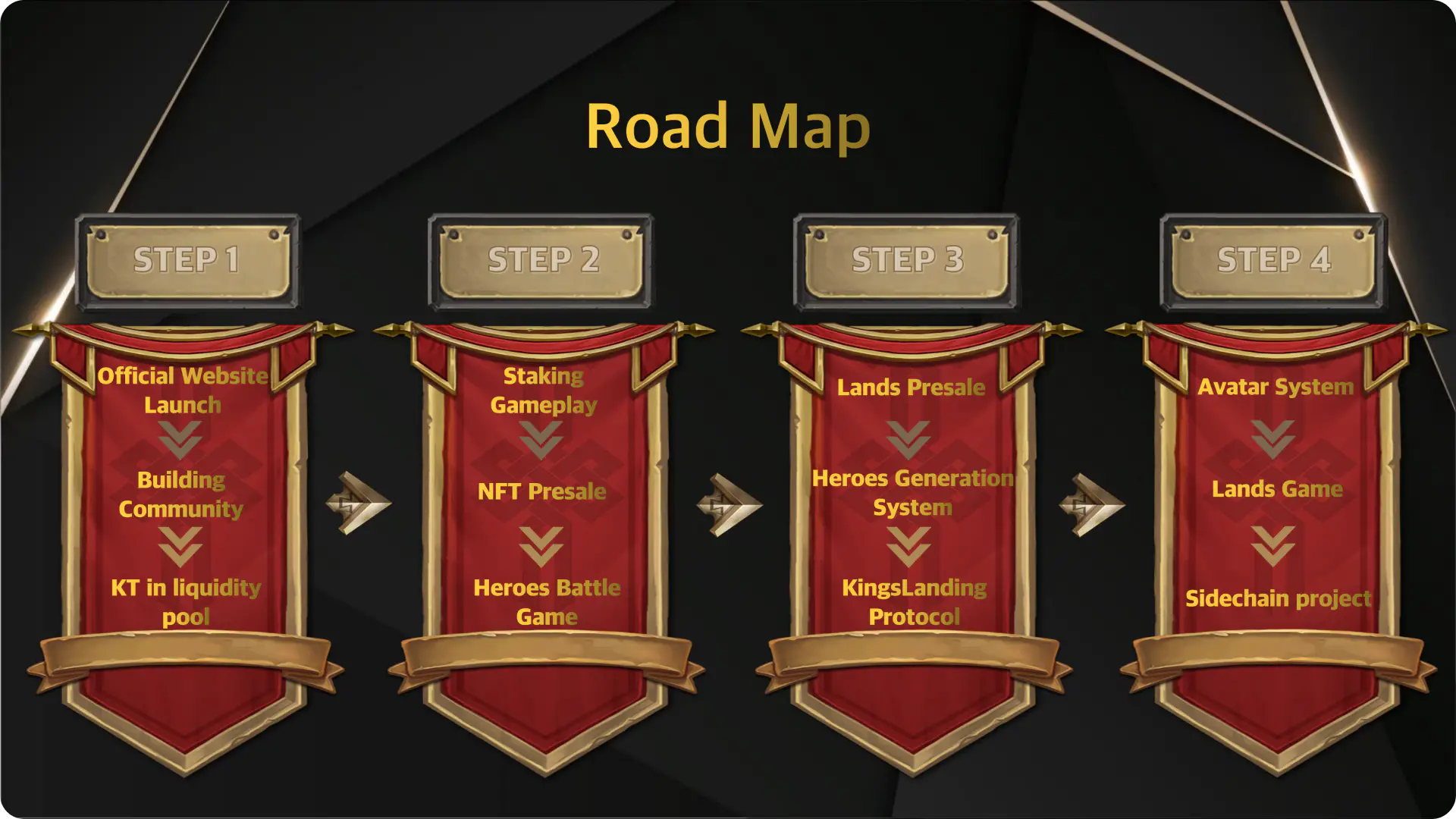 Kingdomx (KT) revenue streams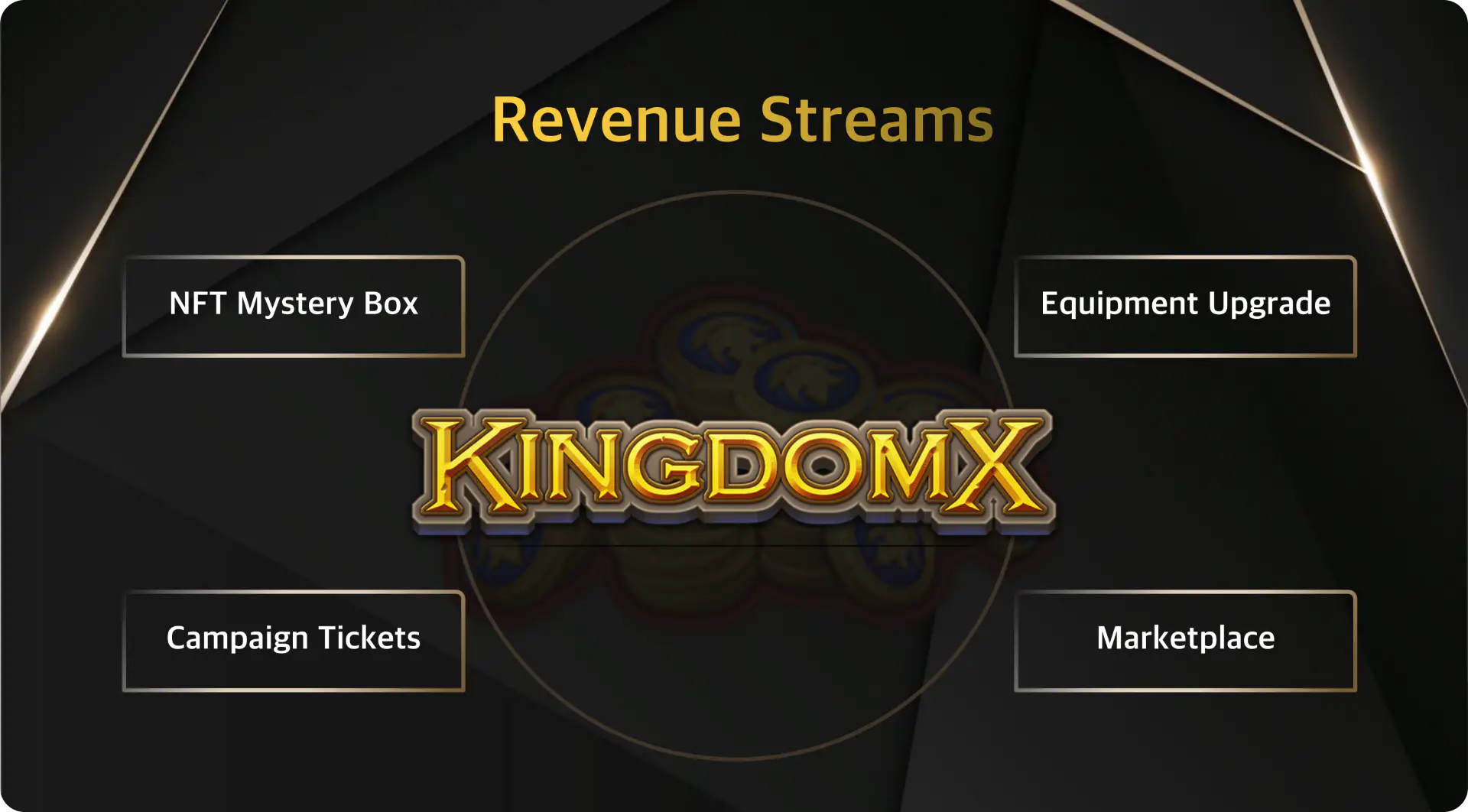 How does Kingdomx (KT) work?
Variety Game Experience: There will be different game modes for players.
KingsLanding Protocol: The protocol is used to generate and buy back NFT. It is designed to avoid inflation and solve the liquidity issues for NFTs.
Play to Earn: According to KingdomX adventure and war gameplays, players can earn KNT and KT.
Logic on Blockchain: The gameplay logic is based on smart contracts. Which can create trust in a trustless ecosystem.
Multiple Coins: There are two types of tokens, governance token and game token.
Governance token gives holders more rights. Game token provides a better game experience.
What technologies does Kingdomx (KT) use?
The KingsLanding Protocol, used to generate and destroy NFT, was originally proposed by KingdomX for this project.
Hero NFT uses a unique modular splicing technology, which uses a limited number of graphic elements to combine a large number of non-repetitive NFT appearances, which can almost make every NFT look different.
The team is currently studying threshold signatures, which may be used in this project in the future to reduce the difficulty for users to enter blockchain games and also improve security.
What is Kingdomx (KT) tokenomics?
King Token
Token Generation
King Token (KT) is the core Token in KingdomX for value transmissions and community governance. In the game, KT is mainly used as "bottoming" to recruit heroes. In the game, players gain KT after they participate in wars and get rewards from their rankings.
Lock Up
To prevent inflation caused by the circulation of Token, all KT holders are encouraged to lock up their KT with the following measures to ensure the benefits and revenues of long-time KT holders and players who lock up their KT.
Deposit KT for recruiting new heroes — A certain amount of KT is needed to recruit new heroes. 80 percent of KT used as "bottoming" is deposited in Kingslanding Protocol. When the recruited hero is sent to war, there will be low possibilities of battle damage. Also, if battle damage happens, the deposited KT will be fully returned to the player.
Deposit KT for a quicker recovery — Players can deposit KT for a quicker recovery in the game. In other words, depositing KT increases the amount of daily available Energy. Players can win more rewards, such as KNT, Exp, Reputation, by participating in adventures and wars, which consume Energy.
Staking mining for upgrading equipment parts — When equipment parts need to arrive key level, both KT and KNT need to be used for completing upgrading. when upgrading successfully, used KT and KNT will be locked up. If heroes trigger battle damage, all KT which is locked up for upgrading will be returned as for rate.
Burning
Every year, there will be natural inflation of KT due to the issue of KT sold in the fundraising period and other presold KT, and the KT generated regularly after wars in the game. To control inflation, there is a certain Token destroying mechanism called Burning. The percentage of Burned KT is under the control of the KingsLanding Protocol, and the speed of Burning is decided by KT holders who are in the DAO vote. Methods are as follows:
Recruit new heroes — A certain percentage of KT used as "bottoming" in recruiting new heroes will be Burned, and this percentage is decided by KT holders who are in the DAO vote.
Buy Campaign tickets — Users can use KT to buy tickets for special campaigns. For example, after using KT to buy tickets to challenge the world boss, you will be eligible to compete for high-quality NFT. More personalized special campaigns will be launched later, and all KT spent on special events will be burned.
When equipment parts are upgraded, KT is required to upgrade some key levels. As the level of equipment parts increases, the success rate of the upgrade gradually decreases. If the upgrade fails, the KT used in the upgrade will be burned.