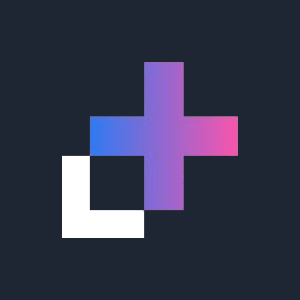 Lever Network
Lever is the world's first AMM-based decentralized margin trading protocol. Lever allows users to lend, borrow and carry out leveraged trading without needing to transfer assets to other third-party platforms. Lever aims to significantly increase capital efficiency in DeFi.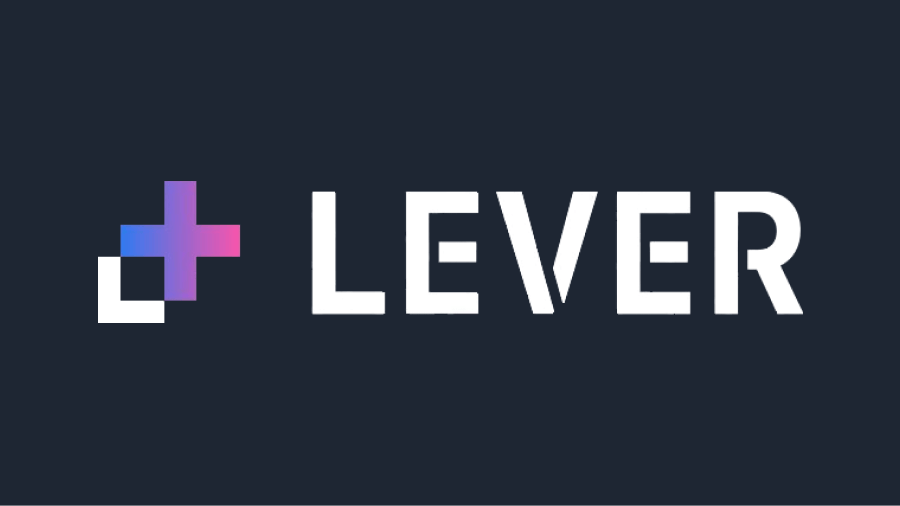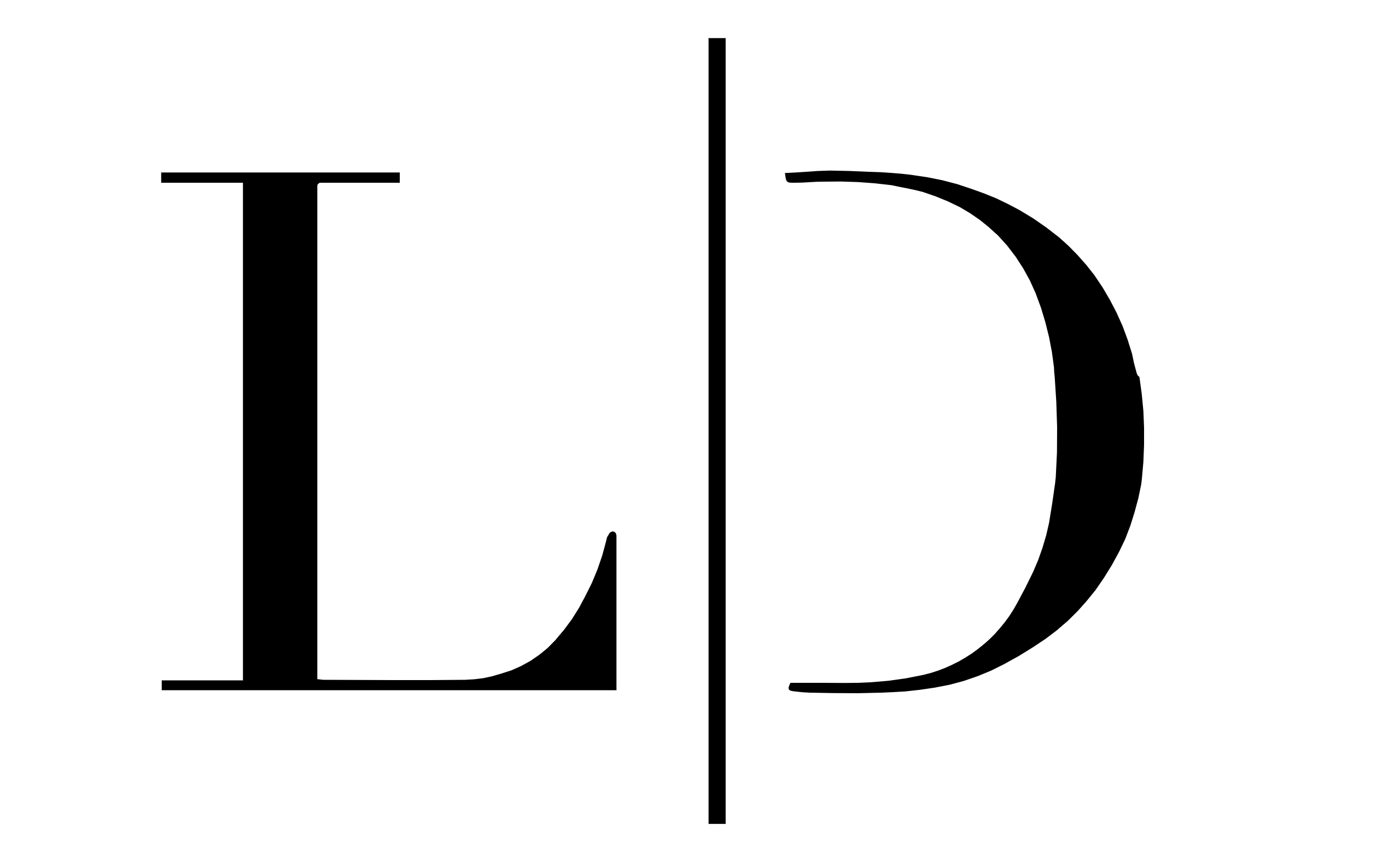 Ticker

LEV

Market cap.

$152,163

Fully Diluted Valuation

$1,024,625

Trading Volume 24 Hrs

$1,323

Circulating Supply

14,850,629
Current Price

$0.010246

Seed Round

0.10x

SEED SHO

0.04x

Private Round

0.02x

Public Sale

0.02x
WHAT IS LEVER?
Lever is the world's first AMM-based decentralized margin trading protocol. The idea of building Lever.Network came from the huge market opportunity the project observed in their research of DeFi. Though lending and trading as two of the pillar businesses in the DeFi space has the most TVL, these are practically isolated from each other, resulting in considerably low capital efficiency, which is not healthy for the future growth of DeFi. To resolve this problem, Lever is developed to bridge the gap between lending protocols and DEXes, and provide margin trading service for traders to amplify their gains.
LEVER MARKETING STRATEGY
To acquire its first users, Lever will focus on crypto audiences, especially DeFi users as they are more familiar with lending and margin trading which are popular among them. Besides relying on its strategic partners' marketing resources, Lever will also actively collaborate with existing communities and influencers to raise market awareness and build a strong community. Below explains Lever's marketing and operation strategy in details: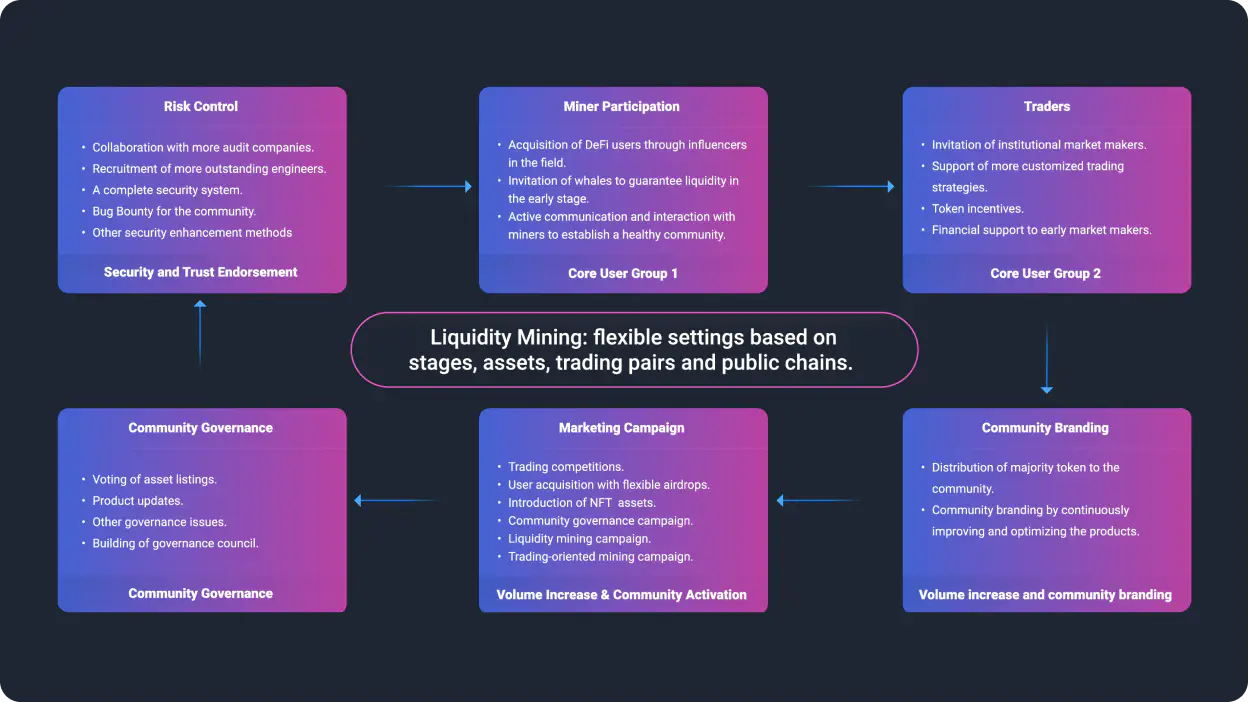 WHAT MAKES LEVER UNIQUE?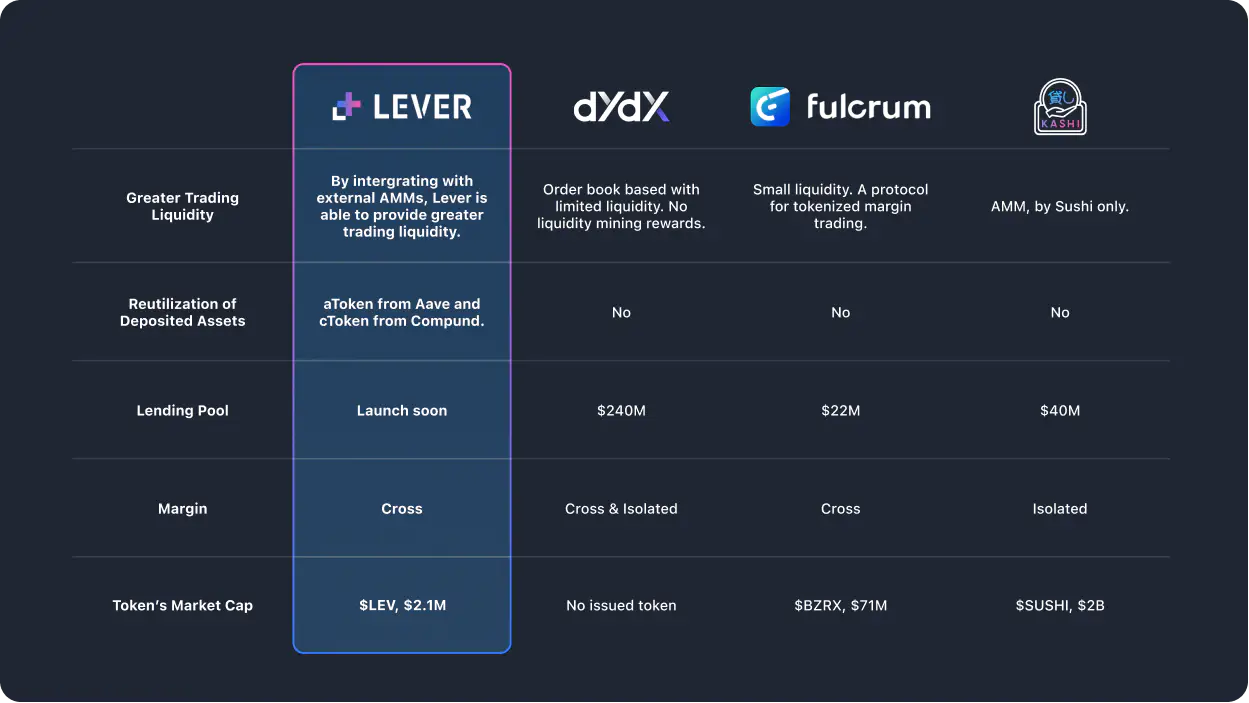 LEVER
PRODUCT ROADMAP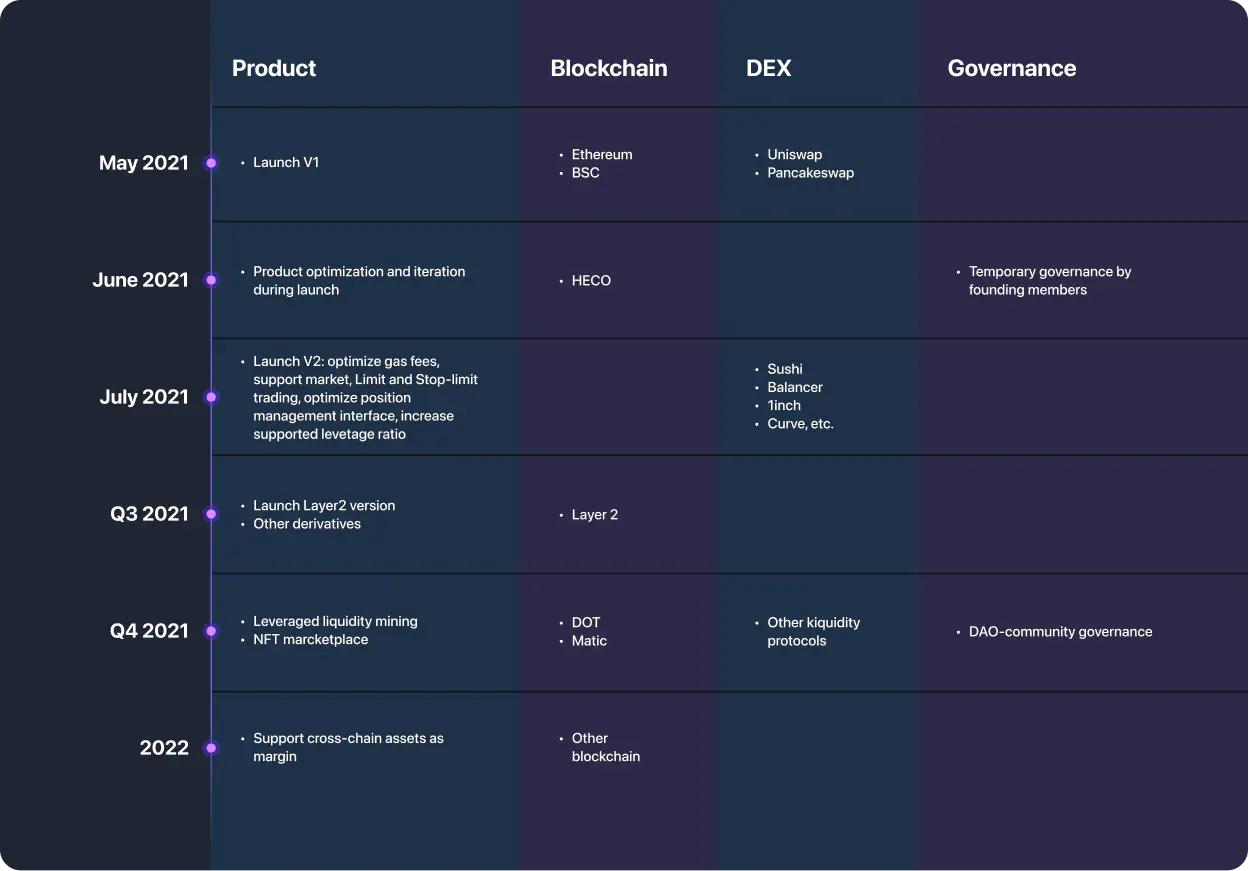 LEVER
REVENUE STREAMS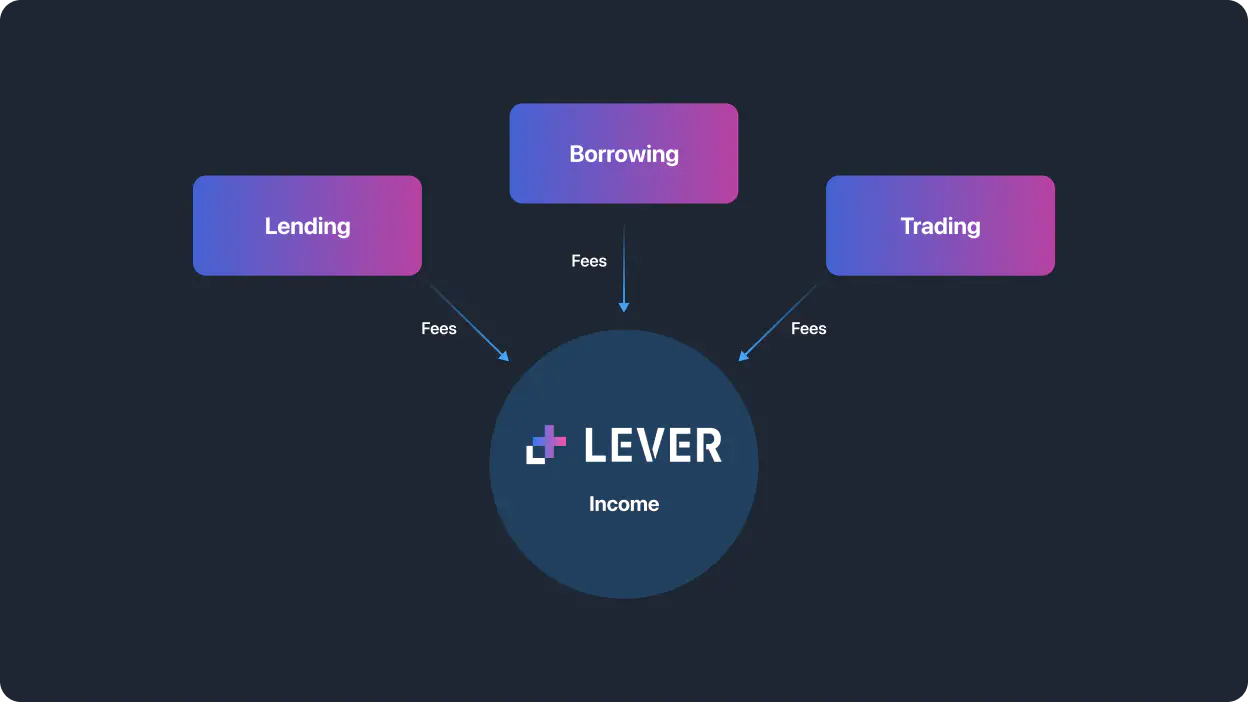 HOW DOES LEVER WORK?
Currently Lever has 1 product with 2 features:
For lenders/borrowers, they can lend their idle crypto assets (including their deposit certificates from other lending protocols, i.e. AAVE's aTokens and Compound's cTokens) to earn interest or use them as collateral to take out loans.
And for traders, after making a margin deposit in the margin pool, users will be able to open either long or short positions on a supported asset in Lever with up to 3X leverage. The platform makes use of external AMMs like Uniswap to provide surplus liquidity for margin traders to open positions of any size.
WHAT ARE THE TECHNOLOGIES USED BY LEVER?
The lending feature of Lever is based on the AAVE protocol while its margin trading, and liquidation feature are innovatively created by the Lever team.
The execution of Lever's liquidation mechanism is featured with 0 costs and 0 delays.
Compared with AAVE, Lever has its innovative improvement. The liquidation smart contract in Lever's protocol will be automatically triggered when it is called by liquidators. No upfront assets are needed from liquidators, making 0-cost liquidation possible.
And compared with dYdX, Lever is able to provide greater liquidity for trades. It can provide the best trading experience regardless of position sizes.
LEVER TOKEN ECONOMY
LEV is the governance token of the Lever ecosystem with more additional value to be added in future development.