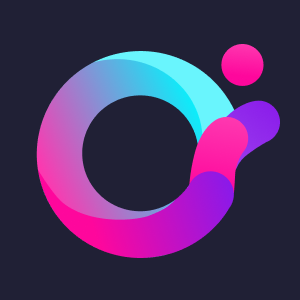 Orion Protocol
ACCESS THE LIQUIDITY OF EVERY EXCHANGE, EVERY COIN, AND THE BEST PRICE FOR ANY DIGITAL ASSET, FROM THE CONVENIENCE AND SECURITY OF YOUR OWN CRYPTOCURRENCY WALLET.
Ticker
Orion Protocol
Market cap.
$33,807,907
Fully Diluted Valuation
$98,184,400
Trading Volume 24 Hrs
$10,399,425
Circulating Supply
34,433,074
What is Orion Protocol (ORN)?
Orion Protocol aggregates the liquidity, order book depth, and trade pairs of every centralized exchange, decentralized exchange, and swap pool. It is the most advanced liquidity aggregator ever developed.
By aggregating the liquidity of the entire crypto market into one decentralized platform, Orion Protocol solves the largest issues in DeFi.
Governing the protocol is the proprietary staking mechanism Delegated Proof of Broker, fulfilling every function via a decentralized brokerage, with the ORN token at its core. This mechanism underpins each solution built on the protocol, including the flagship product Orion Terminal, which is an aggregation of all major exchanges' liquidity into one decentralized terminal.
The Protocol's enables a rich product roadmap, including the Orion Enterprise, which provides much needed solutions for businesses in the space, including blockchains and exchanges, alongside an unrivaled price oracle and high-margin DEX.
What is Orion Protocol (ORN) marketing strategy?
Virtually everyone involved with cryptocurrencies has to participate in trading.
However, liquidity options in cryptocurrency come with trade-offs. Centralized exchanges take custody of user assets & they force users to hope from 1 brand to another, DEX lack liquidity, and swapping pools lack depth.
Orion brings the benefits of all three in one platform by combining the liquidity and order books of every centralized exchange, DEX, and swap pool.
This gives Orion a massive go-to market as:
- Users of any CEX can still access the coins and liquidity of their CEX through Orion, but with even greater price discovery, liquidity, and depth, while also holding on to their assets
- Users of any DEX get magnitudes greater liquidity without giving up their assets
- Users of any Swap pool benefit from much lower fees without giving up their assets
What makes Orion Protocol (ORN) unique?
Liquidity aggregators already exist, and have displayed great demand. For example, Tagomi, a broker that functioned as a liquidity aggregator for institutions has been acquired by Coinbase for $100M, even though it only aggregates a few centralized markets.
Meanwhile, decentralized liquidity aggregators, like 1inch.exchange and DEX.ag, process millions in volume even though they only aggregate the order books of decentralized exchanges and swap pools.
Orion offers a non-custodial liquidity aggregator. This greatly reduces friction to user onboarding as people can use their current wallet and immediately tap into the liquidity of every CEX, DEX, and swap pool.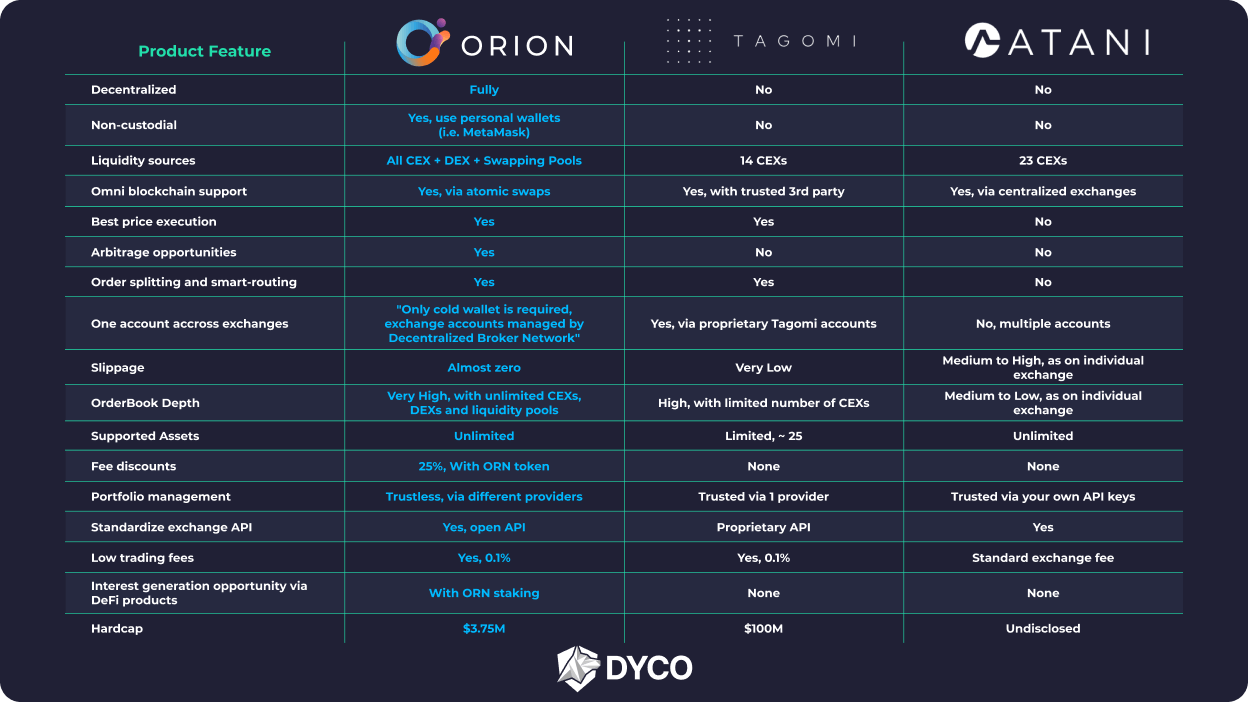 What is Orion Protocol (ORN) roadmap?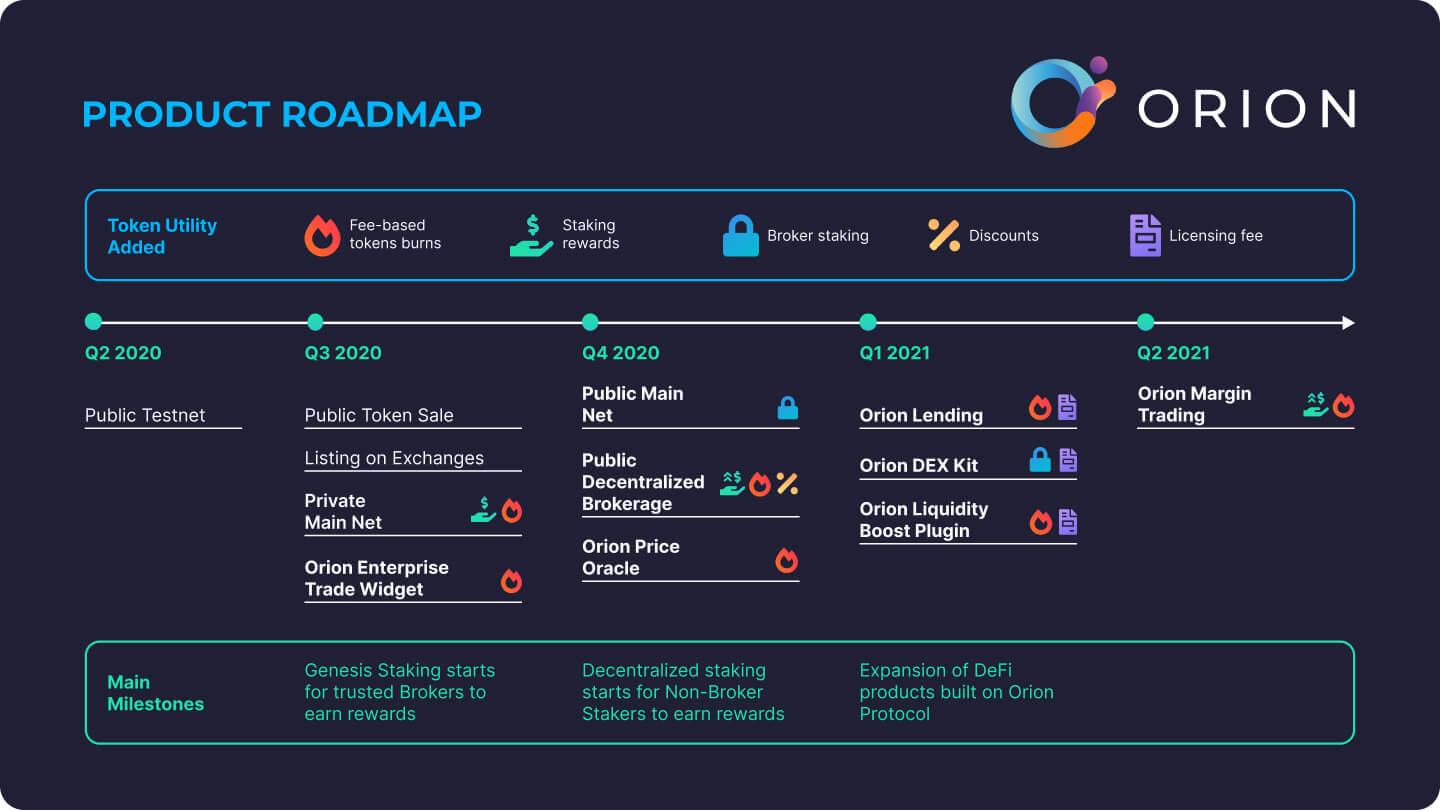 Orion Protocol (ORN) revenue streams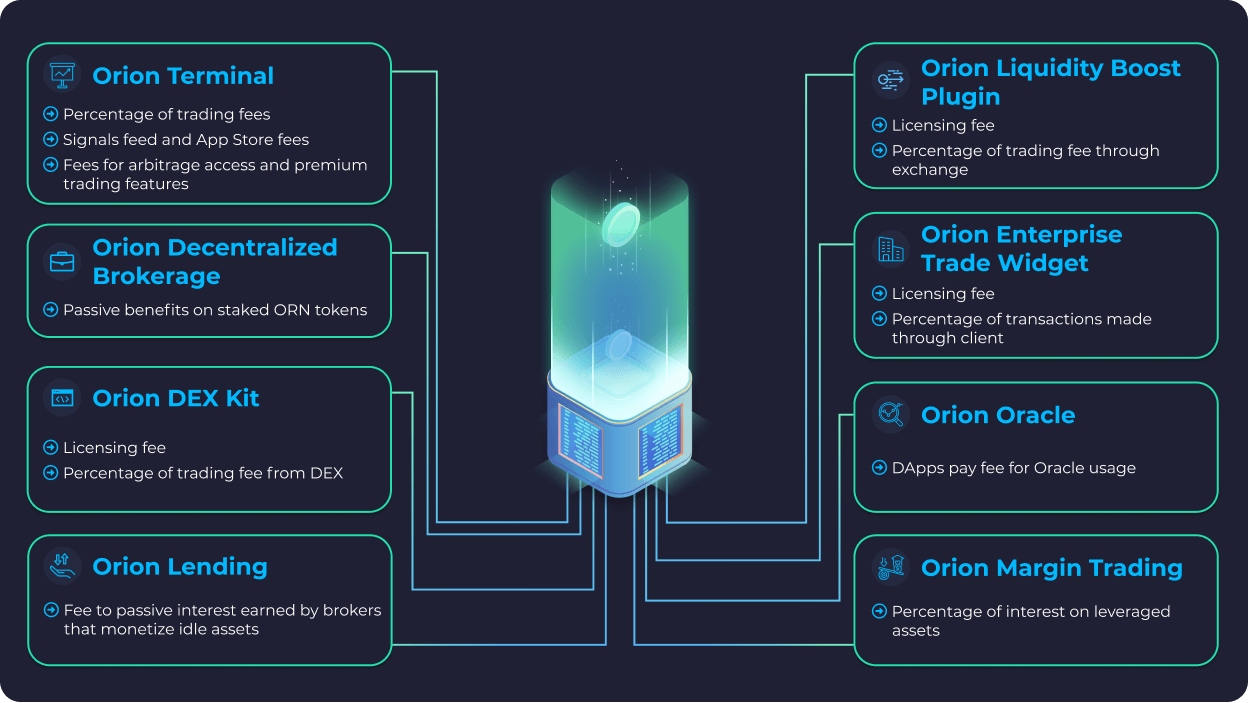 How does Orion Protocol (ORN) work?
The Orion Terminal and Orion Protocol are not the same.
The Orion Protocol aggregates the liquidity, order book depth, and price discovery from every centralized and decentralized digital asset market. This enables the creation of the Orion Terminal, and an array of other much-needed products for consumers and businesses.
- Orion Terminal
- Orion Lending
- Orion Margin
Orion Enterprise exists to help businesses in the space build sustainable, decentralized ecosystems, giving them the liquidity, accessibility, and growth they need to succeed.
- Orion Price Oracle
- Orion DEX Kit
- Orion Liquidity Boost Plugin
- Orion Enterprise Widget
Orion Terminal: Use any non-custodial wallet (i.e. MetaMask) to tap into 10,000+ coins sourced from every centralized exchange, DEX, and swap pool, from just 1 place. Users control their assets, pay low fees, pay the best available price for an asset, and benefit from the security of never giving up control of their assets.
Orion Lending: Similar to how Orion terminal aggregates order books, Orion Lending aggregates lending APRs from centralized and decentralized providers to ensure both borrowers and lenders can seamlessly use the best available rate.
Orion Margin: The lack of order book depth on decentralized platforms has hindered the creation of high-margin (ergo, 100x) trading on decentralized exchanges. However, Orion Protocol can enable such a service as it aggregates the liquidity and depth of centralized exchanges through a decentralized executions.
Orion Price Oracle: Orion Protocol enables the market-leading price oracle that is resilient to price manipulation due to price derivation from every order book in the market. This is incredibly advantageous to external DeFi products that have been regularly exploited due to inefficiencies in price oracles.
Orion DEX Kit: The Protocol is usable by anyone, but the team is leading the product development on it. To facilitate others seeking to use the protocol, a developer kit will be launched to expand Protocol use.
Orion Liquidity Boost Plugin: A pluggable liquidity source to any centralized or decentralized market. Exchanges can utilize the Orion Plugin to improve their order book depth and liquidity.
Orion Enterprise Widget: A middle layer between crypto projects with utility tokens and all available liquidity of the token on the markets. Tokenized projects' enterprise clients can purchase tokens directly from the project's platform or website by routing orders from all exchanges carrying the token, returning tokens for immediate use.
The products mentioned above are the earliest release points in the Orion product roadmap. Through the DEX kit, talented developers will be able launch and benefit from their own product visions, while growing the Orion Protocol ecosystem.
Furthermore, additional products enabled by the Protocol's ability to offer the ultimate source of liquidity are already in the planning stage, and will be announced after concept finalization.
What technologies Orion Protocol (ORN) created and used?
Liquidity Aggregator Protocol
The protocol standardizes connectivity to both centralized and decentralized exchanges, allowing all parties to participate in a trading workflow in a completely decentralized way. The protocol governs accounting and trade settlement that can be implemented on almost any public and enterprise blockchain.
Decentralized Brokerage (Delegated Proof of Broker)
Delegated Proof of Broker governs every function on the protocol from order execution, to clearing, to the governance of choosing a broker, and everything in between including via a decentralized brokerage with the native ORN token at its core. Designed using advantages from PoS, DPoB consists of two core components: Brokers and Non-Broker Stakers. Every transaction across the protocol acts as a trade being carried out by a broker via the decentralized exchange. Brokers earn rewards for conducting these trades: profit share from each transaction will be shared back in the form of ORN tokens.
Smart Contracts
Orion's innovative mutual credit accounting system implemented in different programming languages (including Solidity, Rust, etc) was specifically developed to be used in smart contracts on different platforms. This underpins Orion's blockchain-agnostic approach in exchange functionality that can be run on different blockchains.
Order Matching Engine
The high-performance Orion Matching Engine is built on the aggregated orderbook, updated from every connected exchange in real time. This fulfils splitting, routing and matching functions.
Multi-Currency Wallet
Orion wallet can be integrated into all familiar and widely-used wallets (including MetaMask, email/phone-based login, Test, etc.) and allows users to securely store their funds. This isn't limited to native ERC20 tokens, but includes synthetic tokens pegged 1:1 to native currencies on heterogeneous blockchains. This is implemented via Orion Token Bridge system built between different blockchains, including but not limited to Bitcoin and Bitcoin-like blockchains (BCH, BSV, LTC etc), Ethereum, ETC, EOS, NEO, Waves and others.
What are Orion Protocol (ORN) tokenomics?