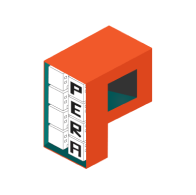 Pera Finance
Token Claim Portal: pera.daomaker.com
Pera Finance is a multi-layered and sustainable trading & yield farming protocol integrated with a fully decentralized daily trading competition.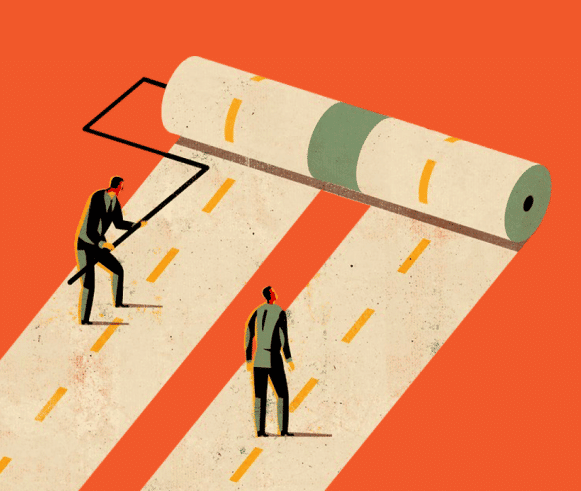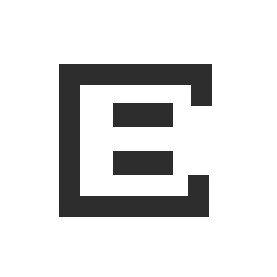 Lead VC
Existential

Market Maker
NordicVelo
Controlled Cap
NA
DAO Approved Metrics
Approved
What is Pera Finance (PERA)?
Pera Finance is a trading & yield farming protocol based on decentralized trading competitions. PERA token will be the proof of concept of the general trading protocol by which its underlying technology will be integrated for the other projects with their own trading competition for their tokens.
Pera Finance brings a new type of trader-oriented yield farming protocol via decentralized trading competitions - a first-ever in DeFi. its modular and scalable smart contract solutions open a new era to build more robust financial ecosystems around customizable trading competitions.
Pera Finance rewards its users according to their contribution to the ecosystem by using different yield strategies including PERA and other partner projects' tokens.
What makes Pera Finance (PERA) unique?
PERA is the world's first DeFi platform to offer an on-chain daily trading competition. So there is not a direct competitor for the market they are aiming for. Pera trading solutions will be applicable to many other projects as well. As a general competition, Pera Finance aims to attract all the users from other yield farming protocols that subsidize their liquidity with emissions or non incentivized transaction fees (deflationary yield farming projects in general just as Safemoon).
How are they better & The Potential Demand
In the DeFi space, yield farming rewards are usually created to boost supply-side liquidity via unsustainable inflationary or deflationary mechanisms. However, none of the existing DeFi protocols have a hybrid farming mechanism that also rewards the creation of demand-side liquidity and rewards their traders for the sake of trading. PERA is rewarding the volume creation of its users in order to benefit both liquidity providers that need active traders to utilize their liquidity and the traders who haven't been rewarded for their trading efforts so far.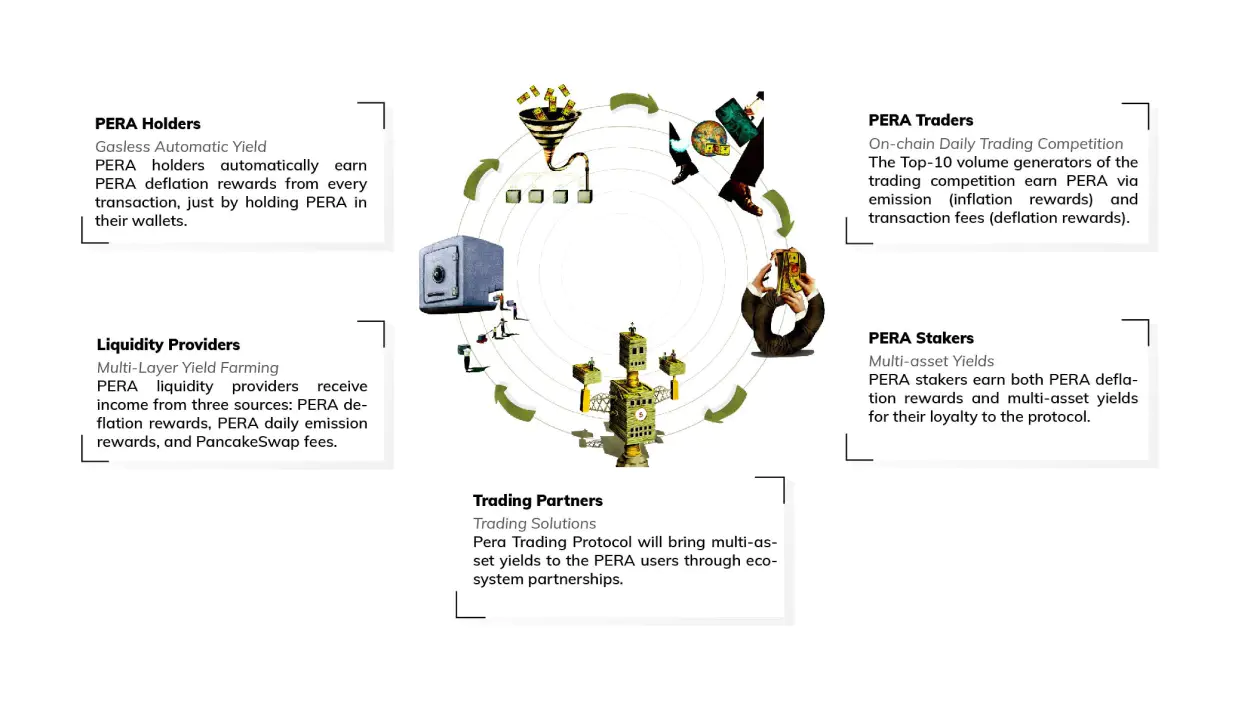 PERA token is the proof of concept of Pera Finance's Trading Protocol which will extend the unique approach and services to the whole DeFi space. PERA's modular and scalable sorting solution opens a new era for the existing or new DeFi projects and DEXes for a more sustainable and robust ecosystem. The trading protocol will be integrated into the projects that have a long-term trading volume for their tokens and sustain their user base.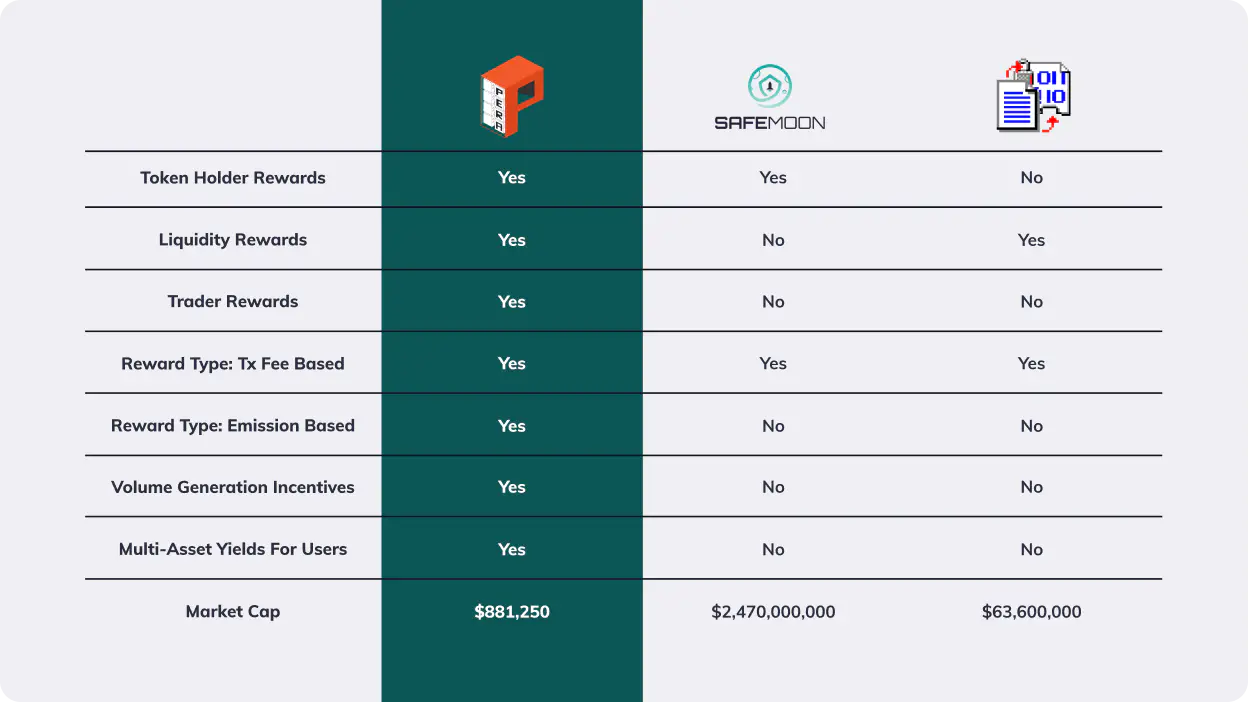 What is Pera Finance (PERA) roadmap?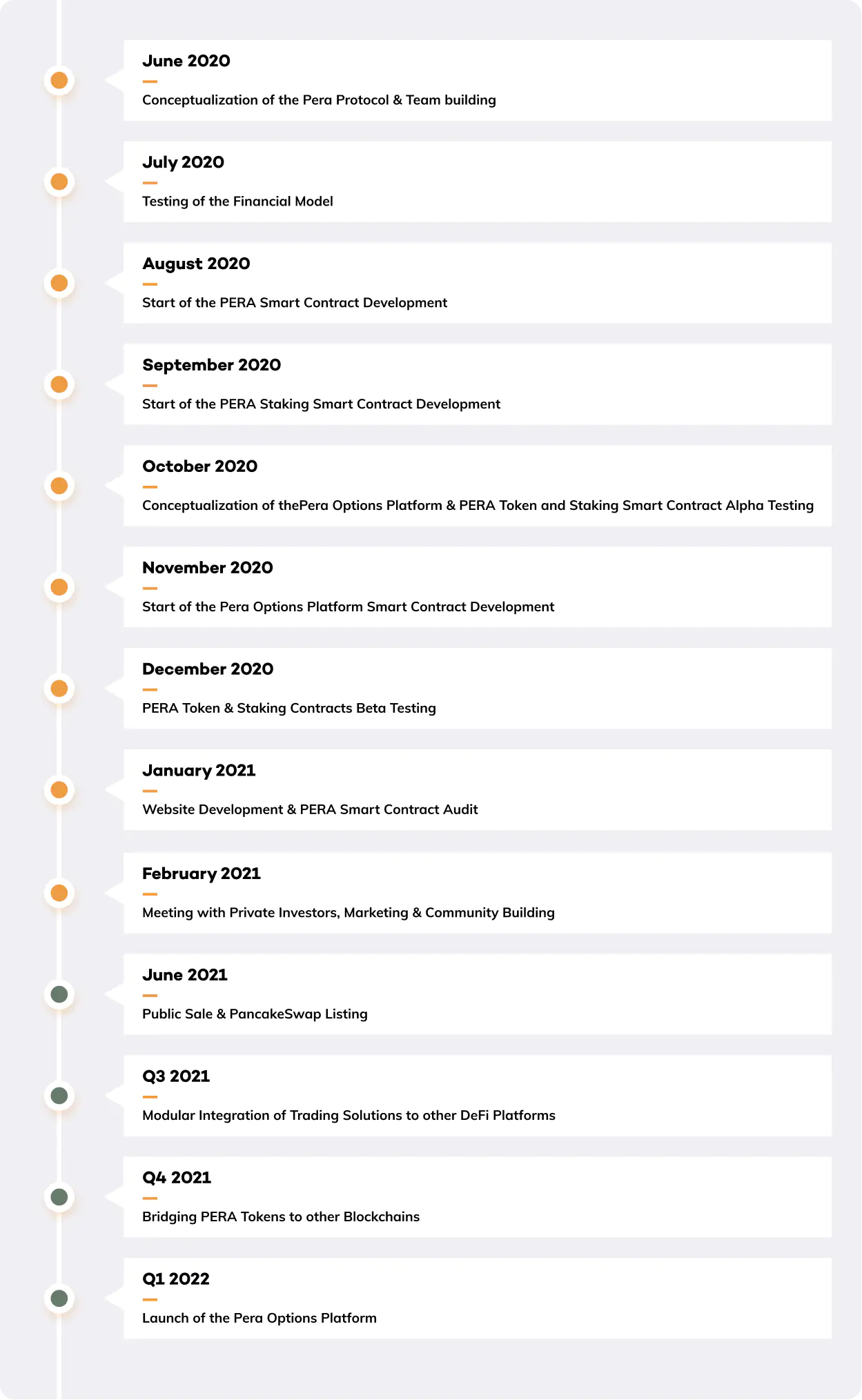 Pera Finance (PERA) revenue streams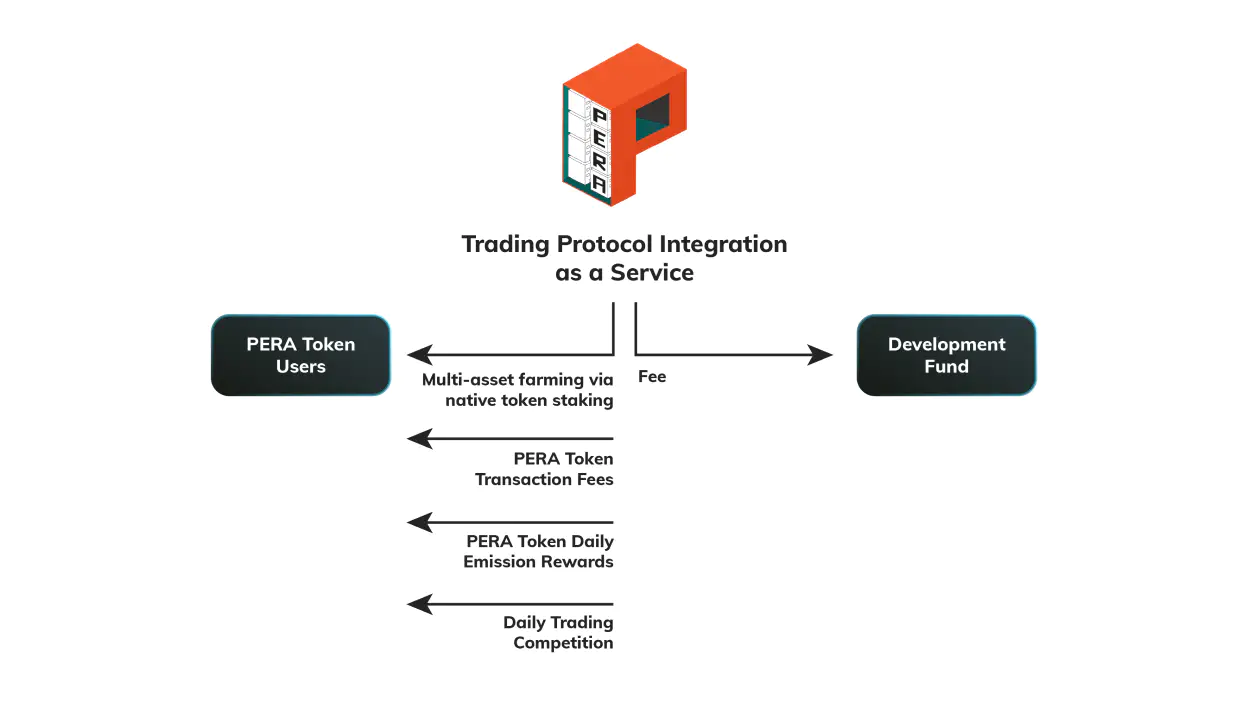 How does Pera Finance (PERA) work?
PERA Trading & Yield Farming Protocol (For the PERA tokens)
The Yield Farming protocol has emission (inflationary) and transaction fee (deflationary) based farming rewards for the PERA holders, PERA liquidity providers of the Pancakeswap pool and Top-10 PERA traders (volume creators of any kind).
Daily and decentralized trading competition is the main attraction point and trigger of the yield farming protocol. It restarts on a 24-hour interval. So, there's a decentralized trading competition with the PERA tokens that kickstarts the yield farming protocol that collects the transaction fees in addition to the daily emission rewards.
Emission rewards are used to attract the traders and liquidity providers, when they use the tokens Pera applies transaction fees to add them up to the emission rewards. So, the more transactions there are, the more farming rewards for the traders and the liquidity providers they provide.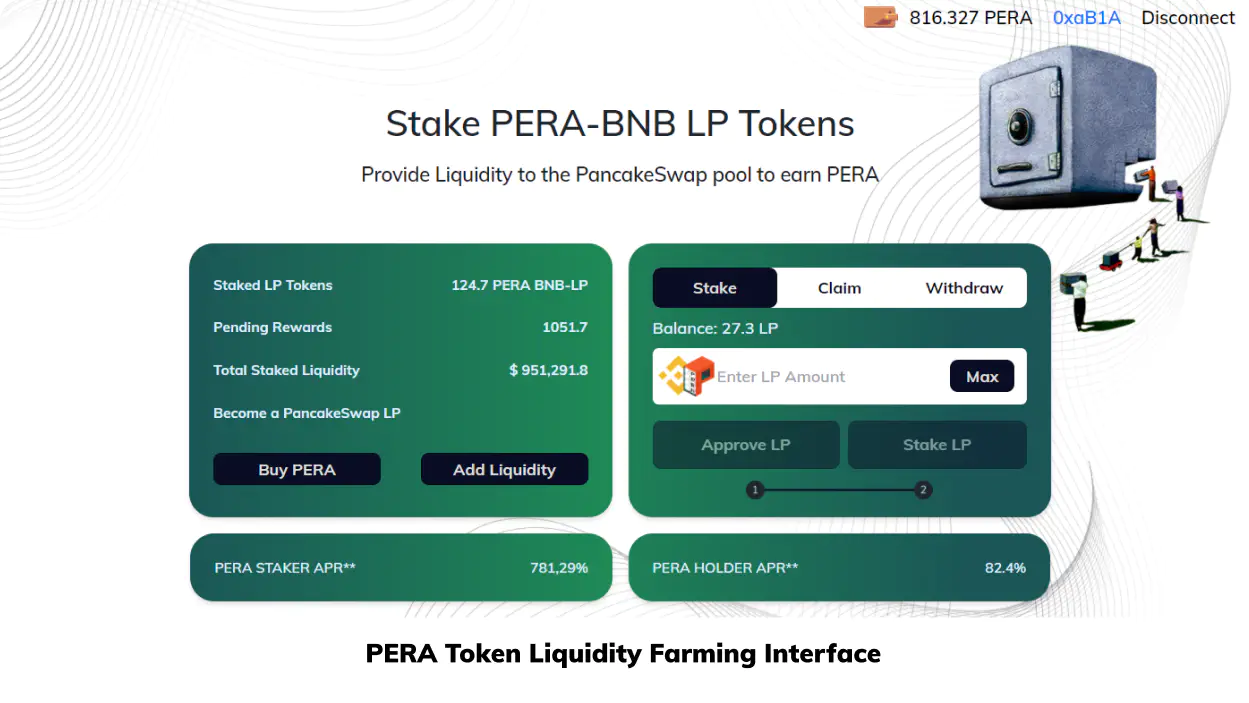 Deflationary Rewards
Every on-chain PERA transaction (transfer, trade, or liquidity addition/ removal) generates a 2 % transaction fee. All transaction fees are distributed to PERA Holders, Traders, and Liquidity Providers as deflationary rewards.
Inflationary Rewards
Daily emission is 70.000 PERA. All emission rewards are distributed to PERA Traders and Liquidity Providers as inflationary rewards.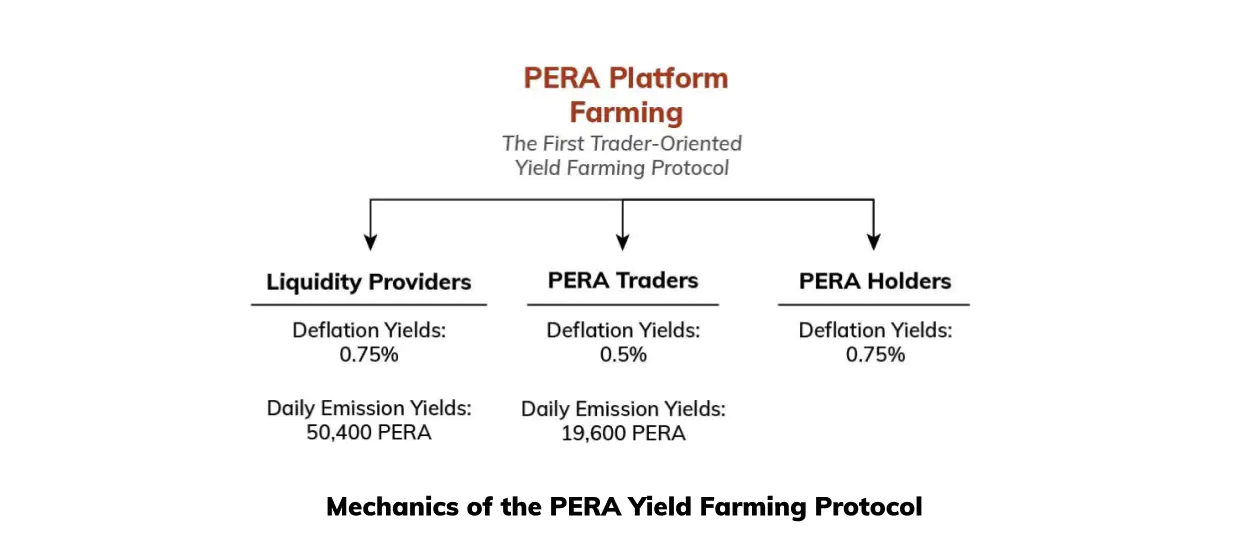 Pera Trading Protocol (For the Other Projects)
Pera will extend and customize the trading competition feature to the other projects to have their own trading competitions in their terms. The mechanism described above has been designed for the PERA token. The general trading protocol will allow other projects to decide on their competition interval, number of traders to be rewarded, amount of the competition rewards etc with their own terms.
What technologies Pera Finance (PERA) created and used?
The smart contract is customly designed and has an unique functionality described as the "Decentralized Trading Competition". Everyday, Top 10 traders with the highest volume are sorted out of a list of all traders with the unique sorting algorithm. It's a well known fact that using sorting algorithms in Solidity is hard due to intensive gas usage. Pera has developed a new sorting algorithm using a unique "filter-and-sort" approach.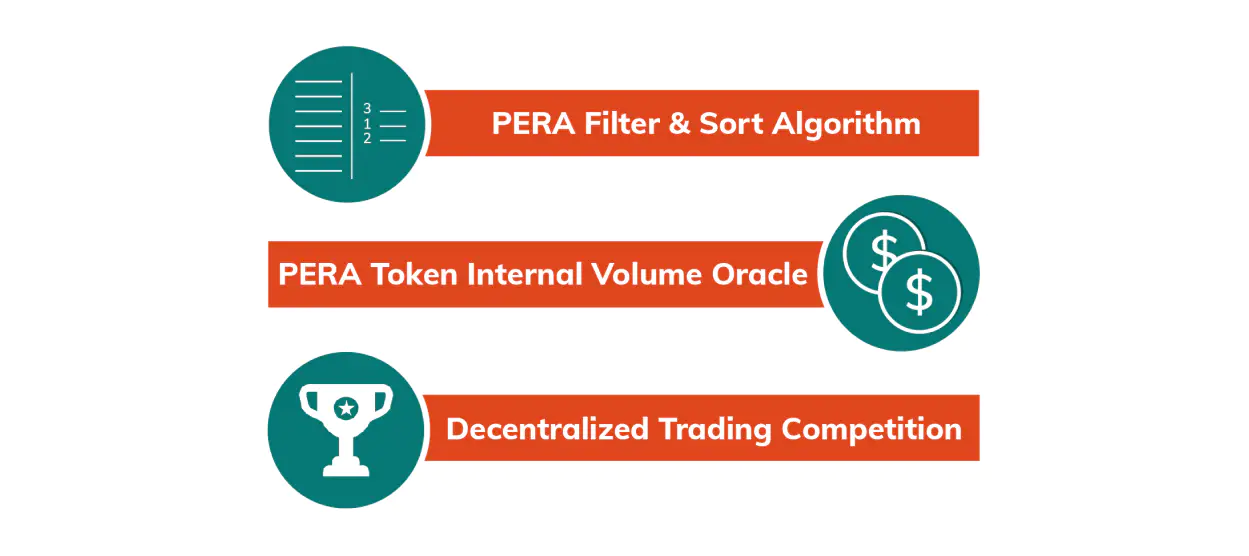 This underlying solution and the internal volume oracle the contract has (the smart contract can track every single PERA tx and store the corresponding volume to feed the sorting algorithm for the trading competition) are their own creations and will also be the base of the general trading protocol that Pera will implement to the other projects for their own decentralized trading competitions.
What is Pera Finance (PERA) marketing strategy?
Pera has partnered with two marketing agencies; GuerillaBuzz and Grey Turkey. Guerilla Buzz leads the viral marketing part where Grey Turkey handles the social m'edia aspect. Grey Turkey is also building the brand strategy and it's at the final stage.
Pera is working with multiple KOLs from different regions and also in talks with potential ecosystem partners to get in touch with their user base and networks. Pera Finance aims to further expand the trading competition across the BSC network by completing pre-launch partnership agreements and launching PERA Tokens on multiple AMM-type exchanges. The pools where PERA Token will be launched will offer PERA Token users additional revenue models where PERA liquidity farmers can earn tokens of partner projects.
Also, this is going to be the first DeFi project out of Turkey and they have strong local connections to attract local investors.
What are Pera Finance (PERA) tokenomics?