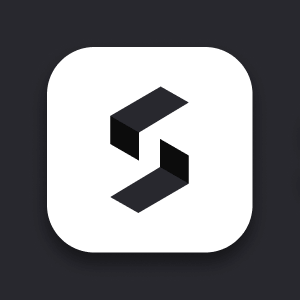 Sienna
Token Claim Portal: sienna.daomaker.com
Sienna Network is a privacy-first decentralized finance protocol built on Secret Network that enables trustless financial instruments, such as trading and lending with complete privacy with cross-chain support for Ethereum and soon Binance Smart Chain, Polkadot, Monero, and interoperability with all Cosmos blockchains via IBC.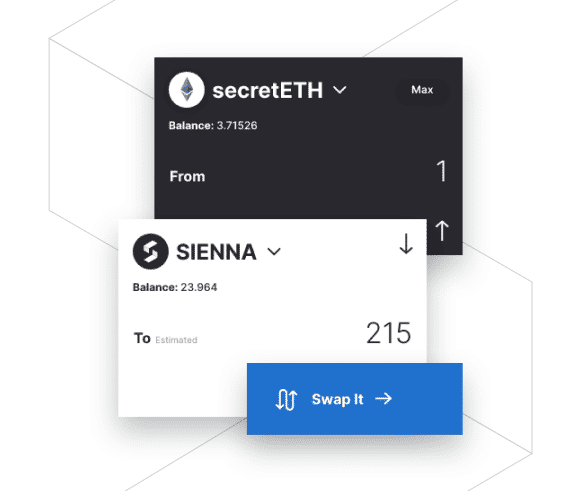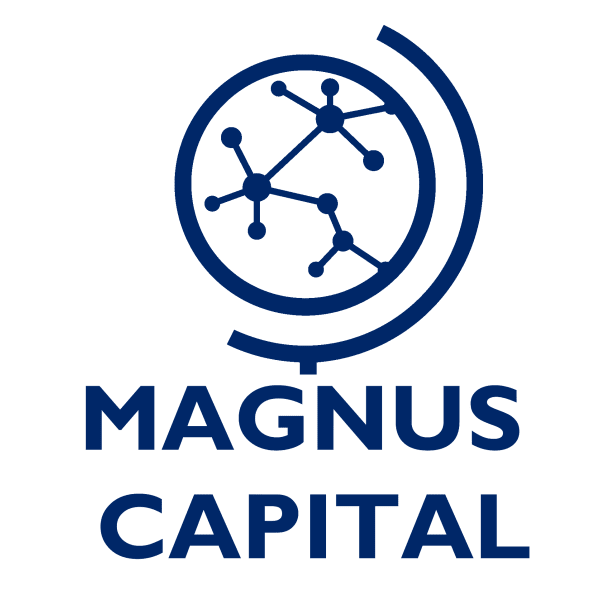 Lead VC
Magnus Capital

Market Maker
Skynet Trading
Controlled Cap
NA
DAO Approved Metrics
Approved
What is Sienna Network (SIENNA)?
Sienna Network is a privacy-first decentralized finance protocol built on Secret Network that enables trustless financial instruments, such as trading and lending with complete privacy with cross-chain support for Ethereum and soon Binance Smart Chain, Polkadot, Monero, and interoperability with all Cosmos blockchains via IBC.
The first product, Sienna Swap, is a privacy-first front-running resistant AMM (Automated Market Maker) that allows you to swap tokens with complete privacy, thereby mitigating front-running. This means no one is able to see your trades and pending transactions.
Privacy is an essential factor to the Sienna Network platform that leverages Secret Network, which allows for private smart contracts and private tokens similar to Monero and Zcash while having all the programmability of ERC20 tokens.
Due to the inherent scalability of Secret Network, the blockchain Sienna Network is built on, gas fees are minimal and transactions instant.
Users can also earn SIENNA via liquidity mining and other incentivization purposes.
Upcoming products include a direct fiat gateway to buying SIENNA, a privacy-first lending protocol, tokenization of assets, and much more.
The protocol is governed by the Sienna Token (SIENNA), which is a private SNIP-20 token running on Secret Network. Sienna Network also has a wrapped ERC20 token (wSIENNA) and will also have wrapped token versions for the Binance Smart Chain ecosystem, Polkadot, and more.
What is Sienna Network (SIENNA) marketing strategy?
The market for privacy focused solutions is increasing rapidly these years. Sienna Network is targeting the market for privacy oriented DeFi applications by launching an AMM that is not only privacy preserving but also prevents front-running and is scalable, which means it has low gas fees. These three features are amongst the most requested features in the DeFi community.
Sienna is doing two IDOs, which will build significant awareness about Sienna Network and the community.
Awareness is amplified through a strong community and PR efforts. Partnering with KOLs is also an important factor for building awareness and engagement for Sienna Network.
Users of Sienna Network are rewarded for using the protocol and can earn SIENNA that will enable them to vote for new proposals. This engagement of the users and community is important to secure a sense of ownership and relationship with Sienna as a platform.
Partnerships
While Sienna Network can exist as a stand alone platform, it is important to build partnerships with other players in the crypto community but also systemic players such as institutional investors and FinTech partners. Due to the privacy-preserving nature, Sienna is in a position to become the go-to-market platform for institutional players.
Partnerships can include implementation to Card Payment Providers, Investment Banks, FIAT Gateways, Clearing Houses for Tokenized Assets (shares, bonds, etc), and much more.
IBC - Inter Blockchain Communication - is an important factor for building partnerships in the crypto community, and will enable Sienna Network to provide additional value to the Cosmos ecosystem, which include Binance Wallet, Cosmos, Keplr, and much more.
The token IDO for SIENNA is set to happen on the DAO Maker launchpad before listing on exchanges. Add DAO token to your portfolio to have a chance at allocations in the SIENNA token IDO.
Make sure to follow Sienna to get the latest updates and participate in upcoming SiennaLove activities. Telegram Announcement Channel Twitter
What makes Sienna Network (SIENNA) unique?
Decentralized Finance (DeFi) has seen immense growth in the last few years and shows no signs of slowing down. Wonderful use cases have already emerged and it has become apparent DeFi is here to disrupt Wall Street and beyond.
Still, immediate problems need to be addressed in order for DeFi to truly flourish into trillions of dollars. Sienna Network realized some major problems that they wanted to tackle heads on in order to take DeFi to the next level.
Aside from understanding, existing DeFi protocols are fundamentally flawed. Transactions are not private. Future trades can be seen by everyone prior to execution. Execution priority on Ethereum is driven by transaction fees. A transaction can be preempted by simply introducing a transaction and paying a higher transaction fee. This is known as front running and is illegal in the regulated financial system for good reasons. This exploitation has been in its prominence ever since DeFi surfaced.
Programmable privacy allows feeding verifiable sensitive data into a decentralized world without revealing said data. Decentralized identities, credit scores, under-collateralized loans, privacy for institutions are a few to mention. Sienna is already in talks with major institutions about using Sienna Network as their platform of choice for DeFi.
Sienna Network is aiming to become the de facto standard for privacy-first DeFi across multiple blockchain ecosystems such as Ethereum, Binance Smart Chain, Polkadot, Cosmos blockchains, and other chains in the future.
Money should be private but also compliant so users are able to document their transactions if needed.
Its focus is also on user experience and compliance to drive institutional adoption and partnerships with systemic FinTech players. Distributed IDs are crucial to obtain institutional compliance as they need to document a network of KYC-checked players.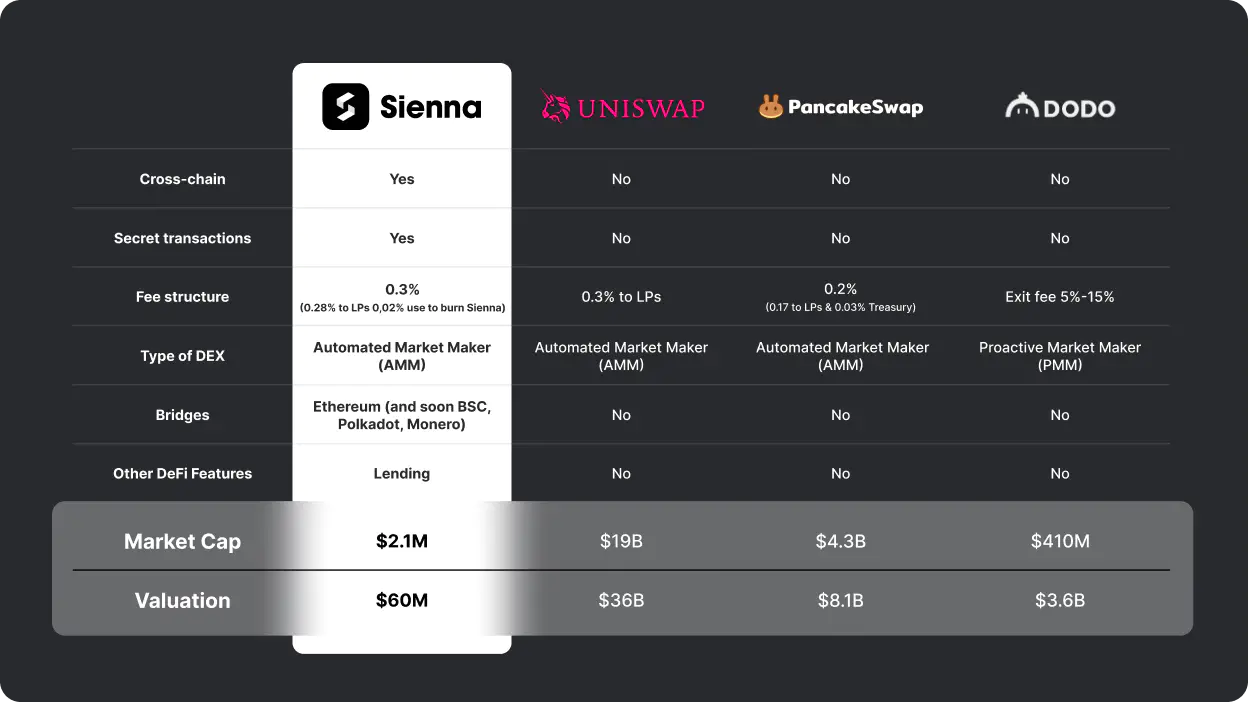 What is Sienna Network (SIENNA) roadmap?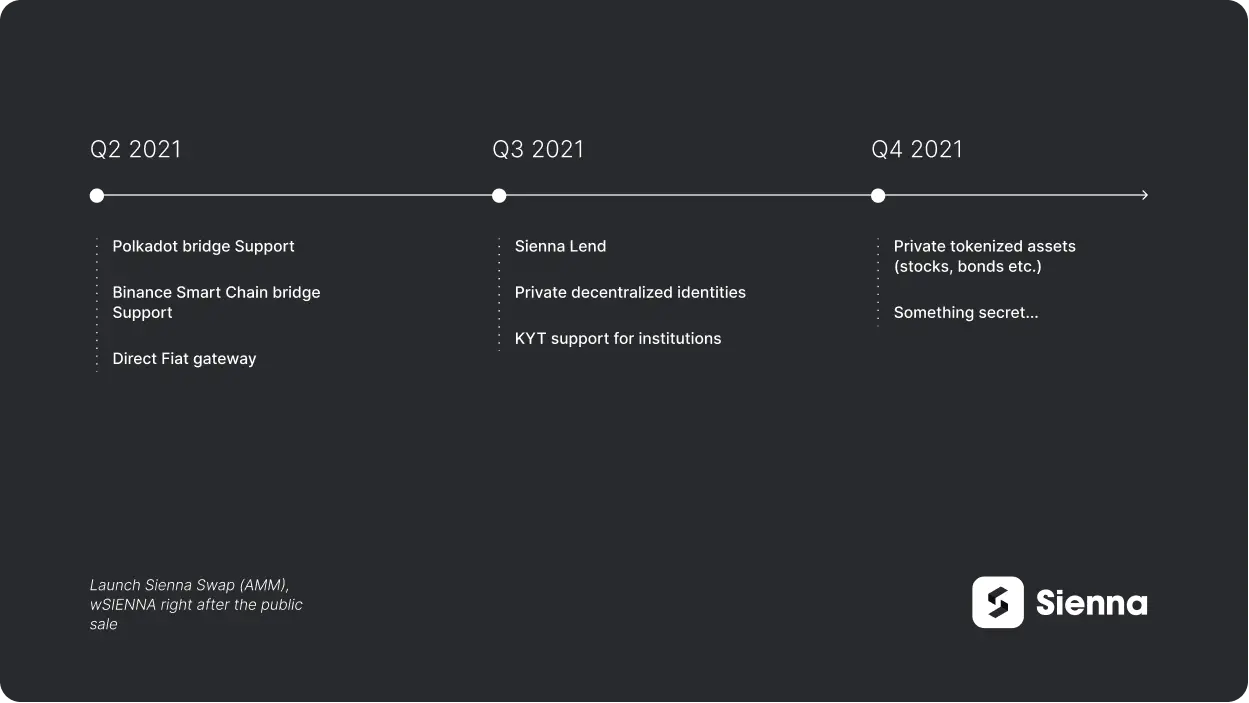 Sienna Network (SIENNA) revenue streams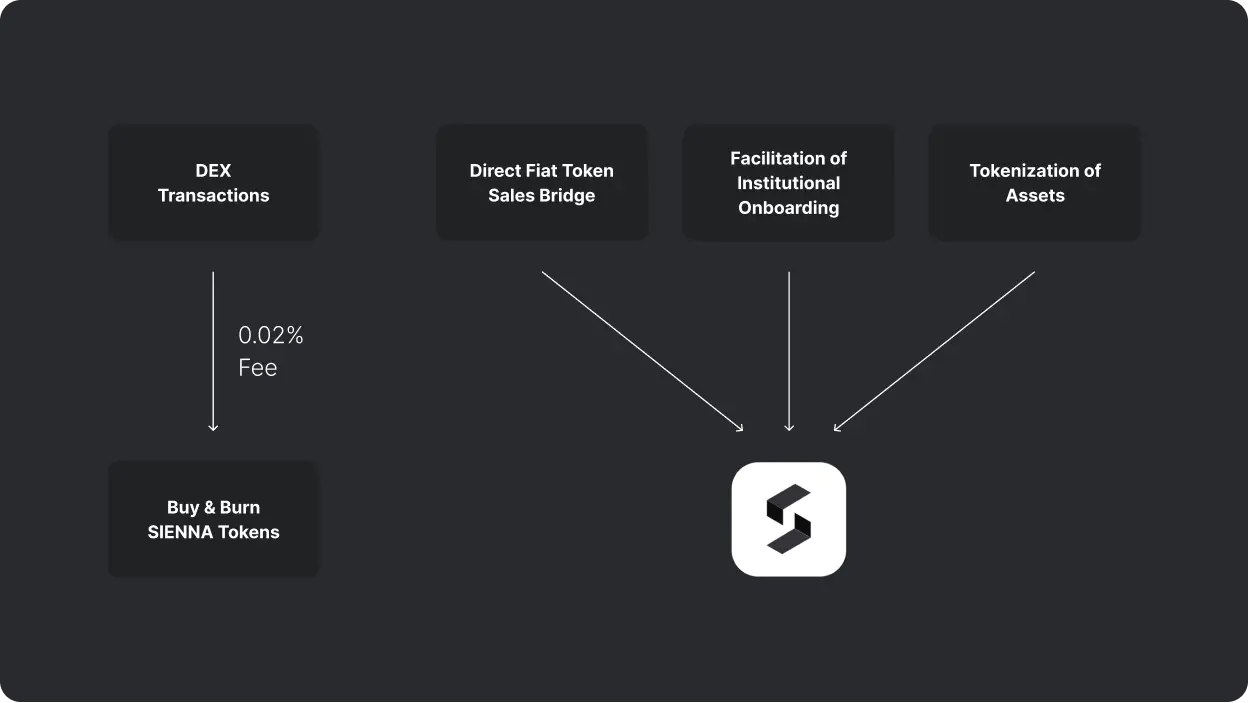 How does Sienna Network (SIENNA) work?
Swap
Swap your tokens with Sienna Swap. While being 100% private, Sienna Network also provides low transaction fees due to the inherent blockchain scalability Sienna utilizes from Secret Network.
You can swap any private SNIP-20 token at Sienna Network. If you do not have private tokens yet, you can use the bridge to exchange your tokens for the private equivalent. You can always convert them back again. This will enable you to trade through Sienna Swap.
An example of a pair is SIENNA + sDAI (secretDAI). Sienna Network is a pure SNIP-20 token, and sDAI is a bridged token to its ERC20 equivalent, the DAI stable coin token.
The Pool
Deposits at the Sienna Network pool are the foundation for the Automated Market Maker (AMM). By providing liquidity to a trading pair of tokens, you will help the exchange execute faster and better. In return, you will receive tokens and rewards.
The AMM charges a total fee of 0.30% for executing a swap transaction. It is split by 0.28% in liquidity provider fee and 0.02% is converted into SIENNA and burned - in total 0.30%. This means, the more people use Sienna Swap, the more SIENNA tokens will be burned.
You can earn 0.28% of your share of the daily volume by providing liquidity to a pair of tokens. Not only do you earn from it - you also contribute to the ecosystem and provide a tremendous amount of value to it. You can select one or multiple pairs of tokens you want to provide liquidity for and every time a swap is made, you receive your 0.28% proportionally to your share of the pool.
Example: If your proportional share of the pool is $1 million out of $100 million, you will receive 0.28% of 1% of the daily swap volume. If the swap volume is $200 million, you will receive $6,000 per 24 hours for depositing to the swap pair pool. You can, of course, deposit a much smaller amount than $1 million.
Rewards
When you provide liquidity to the exchange, you will receive LP-tokens (liquidity provider tokens). LP-tokens have two main characteristics. You can use them to reclaim your liquidity or you can deposit them and receive additional rewards.
Liquidity providers will receive a matching set of LP-tokens for the specific pair. Not all LP-tokens are eligible for rewards. Below is the list of the LP-tokens liquidity providers will be rewarded for:
SIENNA / sSCRT
SIENNA / sETH
SIENNA / sUSDT
sWBTC / sETH
More token pairs eligible for rewards will be announced soon.
A total of 2,000 SIENNA across all pairs will be rewarded to liquidity providers on a daily basis.
A total of 3.6 million Sienna tokens will be granted as rewards over a four-year period.
The reason for this gradual minting of the 3.6 million SIENNA governance token is to fairly distribute the token to the users of the platform by using Sienna Network as a platform, thereby having a fully autonomous organization in the future where token holders decide over Sienna Network.
Bridge
Convert your tokens into their private equivalent, where all transactions are completely private. This means ETH becomes secretETH. DAI becomes secretDAI. You can use these secret tokens to trade on Sienna Swap, or simply convert them back to their original state whenever you like.
Currently there is support for Ethereum, but other bridges are launching soon (Binance Smart Chain, Polkadot, Monero and more).
What technologies Sienna Network (SIENNA) created and used?
Blockchain: Secret Network
Languages: Rust (Smart contracts), React (Front-end), JAMstack
Framework: CosmWasm
Secret Network is a blockchain protocol that enables decentralized applications to perform encrypted computations. Secret nodes utilize trusted execution environments (TEEs) to enable private computation over encrypted data with high security. The Rust code that enables applications to use private data is referred to as a "Secret Contract" on Secret Network. Secret Contracts are similar to smart contracts, such as those used with Ethereum. The key difference is that Secret Contracts can take encrypted inputs and produce encrypted outputs, without exposing any data while it is in use. In addition, a contract state (its internal, persisted database), remains encrypted throughout executions.
Data on blockchains is public by default. This is a problem for applications that make use of sensitive information, such as user data, personally identifiable information (PII), votes, or moves in a game like rock-paper-scissors or poker. The Secret Network aims to solve this problem by enabling data-in-use privacy through private computation for decentralized applications.
What are Sienna Network (SIENNA) tokenomics?