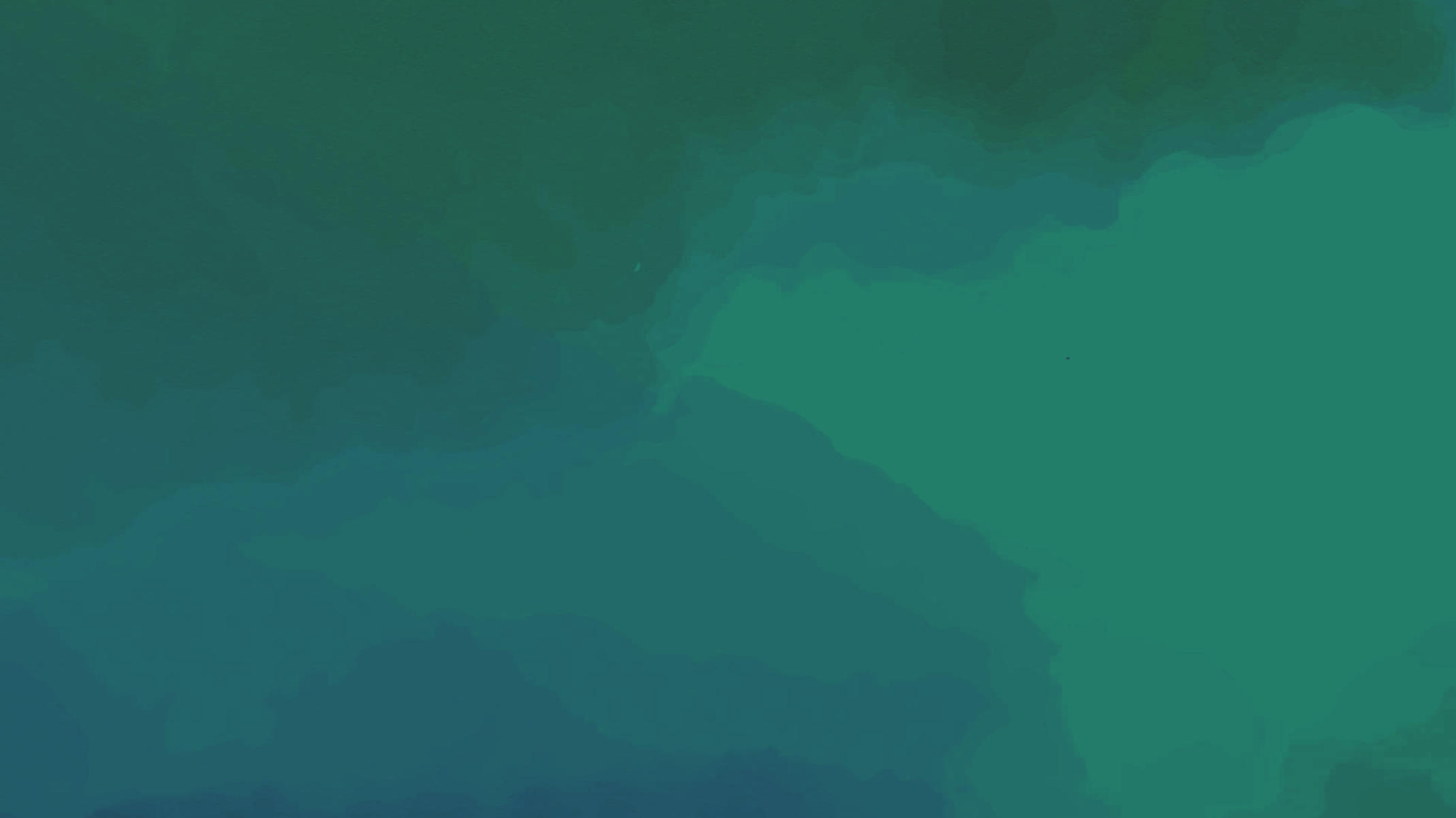 Private SHO

Public SHO

Web3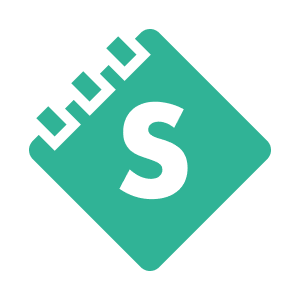 Skeb Coin
Launched in November 2018, Skeb is the largest commission platform in Japan with over 113,000 native creators. After gaining more than 2 million users, Skeb Coin it is going live as the native governance token on this platform for realizing Skebverse.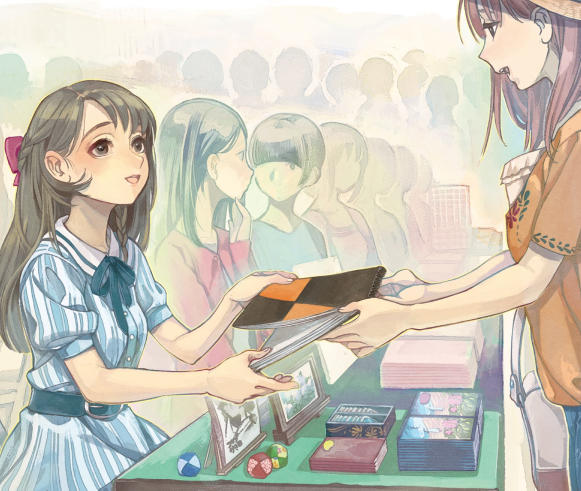 Lead VC
DAO Maker
Market Maker
NA
Controlled Cap
Approved
DAO Approved Metrics
Approved
What is Skeb Coin (SKEB)?
Launched in November 2018, Skeb is the largest commission platform in Japan with over 113,000 native creators that allows fans to request them to create illustrations, comics, novels, and other works for a fee. Skeb strives for the improvement of the status of creators by providing a platform where they receive fair compensation. After gaining more than 2 million users, Skeb Coin it is going live as the native governance token on this platform for realizing Skebverse.
What makes Skeb Coin (SKEB) unique?
Skeb dominates the Japanese creator by providing a platform which enables users to request drawing the artwork they would like artists to create. No other platforms can fulfill the needs for such demands and it is very unique in the sense that Skeb focuses on only that functionality. That is differentiated from the job offering platform such as Freelancers or artworks offering platforms like Artwork Archive and Wix.
There must be demands to request artists to draw what users want all over the world even for business use cases though Skeb currently mainly deals with individuals.
Skeb definitely has an enormous potential to be the best platform in the world. Skeb Coin is a currency which will be used among those users for payments and Skeb Coin surely be used among those users as it uses the deflation mechanism whose supply will continuously decrease as Skeb is used by users. Moreover, its utility will support users to minimize the cost.
What is Skeb Coin (SKEB) roadmap?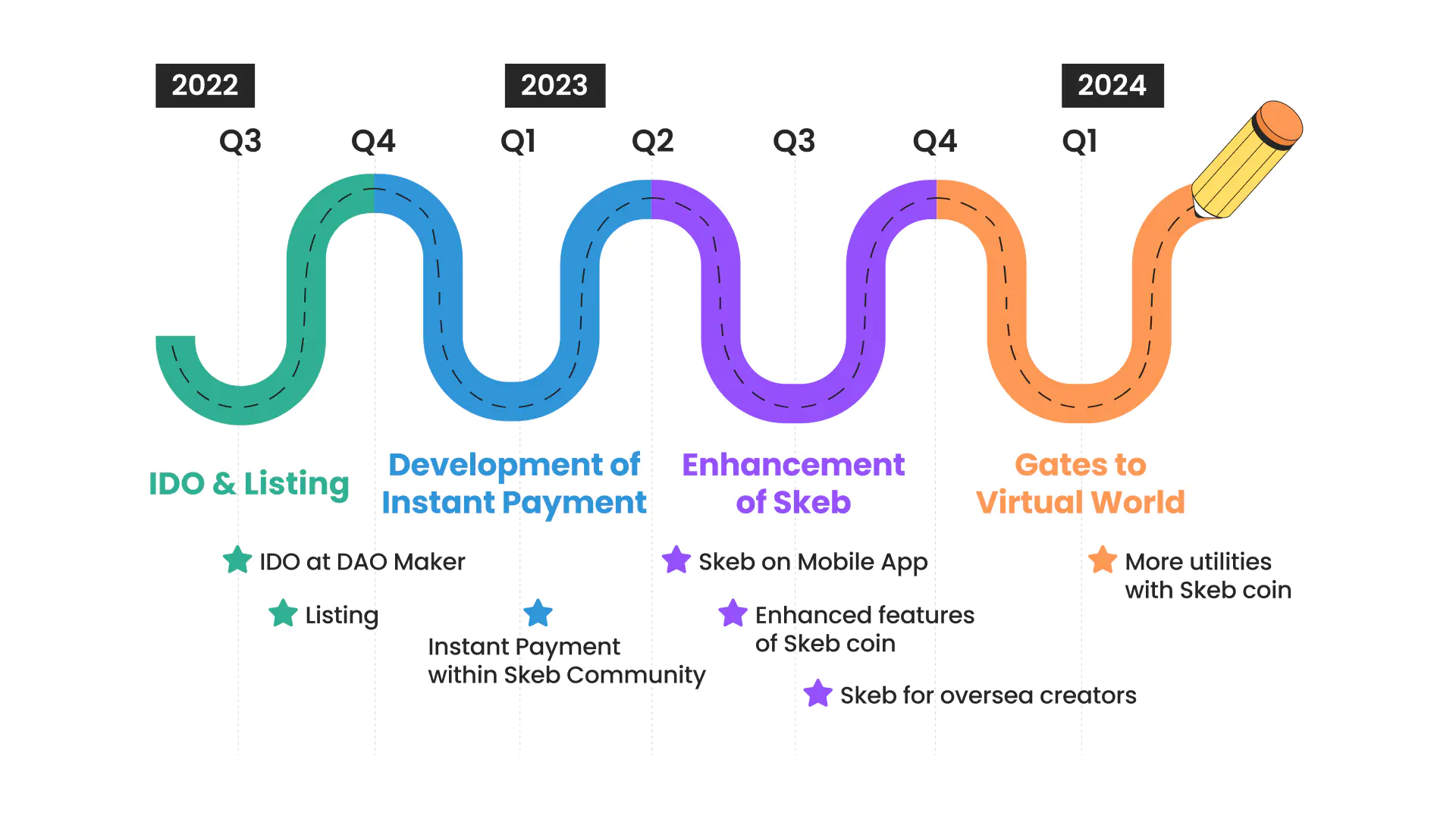 Skeb Coin (SKEB) revenue streams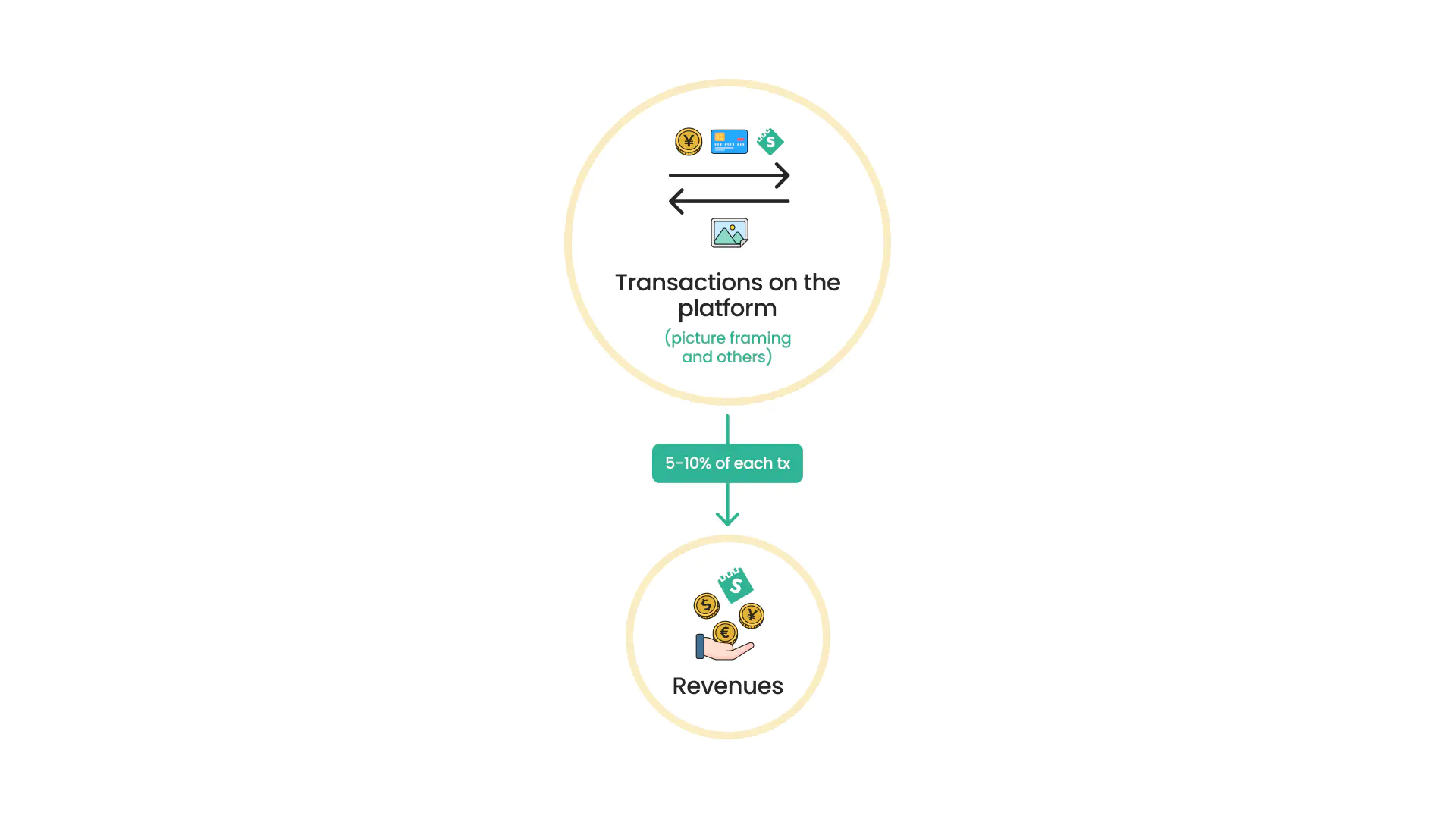 How does Skeb Coin (SKEB) work?
The greatest part of Skeb Coin is that it is a token which could potentially be used by more than 2 million people. The token may be used by all artists and users on Skeb as its utilities benefit users. There are not many platforms with more than 2 million users which have started to use a cryptocurrency in their main services but Skeb has decided to do so to maximize the platform's potential.
In addition to that, the burning mechanism is epoch-making as tokens are burnt even for the standard use of its feature. Skeb Coin could be used for instant payments from users to artists, but tokens are burnt even when fiats are used to make payments. This clearly shows that Skeb is willing to increase the value of tokens together with the value of Skeb itself.
For users, this fact is very positive that they can contribute to the Skeb community by just using the service and it might end up increasing the value of Skeb Coin as well. If the value of Skeb Coin increases, it will also benefit the users who hold Skeb Coin to earn the benefit of its utility.
Not only increasing the value of Skeb, but Skeb Coin also brings up the new possibility of Skeb's features such as the collaboration of artists and the cooperation between users such as bill-splitting. It is sometimes not easy or difficult to make payments to multiple artists at the same time as it will make the transaction complicated. Especially, if several artists live in different regions, it makes it almost impossible to make payments. However, if there is only one measurement of the value, payments can easily be splitted thus the collaboration of artists will become much easier. If the different types of artists collaborate and come up with a new form of the artwork, the value of artworks may increase dramatically as it may be able to address various demands from users. Also, bill-splitting and sharing of owner rights can also be achieved through having one measurement of the value. Since the payment is made on a blockchain, the record that the payments are made from several users can always be checked onchain.
Last but not the least, the use of smart contracts may be possible in the future. This also expands the possibility of various use cases such as escrow transactions when the artworks are delivered without no problem. This will also reduce the burden from Skeb and end up with increasing the value of Skeb.
What is Skeb Coin (SKEB) marketing strategy?
Surprisingly, they already have more than 2 million users on Skeb platform. This means that there are potential coin holders as it will benefit these users by holding Skeb Coin. As a marketing strategy, the team will start off from bringing these uses to the crypto world. By holding certain Skeb Coins, users can enjoy the utility and they can use Skeb more cheaply. Those will definitely attract existing users. At the same time, crypto users are targeted. Since there aren't many tokens which values are influenced by the growing existing business. The burning mechanism of Skeb Coin is surely considered as a stunning function as it is a combination of Web2 service & Web3 technique. It will retain crypto folks' attention. By doing these approaches, Skeb Coin will come up with the interesting community which merges the user from both Web2 and Web3.
Which technologies does Skeb Coin (SKEB) use?
Ethereum smart contract
VR/AR
Commission platform
illustration
Mobile app
What are Skeb Coin (SKEB) tokenomics?
Buy-back mechanism: The more Skeb service is used, the more Skeb Coins are bought back. Up to 50% of commission that Skeb receives through their service is used to buy tokens on the market. Skeb receives as commission around 5-10% of the transaction volume which includes optional services such as picture framing. There will be more services in the future as well.
Burning Skeb Coin: According to the governance, Skeb Coins are burnt up to % of bought back tokens.
Staking for core Skeb users: Skeb users are benefited by staking Skeb Coin in the contract. Your share increases with the square of the amount of staked tokens. The more you stake, the more benefits you would get in the service such as the tickets of offline events, waiving fees and more are coming in the future.
Lock up: There is a penalty for users who withdraw staked tokens before its maturity. Certain percentage of tokens are deducted to pool them in the treasury for buying-back or benefiting other users.
More coming up: there are more utilities coming up to benet Skeb users and Skeb Coin holders in many ways to maximize the value of the community.