Lead VC
DAO Maker

Market Maker
NordicVelo
Controlled Cap
NA
DAO Approved Metrics
Approved
What is Street Runner (SRG)?
Street Runner is a universe inspired by the Fast and Furious franchise and street racing video games. They are using the Play-to-Earn mechanism where anyone can earn tokens by racing, improving their vehicles and other activities. Third parties can easily access all Street Runner resources and data, allowing the community to create their own vehicles. While still in early access, Street Runner will soon position itself as a sports game with active users from all over the world generating revenue. Street Runner is a fun game that also adopts the features of a social network and a work platform due to the opportunity to get paid thanks to Blockchain technology.
The key difference between Street Runner and a traditional game is the economic design the Blockchain uses to reward our players for their contributions to the ecosystem. This new gaming model has been termed "Play-to-Win". This makes Street Runner a source of extra income for many players.
Players can win by:
Competing in individual races to win classification prizes
Competing in team tournaments to win classification prizes
Selling or leasing their vehicle and parts on the market
Selling or renting their garages
Owner-driver partnership (one provides the car, one drives it)
Sponsorships - customise vehicle with sponsors
Betting on races
What makes Street Runner (SRG) unique?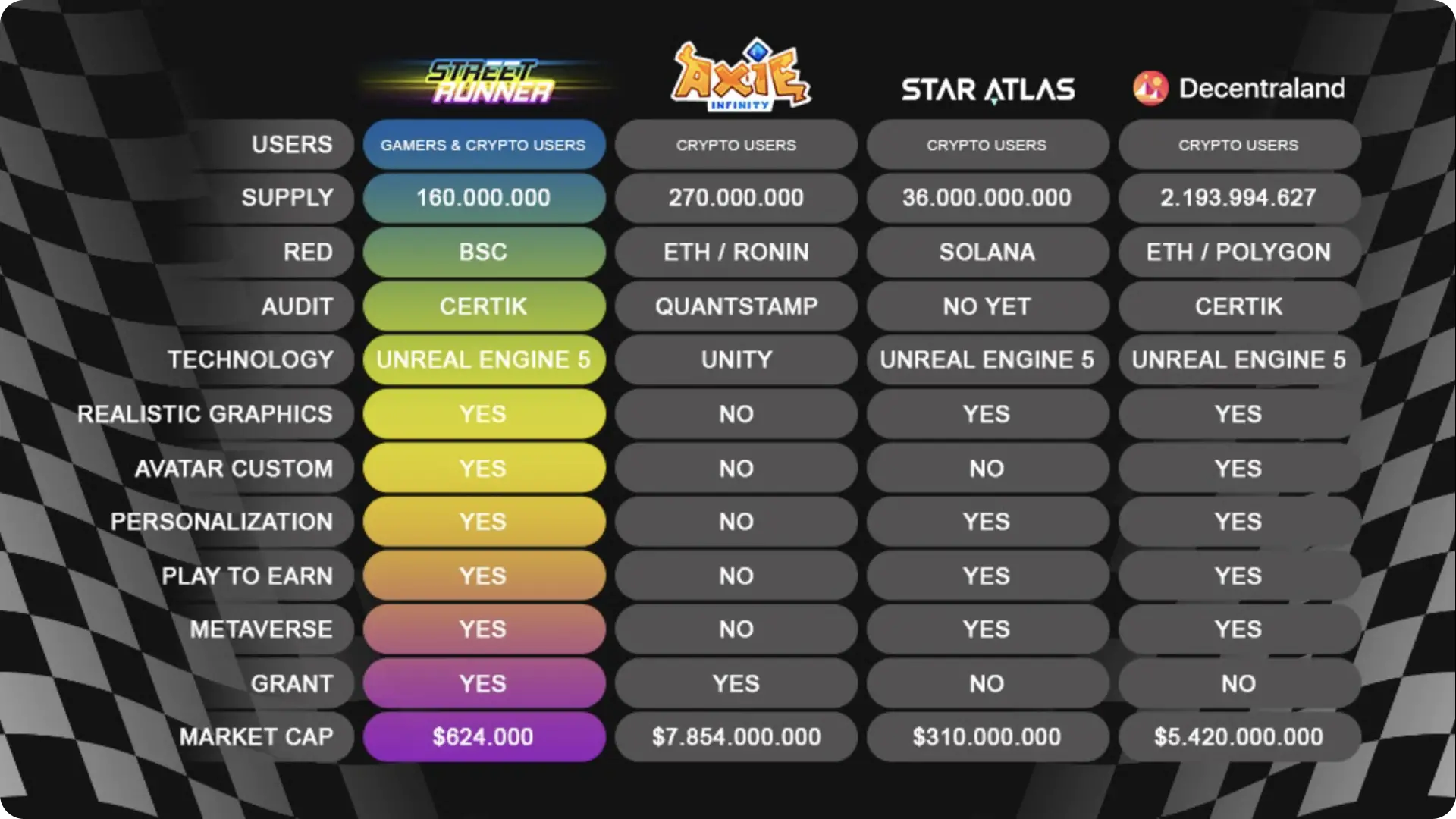 What is Street Runner (SRG) roadmap?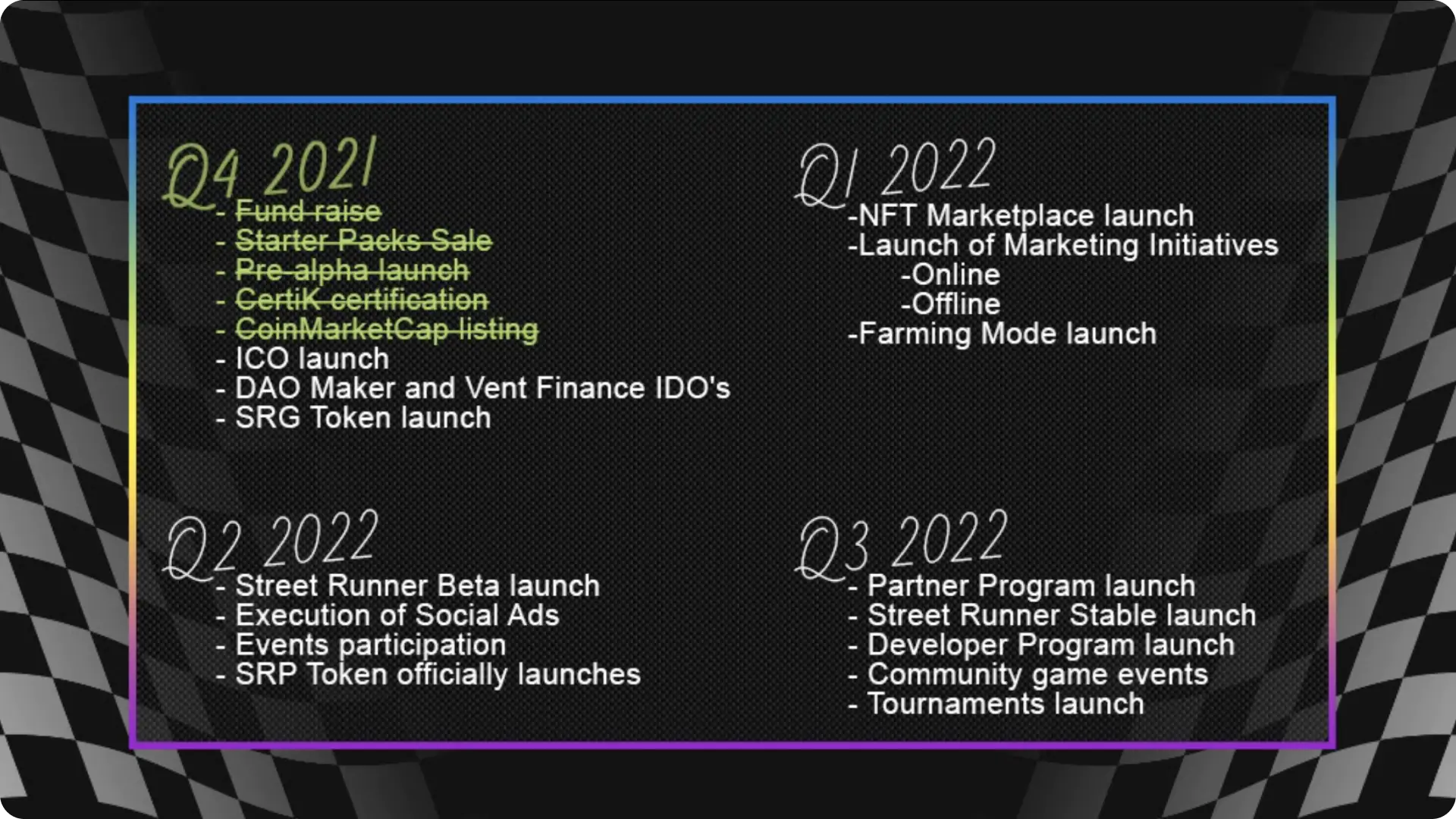 Street Runner (SRG) revenue streams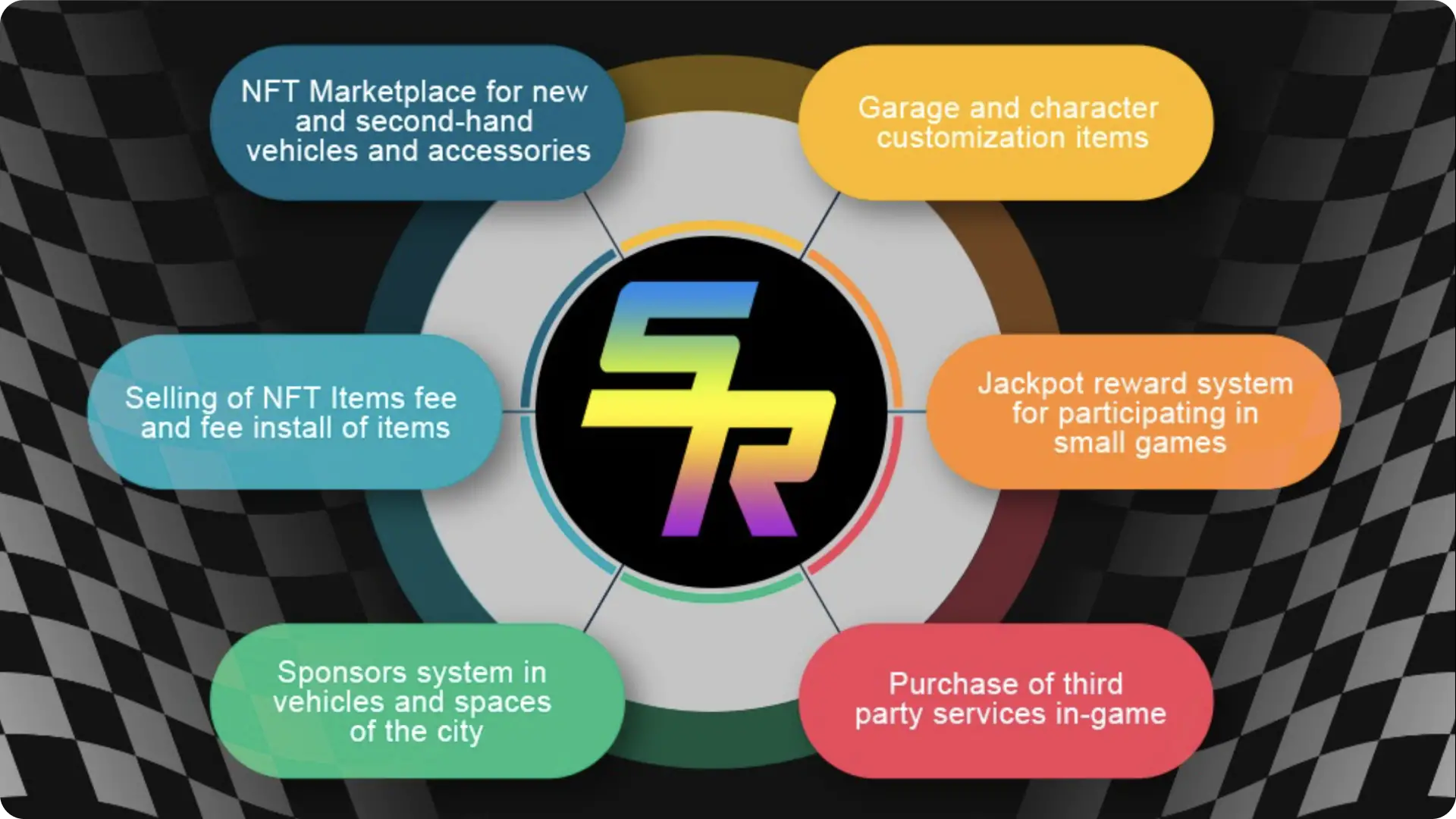 How does Street Runner (SRG) work?
Game Details
Street Runner aims to be the revolution in the move from typical NFT click games to next-generation video games with ultra-realistic graphics. Thanks to the game's development on Unreal Engine 5, the game will feature incredible detail and graphics never before seen in this type of game. The different thematic tracks around the world and the graphics and physics have been taken care of for maximum gamer satisfaction. Street Runner will be working with video game driving experts to enhance this experience. In addition to 4-player racing, we will introduce the following game modes:
- Escape Police
- Team Owner
- Betting Mode
- Battle Truck
- Drag Racing
Another important aspect is the great possibilities of customisation of the vehicle and your avatar through a large number of NFTs. You can make your car and avatar unique compared to others. This brings authenticity and a sense of belonging between the player and the game.
Street Runner's long-term goal is to create an open world of its own where players can interact and compete with each other. There will also be the possibility to purchase certain products to customise your character, car or garage.
Economy Details
Street Runner uses a liquidity and distribution system separate from the main game network by separating it into smaller, individual networks that are automatically created in multiples of four players. These provide liquidity to the individual network of four players in the game and, using Smart Contract technology, automatically allocate the distribution of the liquidity provided among the four once the game is over according to the result of the race classification. This makes Street Runner a game that avoids deflation of the game over time and thus makes for an economically healthy game.
What technologies Street Runner (SRG) created and used?A good next-generation video game is made with quality, cutting-edge technologies. We are open to incorporate into the project any technology that brings us value and efficiency. We use the following:
Unreal Engine 5
Solidity
CertiK Security
Binance Smart Chain
What is Street Runner (SRG) marketing strategy?
Street Runner is designed as a fun and safe way to present the world with a real alternative to the pure speculation of blockchain technology. This will significantly help thousands of players to have a real alternative source of profit.
Street Runner's mission is to be the benchmark street racing game in the world of NFTs. They aim to achieve this by the following means:
Game development
Street Runner's product is tried and tested, therefore it is easier to promote, it facilitates word-of-mouth support and, in short, it leads the way. They want the game to be detailed and fun to play, incentivized by earning money at the same time. Street Runner aims to revolutionise racing games as we know them today. To achieve this, they have a top team of experienced developers that will grow as the game progresses.
The possibilities for the development of Street Runner are endless and they know that. That is why they made it their long-term intention to create Street Runner's own open universe within the game.
Pre-alpha launch
On October 4th Street Runner's pre-alpha game came out. A small demo made in just over 1 month with which we wanted to recreate what we want to achieve with Street Runner in the future. Thanks to this pre-alpha, many people have been able to see first-hand the potential of the project and have joined the community.
The pre-alpha has also helped to promote the game in these initial months. Street Runner used pre-alpha footage to share on their social media channels. They smartly themed it for a week for the Halloween event, with subsequent competitions around it.
KOLs, Influencer Marketing and Partnerships
They are in contact with opinion leaders and content creators in line with their vision of a blockchain Street Racing Game. Many of their contacts grew into long-term relationships and the collaborations they have achieved have made many fans of these channels aware of Street Runner. They have done collaborations on various channels such as: Twitter, YouTube, Twitch and TikTok.
Now, thanks to the collaboration with DAO Maker, many more KOLs on different social networks will be interested in the project and talk about Street Runner. Surrounding themselves with good strategic partners is essential to any project.
Community Management
Community is the basic pillar that sustains Street Runner, and that is why the management tries to take care of it as much as possible in a personal way. Urban character and close relationships define the atmosphere of Street Runner and any doubts and criticism is addressed personally.
Street Runner will see a growing list of local language channels, besides the main English Channel.
Social Media
Based on the importance of dealing directly with their Community, Social Networks are fundamental for Street Runner to expand to new audiences. They are currently active on Twitter, Twitch, Telegram, Discord and LinkedIn. We also have a profile on Medium, where we upload the most important news.
They use their social media to communicate important announcements, as well as to create contests and give-aways, and to post an occasional meme. When the game is released Street Runner is meant to be a meeting point, where every player can see highlights of other players playing the game.
Social Ads
Apart from organic growth and expansion Street Runner will run campaigns in the form of ads on social media such as Twitter, Twitch, Facebook and Instagram. These will help them reach the places where they have not yet reached organically.
Branding
Street Runner is not just a video game, it is also a brand with a well-defined personality. They want to translate this to the real world and create an ecosystem of products around the brand, creating its own urban culture.
Events
There will be a space for users, fans and the community in general to engage with the project even outside the project's ecosystem with the possibility of face-to-face events and tournaments.
In addition to everything within the ecosystem, Street Runner will create an option for users and the community to interact with the project at a creative level, providing feedback and thus shaping the completion of Street Runner together.
What are Street Runner (SRG) tokenomics?