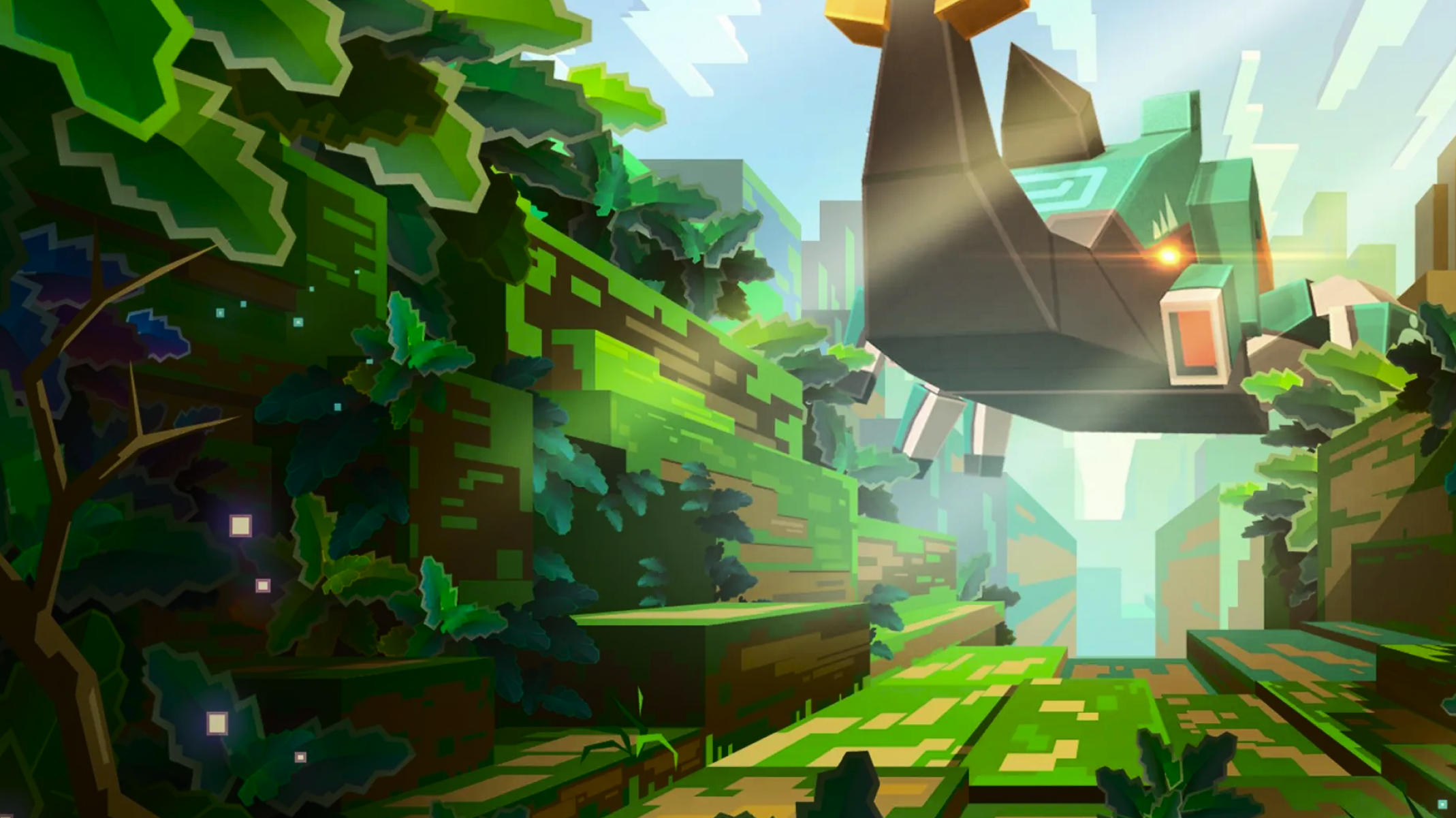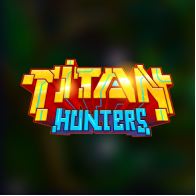 Titan Hunters
Titan Hunters is an MMORPG with an incredible voxel graphic style and simple crypto-friendly gameplay with NFT elements.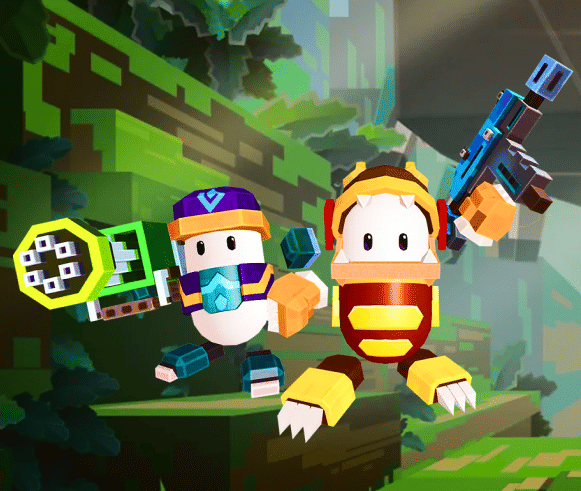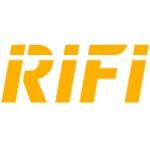 Lead VC
Rikkei

Market Maker
NordicVelo
Controlled Cap
NA
DAO Approved Metrics
Approved
What is Titan Hunters (TITA)?
Titan Hunters is an MMORPG game with an incredible voxel graphic style and friendly-crypto, simple but addictive gameplay. In Titan Hunters, players can become a hunter to discover an exciting and mysterious world of Titans and participate in bitter battles against epic bosses for rewards. Gamers can hunt alone or team up with other buddies to collect materials from fallen foes and craft new gears for subduing even crueller and bigger Titans.
As an easily accessible but high-quality NFT game, they bring players the best and safe protocol via a free-to-play and invest-to-earn model for mass adoption. The Titan Hunters team wish to create a charming and fun game crafted by mobile game development veterans. They aim at delivering such experience with tons of loot, secret areas to uncover, and multiple difficulty-progressive levels to unlock.
How does Titan Hunters (TITA) work?
TITAN HUNTERS is inspired by the fun gameplay of Archero, Voxel's signature look and the feel of Minecraft. It is a creative and unique project that combines NFT (Earning Nature) and the best gaming genre of MMORPG (Fun Nature). Thanks to Blockchain Technology, players can own, invest, trade and earn in Titan Hunters and other games in the universe. From their viewpoint, the core success of an NFT game depends on how to highlight the value of the user's NFT assets inside the game and outside the community, so the core game loop will make sure that users really need Marketplace for collecting, trading and earning. They believe that having fun and deliberate gameplay and a sense of ownership over unique perpetual items is the proper formula for Titan Hunters to succeed.
Titan Hunters starts as an MMORPG game featuring a gorgeous and fun Dungeon Crawler gameplay with a simple but tried-and-true set of systems in place. With extremely high quality, the game brings the fun of mining or crafting spins to the genre to accompany Voxel's signature look and feel. The Titan Hunters team wishes to create a charming and fun game crafted by mobile game development veterans. They aim at delivering such experience with tons of loot, secret areas to uncover, and multiple difficulty-progressive levels to unlock.
In the second phase, Titan Hunters will expand its universe to have different types of gameplay in different game worlds in which players can bring their favourite character creations and all gears to join different games with their friends.
Lastly, Titan Hunters will allow players to create their own games using Titan Hunters' proprietary engine that can be played by other users. They also allow players to buy, sell, and create virtual items used to decorate their virtual character that serves as their avatar on the Titan Hunters platform.
What makes Titan Hunters (TITA) unique?
In terms of users, Axie Infinity & Roblox are they direct competitors. The goal of Titan Hunters is to acquire as much as possible the market of these games and treat them with more interesting content, the benefit of NFT so they're not just wasting their time.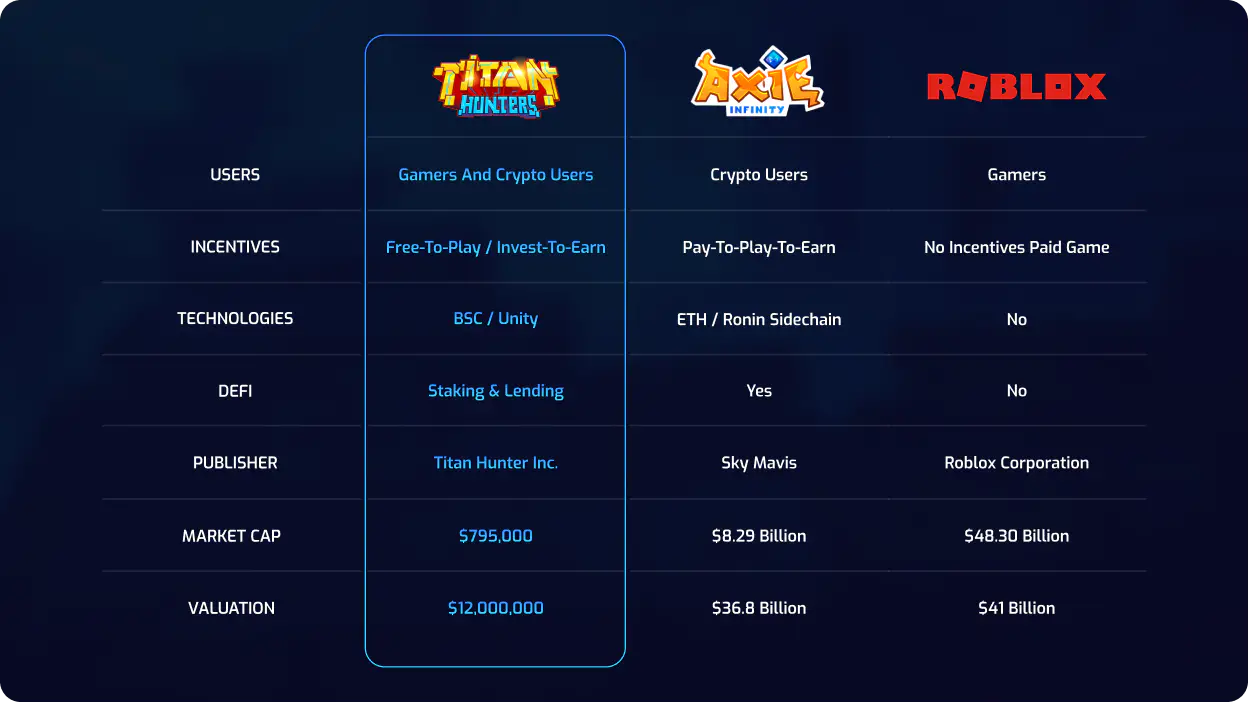 What is Titan Hunters (TITA) roadmap?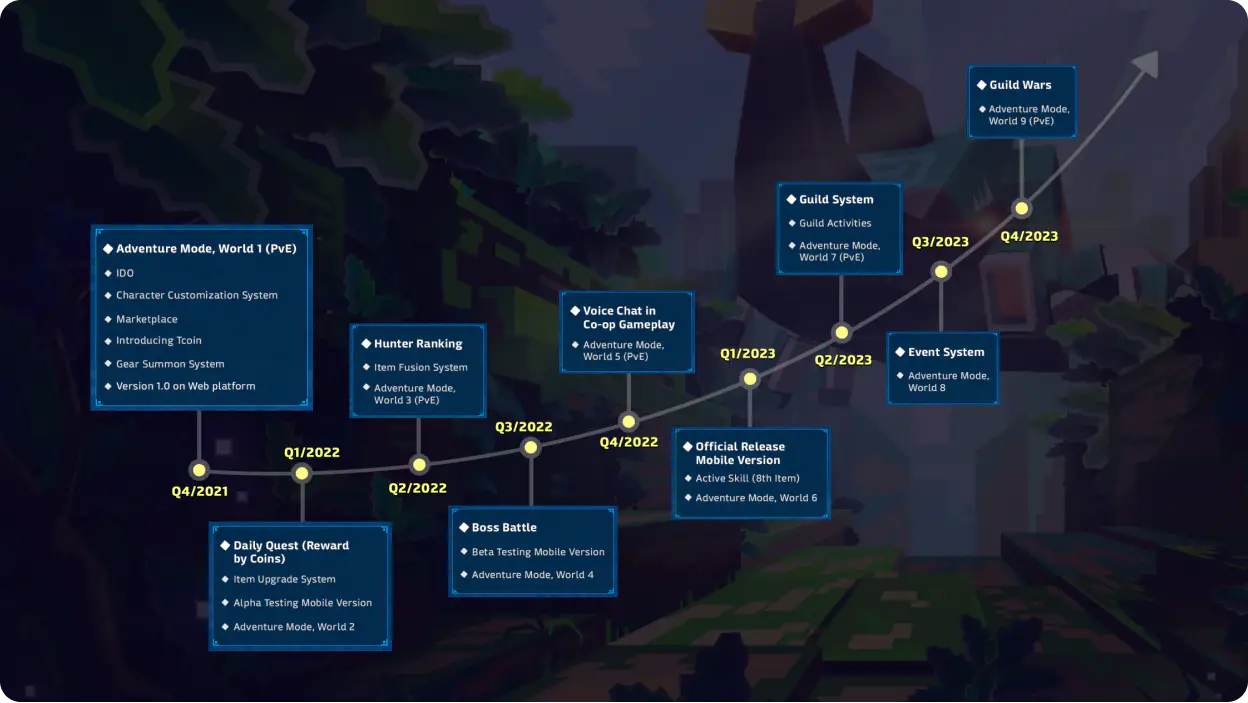 Titan Hunters (TITA) revenue streams
Titan Hunters can earn revenue from the selling of NFT items through summon gacha: Gun, Gears, Body, Orb. There will be an additional fee for auditing non-NFT items into NFT and converting in-game currency Coin to Tcoin, Marketplace transaction fee.
Almost the revenue will flow back to the ecosystem in the form of awards & prizes for community events.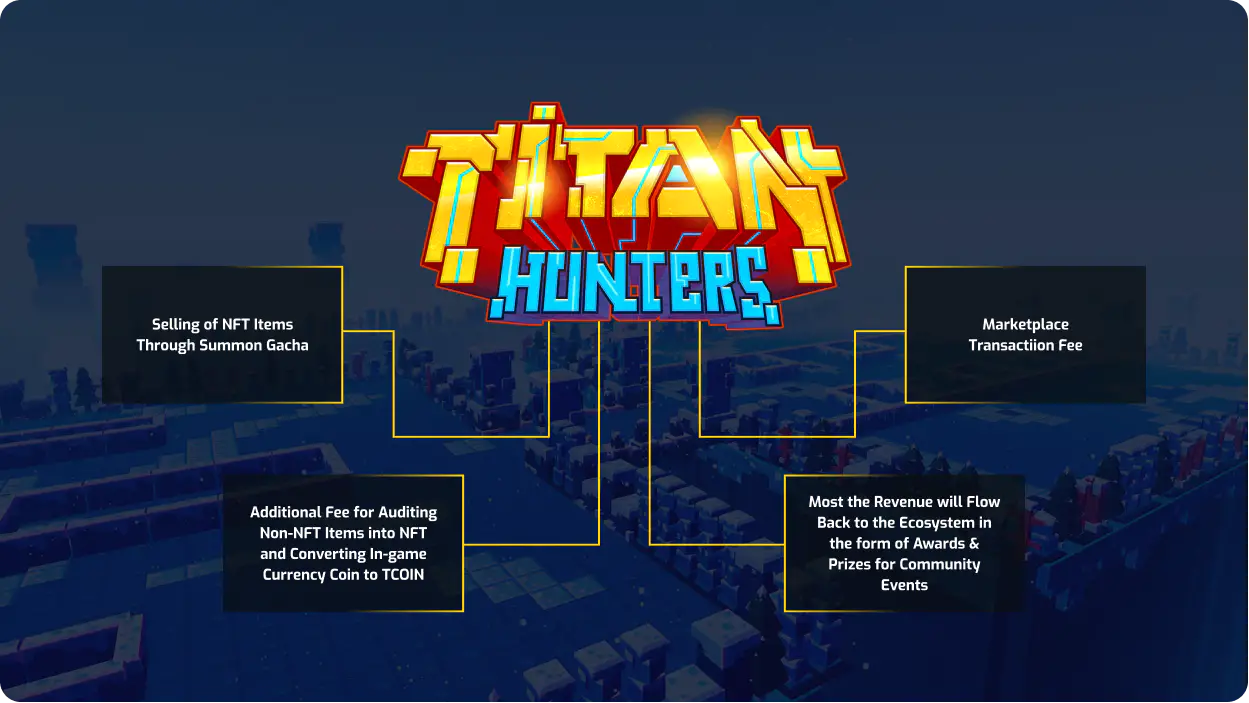 What technologies Titan Hunters (TITA) created and used?
Game Client: Unity
Server side: Go
NFT and contract: Binance Smart Chain
What is Titan Hunters (TITA) marketing strategy?
Titan Hunters goal is to achieve 2 Million downloads within 1 month of game launch!
The game has been developed by Topebox, one of the most popular game studios in Vietnam. Titan Hunters is Topebox's latest project - an attempt at disrupting the mobile gaming industry with the power of NFT.
Target: 10 million downloads
1. Utilizing Topebox's game portfolio
Topebox development team is behind global smash hits like Sky Dancer (Top 1 Game in US & China; Acquired by Bytedance for publishing rights in China; Google Play Editor Choice; and Best Indie Game by Apple) and Gun N Dungeons (incoming Hit Game with backing from Miniclip, a Tencent-owned European game publishing powerhouse with over 1 billion app downloads).
Titan Hunters will be marketed to and promoted to this massive audience of over 50 million+ users through in-app notifications, promotional events, email marketing campaigns, retargeting campaigns and other traditional marketing strategies.
2. Influencer Marketing and Gaming Guilds
Titan Hunters has already onboarded some of the biggest game streamers and influencers across Youtube, twitch and twitter like kmanu88, thewillyrex, etc. Once the game beta launch is released, the team plans on onboarding more gaming influencers to target pro gaming audience.
However, since the game is geared towards the casual everyday audience, influencer marketing will expand to getting more regular streamers and personalities.
The team has also inked partnerships with many Gaming guilds. This would give a massive foundational platform for the game to be promoted and played by thousands of users from the get go.
In addition, Manu Terronos Godoy has come on board as Game advisor to help reach and develop into newer markets.
3. Paid ads and Affiliates
The team will go on a marketing blitzkrieg once the game launches by undertaking a variety of paid advertising campaigns across both digital mediums and print/traditional media. Their affiliate marketing and PPC campaigns had been hugely successful for previous game releases and the team will utilize all that they've learnt in the last 5 years to ensure the game reaches as many people as possible.
4. Social Media: Community Engagement
Community building has been one of the cornerstones of the team's marketing campaign since the start of the project with deep focus on creating a long term, sustainable community that believes in the project and the $TITA token itself.
The team plans to continue to build this forward by focusing more on crypto community focused campaigns, incentivizing not just regular players and token holders but folks who become part of the Titan Hunters family after the IDO.
5. Alpha game release, and Campaigns around it
The most favored and centralized focus of the marketing campaign after IDO will be Alpha game release. They have a fully functioning demo game that is already very popular among the community.
This will be built on after the IDO with contests around it such as best player contest, player of the day, daily top scorers and other activities revolving around it.
They plan on partnering with other projects and running campaigns around the alpha game as well, and once the beta launch is released, a full scale campaign blitzkrieg around it.
6. Localized focus
Focusing on localized communities. specifically Latin American countries, Asian communities of Vietnam, the Philippines, Korea, Japan, China. This is the initial target audience simply due to the popularity of mobile gaming in these regions, and are also considered as crypto's main FOMO audience.
They will be engaged with localized content, community engagement, contests and giveaways.
When the IDO is over, an ambassador program will be started wherein they will have the most active community members themselves spreading the word about Titan Hunters across the crypto universe in order to educate and promote it to newer folks.
7. NFT sales and campaign
Titan Hunters is Free 2 Play, Invest 2 Earn game. This means while the game itself is free 2 play and targeted towards casual, everyday gamers; there are loads of NFT features and in-game items apart from character skins and characters which can be bought on the NFT marketplace either as character packages or lootboxes.
Limited Edition Character skins and packages will have special attributes and functionality within the game, apart from being a a unique PFP asset in the Titan Hunters Metaverse. This would give the NFTs sales an very specific utility that can double up as a speculative investment.
Lootboxes and in-game items on the other hands can help users power up and play the game better and become more immersive.
The first round of NFT sale for Character Skins and Avatars are planned to take place around Alpha game release, which would be within 3 weeks after IDO.
What are Titan Hunters (TITA) tokenomics?