Private SHO

NFT

Web3

Metaverse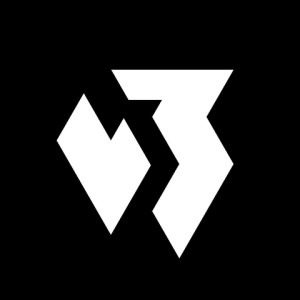 Web3Games
Web3Games is an Integrated Platform for All Things Blockchain Gaming. Transforming a new generation of #Web3 games, #NFT and #Metaverse technology.
What is Web3Games (W3G)?
Web3Games is an integrated blockchain gaming ecosystem that includes 4 core products: Portal, Protocol, Studios, and Chain. They aim to help traditional game developers integrate their gaming products with blockchain, make gaming assets decentralized and permissionless, and to bring back the digital ownership of in-game items to players.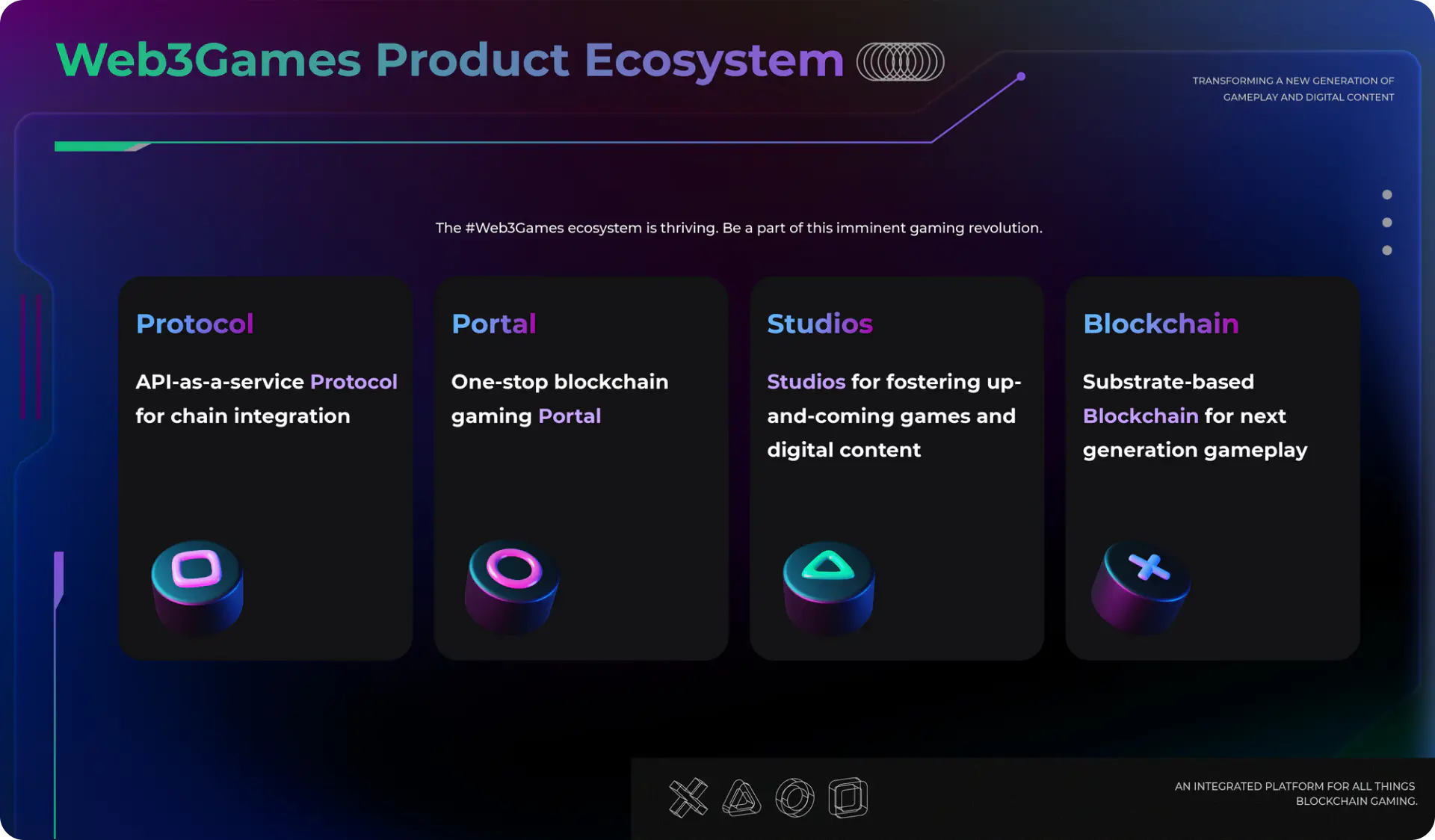 ■ Protocol
An API-as-a-service protocol designed for gaming companies to integrate with blockchain. Game developers can seamlessly access and distribute blockchain assets such as NFTs and gaming tokens.
● Portal
A one-stop blockchain gaming portal with multi-chain launchpad (e.g. Ethereum, NEAR, Solana, Flow, etc). Featuring facilities such as IGO/INO and NFT marketplace designed for the gaming market. Game developers will be able to launch their new projects and host the initial sales for the gaming assets.
▲ Studios
A hub to foster up-and-coming blockchain games and digital culture. Their current portfolio includes game development teams with extensive background in producing virtual games such as Call of Duty, Diablo, amongst others, who are now building play-to-earn blockchain games. Game developers can join or partner with Studios to build superior blockchain games together.
✖ Chain
Web3Games provides a Substrate-based blockchain to improve efficiency and ensure low transaction costs for NFTs, and also for the next generation gameplay. Web3Games player ID will be supported by Web3Games Chain to show transparency and gradual decentralization.
How does Web3Games (W3G) work?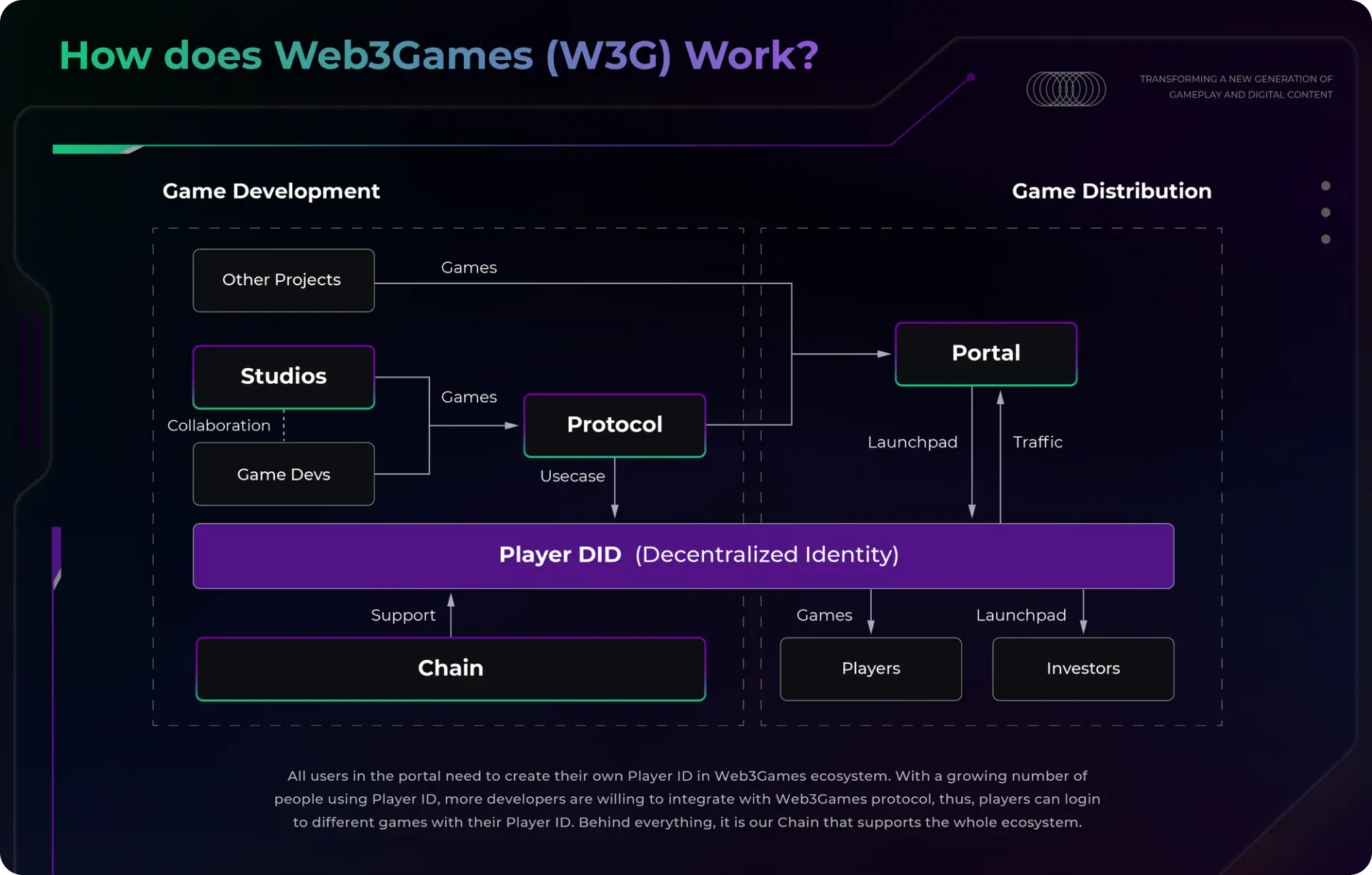 Towards Game Players
Through Web3Games Portal, players can get the latest information and introduction of blockchain gaming by browsing their website or simply subscribe to them. Players can also bind Player ID which can be verified by mobile or email, to access and play all the games supported by Web3Games.
Towards Blockchain Gaming Projects
For those Blockchain Gaming Project developers, they can build connections with investors through the Web3Games Portal. In addition, they can also utilize the Web3Games launchpad for IGO/INO.
Towards Traditional Gaming Studios
As for traditional Gaming Studios, they can use Web3Games Protocol to transform and integrate their products (i.e. games) with blockchain.
What makes Web3Games (W3G) unique?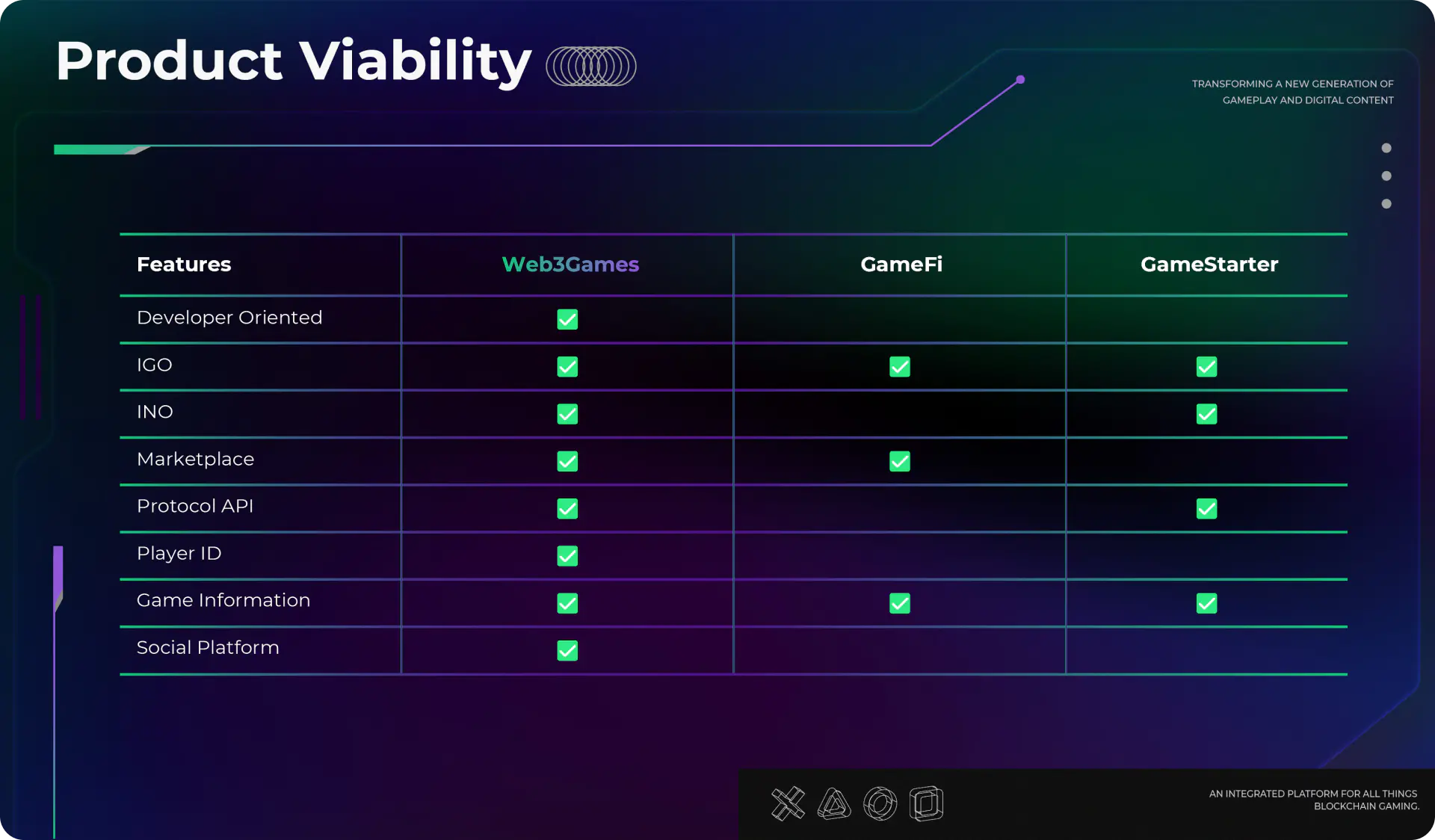 Web3Games (W3G) roadmap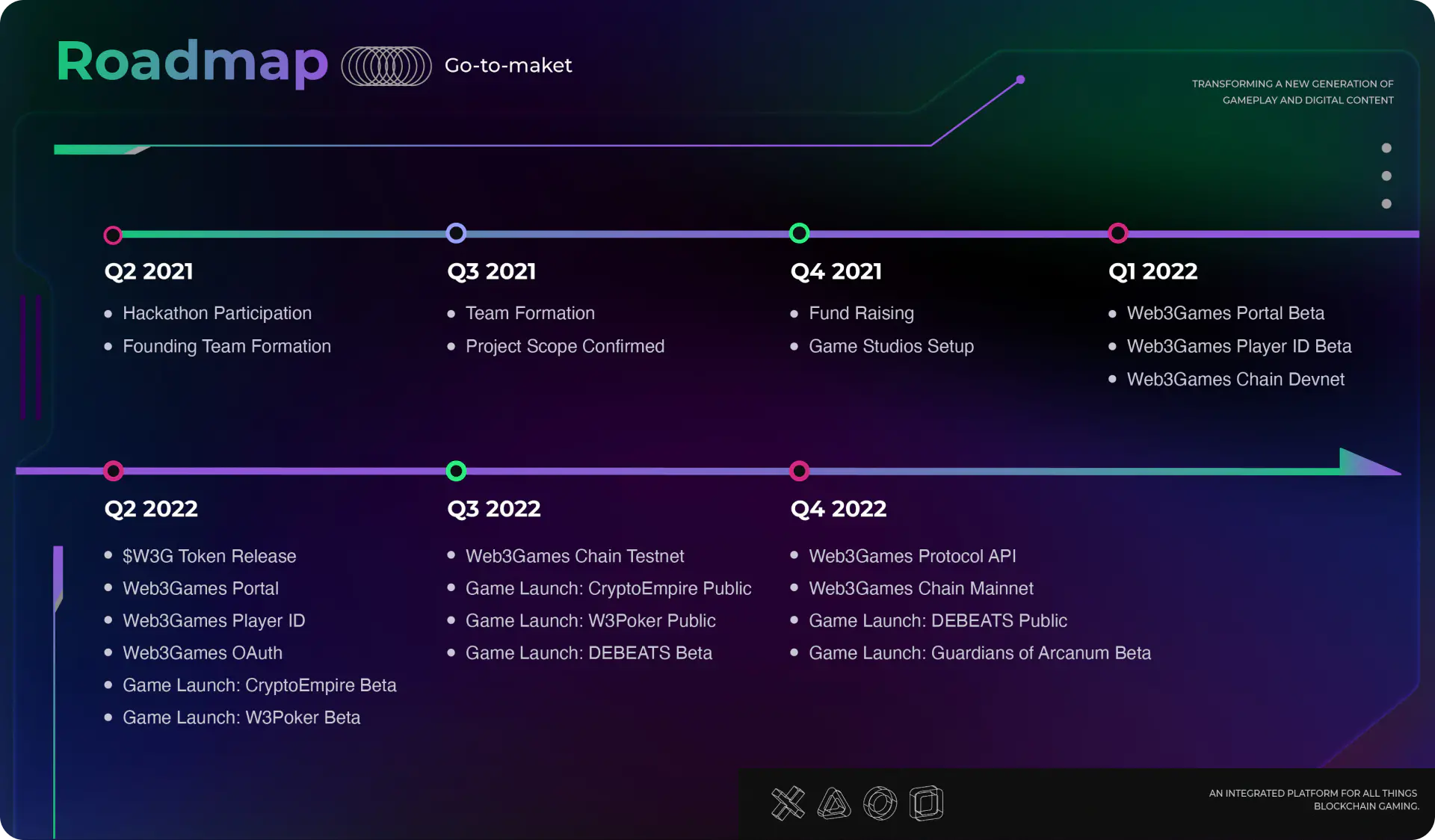 Web3Games (W3G) revenue streams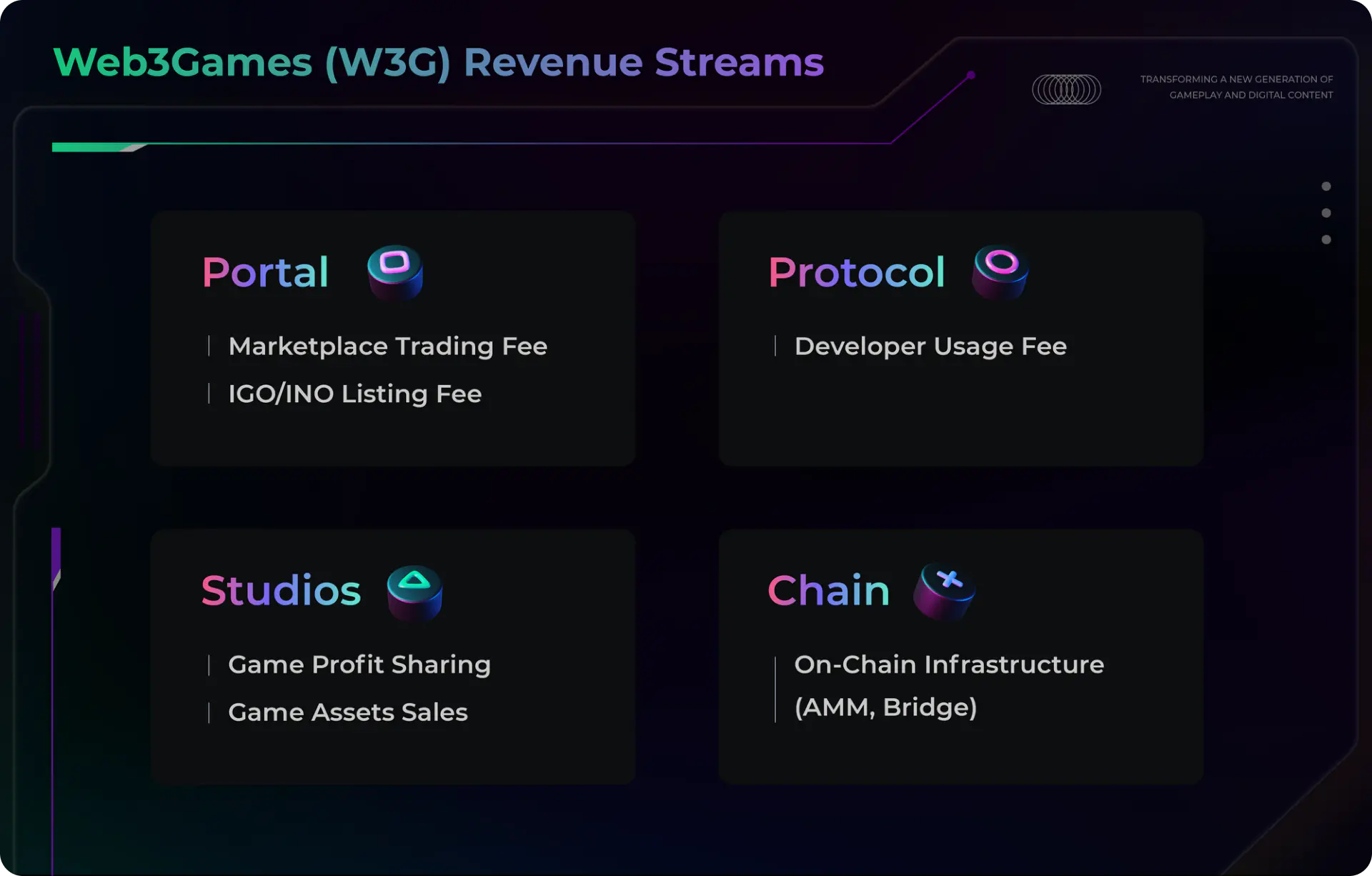 What technologies does Web3Games (W3G) use?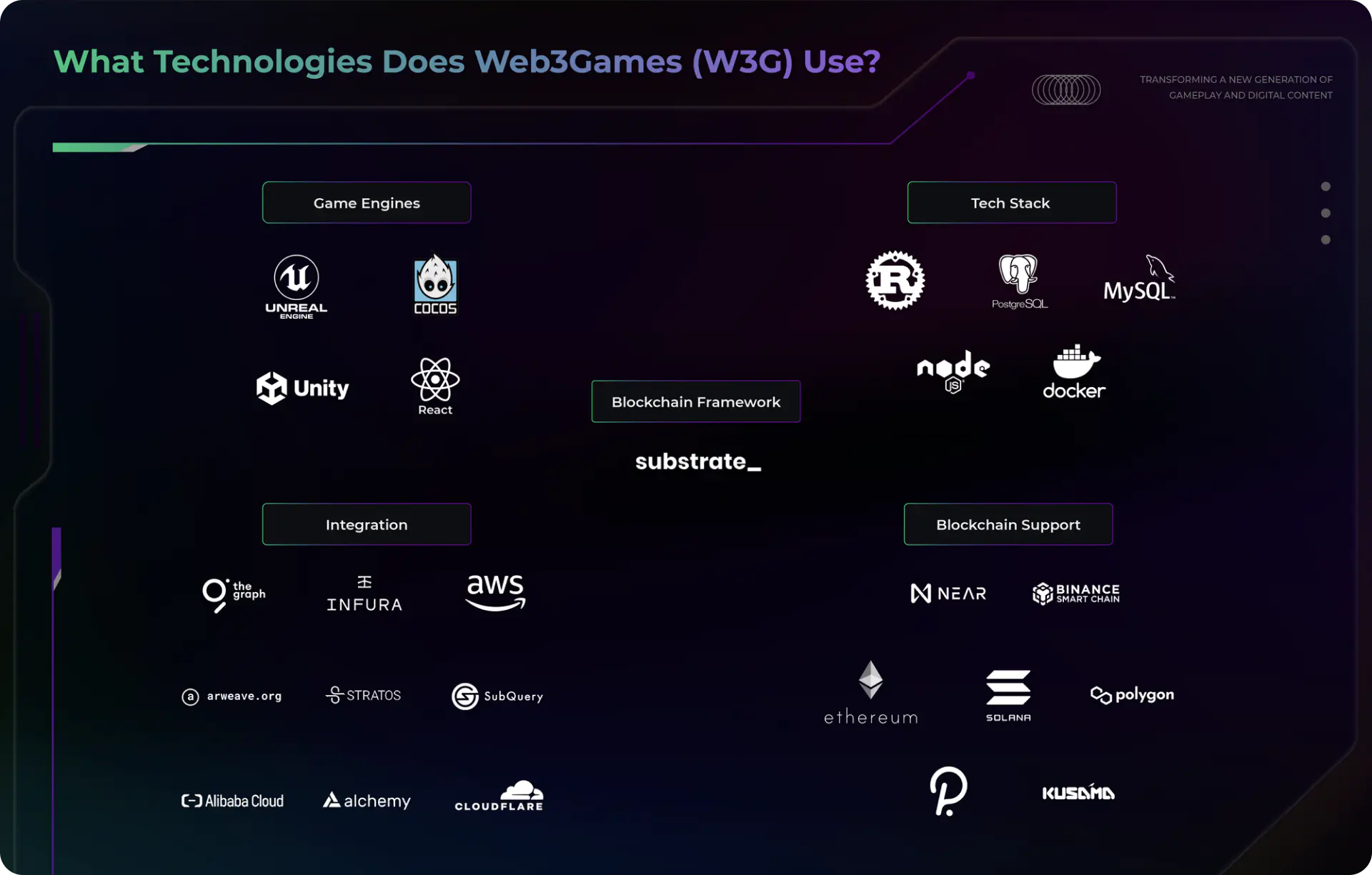 Player ID
Web3Games has developed a new protocol of decentralized identifiers to help users to connect their accounts with emails through verification codes to login. The collection of on-chain data from different networks enables the formation of gaming profiles related to corresponding NFTs and token records. For DID, they have made it into Web3Games API Protocol SDK so that game developers can easily integrate it.
Studios Game Integration
Web3Games Protocol is a set of blockchain-oriented integration standards for gaming projects. In addition to Player DID, they also provide game token distribution, digital assets lending and achievement recording services in the SDK for developers to integrate.
Web3Games Chain
Web3Games Chain is built with a Substrate framework and has developed several pallets into it to support the blockchain gaming ecosystem. This includes the Game/ NFT marketplace and other modules.
Web3Games (W3G) product dive
Web3Games Chain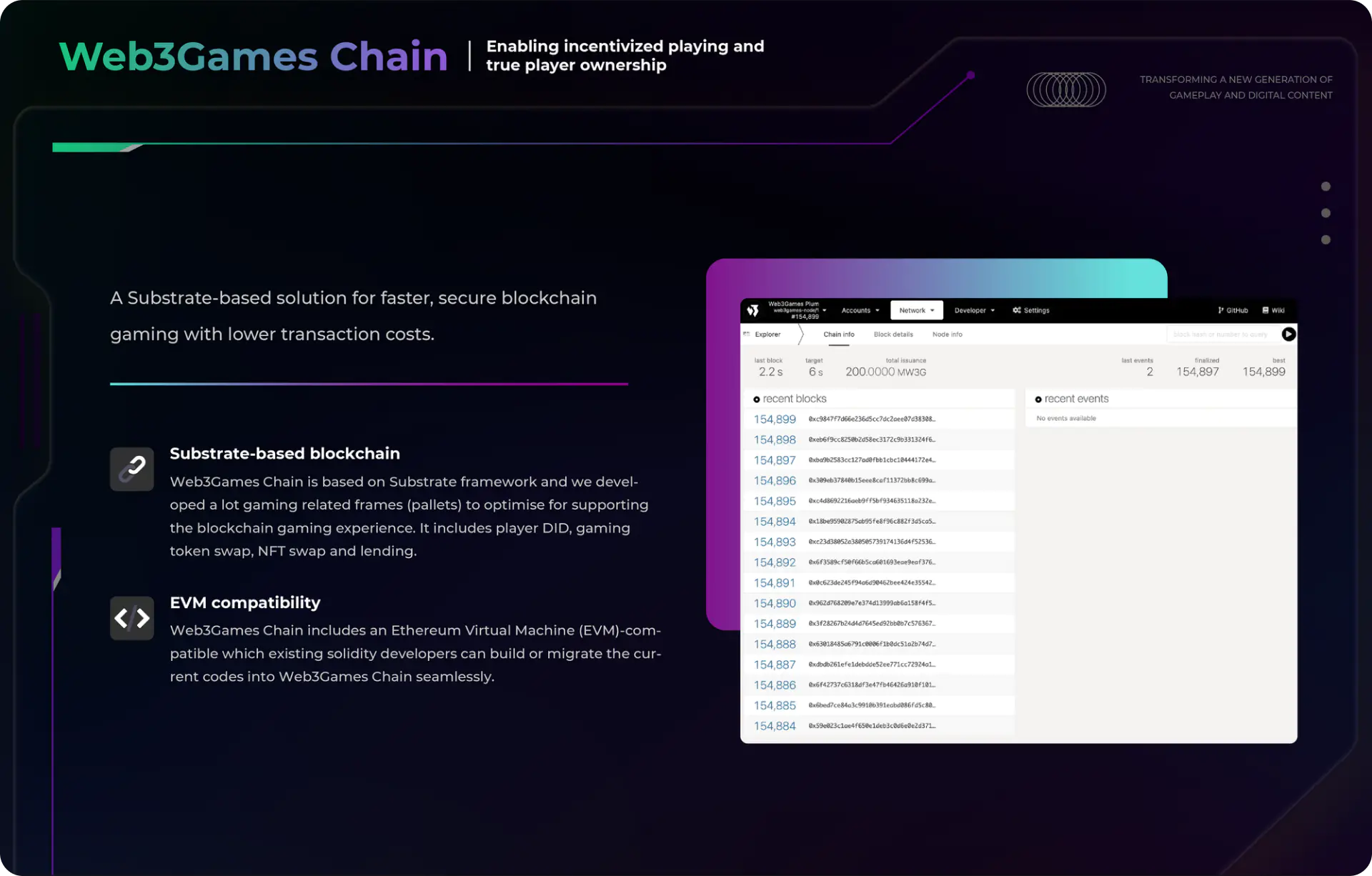 Web3Games Chain is a Substrate-based solution for faster, more secure blockchain gaming with lower transaction costs.
Substrate-based Blockchain
Web3Games Chain is based on Substrate framework. They have developed a lot of gaming related frames (pallets) to optimize for supporting the blockchain gaming experience. It is integrated with functions including Player ID, Exchange, and Marketplace.
EVM Compatibility
Web3Games Chain includes an Ethereum Virtual Machine (EVM)-compatible which existing solidity developers can build or migrate the current codes into Web3Games Chain seamlessly.
Web3Games Studios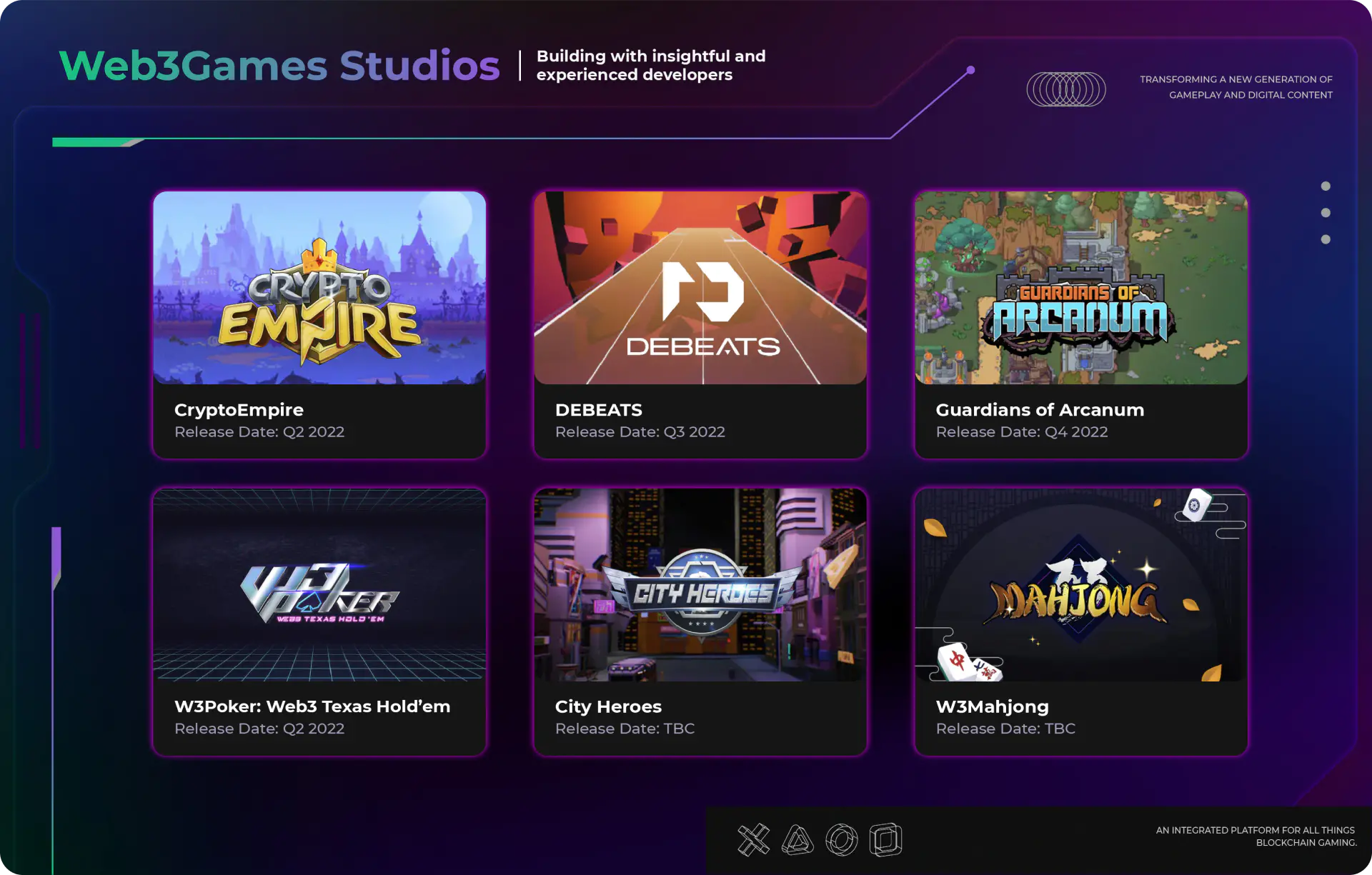 Web3Games Studios aims to help more traditional game studios and developers integrate with blockchain gaming.
The most fascinating features are the following:
The Team
The brilliant studios dev team comes from some of the top game manufacturers on the planet. They had participated in several famous video games production, such as Call of Duty and Diablo, Monster Hunters, which brings a great wealth of development experience and understanding of games
The Support
Web3Games has a mature systematic solution for blockchain integration and token economy, to maintain the sustainability of blockchain games. In addition to using these technologies to create their own games, Web3Games Studios also provides ecological consulting services to game developers. Developers who want to get support and forge deep cooperation can submit their applications. Once they pass the assessment of Web3Games Studios, they will receive technical and marketing support.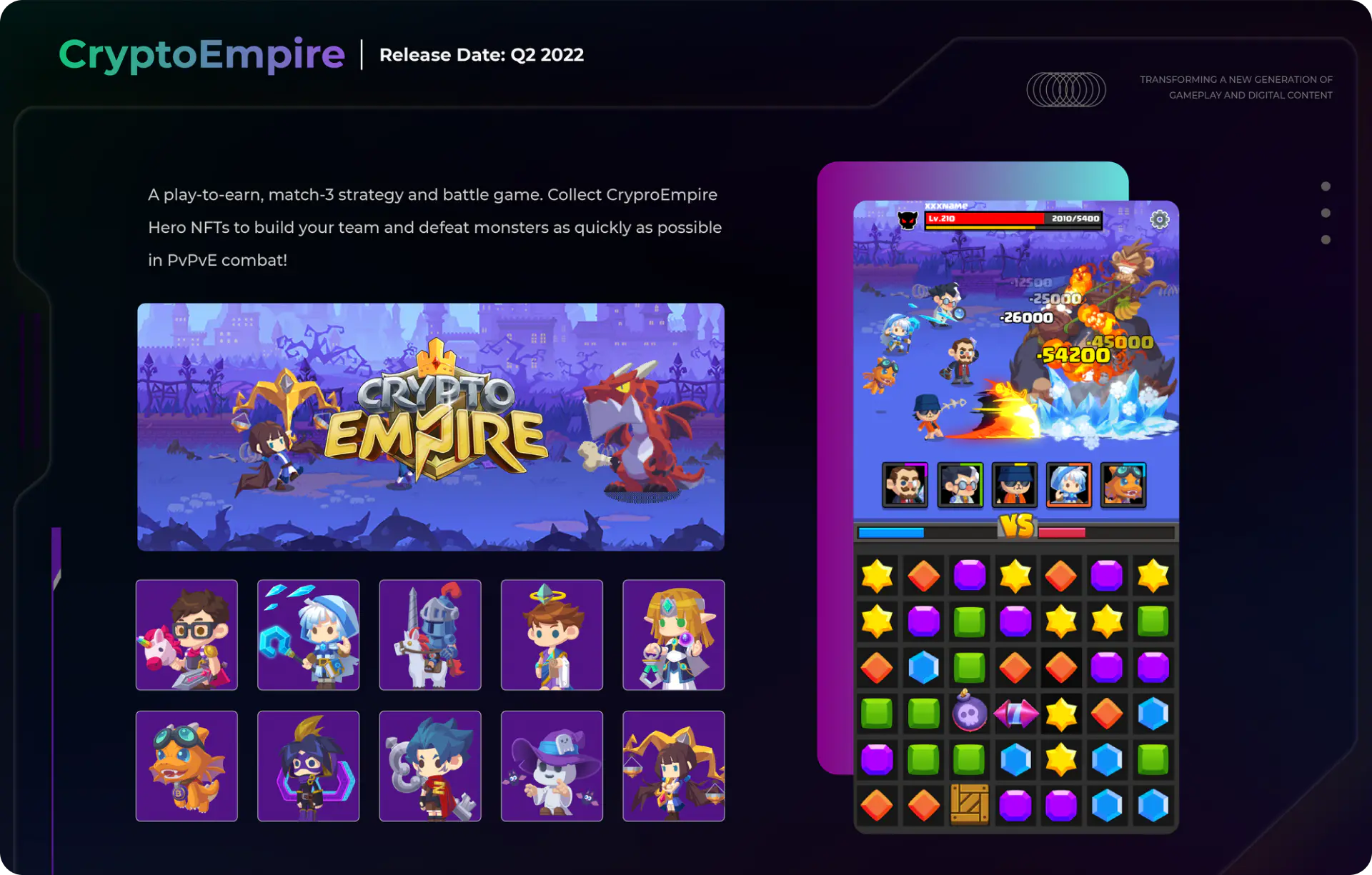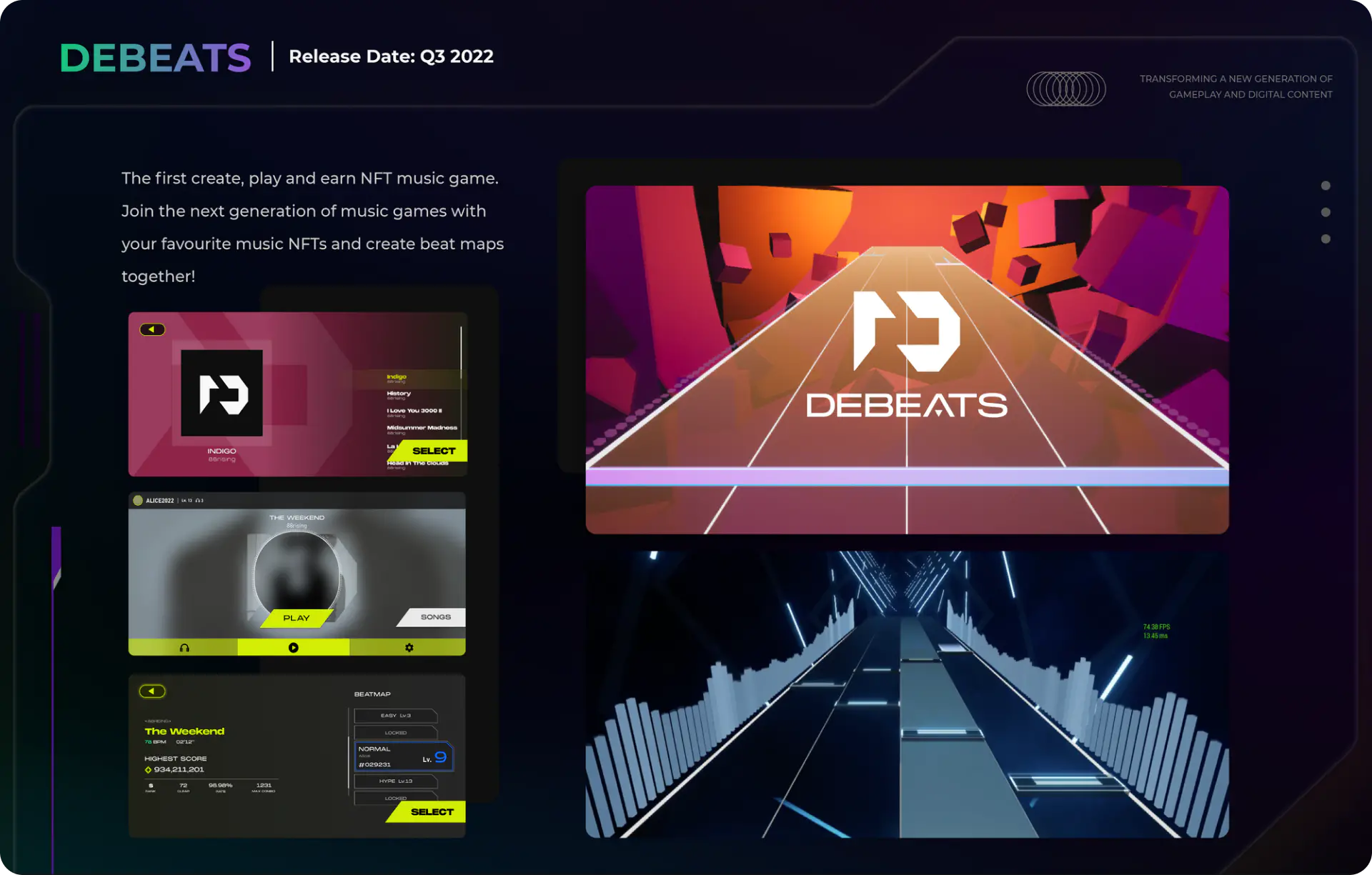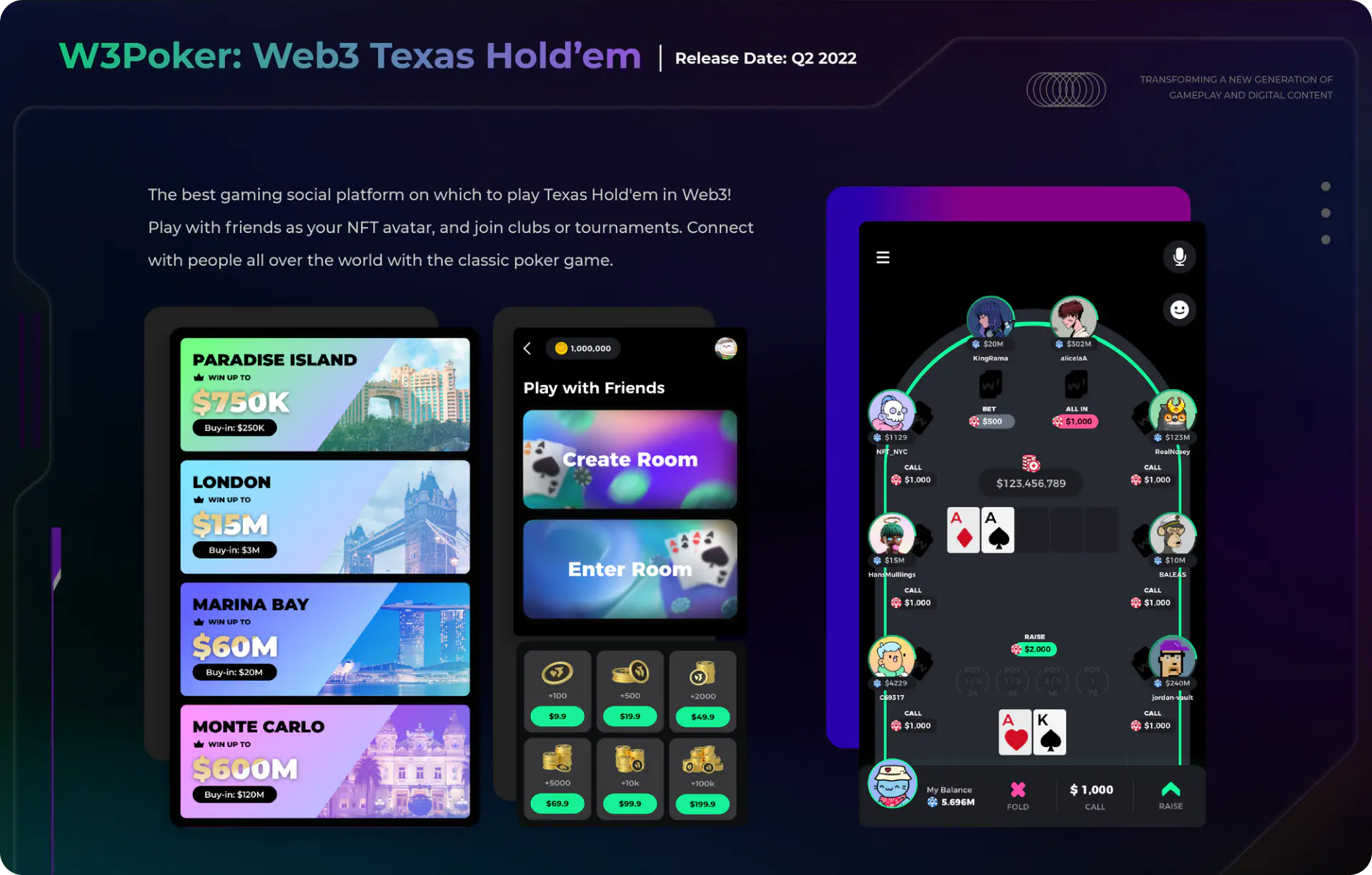 Web3Games Protocol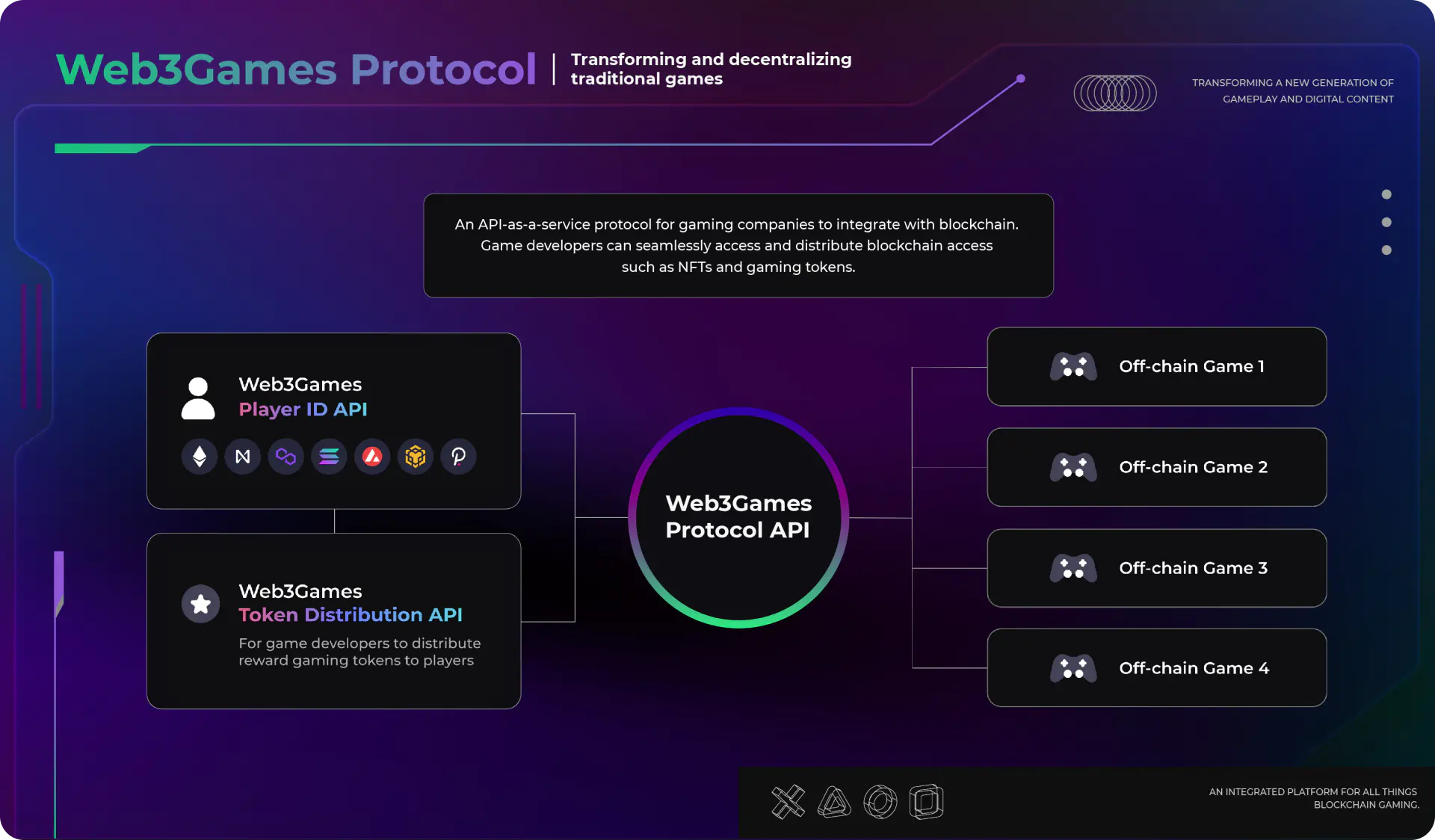 Web3Games Protocol is the solution for game developers to integrate with blockchain. The protocol serves as the blockchain toolbox for people with rich game development experience.
Player ID API
The new blockchain gaming will appear in all kinds of devices, mobile apps, VR and so on. Thus, users may not want to input their private keys everywhere. With Player ID, users can connect all of their wallets in Web3Games portal and just login with email + password or ID private keys on any other devices. Player ID does not store any on-chain assets but just acts as a hub for all wallet accounts. Game developers can allow Player ID to login and confirm the players' NFT ownership required for gaming by integrating the Web3Games protocol.
Token Distributor API
After play-to-earn gameplay, the games need to allocate the reward tokens to the players. The company provides the token distributor API, so game companies can directly issue the reward tokens without integrating with blockchain APIs, hosting blockchain nodes or working with custodies. It currently supports transfer and minting transactions of ERC-20 tokens and will support NFTs soon.
Web3Games Portal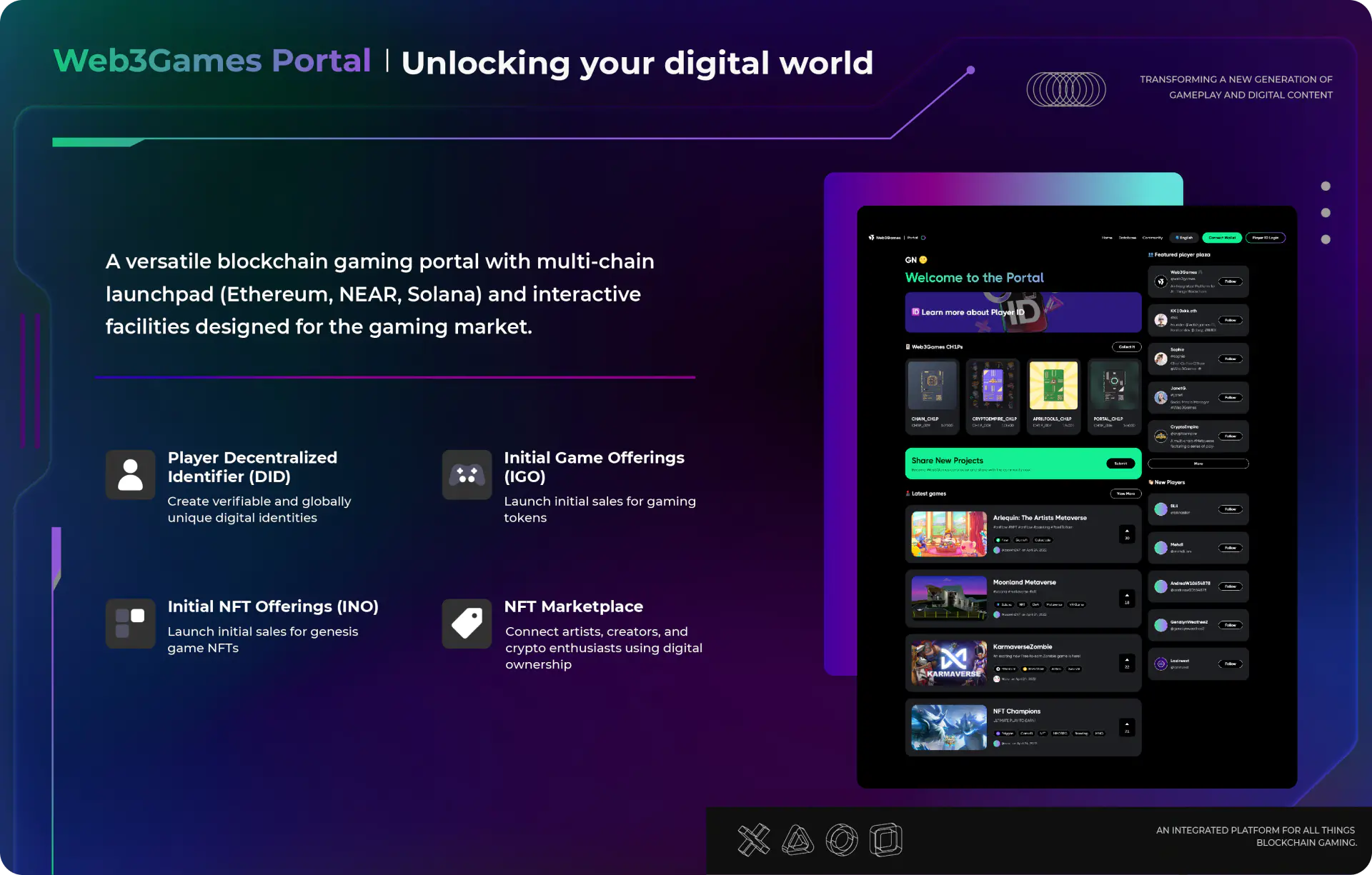 Web3Games Portal is the one-stop curator for blockchain gaming, aiming to be the Steam for blockchain gaming. They provide comprehensive listing for blockchain games. On top of that, they provide different services for new participants to take part in different stages of blockchain gaming, from crowd-funding to token trading.
Player Decentralized Identifier (DID)
Player ID is designed to become the users' blockchain gaming profile. Users can create Web3Games Player ID on their portal. It's decentralized and connects all your email, wallets on different chain networks, and social media. With Player ID integrated, you can login via email without importing your private keys to various devices. It provides easy access to the game assets and protects wallets from being hacked. Safety of your digital assets always comes first.
Initial Game Offerings (IGO)
The IGO function allows Cryptocurrency gaming projects to raise fund by setting up a fixed price swap pool on Web3Games portal. They have a compliance team to review applications where only verified gaming token projects are allowed to launch their initial token sales on the Web3Games IGO platform. In order to support more ecosystems, their IGO launchpad supports most EVM compatible chains. Meanwhile, they intend to expand fast on new ecosystems like Avalanche, Flow, Solana and NEAR, and provide vast opportunities for gaming projects from different chains to establish contact with Web3Games community.
Initial NFT Offerings (INO)
There is a growing trend of blockchain games that tend to sell genesis NFTs rather than merely token sales. Web3Games supports each project with INOs as well as partnerships to co-host the initial sales for the first generation of gaming item NFTs. The sales can be presented in different formats such as loot box sales and auctions. The Web3Games launchpad service offers substantial flexibilities for blockchain game developers to achieve a successful launch.
What are Web3Games (W3G) tokenomics?