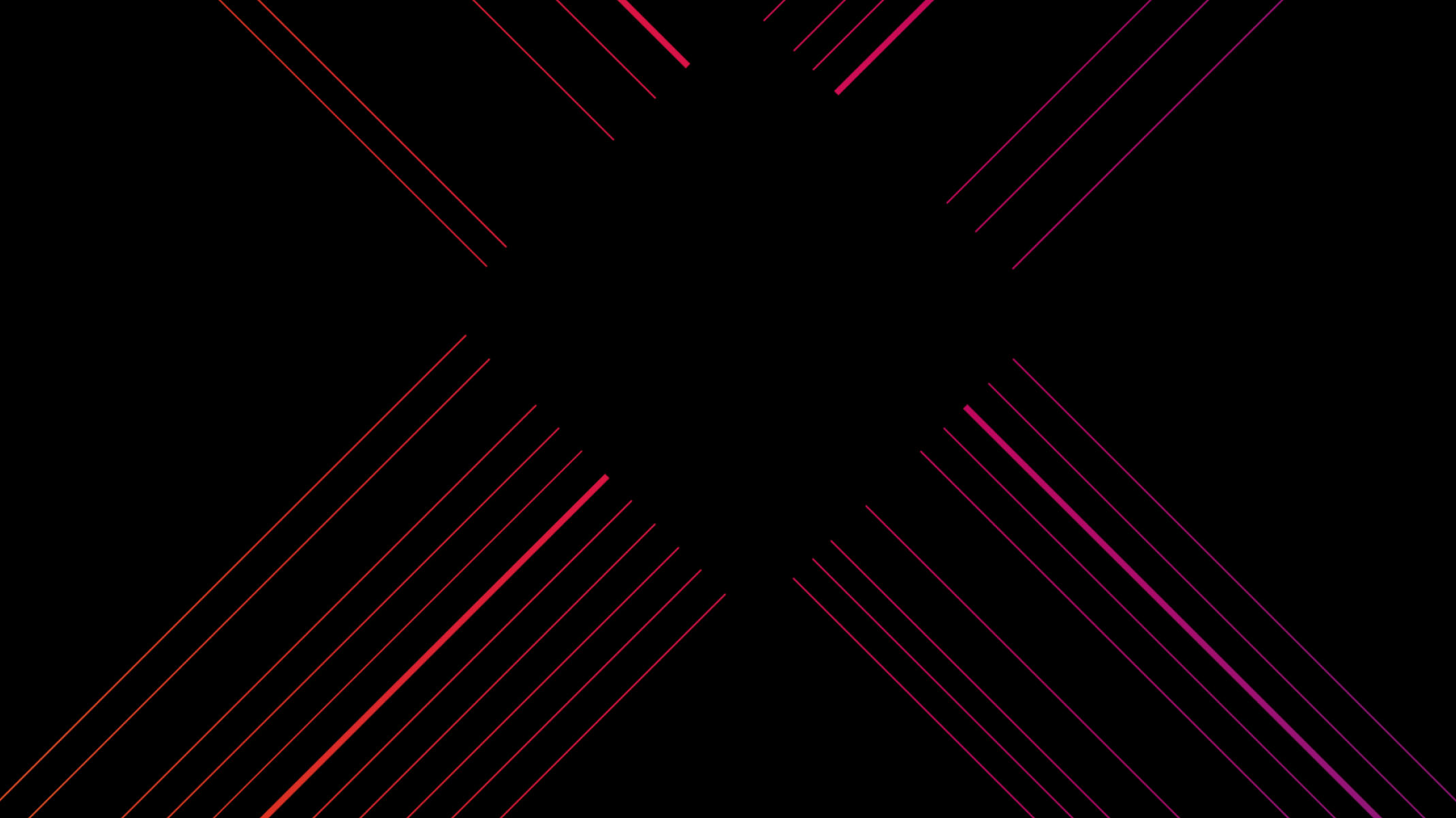 INCUBATION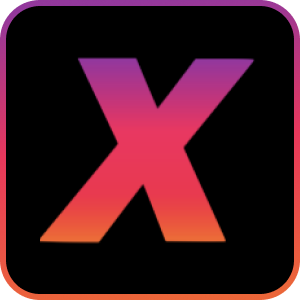 Xcad Network
Xcad Network provides creators with DeFi tools to create an incentivized economy by tokenizing the engagement of each creator's audience & their content. Xcad network is also home to an exclusive NFT Marketplace for creators, enabling one-click creation of rare and limited edition NFTs.

Lead VC
DAO Maker

Market Maker
DAO Maker
Controlled Cap
Approved
DAO Approved Metrics
Approved
What is Xcad Network (XCAD)?
Xcad Network is further monetizing existing content creators by allowing these creators to tokenize themselves and their content.
Xcad has its own NFT Marketplace, specifically designed for content creators and their audiences, fiat gateways and easier options to store NFTs. The marketplace is home to NFT moments - NFT moments are certain segments of a content creator's videos that are captured and released as NFTs. The moments captured as NFTs have different tiers:
Rare - Some of the most iconic moments of a creator's career
Gold - For those ultra-special moments within creator's content
Silver - creator moments that are enjoyed, but may be less popular
Bronze - For the simple, everyday moments in a creator's video
Users will then be given the opportunity to own these special moments by purchasing content creator packs containing them. Xcad sees a unique opportunity to bridge the gap between cryptocurrency and the real world, due to the mass reach of their current influencers and beyond.
Xcad doesn't just support existing creators; the Xcad ecosystem also contains an online education platform consisting of a suite of tools for aspiring creators, created by Influencers with over 50 million followers combined, which will be entirely powered by the XCAD token.
Xcad also enables advanced features that let influencers reward loyal viewers by allowing them to earn tokens as they engage with content without any changes to their existing workflow. Viewers can speculate on the future growth of creators by trading tokens of creators they think have potential, via the Xcad DEX. These tokens can be tracked via Xcad's InfluencerMarketCap.com, which will show live data of all creator tokens. Think of it as CHZ fan tokens or cryptocurrency for influencers. The more a creator grows, the more creator tokens will be burned, making them more scarce, so fan tokens will become more valuable due to supply and demand.
Performance will allow creators to unlock vested tokens as they hit milestones governed by the Xcad community token holders.
What is Xcad Network (XCAD) marketing strategy?
Initial Phase - The initial phase will focus on onboarding content creators into the Xcad program, leveraging Xcad's contacts within the space. The first part of this is to allow content creators to create their own NFTs, including NFT moments which they can sell to their audience.
Furthermore, NFTs in the form of customised artwork & badges will also be available within the Xcademy e-learning platform, and it will be possible for them to be purchased and attached to student profiles.
Aggressive Crypto Community building will also be carried out during this phase.
Development Phase - Phase two will be where they really start to bridge the gap between crypto and the real world, at a mass scale. Xcad will start to tokenize content creators directly on YouTube. A select batch of content creators will encourage their viewers to download a browser plugin. Once downloaded, the viewers will start to earn rewards for each time they watch the creator's content. Users will likely be unaware they are earning cryptocurrency.
Growth Phase - Xcad will start to scale up the tokenization of content creators, allowing any creator to apply to the program. Xcad token holders will govern what content creators can be tokenized and be able to set the milestones for approved creators.
For the first time ever, viewers will be able to speculate on the future growth of a content creator as they can buy or sell creator tokens directly within the plugin without the usual complex experience of buying crypto. Content creator tokens will be trackable via InfluencerMarketCap.com.
Adoption - At this stage, the XCAD token will be required to use any of the services within the Xcad Ecosystem.
A large number of XCAD tokens will be locked up in content creator liquidity pools as viewers will want larger rewards while consuming content. As tokenization of content creators reaches scale, it will become a disadvantage for creators to not pursue content tokenization, due to the watch time metrics attached to rewarding viewers.
What makes Xcad Network (XCAD) unique?
As of today, other companies are attempting to tokenize online celebrities, however none have built a complete ecosystem around the tokenization of creators and their content, where both the fan and content creator win. Unlike most other platforms, Xcad plugs directly into existing social media and rewards users and creators for actions they already do on a daily basis; there is no change to their existing habits.
The XCAD token has numerous uses beyond the simple purchase of creator tokens, in contrast to most tokenization projects.. Users can stake the asset with content creator tokens to earn a multiple on rewards, thus taking XCAD tokens off the market. Additionally, the token is used for governance and powers the entire Xcad platform.
The token is required within the Xcad platform to purchase the entirety of it's services, providing real demand instead of relying on speculation. Furthermore, the XCAD token fuels the Xcad DEX, which is a decentralized exchange exclusively for content creator tokens where users can view each creator token's market capitalization and performance on InfluencerMarketCap.com.
Xcad is targeted at the real world, unlike most crypto projects that simply target the crypto space. Xcad is trying to bridge the gap between the real world and crypto. Users won't need to jump through tons of hoops like creating long addresses or dealing with complicated exchanges. Everything will be user friendly within a browser extension so they can earn, stake, buy and sell creator tokens seamlessly right from their browser, as well as NFTs.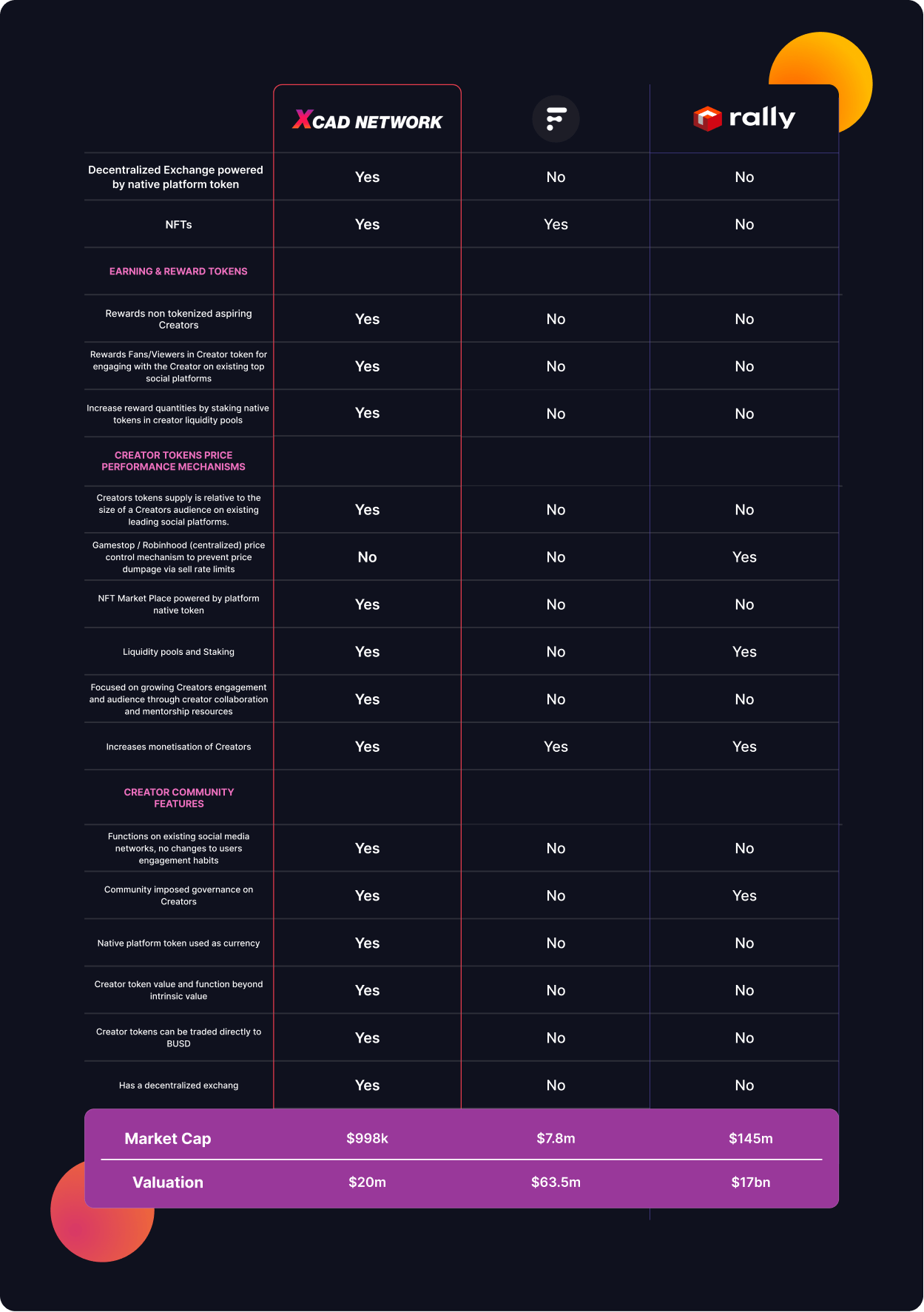 What is Xcad Network (XCAD) roadmap?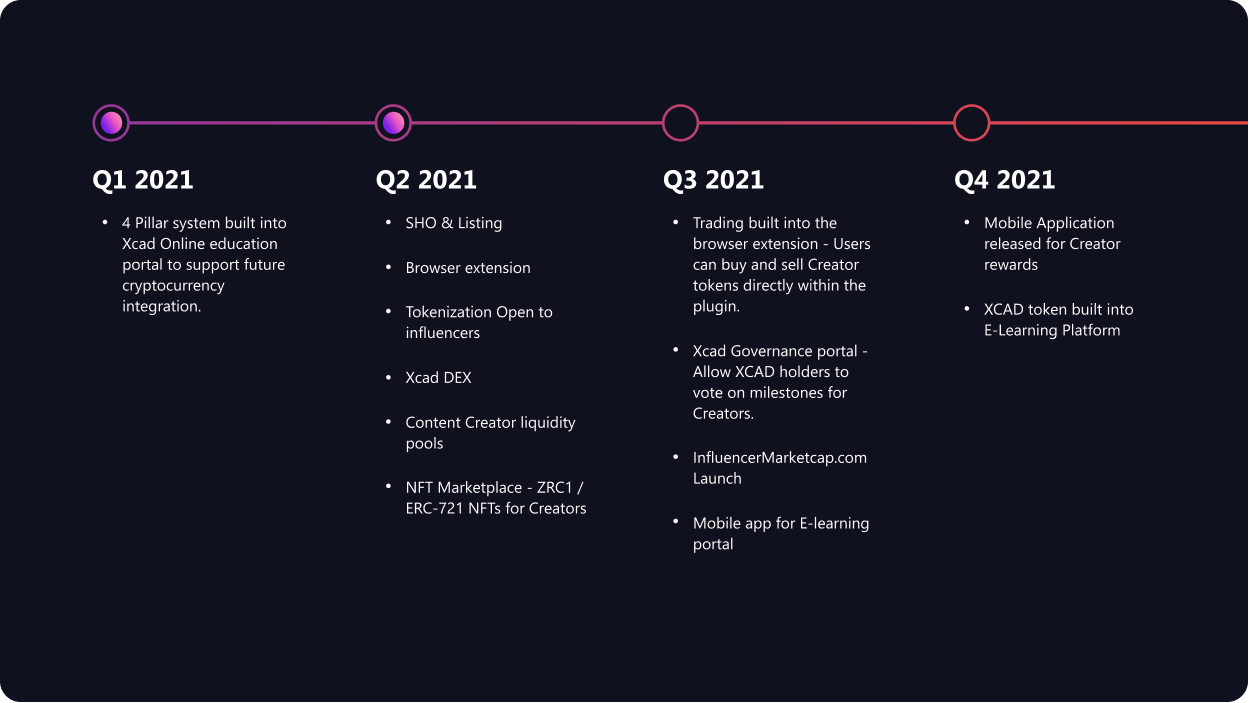 Xcad Network (XCAD) revenue streams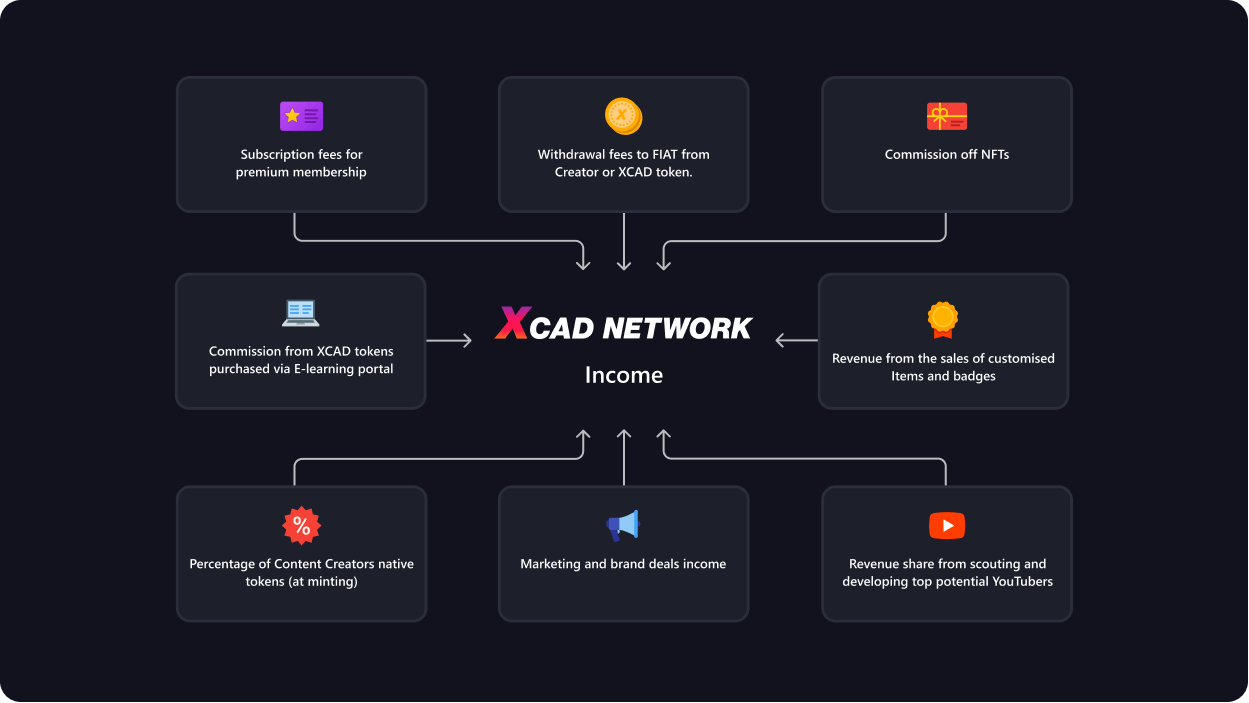 How does Xcad Network (XCAD) work?
Vault - The Xcad vault allows XCAD holders to stake their XCAD tokens and LP shares to get rewarded for providing liquidity.
DEX - A decentralised exchange similar to Uniswap will allow users to swap content creator tokens for XCAD tokens and then to USD. content creator tokens can ONLY be swapped for XCAD.
Browser Plugin/Mobile App - This is a Google Chrome Plugin that content viewers will install to create a free Xcad account. Once set up, they will start earning content creator tokens for consuming tokenized content. Within the browser plugin, users also trade content creator tokens for stable coins, buy more content creator tokens or even XCAD tokens. Liquidity pools for staking will also be built into this plugin.
Content creator Liquidity Pools - Viewers can stake content creator tokens with XCAD tokens in liquidity pools to earn multipliers on rewards earned when consuming their favourite creators content. This provides liquidity for those wanting to trade creator tokens.
InfluencerMarketCap.com - Similar to the famous CoinMarketCap, a website full of data on how content creators' tokens are performing and other related data such as market caps, trading volumes and token metrics.
E-learning platform - An online educational portal with multiple educational resources from some of the UK's biggest YouTubers on how to start your YouTube journey, as well as a set of tools and services which can only be purchased by using the XCAD token.
NFTs - Non-fungible tokens designed and created by content creators of which fans and followers can purchase.
NFT Exchange - A customised NFT exchange designed with the retail user in mind, rather than just the cryptocurrency native user. Fans can purchase unique and exclusive creator NFTs while also hosting the creator NFT Moments concept. Viewers will be able to purchase NFT 'packs' which consist of a variety of creator moments from videos, with more iconic moments being more scarce and super-fan collector items. The moments consist of the following different levels :
Rare - For some of most iconic moments of a creator's career
Gold - For those ultra special moments within the video
Silver - For those moments that are a little bit less special
Bronze - For the basic moments in a creator's video.
Xcad Governance portal - A portal where XCAD token holders can vote on the milestones that content creators unlock vested tokens.
Xcad Toll - A white label solution by DAO Maker allows early supporters to unlock vested tokens early but for a penalty. If you choose to unlock a percentage of your tokens early, a penalty will be paid; the penalty tokens are then burnt and taken out of circulation.
What technologies Xcad Network (XCAD) created and used?
Ethereum Blockchain
The TGE will take place on the Ethereum Blockchain, Ethereum is the most well known blockchain in the crypto world with the most liquidity and ease of access.
Zilliqa Blockchain
The Xcad application will use the Zilliqa blockchain as the core blockchain network. The Zilliqa blockchain has been live since January 2019 and is often cited as the world's most advanced sharded blockchain protocol; it will provide a secure, scalable, and affordable blockchain platform to meet the high transaction requirements.
Zilliqa has an established and thriving decentralised application ecosystem with over 70 projects from 20+ countries building on the network with the support of a global community of 150,000 enthusiasts and a vast developer network. To date, the Zilliqa blockchain has processed in excess of 12 million transactions.
Scilla (Smart Contract)
The team is using Scilla for the XCAD and content creator tokens and NFT tokens. Scilla is an award-winning smart contract language created by Zilliqa and is a powerful type-safe functional programming language designed with smart contract safety in mind.
Decentralised Exchange
Xcad is building its own DEX, this is similar to UniSwap or Zilswap, where users can swap one asset for another; later, this will be added into the Xcad browser plugin. It will have all the same functionality as a standard UniSwap fork however it will only allow content creator tokens to be traded against the XCAD token.
Cross Chain Interoperability Bridge (ZILLIQA, ETH)
Due to scalability requirements, the Xcad application activity will occur on the Zilliqa blockchain. However, users will have the option to trade their XCAD tokens on the ETH and Binance blockchains due to the interoperability bridge being deployed by Zilliqa.
React/Node JS
The Xcad E-learning platform, Xcademy, is built in Node JS & React, as well as the Xcad Browser Plugin.
NFT Tokens
Standard ZRC1 / ERC-721, NFTs will be issued on the Zilliqa and Ethereum blockchain
What are Xcad Network (XCAD) tokenomics?