Private SHO

Trading

Investment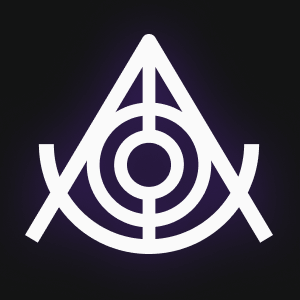 Aluna Social
Aluna's vision is to gamify finance and create a seamless social trading experience for a Web 3.0 world.
Its flagship platform, Aluna.Social is a gamified social trading terminal that rewards top traders and enables beginners to learn from and auto-copy the world's best traders.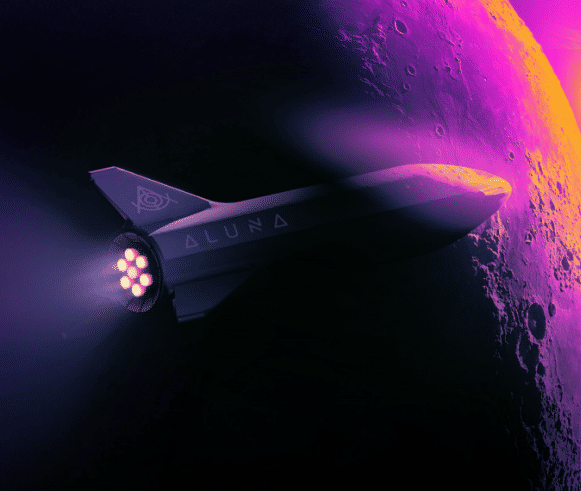 What is Aluna social (ALN)?
Aluna Social is a gamified social trading terminal that rewards top traders monetarily and reputationally, enabling beginners to learn from and auto-copy expert traders.
The core goal behind Aluna Social is to gamify finance and redefine social trading for the Web 3.0 world. It does this by combining an intuitive and easy to use trading platform with an online social space built on transparency, gamification and sentiment analysis. Ultimately, giving users actionable data that is genuine and trustworthy.
Users of Aluna Social can:
Build their trader reputation
Get Insights and tips from Aluna's top traders
Find the best traders to follow, copy and counter-copy
Get rewarded with Aluna (ALN) tokens for creating value for the Aluna ecosystem
The ALN token fuels the Aluna Social ecosystem. It can be used to earn incentives, spent against monthly subscription fees, play prediction games, stake, farm, and govern. ALN is also fairly distributed, community-owned and self-governed.
What makes Aluna social (ALN) unique?
The concepts of copy-trading, prediction games, and social networks are not new to the crypto space, but Aluna Social will integrate them in a polished UX, adding trust and transparency to trading, as well as gamification mechanics to incentivise users to play games and trade assets in its ecosystem.
Aluna.Social platform also evolved the concept of copy-trading to include counter-trading, where followers can execute contrary trades to the traders they follow.
Furthermore, Aluna's novel prediction gaming mechanisms combine some of the primitives of curation and prediction markets with social trading. These games incentivise users to provide accurate and meaningful market and sentiment data by rewarding the best traders and most accurate predictions while minimising noise. This data can be aggregated and analysed over time — enabling users to make more informed trading decisions.
The ALN token will be used to support the Aluna Social ecosystem. ALN is community-owned and self-governed through the Aluna DAO. ALN tokens can be earned as rewards, spent against monthly subscription fees, to play prediction games, stake, farm, and govern. Part of the revenue generated from ALN-powered products is burned.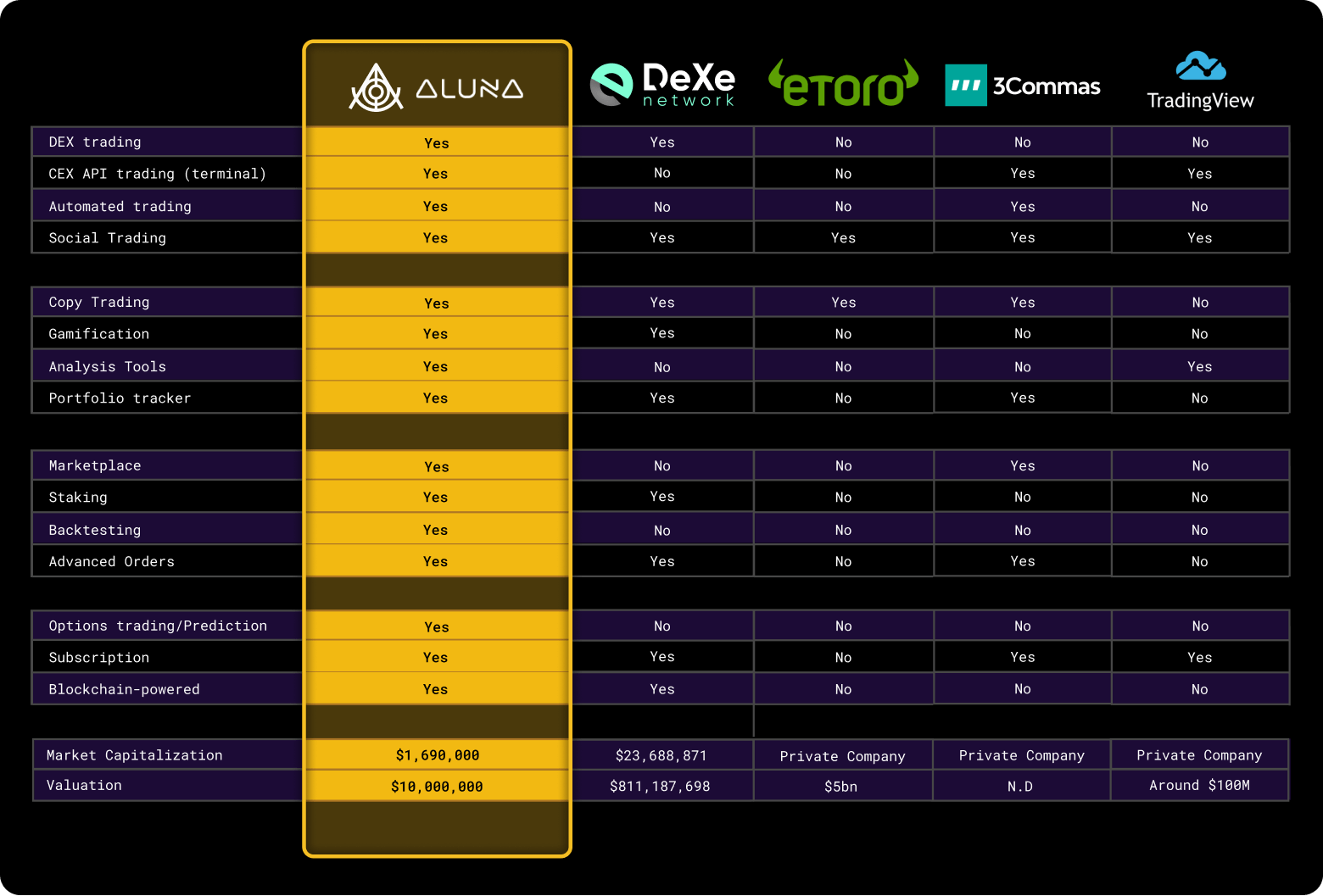 What is Aluna social (ALN) roadmap?
Aluna social (ALN) revenue streams
The business model is split into two streams: Subscription fees for the Aluna.Social trading terminal and DeFi System fees coming from DeFi social trading. Subscription fees can be paid in ALN with a discount, and they will be redistributed to token stakers.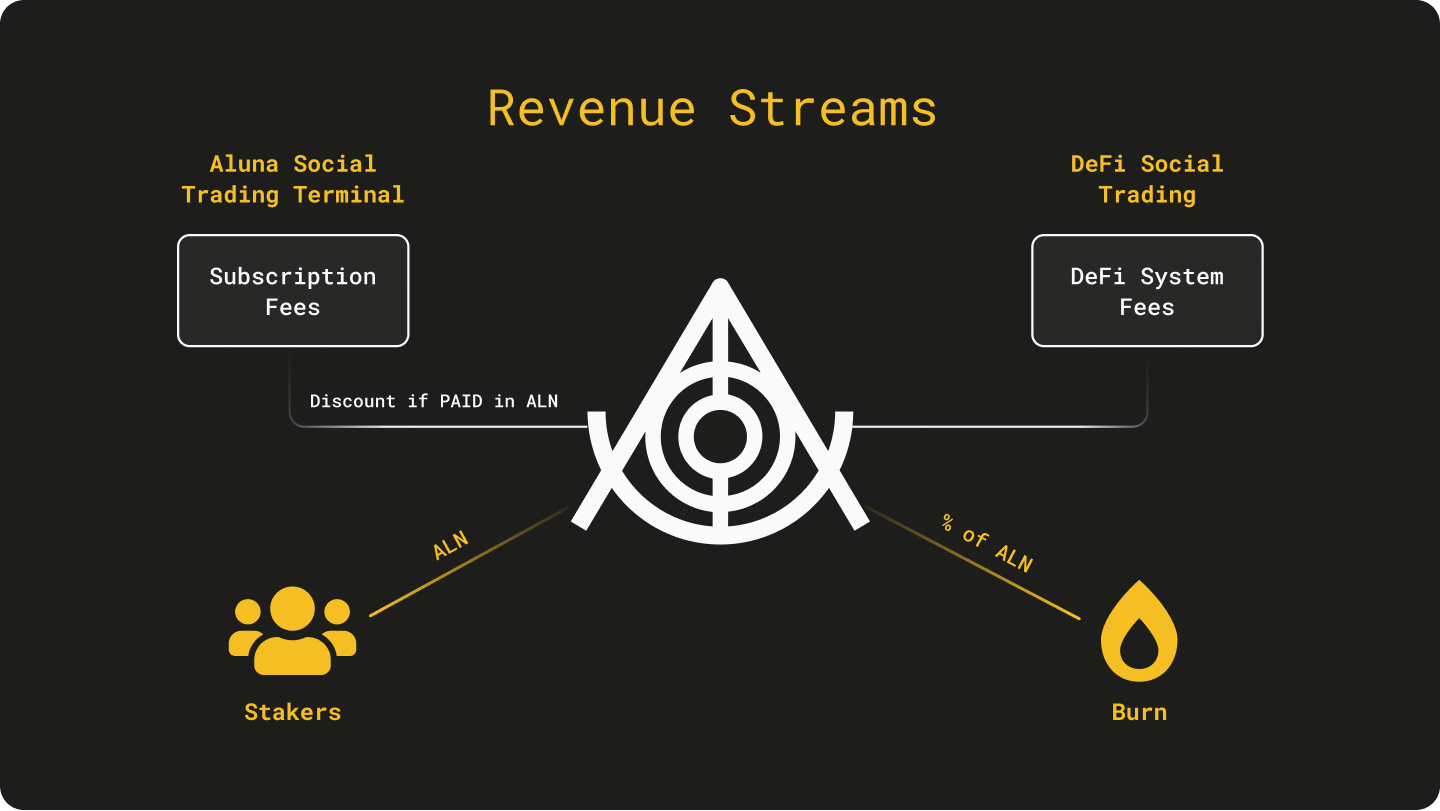 What technologies Aluna social (ALN) created and used?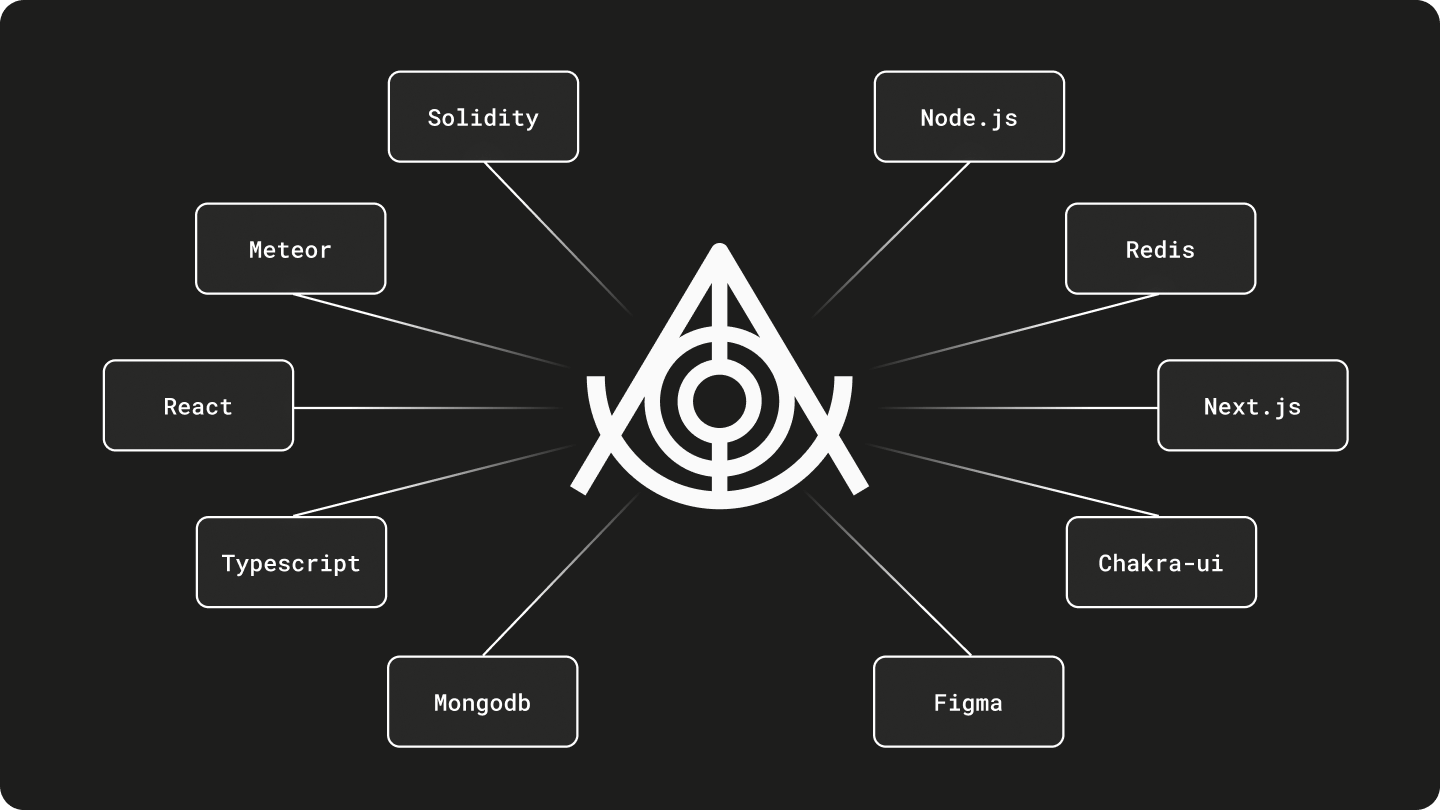 What is Aluna social (ALN) marketing strategy?
The primary commercial goals are:
To reward accomplished crypto traders (financially and reputationally) and simplify their trading experience
To give newbie traders a copy-trading platform that has verifiable trading data and game-based inter
Aluna Social USPs:
Manage multiple exchange accounts from a single interface: Rather than expend effort on learning the nuances of UI and functionality across multiple exchange platforms, users can manage all their exchange accounts and trading from a single interface. In addition, they can analyse and monitor the market with the built-in screener tool and news feed.
Trading transparency & Rewards: Successful traders can be reliably identified via public profiles displaying the verified trading history and real-time trades. In other words, 'expert' traders can put their money where their mouth is by using their profiles as a trust pass and get rewarded as a result. Newbie traders, on the other hand, can make informed trading decisions and copy trades of experts based on facts rather than social hype or promises.
Gamification: Aluna provides a wealth of curated sentiment data based on innovative prediction gaming structures. The community's inclinations, history and forward-looking direction are all visible, smoothing the learning curve for new traders and impacting the behaviour of more accomplished traders.
Initial Phase: Onboard experienced traders (including Influencers) and introduce participation mining, display campaigns, and community growth campaigns to build a loyal community of traders and investors in the Token Sale. Raise funds in Seed Sale to support these activities.
Development Phase: Integrate Bitmex and other centralised and decentralised exchanges, launch platform tools, audit platform security and smart contracts, release Pro Subscriptions, Liquidity Mining, Governance (Aluna DAO), Staking & Holder Benefits.
Expansion Phase: Ramp up user acquisition through trading competitions, NFT giveaways, participation mining, prediction games and DeFi Social trading. To further bootstrap liquidity and utility of the native ALN token, attract a larger audience, and incentivise meaningful contribution, we will introduce liquidity mining, ROI farming, and Rewards Pool.
What are Aluna social (ALN) tokenomics?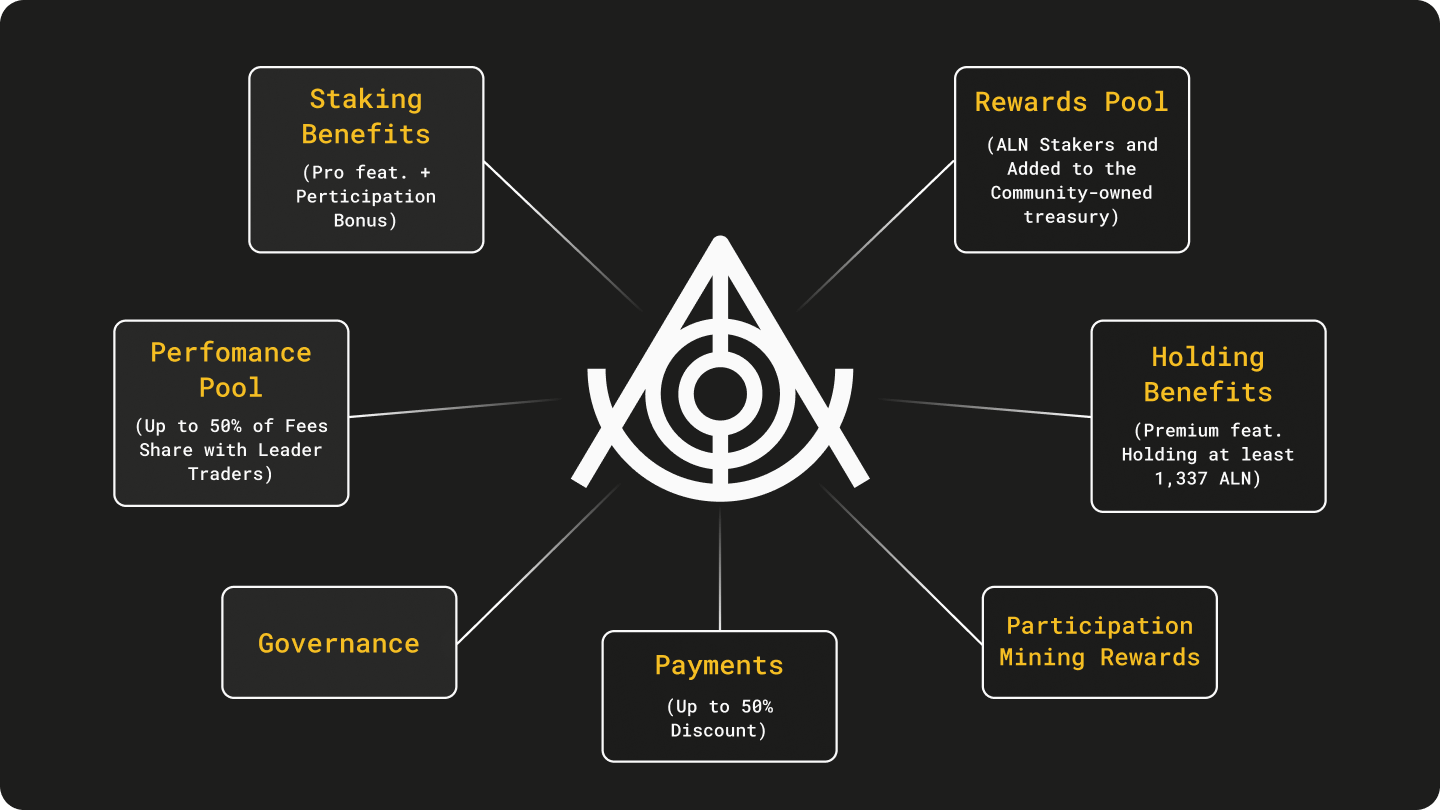 Similar Trading / Investment Projects in Crypto
These IDOs and crypto launchpad offerings are in the pipeline.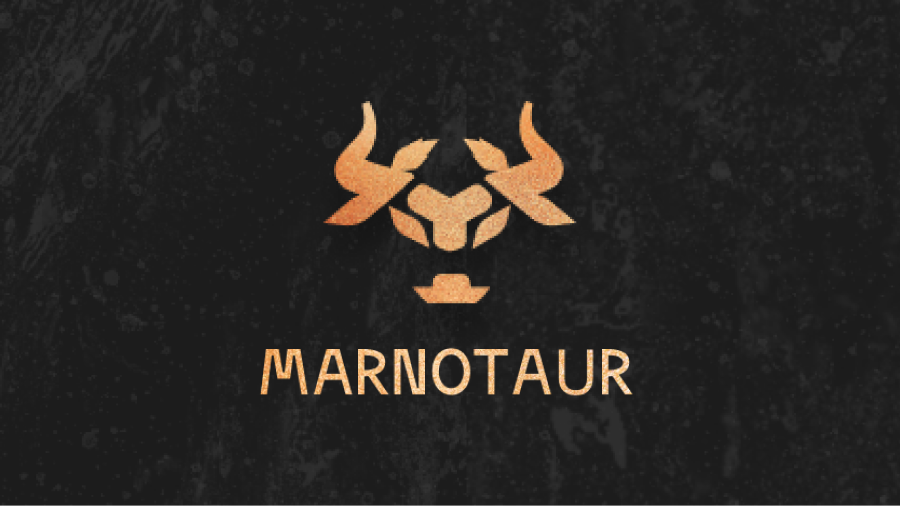 Marnotaur
Marnotaur is designed as a gas-effective, under-collateralized protocol for margin trading.