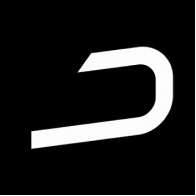 Dark Frontiers
"Dark Frontiers" is the newest, gamified space realm governed by a Gamestarter produced DAO. As NFT standards and values are shifting towards promoting use-cases, Dark Frontiers' goal is to drive mainstream adoption by enhancing the usability of NFTs through staking, item ownership, and the creation of real-world value through in-game items.

Lead VC
DAO Maker

Market Maker
DAO Maker
Controlled Cap
NA
DAO Approved Metrics
Approved
What is Dark Frontiers (DARK)?
Embarking on the gamified metaverse, players will pilot their own spaceship and conquer new planets, defeat oppositions, form guilds and capture new and unique NFTs that can either be built on or sold on the open markets.
The $DARK token in Dark Frontiers will cover an array of opportunities. For players interested in dominating entire sections of a universe, say, by owning a moon, or a planet, they can use this digital plot of land to earn interest on their $DARK. The token will not only be used for staking, but players can also purchase and upgrade their starship Galactica's using $DARK. After upgrading your ship for universal domination, you are prepared to stand head-to-head with other opponents that are in your way!
Strategy (Browser-based): Focus on the strategic aspects of the game, by claiming and owning land and trading resources. Build your intergalactic economic empire!
RPG action (PC-BASED & VR): Find yourself in the middle of exciting action: fight, discover, search for ancient relics, invest and trade. Explore the ever-expanding universe and be the first to discover new technologies.
NFT-based merging allows players to create and evolve their bioships in a very unique way. Burn two NFTs and get a superior spaceship. Merging results occur randomly - as in the real world, different results are produced each time. Each ship's blueprint holds hidden potential: appearance and different specs.
$DARK token will serve as an in-game energy unit. Energy is needed to power the gameplay - travel, mine and merge NFTs. It can also be mined by claiming land on different planets.
What makes Dark Frontiers (DARK) unique?
Dark Frontiers is the first Gamestarter Originals game, which sets the level of quality. There is no other space-themed game on blockchain that would have a unique mix of Dark Frontiers features:
high-quality blockchain gaming
multiplatform (PC/iOS, VR, browser-based)
latest trends in gaming and crypto space
strong P2E features
visually stunning
interesting gameplay with many options to choose from
supportive and passionate community
Quick release. Dark Frontiers will be released in segments, with the first part (strategy) coming out next month (alpha version).
Community will be heavily involved in game development and Dark Frontiers will be adjusted on the go to achieve the best possible result.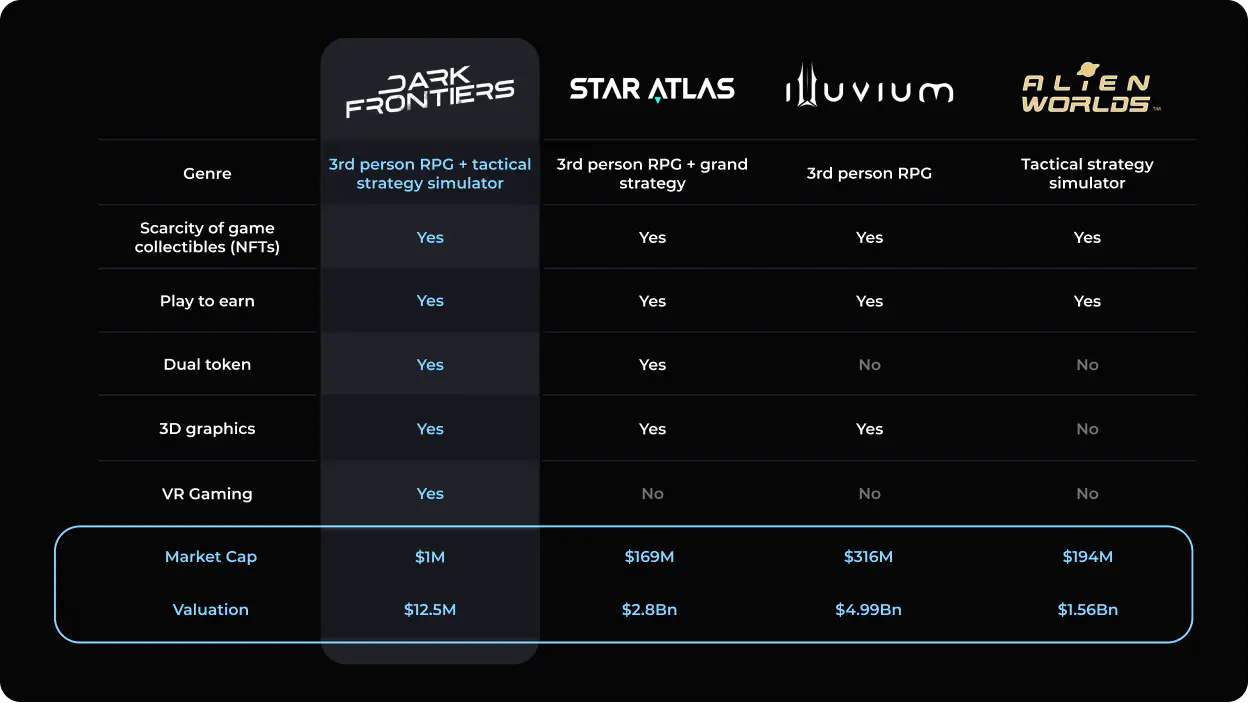 What is Dark Frontiers (DARK) roadmap?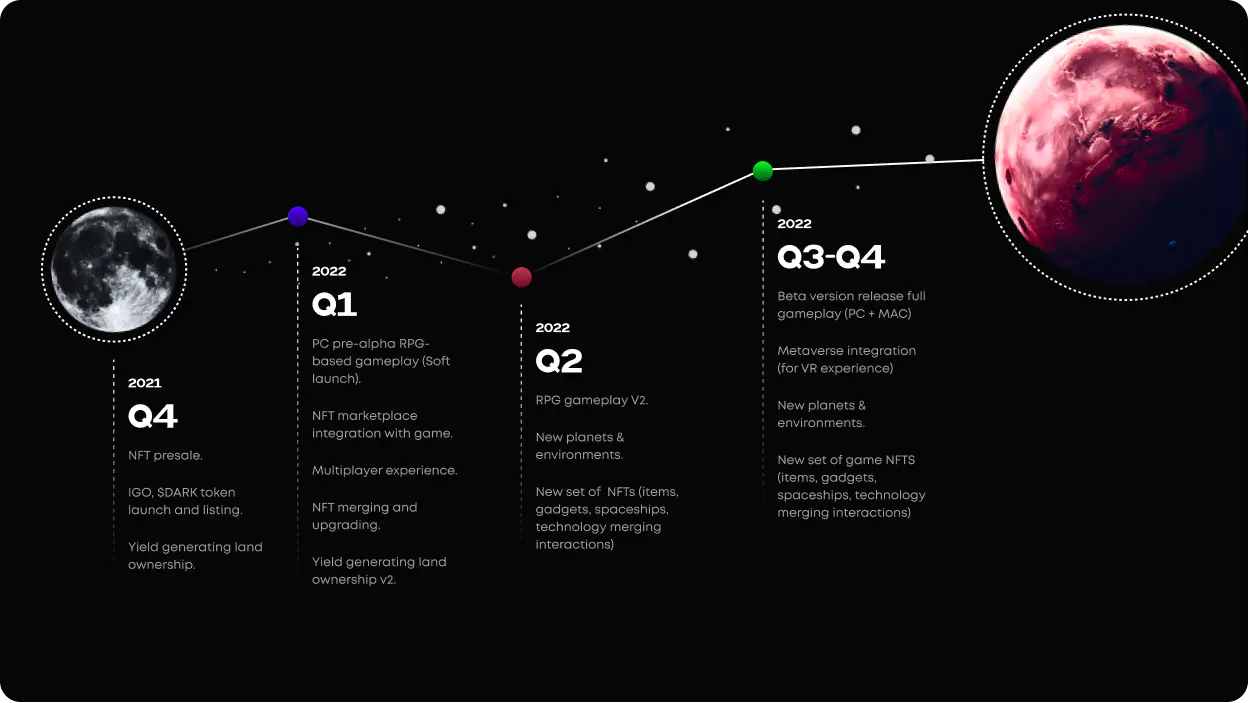 DDark Frontiers (DARK) revenue streams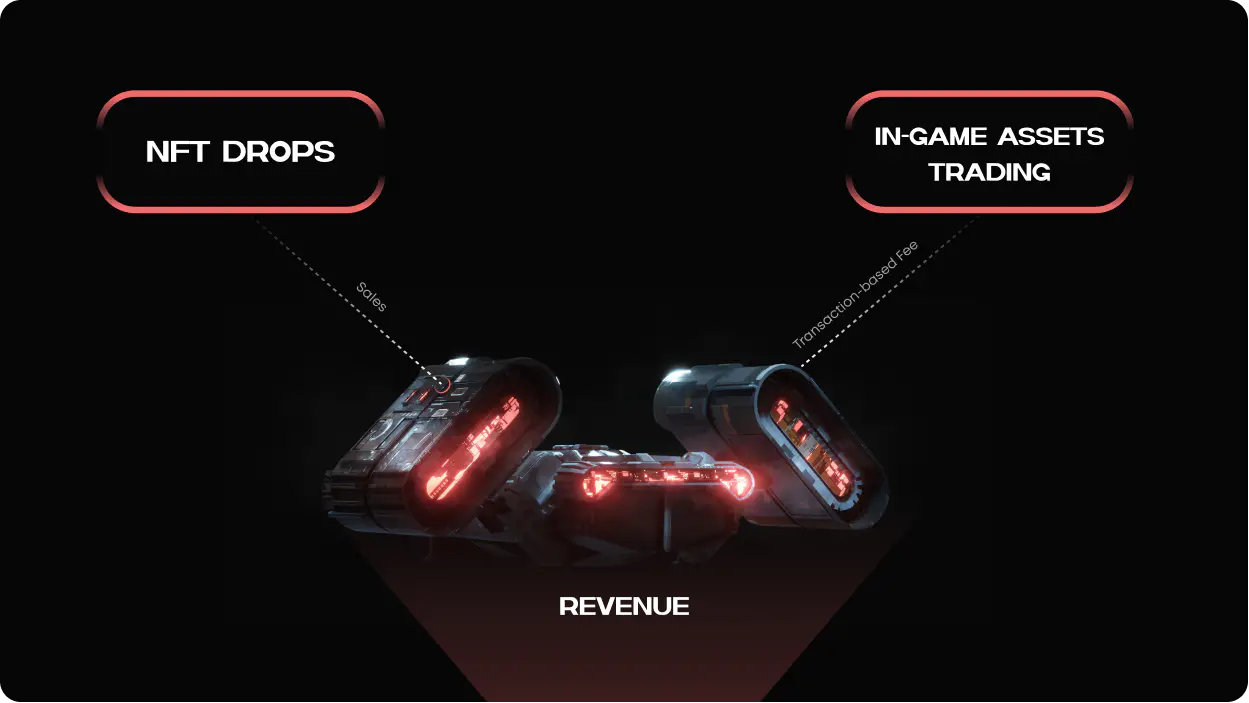 How does Dark Frontiers (DARK) work?
Dark Frontiers browser-based version. Players can claim land, and mine energy, which they can trade in and get $DARK tokens.
Dark Frontiers downloadable version (PC and MAC). Dark Frontiers is an RPG game similar to where players get to discover ancient worlds of aliens and their tech whilst mining for resources essential for survival and travel to new worlds.
Dark Frontiers VR version. The initial version of the VR game access will contain limited functionality, but will allow the player to experience the game atmosphere and their belongings in a virtual environment.
What technologies Dark Frontiers (DARK) created and used?
NFTs powered by Polygon
$DARK token on Binance Smart Chain
Unity 3d - game engine
Webgl for the web-based version of the Dark Frontiers gameplay
What is Dark Frontiers (DARK) marketing strategy?
Dark Frontiers is working closely with over 100 KOLs, which were carefully selected to help with the marketing and community development. Dark Frontiers is also backed by influential crypto VCs. Once the first version of the game is released, Dark Frontiers will engage non-crypto influencers and famous Twitchers.
Dark Frontiers is heavily promoted to Gamestarter's community (10k on Discord, 47k on Telegram, 78k on Twitter). Dark Frontiers will also benefit from Gamestarter's network and partnerships.
With the continuous game updates, exchange listings and advertising to crypto and non-crypto audiences, Dark Frontiers will steadily grow its player base.
What are Dark Frontiers (DARK) tokenomics?
$DARK will correspond with the energy unit of the game. So $DARK will be very much like the heart and the blood of the game.
Naturally, the more users will play this game and find it engaging the higher $DARK will soar. As Dark Frontiers is designed to be updated over time, it's not a one-time release, $DARK value will go up gradually.
One of the main benefits of holding $DARK is that players will be able to claim land, which will freeze a certain amount of $DARK. But it will also mine energy / resources for the players which you will be able to exchange to $DARK or NFTs