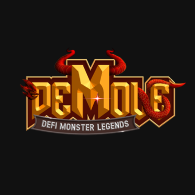 Demole
Demole is the first 3D RPG game on the NFT (Non-Fungible Token) platform. Available in both PvP and PvE modes, Demole offers an immersive experience with a rich storyline, epic 3D battle scenes, and optimized earning mechanisms for both gamers and crypto investors.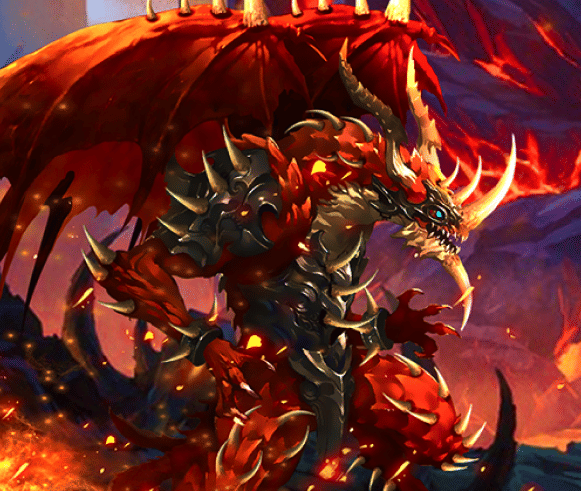 Lead VC
DAO Maker

Market Maker
NordicVelo
Controlled Cap
NA
DAO Approved Metrics
Approved
What is Demole (DMLG)?
Market Problems
Imagine you are a gamer, you are starting to get tired of burning money on traditional games you play.
And then, you see the whole world talking about NFT games, you can not only play these games but also earn money. You're curious to get started, but you're faced with a host of problems:
The barrier to entry is too great, with Axie or Faraland, this number is up to thousands of dollars and growing
You are disappointed with the simple 2D designs and boring storylines of the current NFT gaming titles available. Without the Play to earn mechanics these titles are simply just bad games.
As a mobile gamer you have difficulty finding a game that allows you to play on the go. Most titles require you to download a PC app or play directly from a website.
Now, imagine you are an investor looking to diversify your portfolio by playing NFT games. You are fed up with poor earning mechanisms relying too much on luck. Breeding and trading mechanisms are not providing a predictable and stable revenue stream.
Solutions
Demole aims to provide:
Crypto investors with a fun and attractive profitable investment channel.
Gamers with a game to spend hours playing while easily generating extra income instead of spending money - Play to earn instead of pay to win.
While the crypto community can create hype for the game and play frequently to earn money, gamers, especially mobile gamers will only engage with a good game if they are to participate. It has been shown that gamers tend to stick with the game they are used to playing (and enjoy) no matter what happens to the token price, as long as the game gets updated often.
In 2020, the size of the game market is 173.70 billion, more than half coming from the mobile gaming sector.
Game plot + Game features
In Demole, you will be the one to find and build an army of 5 monsters, participate in in-game activities and conquer the world of Demole.
Demole currencies
Tradable: Eggs (contain monsters), Hammers (to open eggs), $DMLG token
In-game currencies: Gold, Monster exp, Exp portions, Other materials
Features in the game
Campaign
Go on a journey to learn about the history and details of the world of Demole. By conquering milestones in the Campaign, you will increase your Idle rewards.
Participation rules:
Players can challenge Campaign stages as long as there is enough stamina.
Players will require stamina. The higher the stage, the more stamina required to challenge.
Rewards:
Conquering bosses of each map will bring valuable rewards.
Rewards include gold, DMLG, and monster eggs.
Players will receive rewards even when not playing. The higher the map is, the more valuable the idle reward
World Boss
World Bosses spawns 2 times per day at 00:00 UTC and 12:00 UTC. Players around the world will join forces to defeat the World Boss and receive rewards.
World Boss stats:
World Boss's total health is automatically calculated based on the attack power of players worldwide.
The total reward for each World Boss is increased based on the total amount of DMLG consumed in the 12 hours before the World Boss spawns.
Participation rule:
Each player can attack each World Boss more than once.
Each attack requires at least 1 monster.
Each monster can only attack a World Boss once.
Rewards:
By participating in World Boss, players will receive DMLG, monster eggs, gold, and experience.
Reward values are based on how much the player participated in the fight, and how long was needed to complete the challenge.
Arena
The arena is where players from all over the world compete by engaging in PvP leaderboard battles . By achieving a higher position on the leaderboard, players will receive valuable rewards.
To create more competitiveness, 20 people with the same rank/combat power will be grouped with one another every day.
Mechanics:
Challenge:
If the challenge is successful, you will receive a ranking point. Failure to challenge will result in loss of ranking points.
Defense:
Players can arrange a defensive formation to defend other players.
The ranking point will be reset at the end of each day.
Rewards:
At the end of the day, based on the position on the leaderboard, players will receive corresponding rewards.
Players in the top will be promoted to higher rank while players at the bottom will be demoted to lower ranks.
Daily quests
Complete daily quests with unique rewards and criteria. Other features (Dark Maze, Olympus Tower, Expeditionary, etc.) will be updated soon.
Play-to-earn
Earning mechanisms are the backbone of any NFT game. In Demole players can earn by the following mechanisms:
By participating in in-game activities Campaign, World Boss, Arena, Daily quests, players will receive eggs, hammers, and tokens, which can be used or freely traded/sold with other players on the marketplace.
Players/Investors can also go to the Training Ground, a staking pool where they put their monsters and tokens to level up the monsters while receiving more tokens passively.
Players' spending
Balanced in-game spending and rewards are vital to the Demole platform
A player will:
Use tokens to open monsters.
Use tokens to buy and use boosters.
Use tokens to upgrade monsters, craft items, update items, and feed pets
Stake tokens in the Training Grounds to level monsters
Staking for monsters (Nest): stake tokens to receive monsters for free. There will be 2 pools:
Receive monster at the end of the period
Receive monster at the beginning of the period: This pool requires more tokens to be staked.
What makes Demole (DMLG) unique?
Solid financial/business model, including but not limited to token inflation mechanism. They have carefully calculated token flow, NFT flow, cash flow for all scenarios (few players, average, and many players) to ensure that all stakeholders (project team, investors, gamers) are not affected in terms of benefits when there is a market fluctuation or sudden increase or decrease in the number of players.
Attractive yet simple, suitable for both busy investors and addicted gamers.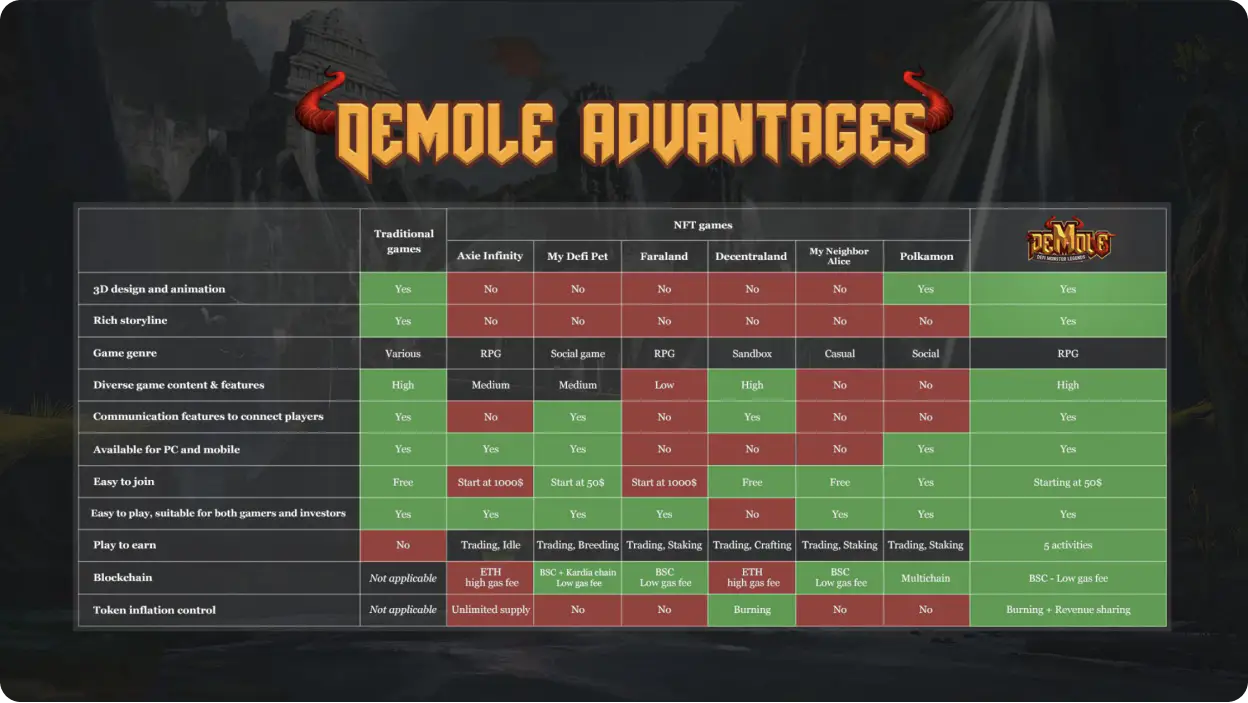 What is Demole (DMLG) roadmap?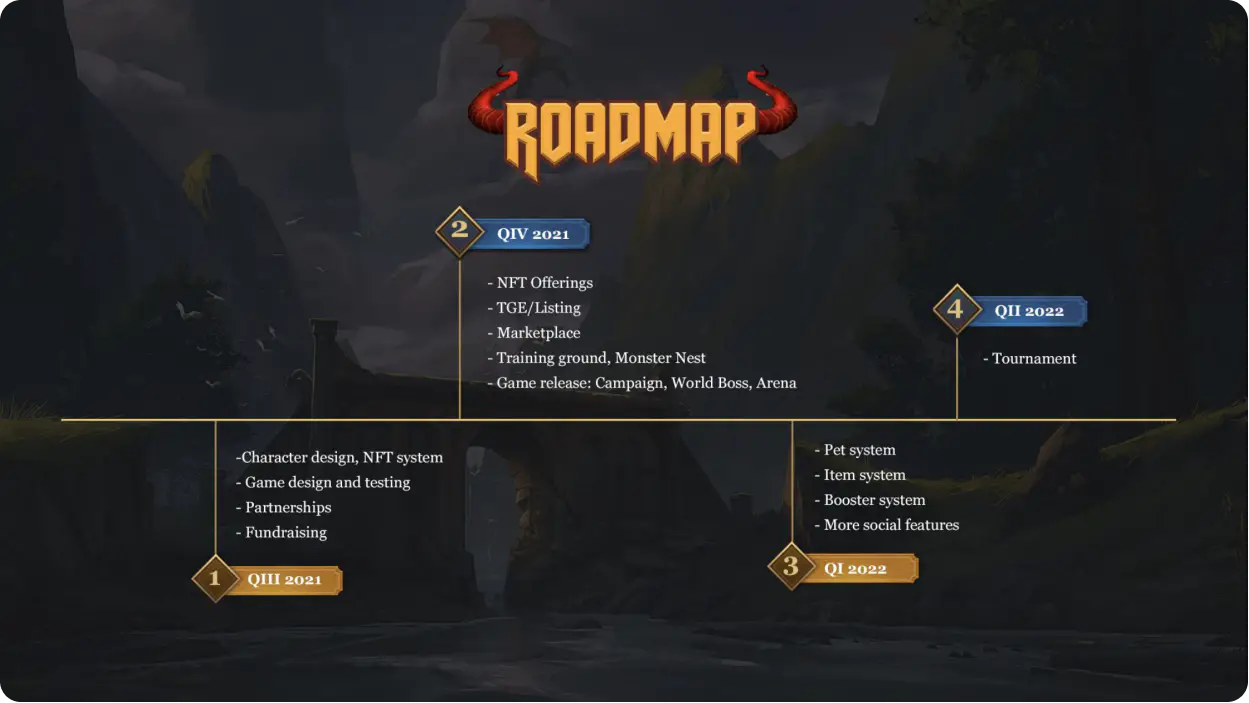 Demole (DMLG) revenue streams
In-game spending
Balancing in-game spending and reward released is the key to a solid financial plan.
A player will spend on:
Use tokens to open monsters.
Use tokens to buy and use boosters.
Use tokens to upgrade monsters, craft and update items, and feed pets.
Staking for leveling monsters (Training ground): put monsters and tokens to level up the monsters while receiving more tokens passively. Depending on the number of tokens and locked term (hours, weeks, months), the given exp for monsters and bonus APR for tokens will be offered.
Staking for monsters (Nest): stake tokens to receive monsters for free. There will be 2 pools:
Receive monster at the end of the period
Receive monster at the beginning of the period: This pool requires more tokens to be staked.
NFT Offerings
For each new feature, there will be an initial offering for players: monster selling, item selling, booster selling,... People who want to be the first to experience the new feature will pay, other free players can earn monsters, items, boosters gradually.
Team tokens
From the 6th month, the team will receive tokens monthly, part of the income will be used to operate the game.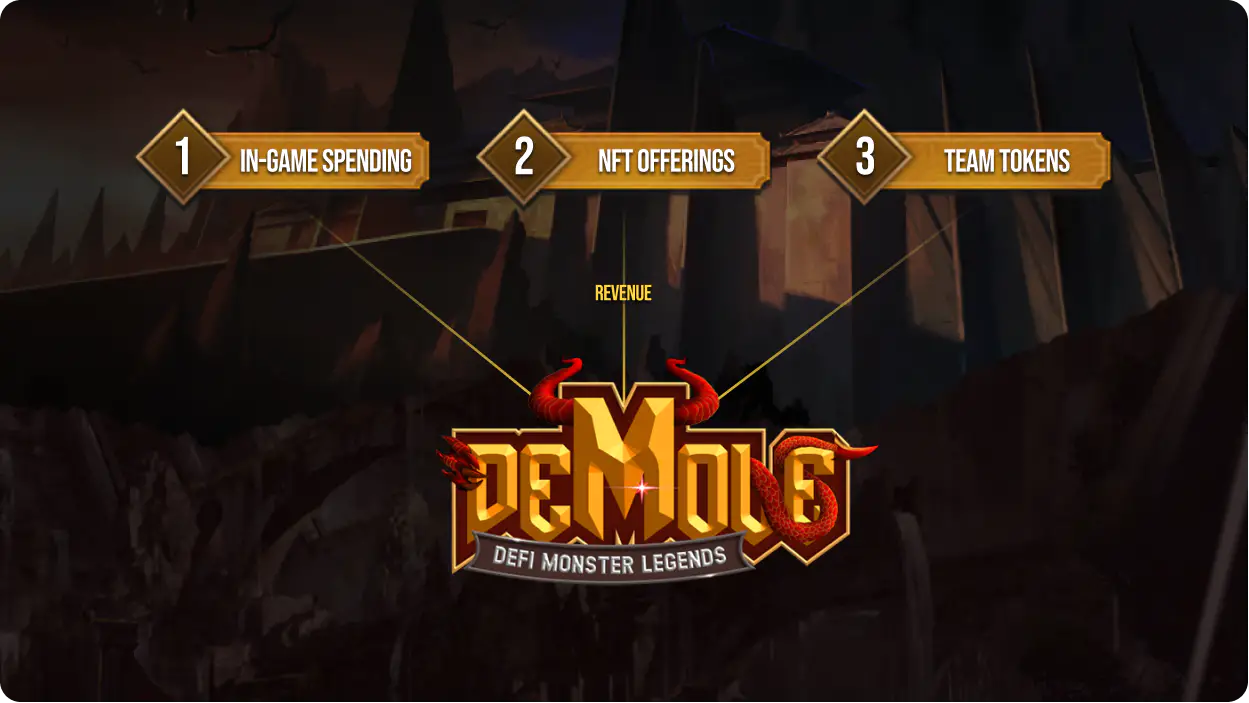 How does Demole (DMLG) work?
Product
General advantages compared to other products available
Attractive for players: 3D design and gameplay, rich storyline, popular game genre (RPG), diverse content to explore yet easy to control and enjoy with a low barrier to entry.
Attractive for investors: many ways to earn, token redistribution mechanism.
Financial model
A solid financial model for the whole game is essential. The Demole economy can be managed through a system of configurable parameters, including but not limited to egg and hammer open rate through daily gift boxes.
They have calculated and run data testing for all scenarios (many players, average number of players, few players) to ensure that the financial ecosystem will stand in all cases.
What technologies Demole (DMLG) created and used?
Game development:
Blockchain:
Wallet: Kotlin (for Android) and Swift (on iOS) - support wallet connecting and smart contracts for mobile apps.
NFT offerings: Chainlink - Verified Random Number service, MerkleTree - support NFT selling
NFT marketplace: The Graph to collect and synthesize blockchain information.
Token: DAO governance.
Security standard: Openzeppelin - the standard for coding smart contracts, supporting ERC20, ERC721, ERC1190, Timelock,etc.
What is Demole (DMLG) marketing strategy?
Building on high gaming standards, Demole will target both crypto investors and gamers. The Go-to-market strategy can be divided into two stages.
1. Create hype from the NFT/Play to earn communities and BSC communities:
They will target strong markets with strong NFT waves, high demand for new NFT games, and easy access to market insights from the marketing team and partners that supported many crypto projects such as India, Vietnam, Japan, Korea, South Europe and South America.
BSC is the platform with the most NFT games today. With experience in marketing support for BSC-based projects, They have a strong background to support projects within BSC communities.
Channels used:
Youtube: This is the most effective way to pull more users to the game. They are working with YouTubers (crypto review, NFT game review, NFT game tutorial, game review). Deals were done with 12 YouTubers.
Communities/KOLs (telegram, Twitter, Facebook): They will promote Demole through a network of 120++ KOLs/Communities
Discord: The most effective way to communicate with the gamer community. Demole's CMs on Discord will be the ones who play the game and answer questions from the community. Activities will be customized for this channel.
Telegram/Twitter/Medium: Traditional channels for crypto. All the updates will be available here first. The CM team for Telegram and Twitter will include gamers.
Articles: They are featuring on big news platforms including Cointelegraph, Bloomberg, Yahoo Finance and other 200+ news sites.
DApps/Ads: They will promote Demole through DApps (Coinmarketcap airdrop, Dextools,...) and Ads (Facebook, Twitter,...)
2. Use the created momentum to boost the number of game players:
The game & blockchain development team has certain set of milestones in promoting games in international market. They will target countries that are hype on mobile games such as the Phillipines, Vietnam, Japan, Korea, China, and many other countries.
Link with game supply platforms to increase promotion.