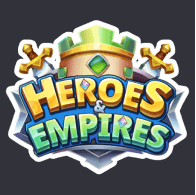 Heroes & Empires
Contract: : 0x20d3...9ed8
Heroes & Empires is one of the first NFT gaming projects that combines the modern RPG gameplay and blockchain technology. Besides the Play 2 Earn element, the game also provides a fun gaming experience through high-end graphics, innovative auto-battler gameplay, and a competitive PvP system.
Key Metrics
Ticker:

HE

Blockchain Network:

BSC

Token Supply:

1,000,000,000

Project Valuation:

$10,000,000

Initial Token Circulation:

80,050,000

Initial Market Cap:

$805,000

Platform Raise:

$120,000 + $5,000 Community Round

Individual Allocation:

250 BUSD

All Time High

87x
1. PROJECT OVERVIEW: WHAT IS HEROES & EMPIRES?
Heroes & Empires is a strategy game that combines the distinctive elements of Idle RPG and the tactics of auto chess, connected with blockchain technology. The game is developed on Unity engine with modern gameplay and high-end graphics, separating it from the rest. Heroes & Empires will be compatible on both PC and mobile to bring the best experience to players.
2.A. GO-TO-MARKET STRATEGY
First, they will host an airdrop & closed beta registration event on Coinmarketcap in September to gather interests and users.
Before and after SHO in October they will leverage the KOLS group to push out important announcements like a partnership with Supra Oracles and Deathroad to increase traffic and token holders.
They are focus on gamefi users who are playing Play to earn games as a source of income, therefore the team is going to release the Closed Beta right after SHO to let users experience the game personally. That will give users a solid belief in the project and its token.
They have a group of 80-90 KOLS to help with content creation, promotions, product reviews, etc.
2.B. PRODUCT VIABILITY
A few competitors: Project SEED, Polyblades, Under Ground Warrior, Binamars, Rune,
Advantages of H&E:
Complete product (blockchain integrated, marketplace, full game features)
High-end 3D graphic on Unity engine
Enjoyable popular autochess, auto-battler RPG gameplay
Diversity of over 70 NFT heroes/gears with unique skills & in-game designs
Tons of pve, pvp contents/game modes
The free2play version on appstore has over 500k downloads
NFT burn mechanism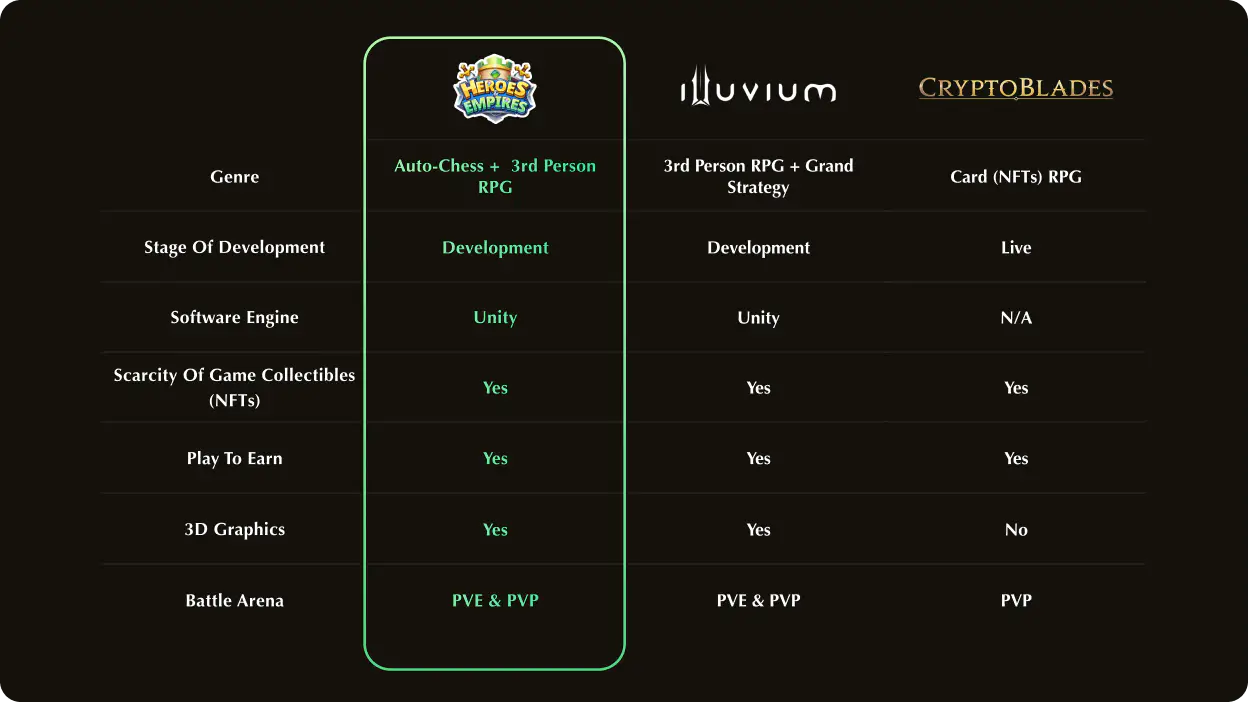 3. PRODUCT ROADMAP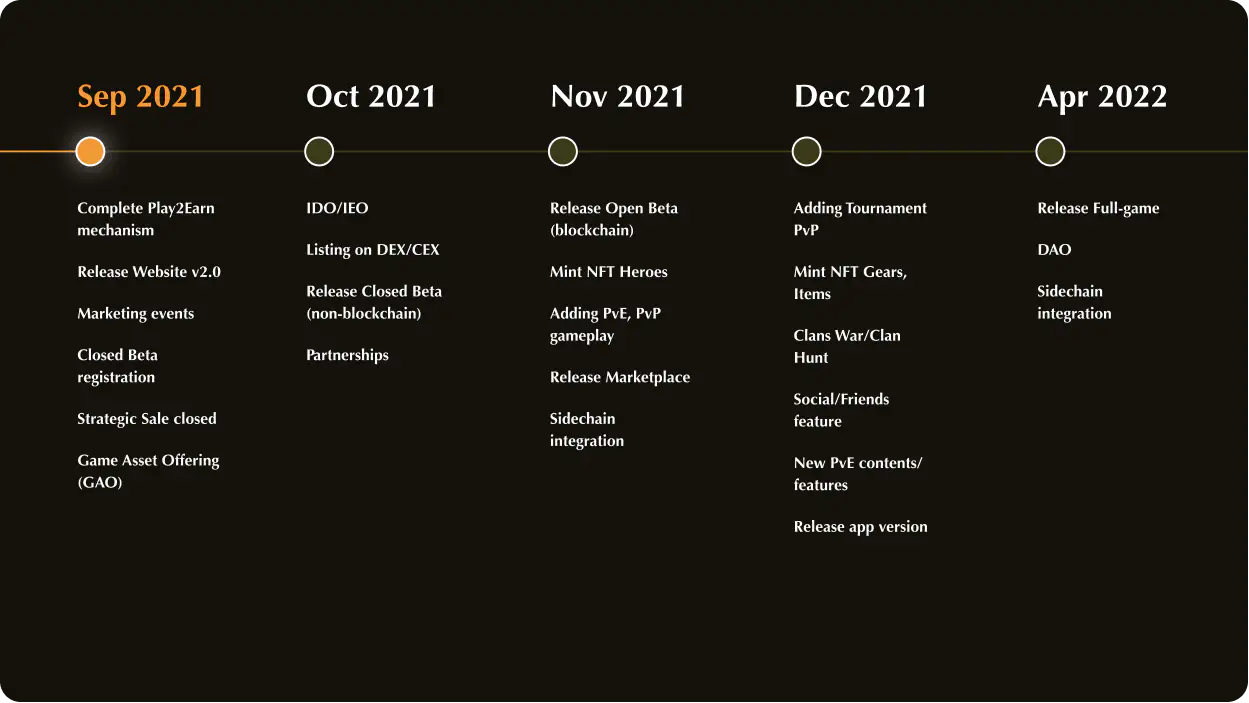 4. REVENUE STREAMS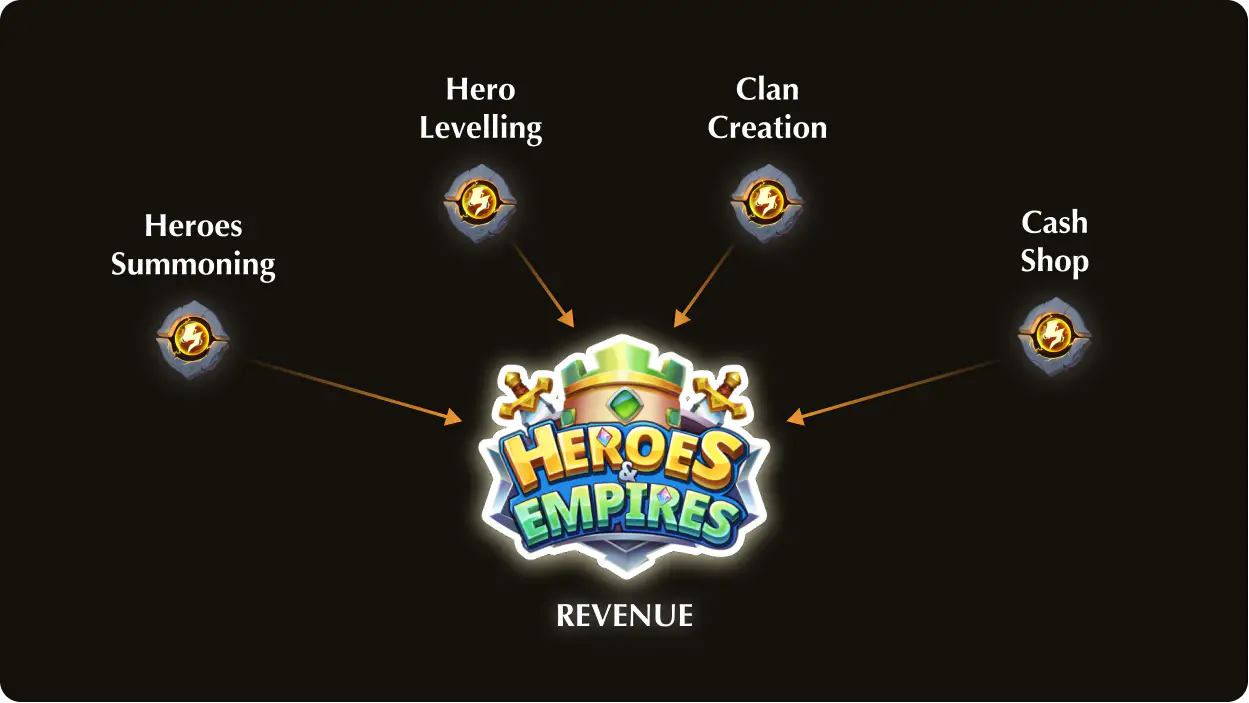 5. TECHNOLOGIES USED BY THE PROJECT

6. TEAM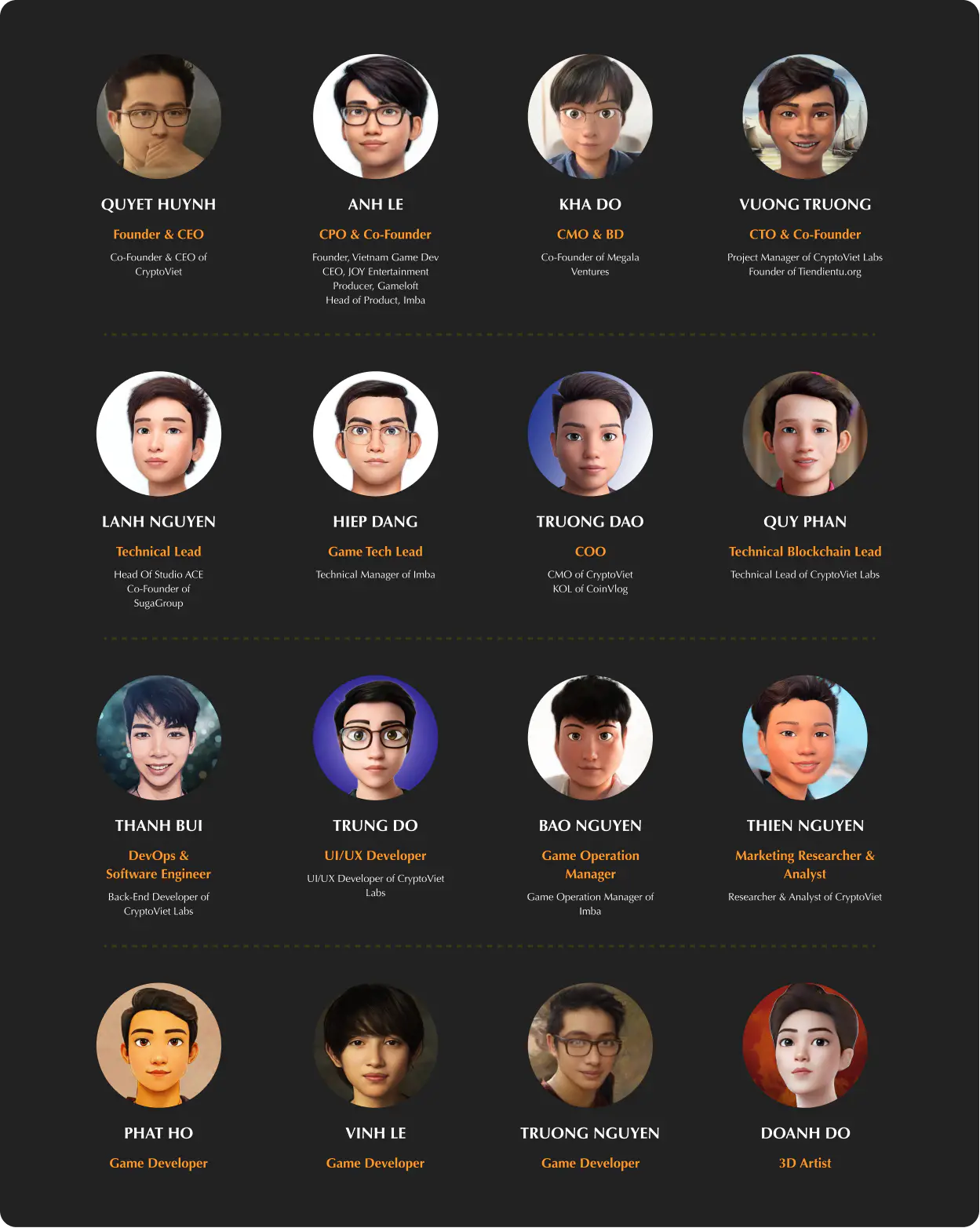 7. INVESTORS & PARTNERS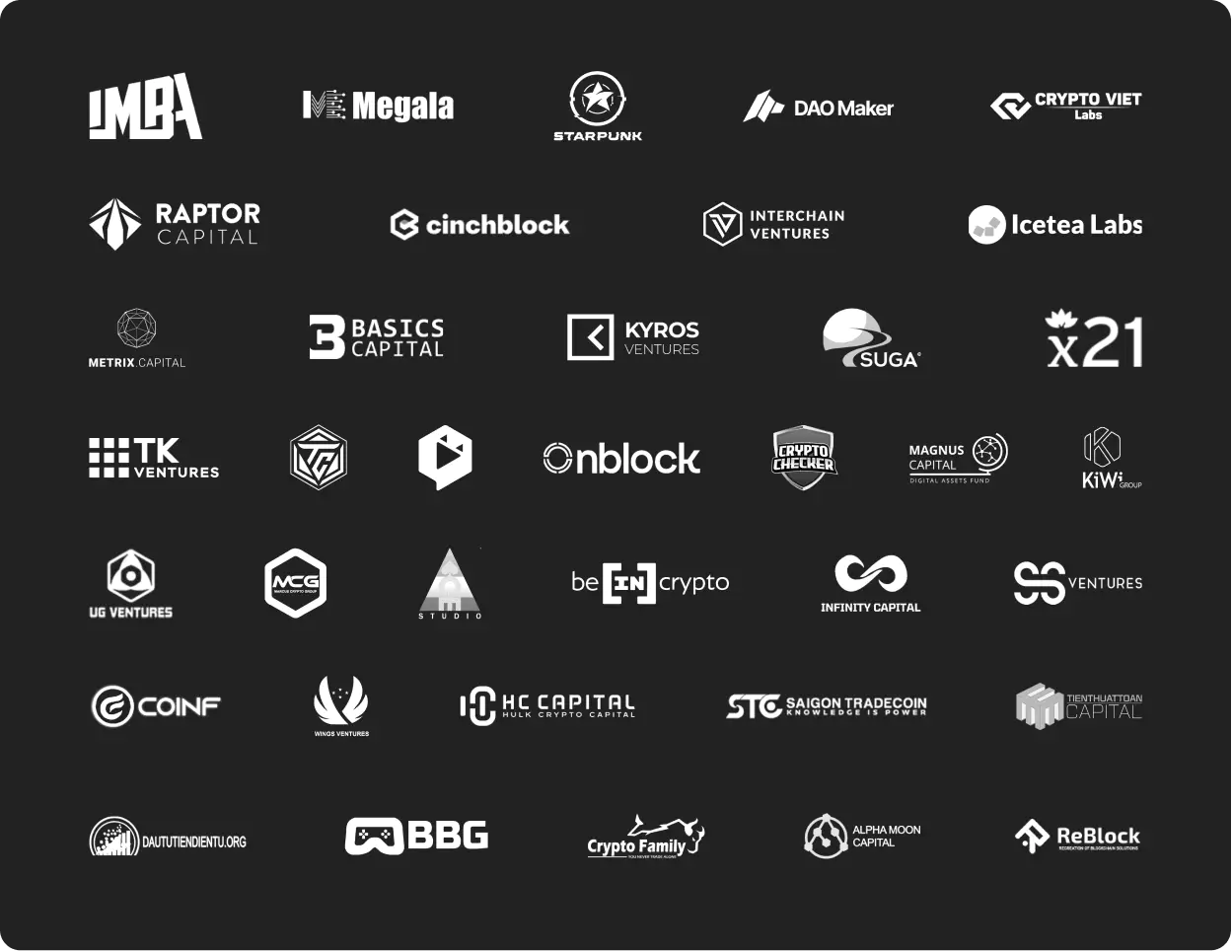 8. TOKEN ECONOMY
Token be used as utility for ingame activities: heroes summoning, hero leveling, clan creation, cash shop, etc
-> token be used as rewards for ingame
-> Token be used as Governance
-> token be used as reward for DeFi (LP Staking, lending/borrowing, NFT Collateral, etc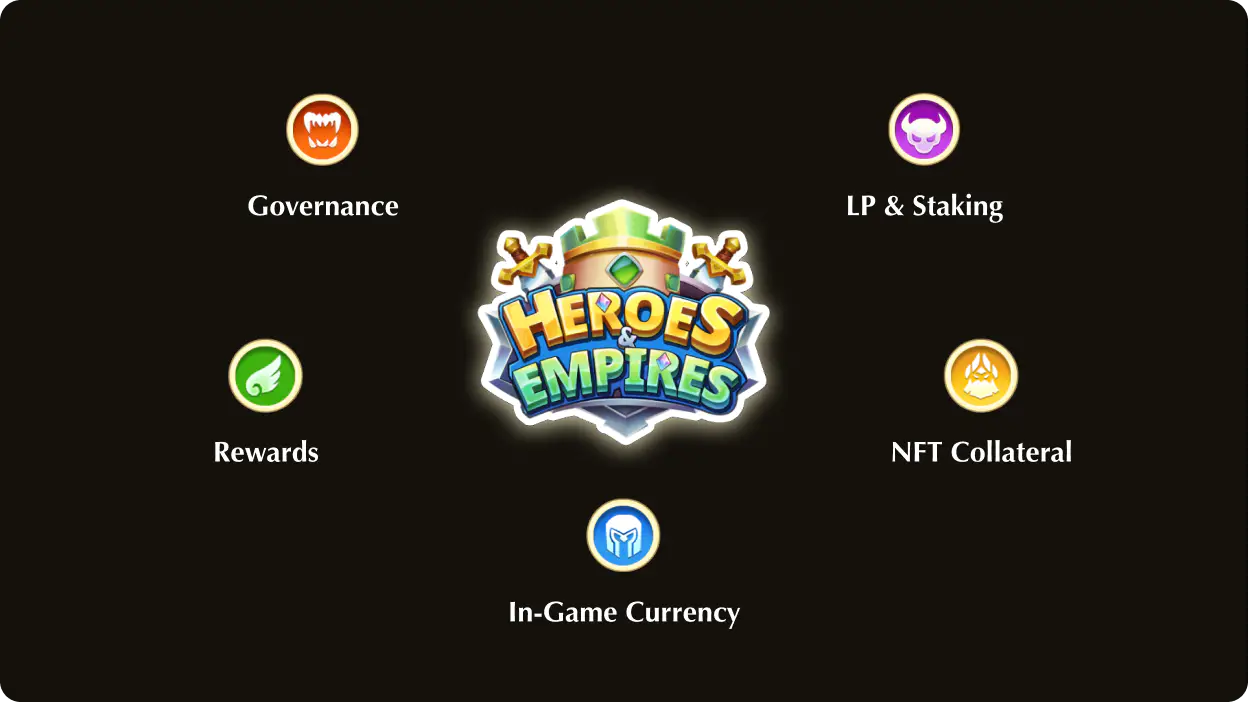 9. DETAILED TOKEN METRICS
| Strategic Round | | |
| --- | --- | --- |
| Fundraise: | $1,500,000 | |
| Price: | $0.01 | |
| Lock-up: | 20% unlocked on TGE, 3 months cliff, then 5% on a monthly basis | |
| SEED SHO | | |
| --- | --- | --- |
| Fundraise: | $120,000 + $5,000 Community Round | |
| Price: | $0.01 | |
| Lock-up: | 25% unlocked on TGE, 3 months cliff, then 5% on a monthly basis | |
| Public Round | | |
| --- | --- | --- |
| Fundraise: | $35,000 | |
| Price: | $0.01 | |
| Lock-up: | 25% unlocked on TGE, 25% on a quarterly basis | |
10. TOKEN DISTRIBUTION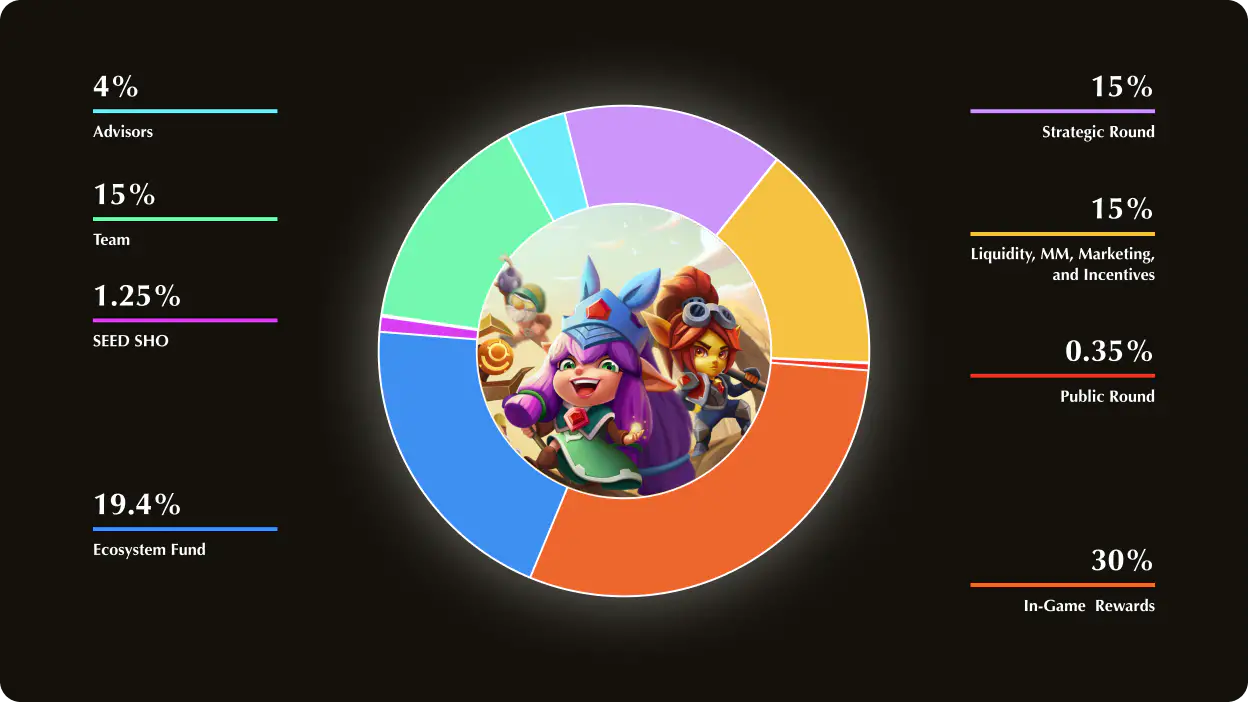 11. TOKEN RELEASE SCHEDULE