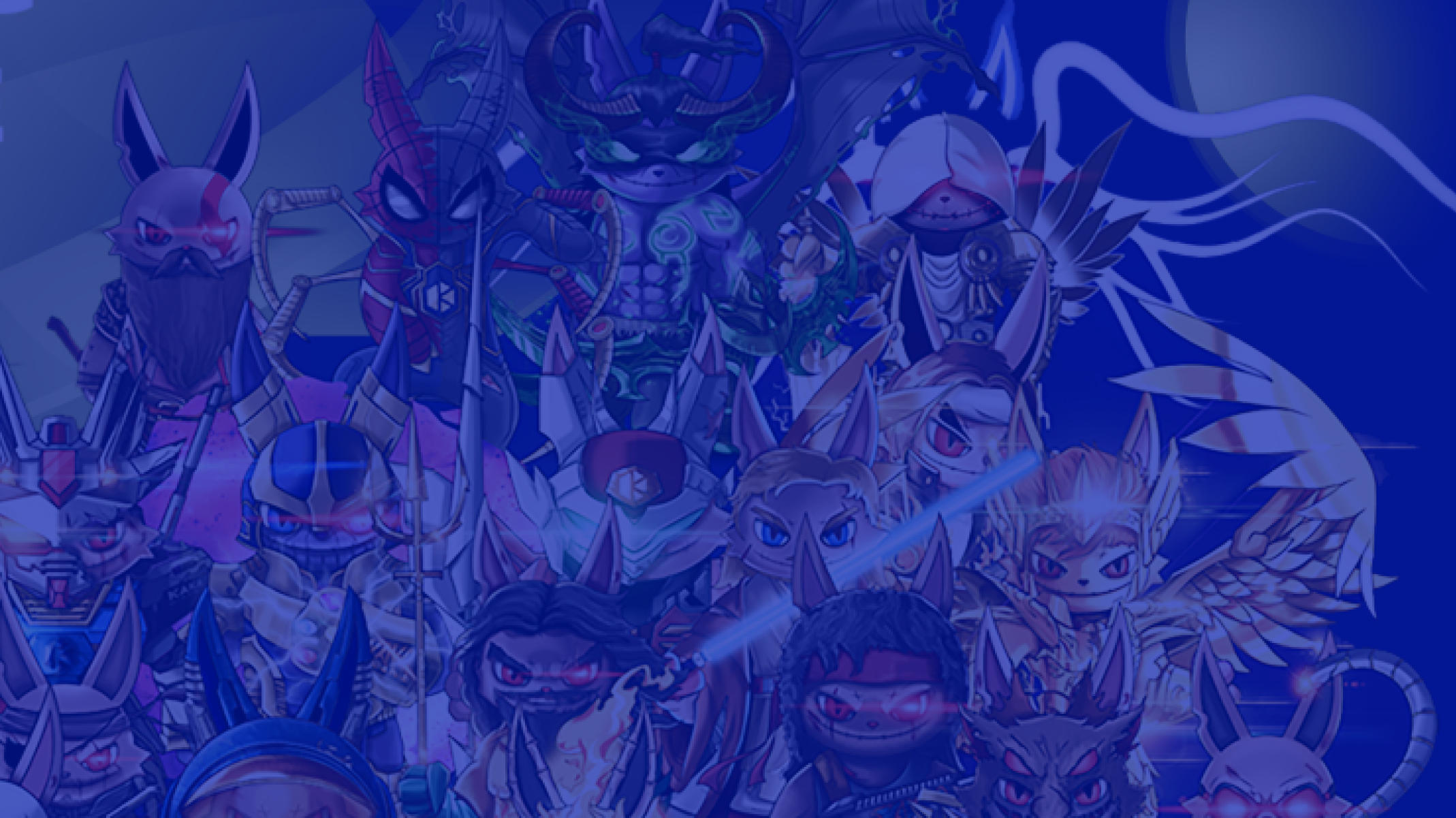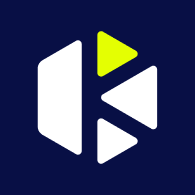 KAKA NFT
KAKA NFT World is a competitive gaming ecosystem platform focusing on the metaverse blockchain gaming combined with NFT +DEFI.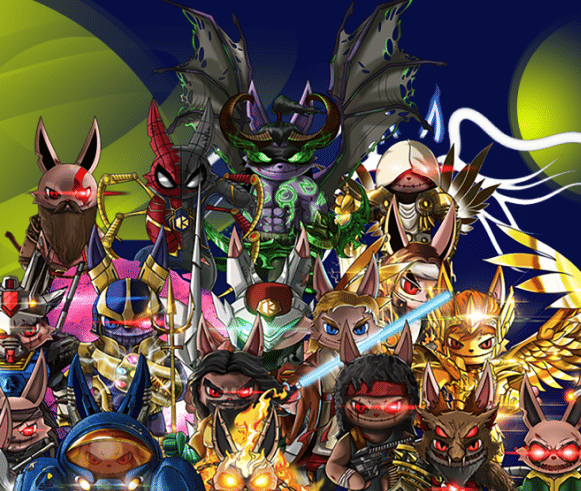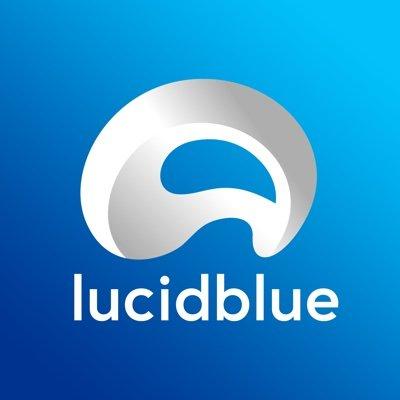 Lead VC
Lucid Blue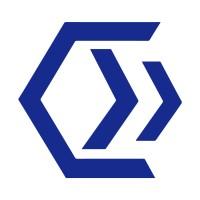 Market Maker
Blockpulse
Controlled Cap
NA
DAO Approved Metrics
Approved
What is KAKA NFT (KAKA)?
KAKA NFT WORLD is a competitive gaming ecosystem platform focusing on the metaverse blockchain gaming sector. It is committed to combining the application of NFT+DEFI in the ecosystem, constructing a cross-chain bridge based on the concept of global decentralization, integrating various licensed IPs of global brands, and creating Decentralized Autonomous Management (DAO). It aims to create a prediction agreement perpendicular to the e-sports prediction market, and an open, transparent, decentralized, and complete project for the ecosystem.
The main sectors are divided into the two following categories: providing services such as R&D, sales, trading, circulation, e-sports, and trendy games for game and art NFTs; focusing on the prediction market in the field of e-sports (Prediction Market).
What makes KAKA NFT (KAKA) unique?
KAKA brings the metaverse's blockchain-based gaming ecosystem and token usecase to another level.
KAKA has crypto assets deployed on multiple public chains and also applied cross-chain technology. KAKA tokens can be used for liquidity mining and staking in the KAKA site. KAKA introduced licensed IPs to mint NFT Cards which can be used for playing games and also developed crypto avatars as metaverse keys and granted exclusive privileges to the holders of these keys.
KAKA has a deflation mechanism where 20% NFT cards are burned through each round. The supply of cards in circulation decreases along with the battles.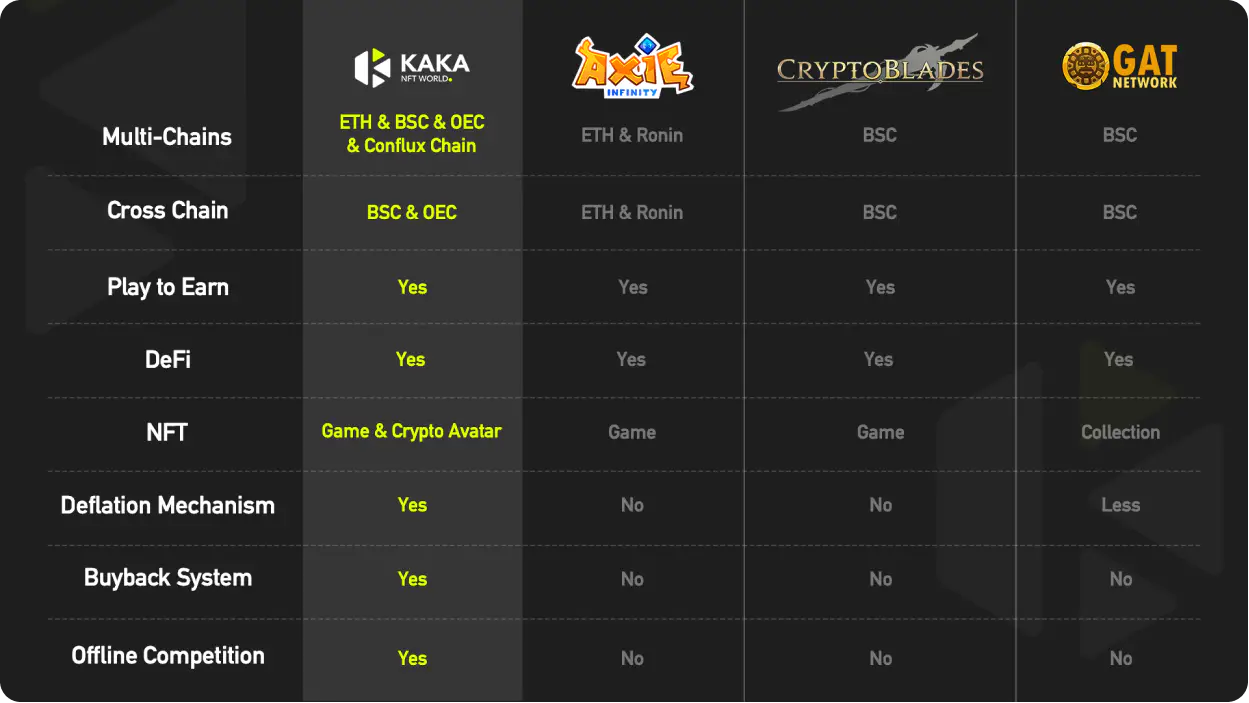 What are the features of KAKA NFT (KAKA)?
Gaming Sector
Troland- Play-to-earn Game. Troland is an original gaming IP created by KAKA NFT World. There are 110 types of cards designed in the game, with each type corresponding to a character from Troland. They each have their own story backgrounds and skills. All cards are ranked in 10 rarity levels: the higher the rarity level, the rarer they are in circulation. KAKA's Troland card game utilizes blockchain technology to control the cards' rarity and supply. Each card is bonded with a unique token based on blockchain technology (ERC-721 and ERC-1155). This token identifies the card type and amount uniquely, preventing forgeries. The entire game will issue a total of 512,611,000 cards. Through the online matches, cards are gradually burned. Thus, the total market circulation amount will consistently decline.
Other games. (The 2nd game will be revealed at the end of this year)
NFT Sector
NFT combined with Hot IPs. All NFT with IPs issued by KAKA can be used for staking.
Crypto Avatar-KAKA Rabbits. KAKA rabbit is an upgraded version of the metaverse key product launched previously by KAKA NFT. The main part of the product is the NFT based on the ERC721 standard for the blockchain, and each configuration has its own unique rabbit image design. Since KAKA NFT is the world's leading game and anime IP value aggregation platform, all rabbit image designs will have some IP collaboration designs that are both interesting and rare. Since KAKA rabbit is not just a simple NFT avatar, she is the metaverse key of KAKA NFT. Therefore, her holders will enjoy a series of privileges and functions that keyholders should enjoy. This makes the KAKA-rabbit a very wise long-term investment. There will only be 10,000 pieces of KAKA Rabbit across the world, without any duplication. KAKA's rabbit will be different from the other computer-generated avatar NFTs. KAKA NFT World as the dark horse in the metaverse blockchain gaming field released the limited-edition CG artwork avatars collection- KAKA Rabbit. This collection offers at least three benefits.
1. Metaverse identity verification with unique design, and no replication.
2. It's an upgraded metaverse key of KAKA NFT World which allows holders to enjoy exclusive airdrops.
3. Kaka Rabbit will have its own fashion toys company and the avatar holder will share a certain amount of the income from the revenue of the fashion toy that corresponds to his or her avatar.
Platform Sector
KAKA owns it's own gaming investment research team. It will work with the DAO community to push more quality gaming projects to the market through KAKA's platform. The platform and its modules will be opened to the public in the future so IP owners can use the ready modules to create their own independent games.
What is KAKA NFT (KAKA) roadmap?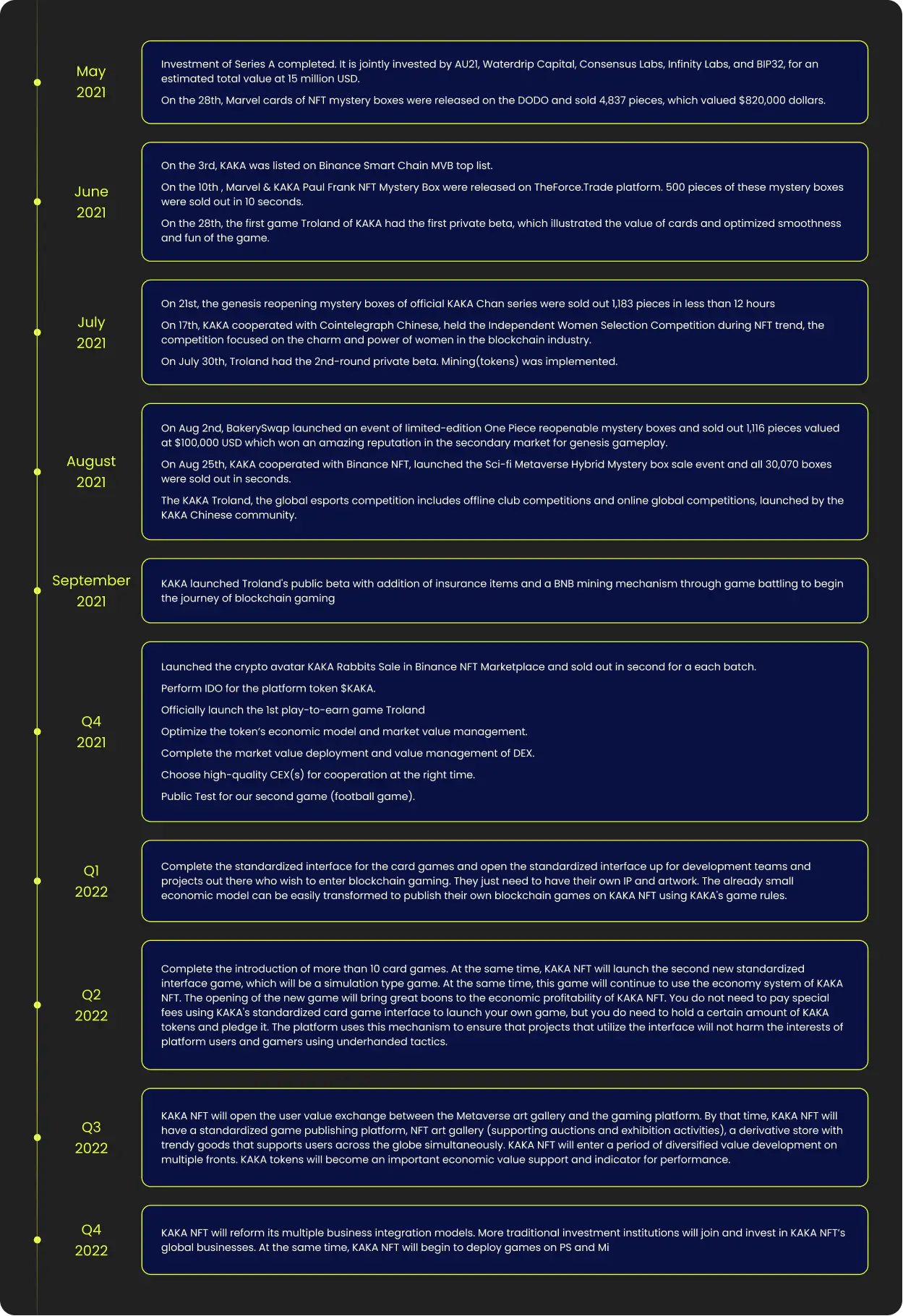 KAKA NFT (KAKA) revenue streams
Game players buy NFT cards to play in the game. The basic price of each card is at least 0.1u. Players need a minimum of 5 cards to participate in the battle. For-profit guilds such as YGG have already settled in and will bring lots of professional players and users to participate in KAKA's first game, Troland.
The NFT sales from the platform's crypto-avatar KAKA Rabbit: a total of 10,000 Rabbits, each with a price tag of $399 USD, and an expected total revenue of $3.99 million USD .
KAKA Rabbit will authorize the IP to the Chinese community, develop physical products such as toys, and has opened the industrial chain from production to e-commerce, such as on the official flagship store of Disney store in JD and other online sales platforms.
As an NFT blockchain gaming platform, KAKA will open the game's backend. B-end users can open their own Troland games with their own IPs. During this process, only a certain amount of KAKA platform tokens is required for staking. This part of KAKA tokens will be released to these entrepreneurial teams and institutions after the lock-up period is over. KAKA will charge a nominal commission fee and service fee during the period.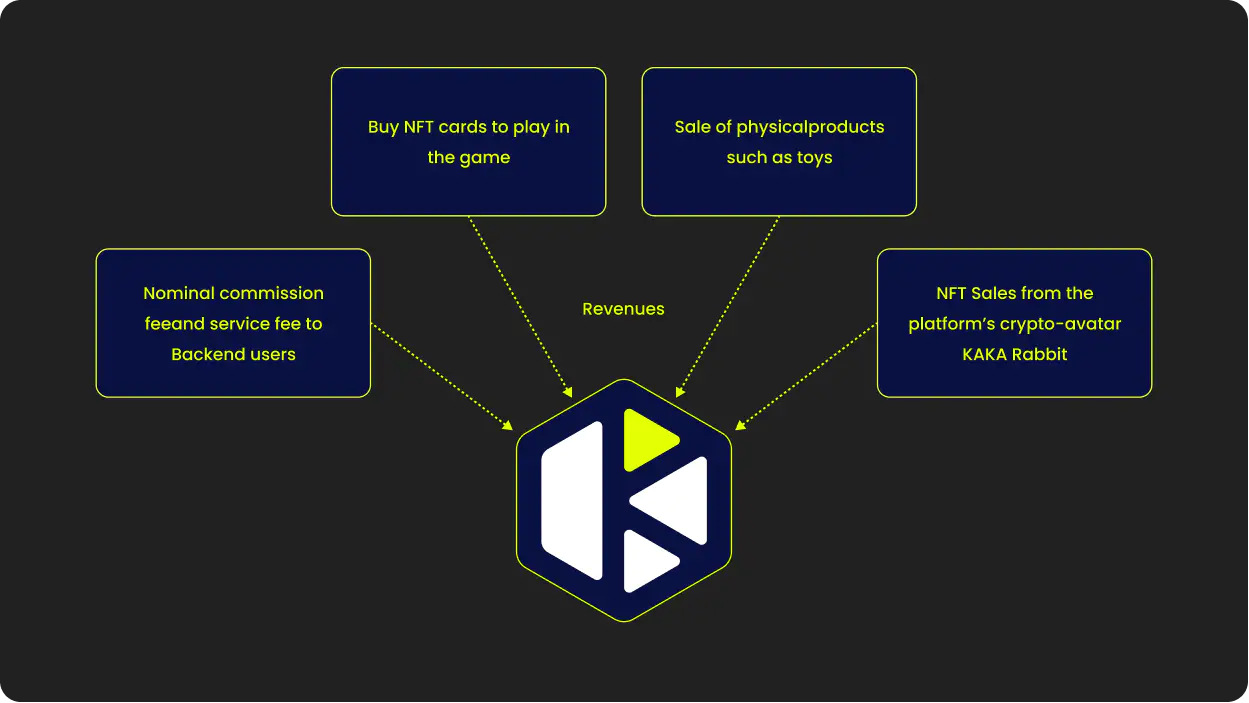 What technologies KAKA NFT (KAKA) created and used?
NFTs deployed through EIP721 protocol, powered by multi-chains, such as Binance Smart Chain, Ethereum, OKEx Chain, and Conflux Chain,etc.
$KAKA deployed on Binance Smart Chain.
Cross-Chain bridged digital assets between BSC and other public chains that are compatible with Ethereum Virtual Machine(EVM) such as ETH, OEC and HECO etc. Block hash is used to ensure the uniqueness of tokens on different chains, as well as to obtain synchronized NFT information on different chains with the help of a cluster of nodes built of ECDSA.
EIP721 protocol deployed to develop the NFT.
Blockchain game Troland deployed in multi-chains.
Cocos Creator- Blockchain game engine.
There are also type design and casting interface systems that can work with the unique tokenId in the NFT contract. When cross-chain, re-opening mechanism, repurchase mechanism and game battle destruction all function well at the same time, the value and liquidity of NFT can still meet expectations.
What is KAKA NFT (KAKA) marketing strategy?
First, the platform establishes branding and global positioning by signing up contracts with world renown anime and gaming IPs to mint NFTs so as to attract followers from these IPs to KAKA's platform. In this process, KAKA also cultivated her official IP brands such as KAKA Chan and KAKA Rabbit from scratch. As they foresee that as the NFT market gets more attention and more international anime & gaming IPs getting acquired, further acquiring IPs will be much harder, this will prove unconducive to long-term development.
Later, through the integration of these IPs and the metaverse track, they will launch a series of games, including collectible card games, battle games, simulation games, role-playing games, etc. KAKA will launch different games in phases, and open their interfaces when the games are mature, so that more startups and teams who want to develop blockchain games can use KAKA's gaming platform and interfaces to quickly complete their game development and online operations. This will greatly reduce their development time and cost and further ensure that their games have a good economic logic by using KAKA platform's token economic model.
In this process, KAKA will receive the support of many institutions and game development teams. Currently, more than 10 teams have signed contracts and will use KAKA's platform interface to quickly launch their blockchain games, which will increase the overall user count of KAKA. This will mean great potential for KAKA's future market value and user base.
What are KAKA NFT (KAKA) tokenomics?
The total supply of the platform token $KAKA is 100 millions. As the tokens get used up for purchasing gaming items, as service fee of gaming APIs and paid for minting, upgrading and fusing NFTs, the total supply will be reduce to 21 millions in circulation in the future.
Use:
1. Purchasing all in-game items on KAKA platform's blockchain games will help support KAKA Tokens.
2. Entrepreneurial teams need to purchase a set amount of KAKA tokens on the platform to be able to use KAKA's game interfaces. The amount of KAKA tokens needed to be pledged to the platform varies depending on the type of interface required.
3. The upcoming NFTs developed by KAKA will support KAKA tokens as means of payment and gas fee for minting.
4. KAKA tokens will effectively support more payment scenarios, including the dividend distributions for the KAKA Rabbit brand physical products.
$KAKA can be obtained through DEFI and Gamefi. Users can earn $KAKA through mainstream token staking, NFT licensed with IP staking, liquidity mining and play-to-earn gaming. Token holders can use tokens to buy items in the game(these tokens will then be burned). Token holders can also use tokens to buy NFTs or staking. Token holders also have the right to vote through the DAO.